Shaking Down and Dialing In: 2 Weeks To Go
Spring Conditions!
For three glorious days, the weather here in Northern NH warmed up to spring-like conditions (which for us is anything over 40°F). All over town, people were feeling it! Shorts were out, windows were open, and the line at the carwash went around the block. The energy in the air was electric, and was just the boost I needed to start feeling amped about my upcoming thru hike (now just 2 short weeks away!)
Temps stayed above freezing for a full 36 hours, turning our deep mountain snowpack to spring conditions literally overnight. The once-separate layers of snow formed by different storms throughout the winter melt and blend together. The combination of loose powder and icy rain-crusts forms a softer, more fluid substance that ranges in density. Mashed potato snow is the soupiest, with a viscosity something like a 7-Eleven Slurpee; cream cheese is similar, but sturdier; wild corn is comprised of tiny round ice granules that move a bit like sand;  and rotten snow has tiny frozen lattices that scratch the hell out of you when you (inevitably) posthole through them. 
I was pretty stoked about the spring snow for 2 reasons. Firstly because skiing on it is an absolute DREAM, and secondly because it meant that I could finally shake down my PCT gear! 
Up until this week, the White Mountains were basically still in winter conditions. Even tonight the low is expected to drop down to 1°F here in town. Because of this, I have been using my full winter set-up for any training hikes I have been on. That includes insulated boots, snowshoes, a 2nd sleeping pad, leather mittens, and a backpack that can hold more than 30 lb; none of which I was planning on bringing with me on the PCT. 
Overnight temperatures above freezing gave me enough confidence to try an easy overnight trip using only my PCT equipment. Here's an overview of what I was tinkering with, and how it all turned out!
What's new:
Tent
I picked up my last tent (Sierra Designs Flashlight 1UL) from a second-hand backpacking shop in Asheville, NC (Second Gear) for about $100 during my AT thru two years ago. It was getting a bit saggy and wasn't as sturdy in the wind as I'd want for a trip through desert and burn areas. My good tent fortune continued when a guy on Reddit sold me a brand new Gossamer Gear "The One" for $200. The tags were still on it. 
Overall, I really like this tent. It's easy to set up, super light, feels a bit less fragile than Dyneema, and it's very roomy inside. It's pretty tall, meaning it will catch wind easily, so I will definitely have to be mindful of campsite selection and orientation when using it. It performed well in some moderate wind, but I will need to play with different set-ups to dial in how to get the rainfly to the ground for stormy nights. 
Sleeping Pad
Last summer, a friend gifted me a Therm-a-rest NeoAir Xlite Women's sleeping pad he had just sitting around his house. I loved the women-specific features of that bag (higher R-value for cold sleepers), but I am 5'10" so my feet hung off the end. I traded that pad with someone for a men's Therm-a-Rest NeoAir Xlite. 
Overall, kind of wish I had kept the shorter pad. Even though my feet stayed on the pad all night, the lower R-value left me REALLY cold. Air temperatures in the 40s are pretty typical even for summer camping in NH, and my 15 ° F sleeping bag has proven to be fine in that temperature. The variable here is snow. All night I could feel my heat being sucked out of me into the cold ground, and based on the weather SoCal had last week, I'm expecting to spend at least a few nights camping on snow.
I'm not trying to suffer to save grams, so I bought a Therm-a-Rest ZLite that I plan to cut in half and use under just my torso, under my inflatable pad. This will not only keep me warmer, but will also stop my sleeping pad from sliding around on the very slippery floor of my tent! 
Stove
I haven't carried a camp stove since ditching one on the AT in Franklin, NC. Cold-soaking made a lot of sense in the warm and humid southeast, but nights in the desert and Sierra are going to be much, much colder. In chillier weather, a stove is a must for me. Aside from just the comfort of hot food, boiled water poured into a Nalgene can keep a sleeping bag toasty nearly all night.
I'm bringing the MSR PocketRocket Deluxe and the 1L Pasta Pot from Evernew. I opted for the Deluxe over the regular because it is more efficient at colder temperatures which could prove vital on long resupply hauls through the Sierra. I chose the pasta pot for its volume, insulated touch points, and folding handle. 
Shoes
I tried several different shoes on the AT and didn't love any of them. Altra Lone Peaks fell apart quickly and made my feet swell up like baked potatoes. The Merrell MQM had a narrow toe box and a tread that slipped on wet rocks. Vasque Breezes came the closest, but that rigid sole didn't allow much articulation in the foot which led to knee pain. 
I'm planning to start the trail in Merrell Mag-9s. These shoes offer a wide toe box, Vibram soles, high arch support, 4mm drop, and a flexible sole. Whether they fall apart immediately or made my feet swell remains to be seen, but so far so good!
Transitioning from my clunky, -20 °F  winter boots to glorified slippers was interesting. The tiny shoes worked just fine with my micro spikes, but gaiters with an under-strap will definitely be needed to keep from losing these shoes when postholing in deep snow. Toes got a little chilly, so I will plan to send neoprene socks along with my Sierra gear.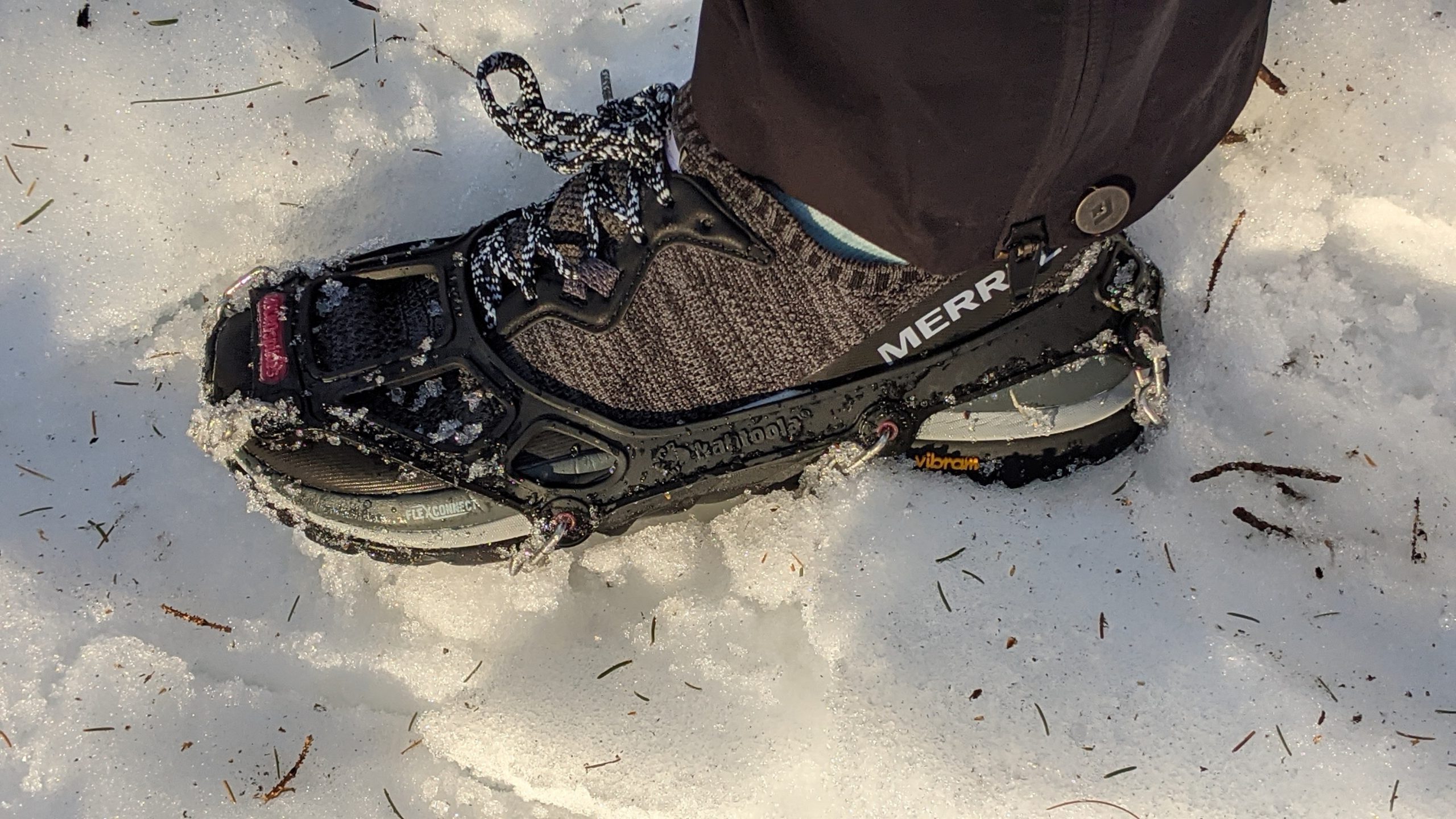 Gloves
My merino wool gloves fell apart at the beginning of ski season, so I brought a pair of synthetic liner gloves instead. I figured these would be fine for camping… BIG MISTAKE. As soon as the synthetic material got wet from setting up my tent in the snow, my fingers froze! Will definitely be bringing merino gloves instead, as well as Showa Atlas waterproof gloves for the Sierra. 
Overall, I'm feeling pretty good about my set-up. I am totally unfamiliar with western weather and terrain, so I certainly feel like I'm going into this a little blind. For now, I'm erring on the side of over-preparedness, knowing that I can send things home if I don't need them. As I continue crossing things off of my to-do list, I am starting to feel my anxiety about this trip transform into confidence and excitement. Can't wait to get this train a-rolling!
My non-Sierra base weight is currently at about 15 lbs.
Affiliate Disclosure
This website contains affiliate links, which means The Trek may receive a percentage of any product or service you purchase using the links in the articles or advertisements. The buyer pays the same price as they would otherwise, and your purchase helps to support The Trek's ongoing goal to serve you quality backpacking advice and information. Thanks for your support!
To learn more, please visit the About This Site page.