Side Slice to Kennedy Meadows North
We have to miss 700 miles because Northern California is closed. So we tried to make an adventure out of it, called a side slice, and visit the Coastal Redwoods before continuing at Sonora Pass.
Day 57 and 58
Miles: 0
We stayed at a Hostel for two nights while Mousetrap figured out renting a car. We made stir fry with rice and brownies. It was interesting to be in Ashland to have to figure out not walking 700 miles.
Day 59
Miles: 0
My day began with a shower and breakfast. I ate the over-priced eggs I bought for brownies the other night, the leftover rice and ice cream. Shortly after, we left the Ashland Commons and began driving to California. There were a few pit stops along the way. We stopped at the REI in Medford so I could get new shoes and Roadrunner could get a bear canister. And we stopped at Trader Joe's to pick up lunch and snacks for the car ride.
We arrived in Crescent City and it seemed very smokey. It was so interesting to see how much less smokey it was in the trees than in the town. Right out of the town we came up to a beach and hung out there for a bit. We found shells, crab legs, and a bunch of cool rocks which we made a sand village with.
This was my second time at the Pacific Ocean and I felt like I couldn't absorb all of its beauty properly. The water was much colder than my first time in the ocean but that didn't stop me from getting in above my knees. The feeling of the salted water in my hands kept bringing me back.
Back in the car we pointed her to Redwoods National State Park. We came across some huge ferns on the way. I'm not sure which are redwoods and which aren't. But they were so magnificent.
We arrived at Goldbluffs Beach and found a campground fitting for us. It was RIGHT next to the ocean. It was a glowing sunset on the water. We are going to hike through the red woods tomorrow. But for now, I get to fall asleep listening to the ocean.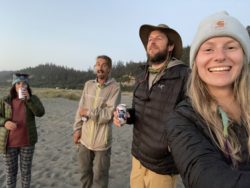 Day 60
Miles: 8.5 (none on the PCT)
We were all very slow moving this morning and I made oatmeal for the first time since about Day 2. We left at 11 am and hiked a loop we made from Fern Canyon to James Irvine to Miners Ridge trails. There are so many HUGE trees.
There are Illium flowers everywhere!! I want to come back when they're blooming!
We drove to Klamath to get dinner, beer, and car snacks. It was gas station kitchen chicken and potatoes, and it was so delicious. As we were leaving we went through a tree – it was still alive. And we saw some Emus, which is an animal I had not expected to see out here.
We finally arrived at Elk Prairie Campground. I walked around and exploded a bit after setting up. And then we went and watched a heard of elk across the road. There were 7 males. Some were knocking antlers. All were eating. We also went night hiking. It was so cool to do the small loops through this campground in the dark. We were on the Nature trail and Revelation trail. There are so many huge trees and the stars are beautiful.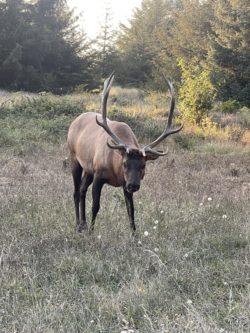 Day 61
Miles: 4.5 (none on the PCT)
Now that we don't need to be making miles, everyone is sleeping in. We don't get moving until like 10am. We ate what we had for first breakfast and then Mousetrap went to grab the car. We packed it up and pointed it to Orick to purchase second breakfast, dinner for tonight and breakfast for tomorrow. I bought a breakfast burrito, chocolate milk, salami, cheese, and a garlic/olive oil Pasta Roni.
When Mousetrap was getting the car he asked the person in the booth where good beach camping was and they had the recommendation to go to Clam Beach. So we pointed the car South and headed there.
After jamming to music we arrived and we weren't impressed. It was a parking lot with some picnic tables to designate "camping spots". We walked to the beach and while it was better, we didn't want to stay in a parking lot right next to the highway.
So, we went back towards Orick to stop at the visitor center and do some of the other hikes we wanted to through there. I could only laugh with all of our back and forth driving. We don't really plan and we just tackle one day at a time so I don't expect anything less. It's all fun and there's beautiful sights to see in the car so I'm not complaining.
The Ranger just outside of Orick told us there's some back country camping and how to get there. Then we hiked through Lady Bird Grove because we can't get enough of these huge trees. Finally, we were headed for the Redwood Creek Trailhead parking lot. We packed enough food for dinner, breakfast and some snacks and then we filled our bags with beer. We hiked 3 miles in and arrived at our campsite. It was a beautiful hike filled with mossy trees. Our campsite was really nice too. It had picnic tables and a pit toilet!
The four of us spent the rest of the night eating dinner, drinking and laughing. It's been an excellent adventure. I'm excited to see what tomorrow brings.
Day 62
Miles: 3 (none on the PCT)
We got up slowly again today. We ate what we brought for food and then we were on our way. Coming back the way we came, I noticed more Redwood trees. We got to the car and we were all on the same page: breakfast from the gas station in Orick.
As we're eating our breakfast burritos we see two familiar faces. Catmando and Guinness showed up!! They did the Coastal "Trail" with lots of road walking. After understanding what both groups have done, they hopped in our car and we took them to Eurika.
We continued driving south-east and arrived in the town of Clearlake and ate dinner at The Spot. What an odd little place. Everyone was obviously a local and there seemed to be some drama going on this karaoke night. Overall it was a great adventure. Then we drove to a campground and cowboy camped to get an excellent view of the stars. This is the third time in my life I'd seen the Milky Way, and it was breathtaking.
Affiliate Disclosure
This website contains affiliate links, which means The Trek may receive a percentage of any product or service you purchase using the links in the articles or advertisements. The buyer pays the same price as they would otherwise, and your purchase helps to support The Trek's ongoing goal to serve you quality backpacking advice and information. Thanks for your support!
To learn more, please visit the About This Site page.