Smoked Out (Days 114 to 120, Ashland to Crater Lake)
Day 114
Start: Interstate 5 / Ashland
End: Bushcamp 1.2 miles beyond Lone Pilot Trail junction
PCT Miles Hikes Today: 8.9
We had an excellent zero in Ashland. Everywhere we went, the town folk knew about the PCT, and on three separate occasions we were offered unsolicited rides anywhere we needed to go. Our wonderful time in town was capped last night as our friends staying in the nearby hostel invited us over for a family style dinner of pesto pasta, fresh-baked garlic bread, and salad! We are going slow in this next section so these cats may cruise on ahead of us, but some of these guys we've been hiking on and off with for the last 900 miles, and have grown to be like family. Sad to be leaving them (or I guess they're leaving us?), but we're all on the same trail, so I'm confident our paths will cross again!
It's only 100 or so miles to Crater Lake from here, which we'd normally be able to do in 4 days. But, we are meeting up with some friends from Chicago next weekend at Crater Lake, and we will have to slow our roll unless we want to arrive and sit there for over a day, twiddling our thumbs and waiting for them. So, we requested late checkout at our fancy hotel, so we slept in, ate breakfast in bed, and watched the olympics. Women's handball really is a surprisingly violent sport, and my main takeaway from watching the match is that these women are athletes, and I'm probably not.
Our plan was to hang out in town until 4 to let the heat of the day pass, then nearo out. As we arrived at a nearby cafe for some lunch, though, a woman struck up a conversation with us, and offered to drive us back to the trail after we ate. Since we had no idea how we were going to get back, we took this as a sign, and agreed to go! We chatted with her as we ate – she had tried to hike the Oregon section of the PCT earlier this year but had flipped over to hike the Oregon coast trail instead, and had actually just completed her hike yesterday. We peppered her with questions, all the way back up to the trailhead, where we waved goodbye and started our section.
It immediately became clear that we had both drastically overbought on food during our resupply. Despite the reasonable climb and beautiful terrain, we were both moaning and groaning about our pack weight. Eventually we got up to the ridgeline, with views back South, where we had great views of Mt Mcloughlin, but our views were a little bit spoiled by huge smoke plumes blowing in from California. We heard from another hiker that two more fires had started between Shasta and the state border. Good riddance, California – I hope the worst of the fire risk is behind us at this point.
We ate dinner at a small spring after about 9 miles of hiking, with a group of hikers we don't recognize. Lots of new hikers coming through right now. It's a combination of 1) our slow pace (~20s) for this section compared to most hikers at this point (~25-30), and 2) lots of hikers have skipped hundreds of miles due to the NorCal fires.
We found a sweet little bushcamp just beyond the spring. From what Mango tells me, the good water sources start to get few and far between in the next few hundred miles. Tomorrow we begin our day with a 13 mile dry stretch. It's like we're back in the desert!
Mango has been dealing with a blow up of poison oak rash all over her legs, perhaps from that descent into Seiad Valley a few days ago. As hers started blowing up over the past 24 hours, we've also seen a few other hikers moaning and itching their rashes as well. Most of us have avoided the poison oak up to now, but that descent was particularly nasty – tons of poison oak hanging out at shin level, and nowhere to go to get around it. Note to future hikers: pants may be hot, but they protect you from both sunburn and poison oak. Might be worth the tradeoff!
Day 115
Start: Bushcamp 1.2 miles beyond Lone Pilot Trail junction
End: Klum Landing Camp
PCT Miles Hikes Today: 22.3
We slept in until 6:30. Our day began with clean blue skies to the North, and we happily hiked out on smooth trail, ready to put more miles between us and the fires to the Southwest.
Not much to report on this morning. Lots of hikers we don't recognize around us. We ate lunch at Little Hyatt Reservoir, our first good water source since our camp near the little spring. I stuck my head in the waterfall, but it wasn't as refreshing as normal – this is an outlet from a small dammed reservoir, so the water was bathtub-warm.
As we ate, we spoke with other hikers about the new fires south of Ashland near the state border (possibly the same ones we saw before we hit Ashland?), and more big fires near Etna, about which the PCTA has now posted an official notice on their website. Thankfully nothing new is popping up ahead of us, other than the fires near the Canadian border in the North Cascades – and hopefully those will be cleared up when we roll through 45 days from now.
As we hiked later into the afternoon, the sky got smokier and smokier, which cast a strange golden light onto the trail as if it was twilight. Ash began lightly falling in front of us. Clearly the winds had changed, and we were getting some of the nearby fire smoke and debris. Which fire? We have no idea – there are too many nearby fires to choose from.
A little more than 20 miles into our day, we hit the turnoff for Klum campground, a state campground off trail which we saw had free showers, flushing toilets and potable water. Worth the side trip! We cleaned up and were just sitting down for dinner at a picnic table when we had a surprise reunion with Scout Master, another hiker we hadn't seen since the desert. We all ate together and caught up. As we were preparing for bed, a ton of other thru hikers cruised in. This campground is abandoned other than thru hikers tonight. No cars in the parking lot, and no rangers driving around. It's simultaneously really nice to have the place to ourselves, and a bit eerie. For now, we just appreciate being clean and drinking water that we didn't have to filter!
Day 116
Start: Klum Landing Camp
End: Fish Lake Resort
PCT Miles Hikes Today: 23.0
The smell of smoke was thick this morning as we were packing up, and we could see haze through the nearby trees as we hiked. The first 6 miles of the day were up a gentle incline, and I could feel the smoke deep in my lungs as I climbed. It didn't really affect my speed, but it did make me feel like I had to cough. As we broke out above the trees toward the top of the climb, I could see a thick cloud blanketing the mountains. Clearly the smoke thickened overnight.
Since we crossed the border into Oregon, we've had much better tree cover. For most of the morning and afternoon, we had soft footfalls and shady trail. Definitely a treat after we roasted our way through NorCal.
At 13 miles into our day, we hit our first and only water source of the day, a short distance off trail. A hand-pump well was next to an Appalachian Trail-style shelter. The water was cold and clear, and we took about an hour to enjoy lunch at the picnic tables with Soccer Mom, Scout Master, Alaska and Fig Newton.
Did I mention yesterday that no new fires are popping up ahead of us? I must have jinxed it – as we were eating lunch, another hiker received a Garmin message from their mom, describing a new big fire just south of Santiam Pass, which the PCTA is issuing notices about. Apparently they intend to shut down the trail between McKenzie Pass and Santiam Pass, which will add another 18 or so miles to the Lionshead Closure north of Santiam Pass that we were already intending to shuttle around. Logistically it won't change much – we were already intending to hop a bus from Bend to get around the closure – but it's disappointing to be missing even more miles in Oregon, and new big fires burning certainly doesn't bode well for all this smoke improving over the next few weeks. Sigh. With all this smoke making it so tough to hike, I just hope we don't get smoked out of the open miles in Oregon.
We got our first taste of the famous Oregon lava rocks today. Out of nowhere, we were suddenly hiking through very exposed trail. I bet my shoes don't last 500 miles like they normally do – I'm guessing the lava rocks over the next few hundred miles will chew right through them. I can only hope that I don't have to dig a cat hole in this type of terrain.
Similar to yesterday, the smoke got worse as the afternoon wore on. Mango was feeling it in her lungs more than I was, but I started hiking in my KN95 face mask to try to get ahead of any smoke issues.
At the end of our day, we faced a decision – risk a spotty water source near Highway 140, or hike a 2 mile side trail down to Fish Lake Resort? We decided to take the side trail despite the bonus miles – in addition to the potable water at the resort, there is a restaurant which we've heard serves a legendary hiker burger for $12.
As we reached the end of the side trail, we got views of the lake, which was… unimpressive. Seems like the drought has seriously lowered the water level, and the smoke cut off any views we might have had. We wound our way around the lake and approached the restaurant, only to be disappointed yet again by the big CLOSED sign on the order window. They apparently have had issues with staffing, and the limited hours mean they don't open again until 9 tomorrow morning. Damn, missed dinner and we will hike out before breakfast! Why did we hike down here again??
As we wound our way sadly back around the lake to where the PCT hikers are allowed to camp, a man shouted at us from an RV, and chased us down holding… a plate of ribs?! The man's name was Rich, and he has been out here for the past 2 weeks in an RV with his mother Janet and puppy Abby, on vacation and treating PCT thru hikers to home-cooked ribs, baked beans and salad. We happily sat with Rich and Janet, and their two friends from LA, and made conversation for about a half hour or so. Rich invited us to camp on his RV plot, so we set up our tent in the dark and went right to sleep, full of good food.
Day 117
Start: Fish Lake Resort
End: Snow Lakes
PCT Miles Hikes Today: 22.6
We awoke to white ash all along the top of our tent, and just as much smoke in the air as we had yesterday. As we packed up and ate breakfast, we played with Abby, Rich's boxer puppy, whose favorite thing was jumping up and trying (and often succeeding) to lick you in the mouth. Rich offered to drop us back off at the trail to avoid the 2 mile side trail back up, and we happily took him up on his offer. Such hospitality! We got hiking around 7:30.
We set off from the road crossing with white ash falling from the sky on us. I put my mask on to hike in, but I quickly got lightheaded – I don't think I'll be able to wear a mask while going uphill. All this smoke can't be good for my lungs. Fortunately the trail was nice and gentle, with fewer lava rocks than yesterday afternoon.
We have been passing the quicker SOBOs for the last few days. As we passed one today, we asked how the smoke was up ahead, and the report was not good – he told us that north of Crater Lake was very bad, and that at Shelter Cove resort, our next stop after Crater Lake, the visibility was so bad due to smoke that he couldn't see more than 50 feet ahead of him on trail. Brutal! We will have to do some research when we reach Crater Lake. Oregon is quickly becoming a slog of a state, what with all this smoke.
What with how smoky it was at each viewpoint, and how smooth the trail was as we hiked, I didn't take many breaks (or pictures) through the day. We trotted quickly down the trail and enjoyed the easy hiking, and before we knew it, we were at the Snow Lakes turnoff, which was where we had planned to end our day.
Tonight we are at a nice little "lake", which is actually more of a frog pond. But the views are great and we have a nice spot sheltered from the wind, which we can hear gusting above us on the mountain. It's a surprisingly chilly night.
We're certainly making our way further and further North. I just hope we go fast enough to outrun these fires and smoke.
Day 118
Start: Snow Lakes
End: Mazama Village / Crater Lake
PCT Miles Hikes Today: 24.9
Hallelujah! The winds that were howling last night pushed away a lot of the smoke that has been hanging around the past few days. We woke to fairly clear skies and we could actually see the mountains again as we set off from camp. I was so happy I could dance. Since we knew we had a fairly long day, we woke at 5:30 and were able to catch the sunrise.
The wind also pushed in a cold front. Definitely below 50 degrees as we set off this morning. We started hiking in our puffy jackets for the time since… the Sierra? I kind of wished I had gloves on as I hiked. Though, as the sun rose, we quickly shed our warm layers and it was back to business as usual. I'm having my warm layers shipped back to me in Trout Lake, the first stop in Washington – I hope that isn't too late. Based on last night, if it can get this chilly in early August, what will late August feel like in northern Oregon, up on top of Mount Hood?
Around midday, just as we were starting to talk about lunch, we emerged into a massive burn scar. As we hiked, we passed what felt like thousands of tiny pine trees. From death comes life! It was cool to see the new trees transforming the area.
Aside from the smoke, one of the biggest struggles of this section for us has been Mango's feet, which have been screaming at her since we left Ashland. Foot and joint pain is a routine part of a thru hike. I've been feeling pain for most of our hike, only mentioning it when it was extremely bad or I thought it might lead to us getting off trail temporarily or permanently. Mango's body has held up much better than mine for almost all of our trip so far. But it seems the accumulated depreciation from the last 1800 miles might be starting to catch up to her. I tried to cheer her up by mentioning the extreme foot pain I was in for most of the Appalachian Trail, which left me hobbling around like an old man for weeks after finishing the trail. At this point in any thru hike, the key to maintaining your mental sanity is not to wish your pain to go away, but to hope for the stamina to endure your pain through the end of trail. We'll see how things progress over the next few weeks. Mango was moving at about 75% of her normal speed, until she popped a couple of ibuprofen late in the day, after which she picked up the pace to normal speed.
The weather stayed beautiful as the afternoon stretched on. A cool breeze was blowing from the northwest as we climbed and descended many small hills. About 6 miles from the road crossing, we entered Crater Lake National Park! Another famous National park crossed off the bucket list. Mango and I have been looking forward to this stop since we started the trail.
We pulled up to the road crossing around 6, and tried to hitch for about 10 minutes before accepting there just weren't enough cars passing at this time of day to make the effort worth it. So, we road-walked the 1 mile down to Mazama Village, where we grabbed 2 cafeteria-quality cheeseburgers from the restaurant, and posted up outside to catch up with our friends from the Double Bubble who have been a half day ahead of us this whole section. Mango and I sat and enjoyed the food and company, knowing that we will have 2 whole days to explore the lake – for now, a good rest was in order.
As it started to grow dark, we headed to Loop C of the nearby campground, which is the hiker/biker campground. We found a nice secluded spot among some tall trees (providing great shade so we can sleep in tomorrow morning), and called it a night.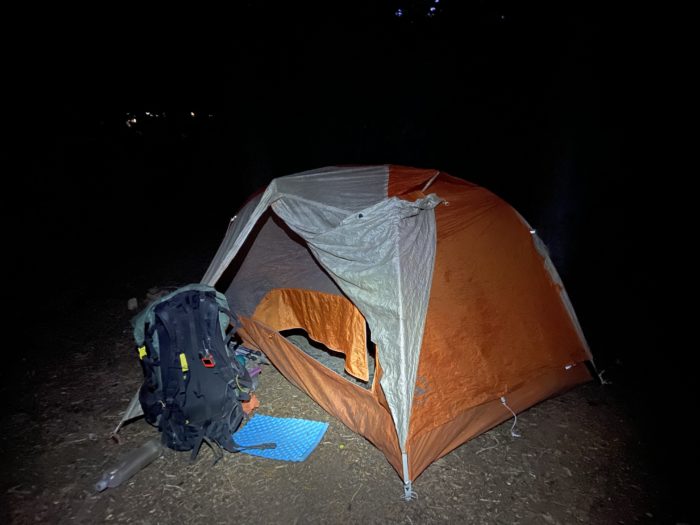 Days 119 and 120
Start: Mazama Village / Crater Lake
End: Mazama Village / Crater Lake
PCT Miles Hikes Today: 0!
Double zero! Mango and I were lucky enough to have our friends Joe and Jenni fly in from Chicago and drive up to meet us for two days of laughter and relaxation.
I feel like we got to see the whole of Crater Lake – so much more than most thru hikers get to experience, thanks to Joe and Jenni's handy dandy rental van. We spent a full day driving around the crater rim, pulling off at each viewpoint and reading all the information posted for the tourists. This was our first time seeing Crater Lake, and I was left absolutely speechless by how epic the views were. The smoke from last week had completely disappeared and we were treated to incredible views across the lake.
Joe also got another stamp for his junior ranger book. This young man is quite the ranger, and we're all very proud of him!
We finished off our day of driving around the rim by parking at Cleetwood Cove Trailhead and hiking down a very steep 1.1 miles to the lake for an afternoon swim. This is the only spot on the whole lake where you can swim, and most thru hikers miss it because it requires a 5 or so mile drive from where the rim trail intersects the rim highway. I felt lucky to experience it, as we happily hopped in the water, and Mango and I used the opportunity to scrub ourselves – there are no showers for hikers at Crater Lake, so this was as close to bathing as we will get between Ashland and Shelter Cove.
Joe and Jenni stopped off at Walmart on their way up, and brought a veritable feast for each meal, along with lots of little things that we sometimes have trouble finding on trail (like electrolyte mix and caffeine drink mix). Mango got enough propel to last her through the end of the PCT, and maybe even for most of her next long trail! The food was fantastic, and I'm not just saying that because I've lived off of Clif bars the last 4 months. Eggs with sausage for breakfast, cheesy rice and veggies for dinner… we ate like kings, and I think I put on a few pounds!
Tired of sleeping on the ground in a boring old tent? Turns out they now attach pop up tents to the top of vans! And the inside of the van converted to a nice flat bed, so Mango and I got to sleep on a mattress. What luxury!
Joe and Jenni, we can't thank you enough for making the effort to fly all the way out here. As Mango commented to me, "I feel spiritually fulfilled" – we both feel rested, well fed, and ready to tackle the rest of Oregon. Sharing our time here with you was something special. We won't ever forget it.
And that's it for this section! Our plan is a few short sections – 4 days to Sheter Cove, 4 days to Bend, then we'll probably hop a bus around the Lionshead Fire. Hard to believe that we only have a few more weeks in Oregon. We're hiking slow compared to many other hikers through Oregon, but we know we're still on track for a mid September finish, so we're not stressing.
Until next time, happy trails!
-Slice
P.S. If you like this post, check out Mango's trail podcast, Take a Hike!, now available on all major platforms (except Apple for some strange reason, probably due to that time I used an iPad mini as a fisbee during a local disc golf tournament. I left it a scathing review after it failed to fade left on the 14th hole, and it went straight into a river. To add insult to injury, it was not waterproof, so I lost both the tournament and the 3 seasons of Schitt's Creek I had just purchased. I should note, however, that the broken iPad continues to make a passable putter for short throws.) https://anchor.fm/takeahikepodcast
Affiliate Disclosure
This website contains affiliate links, which means The Trek may receive a percentage of any product or service you purchase using the links in the articles or advertisements. The buyer pays the same price as they would otherwise, and your purchase helps to support The Trek's ongoing goal to serve you quality backpacking advice and information. Thanks for your support!
To learn more, please visit the About This Site page.