Taking Bruises (Days 57 to 62, Bishop to Vermillion Valley Ranch)
Day 57
Start: Onion Valley Trailhead / Bishop
End: Lower Rae Lake
PCT Miles Hikes Today: 6.3 side trail miles to the PCT, then 5.2 PCT miles
What a treat to double zero in Bishop. I think on average I like the small mountain towns of the PCT more than the towns around the AT, and that makes it much more fun to zero. Bowling, movies and (lots and lots of) eating and drinking. My legs were feeling mostly recovered as I climbed into our 8am shuttle back to Onion Valley trailhead.
On the long side trail back to the PCT, we passed Firetheighs, who told us she had to turn back halfway up Whitney a few days ago as thunderstorms rolled in. That must have been such a difficult decision, but I couldn't imagine being at 14,500 feet on a ridgeline as lightning danced across the sky.
We slowly climbed to 11,950 feet, up and over Glen Pass. I read in our guidebook that although Glen Pass doesn't look impressive from an elevation standpoint, the north side can be extremely sketchy if there is significant snow, due to steep drops and slanted, treacherous trail. As we got to the ridgeline, we saw small pockets of snow, but nothing too scary. We took the snowfields and steep gravel very slowly, and safely made it down to more level terrain.
We moved very, very slow all day today. We didn't start hiking until after 9:30, didn't reconnect with the PCT until after noon, and didn't summit Glen Pass until after 4. I had originally planned for us to get all the way into the valley after getting over Glen Pass, about 10 miles beyond where the side trail reconnects with the PCT. We were only able to pull 11.5 miles on the day and still we felt exhausted… what a difference from the desert, where we routinely dropped 20s like they were nothing. With a slightly bruised ego and a new respect for the difficulty of the High Sierra, we decided to pull up short and camp at Rae Lakes.
And what a treat to walk through Rae Lakes! This is some grade A scenery right here – incredible alpine lakes, the largest and highest elevation lakes that we've seen yet. We couldn't help but take tons of pictures as the trail wound between the lakes, with views of snowmelt waterfalls pouring into the lakes.
We set up camp right next to Lower Rae Lake, ate a quick dinner, and went right to bed. It was after 8:30 as I climbed into the tent, which is very late for us. We have a longer day to get over Pinchot Pass tomorrow, but hopefully we can make up some miles by starting earlier in the day. No sign of Steve, Bushwhack, Spam, Meals… they all jetted ahead. Mango and I are camping alone tonight, no other hikers in sight.
Redline is staying behind in Bishop for a few days to recover a bit more from a hard last few weeks, and is hopefully meeting us at an alternate turnoff to Bishop about 40 or so miles up trail. As we were packing up this morning, he said "I've been off trail for two days, how is it my ankles are still hurting?!" I've got news for you bud, these trails often break something on your body permanently. Or, at the very least, it takes months after trail to return to a semblance of normalcy. After the AT in 2016, I was having pain 6 months after finishing, and after some medical imaging, we found stress fractures in my knee and persistent tendonosis in my ankle. Of course I'm hoping for a different result from this trail, but I'm prepared for pain long after we finish hiking.
Day 58
Start: Lower Rae Lake
End: Bushcamp near King's River
PCT Miles Hikes Today: 17.4
Nice warm night last night, despite the 10,000+ elevation! And I'm always thankful when I wake up and we didn't have a bear encounter the night before, especially when we're in bear country. We got rolling around 6 without jackets on.
Our first 5 miles or so was the downhill that we should have done yesterday. For these high passes, you want to wake early, get over the pass in the morning to avoid afternoon thunderstorms at high elevation, and cruise down the North side on still-hard snow. Well, we torpedoed that plan yesterday. By the time we reached the bottom of the valley, it was already after 9. Still, we found Spam (who is a notoriously late sleeper) and Bambi, so we knew we were still in our general bubble of friends, despite being a on the far back edge.
The John Muir Trail and the PCT are the same trail for the next few hundred miles (from Whitney to the Yosemite Valley), and all the signs have suddenly turned to the JMT instead of the PCT!
Although we were following a small river for most of the morning, when we got to the bottom, we found a much larger river – so large that they had built a cool suspension bridge over it. We wobbled our way across and began our big ascent of the day.
As we started the climb, I could see dark clouds moving in, which was the realization of my fears. Damn, I really didn't want to start ascending only to be turned back and be even further off of schedule. I kept a wary eye as we climbed.
The climb proceeded extremely slowly again, and we still had over 1,000 feet to climb as the clock touched 12:30. The clouds weren't getting worse, but they weren't exactly getting better… every few minutes I would glance at the sky and do a gut check on if things looked dangerous yet. As we approached the final stretch around 2, the clouds still seemed to be in a holding pattern, and so we kept pushing onwards.
We summited and were very pleased to see that almost all of the snow on the North side had already melted! No need for microspikes – we had a very easy descent down into the valley, past more beautiful alpine lakes.
On our way down, we finally hit a river that we couldn't cross by a simple rock hop – we had to get our feet wet. In a normal snow year, this would have happened many days ago. Fortunately, we were only a half mile from our campsite, so instead of taking the time to put on our crocs and cross the water, we plowed ahead with our regular hiking shoes, trusting that they would dry out before tomorrow morning.
We're at a beautiful campsite at the deepest part of the valley tonight, along with many other hikers. We got to soak our feet in the amazingly cold Kings River before we hopped into bed. Tomorrow we will hopefully pull another 16 mile day to get up and over Mather Pass, then camp again deep in the valley. It's fun to have one goal each day: get up and over the pass! Kind of makes everything simple (and we avoid those pesky late afternoon climbs!)
My backpack is definitely over regulation weight with 6 days of food inside and a bear can strapped on top. When my pack gets this heavy, the lack of padding on the hip belt of my ULA Circuit really starts to show – and I get bruises on my hip bones, where the majority of the pack's weight lies. I know it'll get lighter as I eat down the weight, but even so, the first day or two of these long sections are pretty uncomfortable. My hip bones are really tender to the touch and visibly bruising. Just when we thought we had this thru hiking thing figured out, here comes the Sierra – we're still taking bruises, 800 miles into our hike.
Day 59
Start: Bushcamp near King's River
End: Bushcamp just south of Bishop Pass trail junction
PCT Miles Hikes Today: 19.3
The air was humid and extremely cold as we woke this morning – we made sure to keep the filters in pockets as we began the ascent towards Mather Pass, our second to last 12,000 foot pass of the trail.
Scary moment early in the day today, as I was watching Mango cross a river, and she almost took a big topple in to the river near some rocks. She caught herself, luckily. I'll be glad when we no longer have steep snow fields or big river crossings…
The trail was surpassingly smooth and easy as we climbed. Last night the valley only dropped to 10,000 feet, so the climb felt short by comparison to our other 4,000+ foot ascents. Before we knew it, we were making the final push up some steep switchbacks!
We got to the pass around 9am, feeling good about having the difficult part of the day behind us so early. Lots of hikers at the top eating second breakfast, but none of our friends – I think Steve and Bushwhack have left us behind at this point, we haven't seen them since Onion Valley Trailhead a few days ago.
We were pleased with the lack of snow on the South face, and as we began the descent, we saw only a few 10 or 20 foot sections of snow, with well-established foot holes. We only had to put on our microspikes twice, and then the steepest part of the descent was behind us, and we could enjoy views of the incredible alpine rivers and lakes.
I think the views coming off of the pass as we were descending into the valley were some of the prettiest I've seen all trail. Honestly, this is how I picture Yosemite valley looking. Truly a spectacular sight.
We reached our planned campsite at the bottom of the valley around 3:30, and decided to push on, beginning the ascent towards Muir Pass and trusting that we'd be able to find a spot to camp on the way up. Plus, we knew Redline would be coming in via the Bishop Pass trail, and we thought it'd be cool to link up with him tonight, as we had been flying solo for a few days now and we were missing the social aspect of the trail.
We made it to a site near the Bishop Pass trail, and as we were setting up our tent, Redline rolled in! A perfectly executed meetup. We ate dinner and caught up, but as soon as the sun went down behind the mountains, it got unreasonably cold. Tonight is going to be freezing, I can already tell. We retreated to our tents around 7 to climb into our nice warm sleeping bags and called it a day.
Big day tomorrow – a 7.5 mile, 4,000 foot climb, to what will likely be the snowiest pass we will hit in the Sierra. But this is the end of the 12,000 foot passes! It seems like we just entered the Sierra, but I'm looking at my guidebook, and we're over halfway through the high passes. I'll be glad to put this section behind us, even as beautiful as it is.
As I closed my eyes for the night, I heard soft footsteps near the tent. I peeked out to see two beautiful deer walking by, on their way to the stream. "Amazing", I thought, as I happily closed my eyes and fell asleep.
Day 60
Start: Bushcamp just south of Bishop Pass trail junction
End: Last campsite before Evolution Creek
PCT Miles Hikes Today: 19.6
Well, the deer ate Redline's trekking poles. The straps were clearly holding some salt / sweat, and after the beautiful deer walked by our tent and drank some water from the stream, they clearly strolled over to Redline's tent and got themselves a snack. To add insult to injury, there was still deer saliva all over his straps, which soaked into his gloves as he started hiking. The strangest part of all this is that Redline claimed he could smell the deer saliva all day, and he told us he actually licked the strap to see if it tasted salty. Maybe we really are becoming animals out here.
We began our ascent to Muir Pass, the last of the true High Sierra passes at 12,000 feet. We had been told that as of last week, there were several miles of snow both before and after the pass, so we girded ourselves for a slog.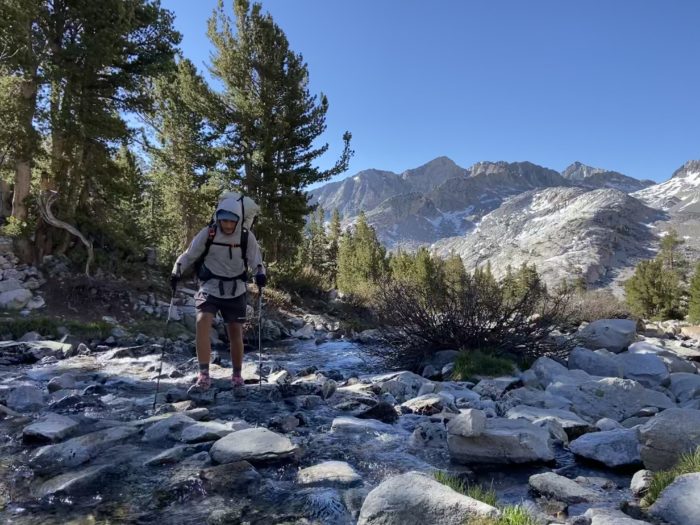 As we climbed over 10,000 feet, we began to see more snow fields, most of which were easy to navigate around. However, as we neared 11,000 feet, the snow fields became unavoidable. The wind also started to pick up, gusting and trying to push us over as we teetered from rock to rock.
It became brutally cold as we neared the summit. Helen Lake was mostly frozen over still, and as the cold wind gusted and tried to push us over, we were happy to still be wearing our puffies and rain jackets for warmth. My nose felt like it was going to freeze and fall off.
It was a real grind to the pass – even though we were pleasantly surprised by how little snow we had to navigate, it still took a lot out of us to get all the way to the top. We were all psyched when we turned a corner and found the summit hut, which provided an amazing wind break. We sat and ate lunch for about a half hour, reveling in the warmth.
Again, on the way down, we were pleasantly surprised by how few snowfields we had to traverse. However, the wind was gusting so hard as I crossed one snowfield that I took a nasty fall and banged my shin on some ice. Amazing views, but it was still a nasty, cold day.
As we descended toward Evolution Lake, the wind died down and I finally was able to take off my gloves. Unfortunately one glove fell out of my pocket, and I lost it. I didn't realize until miles later down the mountain, and by that point it was gone.
We made camp near Evolution Creek. As we were setting up for the night, some nasty weather moved in, and the temperature quickly dropped below freezing. It was hailing on us as we dove into our tents and climbed into our sleeping bags.
Brutally cold days like today are a reminder that, although a low snow year allows for an early entry into the Sierra, the early-season cold weather can make a day really difficult. I feel totally wiped from how cold it is outside right now – I was shivering uncontrollably as I brushed my teeth and climbed into bed. Thank god I decided to bring a 10 degree bag – the extra weight is worth it. It's always easier to cool down than warm up out in the wilderness.
Day 61
Start: Last campsite before Evolution Creek
End: First campsite after Bear Creek
PCT Miles Hikes Today: 18.5
Whew, it was a freezing cold night last night. We slept in an extra half hour and packed up, ready for our first major stream crossing. Redline's small thermometer he keeps on the outside of his pack said it was 25 degrees.
Less than a quarter mile from our campsite was the Evolution Creek crossing. There are two significant (and some years dangerous) river crossings in this section of the Sierra – Evolution Creek, and Bear Creek. In high snow years, when the snowmelt peaks in June, the rivers become dangerously flooded, with fast currents and elevated water levels. Hikers have died in prior years from being swept away in these rivers, most recently in 2017. Thankfully, this is a low snow year, and as we approached the river, it appeared to be no more than knee deep. We crossed with no problems.
We paused on the far bank to put our shoes back on, but had a tough time getting feeling back into our toes. The air temp was still in the 20s, and the water was FREEZING cold. The water in my crocs froze almost immediately after leaving the river, and trying to drink from our water bottles was like drinking from a slushee machine – everything was frozen. Not a good day to have lost a glove… I used one of my Darn Tough socks as a makeshift left glove, which worked, but was far from ideal.
Mango was dangerously cold after the crossing, shivering and moving slow. Eventually we found a sunny spot to sit and warm up in, which lifted all of our spirits after a very tough night and morning. The day was warming up, finally, and we began to push mileage. There was only one 11,000 foot pass between us and Vermillion Valley Ranch, and we wanted to get over it today, to make our day tomorrow easier.
As the day warmed up, our spirits lifted. We were back to normal hiking clothes (this morning we were literally wearing every piece of clothing to stay warm, including our sleep clothes), and we were back to normal hiking speed as well. We flew up the ascent to Selden Pass, which was surprisingly easy with no snow and a smooth trail.
We cruised down the descent with no problems, and cleared the last 3.5 miles to Bear Creek, which was also flowing low compared to prior years. We had an easy crossing, and set up camp nearby.
Beautiful tentsite tonight. I feel like we actually got to enjoy eating dinner outside, in the beautiful evening sunshine, unlike last night when we tossed down our dinners and dove into our tents to escape the hail. As we slowly wound down, I reflected on how lucky we were to be hiking in a low snow year. Easier passes, less dangerous river crossings, and an earlier entry (which improves our odds of a successful NOBO before it starts to snow in Washington).
Day 62
Start: First campsite after Bear Creek
End: Vermillion Valley Ranch (VVR)
PCT Miles Hikes Today: 5.3 to the VVR turnoff, then 5 or so miles along the Bear Ridge trail to VVR
Town day! This was a tough couple of stretches for us – back to back 6 day food carries, and some serious mileage up and over the passes each day. Mango and I were ready for some old fashioned rest and relaxation at VVR, especially after another very cold night last night. Redline's thermometer said 30 degrees as we started hiking around 6:30.
We had one more major river crossing about 1 mile into the day, but fortunately there were two logs that were ideally laid across the water. We were bold and attempted to cross on the logs vs change into our crocs to ford the river, and we easily made it across. This final hurdle behind us, we pressed on quickly towards the VVR turnoff.
In a normal year, a water taxi is available to shuttle hikers from the PCT over to VVR. California is in a drought, though, and the water levels are too low this year on Lake Edison to allow the taxi to run. So, this year it's a 5 mile side trail, followed by a 2 mile dirt road walk to the resort. Many PCT hikers seem to be skipping VVR because of this, instead opting to do a longer food carry from Bishop to Mammoth. Mango and I didn't want to do the extra day or two of food carry, and there's a reasonable blue blaze back up to the PCT without adding too many miles to our section. We emerged at the trailhead to find a very low lake, and super nice views.
Nearby was a woman with a dog, so of course we went over to play with the dogs. After a minute the lady asked if we wanted a ride to VVR. Uh, yes we do! We hopped in her truck and drove the few miles to the resort.
We pulled in right as they were beginning to serve lunch. Amazing! Mango and I both ordered two lunches – I got the patty melt with fries and the steak quesadilla with pasta salad. So much food.
The rest of our day was the usual errands, punctuated by running back in and grabbing another beer every half hour or so. Super good vibes here – the staff likes hikers, the hikers are all in a good mood, and everything just felt easy from the moment we stepped through the door. This is going to sound weird, but this is how I pictured Kennedy Meadows – a peaceful mountain retreat. I wish I spent less time at Grumpy's and more time here.
Tonight we opted to stay in the hiker hostel tent. $15 a bed, and we are sharing with 4 other hikers. The last few nights have been crazy cold, and it feels great to sleep in a bed, even if it's a twin bed and the walls are canvas. I'm freshly showered, my clothes are clean, and life is good.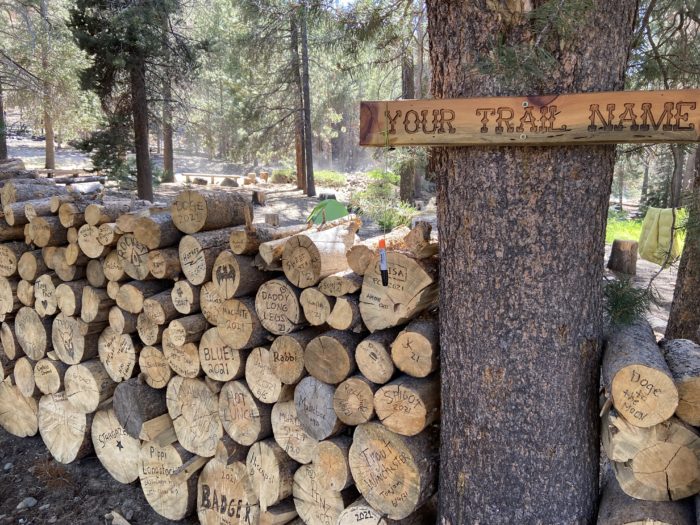 And that's it for this section! The plan from here is 4 days to Tuolumne Meadows, and arrive in time for the 10:15am Yosemite Area Regional Transit (YART) bus to take us to the Yosemite Valley for a night. We have absolutely no plans for Yosemite other than to see where the day takes us.
Until next time, happy trails!
-Slice
P.S. If you like this post, check out Mango's trail podcast, Take a Hike!, now available on all major platforms (except Apple for some strange reason, probably due to that time I dressed up as Steve Jobs at a masquerade party. One bottle of whiskey and several costume alterations later, I left several angry Apple engineers on the dance floor, muttering about how Mr. Jobs would never show that much cleavage.) https://anchor.fm/takeahikepodcast
Affiliate Disclosure
This website contains affiliate links, which means The Trek may receive a percentage of any product or service you purchase using the links in the articles or advertisements. The buyer pays the same price as they would otherwise, and your purchase helps to support The Trek's ongoing goal to serve you quality backpacking advice and information. Thanks for your support!
To learn more, please visit the About This Site page.