The Boy Who Blew Off The Mountain (Days 40 to 48, Tehachapi to Kennedy Meadows)
Day 40
Start: Hwy 58 / Tehachapi
End: Walker Pass / Ridgecrest
PCT Miles Hikes Today: 3.5 up, 3.5 down
Well, we're certainly starting off this new section with a bang.
I should begin by saying how much we loved our three nights in Tehachapi. Amazing town, awesome restaurants, and yesterday – our true zero day – was absolute cake. We didn't move from our bed for most of the day. Lots of bad television and reheated restaurant meals. We emerged only to run across the street for dinner and hit up Denny's. Truly a zero for the ages.
We booked a 6:30am taxi pickup to bring us back down highway 58 to the trail, and when we arrived around 6:45, the wind was howling. We hiked along the highway for about a mile, then headed up into the mountains.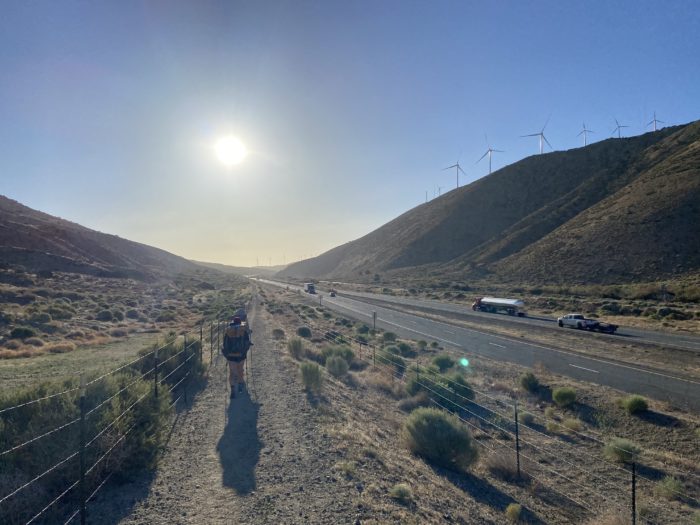 Redline, Bushwhack, and Steve booked a 7am ride to trail, so they were arriving a little behind us. Songbird cruised ahead (as always) while Mango and I dropped a little behind. As we hiked away from the highway, we passed a few backpackers heading in the wrong direction. They told us they had tried to hike up NOBO this morning but had turned around – the wind was too dangerous. We nodded politely and kept hiking.
As we reached the 3-mile mark, it began to get very difficult to turn certain switchbacks on trail. The wind was absolutely whipping, and we compensated by leaning in / stabilizing with our trekking poles, mostly successfully. Mango was leading us. Then, we got to one particular corner, and I saw Mango get hammered back by sustained gusts of wind. She was being pushed back, no matter how much she squatted down or leaned in. She fell down and scooted back to relative safety. We tried again and failed again to turn the corner, the wind was just too much. We both drew back about 20 feet and considered what to do next.
As we were deliberating, Steve and Bushwhack hiked up. Together, we scooted around the corner (me on my hands and knees crawling), and got to a small rise about 20 feet further up trail. Past the rise was a saddle – with a drop off to the left and a drop off to the right. The wind was absolutely hammering this saddle from the left side. I led the group and scooted out on all four limbs, and felt myself getting lifted up towards the drop on the right. I fell hard on my knee, turned around, and screamed to the others that I needed to turn back. Mango and I retreated to the small rise. Bushwhack yelled, "YOU'RE BLEEDING!"  I looked down to see my right knee was soaked through in red blood (especially visible on my white sun pants). It looked like I had been shot in the knee. Here we are cowering from the winds and flying rocks, courtesy of Steve.
Mango and I started backtracking. I turned around to see Steve and Bushwhack following us – Bushwhack and tried to go out where I had been, and almost been blown off himself. Steve grabbed his pack to stabilize him, and the two of them decided to retreat as well. Bushwhack lost his sun hat in the maelstrom.
We cut the switchback near Hell's Corner by scooting down the hill very slowly on our butts. Down trail about 100 yards, there was another small rise to hide behind, and we all huddled down and took stock. My knee was bleeding but seemed to be mostly superficial. I couldn't stop shivering – the wind had sucked all of the warmth from my body. I quickly tossed on my puffy and wind jacket, and we continued down the mountain, occasionally bracing ourselves as the gusts tried to take us away.
Along the way we met several other NOBOs, and gave them the scoop – at the end of the day, it was their decision if they wanted to press on, but most decided to turn back with us.
We got back to the trailhead, disappointed at having to turn around but confident that we'd made the right call. By this point we had about 10 folks assembled, and it took a while to find rides back to Tehachapi. Eventually, we all assembled at the local pizza place, to eat lunch and (most importantly) drink a few beers to calm out shaken nerves.
Steve in particular was very disappointed to have turned around…
I cleaned myself up in the bathroom, chugged a beer, and started considering what the heck to do next. The wind was not going to quit for the next few days in Tehachapi. We pulled up a news report that showed 75 mph gusts in the area we were heading into, and I want none of that. That's hurricane-force winds! Good luck getting a tent up.
Either we wait out the winds here in Tehachapi, or we try to shuttle around to Walker pass 90 or so miles north, and go SOBO to give things a few days to settle down in this area. We ended up paying Joe (the same guy with the rental car truck who shuttled us in big bear) to shuttle us up to Ridgecrest, where Mango, Redline, and I got a hotel room, and the rest of the crew went to camp at Walker Pass, despite the forecasted winds for tonight. I understand their mindset – so many town days in a row – but still, Walker Pass had a 61 mph gust earlier today according to an hourly chart posted. Sounds like an uncomfortable night.
So, here we are, fresh off of 3 straight nights in a hotel, and tonight we're in another hotel. So disappointed – we came out here to hike, not to sit in bed twiddling our thumbs. But hopefully, we're done with the worst of the winds. Walker Pass winds are supposed to die down starting at 11 pm. We'll see when we get to trail tomorrow.
Day 41
Start: Walker Pass / Ridgecrest
End: Bird Spring Pass
PCT Miles Hikes Today: 21.3
The America Inn and Suites motel was far better than I feared it would be – two nice beds, clean sheets, a shower – no complaints. We woke up at 5:30, packed up, and walked over to a Starbucks across the street from the bus stop for breakfast.
On Monday, Wednesday, and Friday, regional transit busses cover a surprising amount of ground in this area. For example, one was scheduled to pick up at 7:05 at a half-mile away from our motel and drop us off right at the PCT at Walker Pass, a 25-mile drive high into the mountains. Lucky us, it's a Friday today, so we happily climbed onto the bus and paid $3 each, an absolute steal for a shuttle.
Our first reunion of the day came on the bus – Hot Spring was heading back to trail as well, continuing north from Walker Pass! We caught up over the next 30 mins. She is crushing miles but hopping off at Kennedy Meadows for a few weeks for a family wedding. I hope we see her again when she picks back up in mid-June!
The wind seemed to be completely calm in town, but as soon as we got off the bus at Walker Pass, we were blasted by very, very cold wind. Mango and I both put on our puffy and rain jacket and quickly started hiking. The crew who camped at Walker Pass last night must have had a very cold start this morning.
As we hiked South along the trail, I kept having this bizarre feeling that I was hiking in the wrong direction. This was confirmed by every single NOBO thru hiker I passed today, most of which looked confused why I was heading in the other direction than they were. I passed an older couple, and as they were hiking away, I heard the husband say to his wife "What's with all the section hikers today?" They walked away before I could explain. I just laughed and kept hiking. Still, I felt like that old scene in Planes, Trains and Automobiles – "You're going the wrong way!!!"
Despite the cold weather and the late start, I really felt like I was effortlessly flying today. I hiked ahead of Mango and Redline until a snack 8 miles in, then hiked ahead of them the rest of the day. My legs were really, really recovered after what was essentially 2 near-os and a zero. I just didn't really stop all day, other than quick snack breaks. Well, that, and every single time I passed someone I knew hiking in the opposite direction!
And there were so many people! I saw lots of folks from our hiking bubble who had gotten a few days ahead of us while we hung out in Tehachapi. Steve and Bushwhack were way ahead of me (after they camped at Walker Pass and hiked out at 5:30), so most had already heard the full story from yesterday's shitshow. I just showed them the blood explosion on my right pant leg knee, and they ooh'd and ahh'd. It sounds like the wind up here was crazy yesterday too, but that wind funnel around Tehachapi is a whole other level. The wind was definitely still blowing today, but if yesterday was like a swift punch in the face, today it was like a lover's caress. What a huge difference 24 hours makes.
The trail was so smooth and easy all day. I had a long, winding descent into our planned campsite, and as I arrived, I saw Bushwhack, Steve, Unicorn, and Rental all posted up hanging out. They had been here for a few hours, having flown up the trail like I did. We all ate a quick dinner as Mango and Redline rolled in, then quickly retreated to our tents, as it is freezing cold tonight. Isn't this supposed to be one of the hottest sections of trail in the desert?? Not this week – my toes are frozen as I type this. Steve said he got snowed on this morning as he hiked out. The trail certainly is thrown us some curveballs over the past few days, but I'm proud of how we've handled the challenges.
So, we've got our eye on a 5:30 pm bus out of Mojave on Monday (remember those awesome busses that run on Monday Wednesday Friday?) – the bus will take us right to Walker Pass, where we started the day today, and we can continue north towards Kennedy Meadows. Today is Friday, which would mean averaging over 20 miles per day this section for 4 full days, and getting into Mojave early enough to quickly resupply and hop the 5:30 bus. It'll be a big push over the next few days, but if we can make it happen, it would keep us on a nice timeline and greatly simplify our logistics in getting back to Walker Pass. We'll see if the miles tomorrow comes easy as they did today!
Day 42
Start: Bird Spring Pass
End: Bushcamp a few miles from Jawbone Canyon Road
PCT Miles Hikes Today: 26.4
A huge mileage day today! Almost 1% of the whole PCT hiked in one day – some might say that's no big deal, but it's definitely a big accomplishment for me.
We were back on our usual schedule this morning – wake at 5, hike out by 5:30. This morning was freezing cold. I swear, there are some weird weather patterns blowing in from the mountains to the north. I mean, I even see clouds in the sky again today! Southern California feels like it never has any clouds this time of year. Anyway, it was a beautiful trail heading out of camp. We scooped some water from the nearby water cache (thank you Devilfish for maintaining this one!) and quickly got to hiking.
Mango and I hiked the morning alone. The wind has really died down from the past few days – a little breezy, but other than that, our ridge walking was cold and easy.
We continue to run at the elevation of the Joshua trees, which are so dang cool to hike past. This is the first time I've ever seen these types of trees and I can't help but marvel every time I pass by a patch. Very funky and alien-looking. I can see why people take hallucinogens and go to the wilderness to stare at these! No drugs required, these were some cool-ass trees.
All day we continued passing our NOBO friends. At a certain point, we passed a group of 5 older hikers, who looked at me appreciatively and said "Ah, so you're the boy who blew off the mountain!" and pointed to my bloody pant leg. I just laughed – Clearly, the story of our misadventures hiking out of the highway a few days ago has been making the rounds in the local hiking bubble. I guess we've become one of those stories that groups tell each other in passing. I'm sure by the end of this week, it will be exaggerated even more, and I'll have been helicopter-rescued and they had to amputate the leg!
We saw Songbird for the first time since that hellacious windy day. I gave her a big hug before saying anything – she was the only one in our group who powered through those winds, and I know how traumatic that must have been. She had a really scary day, she said – she had been blown off-trail into a bush and gotten big scratches, and she at a certain point had to stop at a windbreak and gather herself emotionally. She is a day ahead of us now, but maybe we can catch her at Kennedy Meadows.
We reached a dirt road 14 miles into our day and a man named John had posted up with coolers full of soda and beer for hikers! He had been out geocaching in the area and decided to stay a few extra hours. Super cool of you, John, thank you for the Coca-Cola! Mango was a huge fan of the ginger beer!
I slowed waaaay down for the rest of the day, as my right hip was really bothering me. I plodded along as the rest of the group raced ahead. As we climbed a few thousand feet out of the dirt road, the trail turned to beautiful pine forest. The tall pine trees reminded me of North Carolina, and I started to miss the trees back home. It was still really cool despite the afternoon hour, so I didn't mind slowly continuing to hike through the hottest part of the day.
We pulled into camp a little after 6, having pulled (what I consider to be) a heroic day of over 26 miles. My body hurts, and I popped some ibuprofen before bed to help take away the sting, but we're definitely on pace for that 5:30 pm bus on Monday. I keep telling myself that I'll slow down after that heading into Kennedy Meadows and the Sierra, but Steve and Bushwhack are talking about continuing to push mileage, so who knows what we will end up doing.
This is always the delicate dance that trail families do. At what point do you break from the group to do your own thing? I expect I will need to slow down soon, even if that means that Mango and I let the others race ahead. We've rolled with this group for about a month now, and we'd love to stay with them, but I'm not confident in my ability to do the kind of mileage that they are clearly capable of doing. More than that, I can't shake this feeling of "what's the rush?" – It's May 22, and we're still so early in the season that I don't feel an overwhelming urge to rush to Canada (yet). So, we will see how things develop.
Day 43
Start: Bushcamp a few miles from Jawbone Canyon Road
End: Bushcamp 2.7 miles south of Golden Oaks Spring
PCT Miles Hikes Today: 23.8
A very cold night last night – when nights get this cold, we sleep with a few things in our sleeping bags: our water filters (if they freeze then thaw, the fibers inside do not filter out the dangerous bacteria anymore), and our electronics like phone and battery packs (the cold saps the batteries). So our sleeping bags are always full-on cold mornings like today!
As we got close to camp last night, we ran into Sunspot going NOBO. She told us of some legendary trail magic from weekenders up at the road crossing a few miles away. We decided to sleep in for an extra half hour, then hike up to see if they were still there. And son of a gun, they were there! With a full camp stove setup and camp chairs!
Fancypants is a former PCT hiker, and he and his girlfriend had driven 8 hours from Oakland to come treat hikers for the weekend! Last night he had burgers and ice cream, and this morning he had eggs, bacon, muffins and gallons of orange juice and coffees. We were his first customers of the day and happily posted up on his camp chairs, making conversation. For the next 90 minutes, we gorged ourselves and happily chatted about all things trail. Clearly, Fancypants knew exactly how to make hikers happy. He absolutely crushed it, this was the best trail magic setup we've seen the whole trail!
The food was phenomenal, but we also knew we had to pull a 20 today, so we reluctantly parted with the couple, yelling thanks over our shoulders as we hiked out into the beautiful towering pines.
Lots of downed trees today to climb over. Every time I swung my leg over, my hips screamed in protest. Something along the front of my hips is not happy with me right now – my groin? Hip flexors? I have no idea.
Late in the day, we passed the construction of new windmills – we're clearly getting back into that wind tunnel near Tehachapi. It was interesting seeing caution signs and orange safety netting right alongside the trail. There didn't seem to be any construction happening today, but cool to see that new green energy is being built. Gotta love any form of energy that doesn't burn fossil fuels!
Near the end of the day, Mango reached down and snagged a horny toad. She was very pleased with herself, unlike the lizard – check out his cute little grumpy face.
We were all very tired as we rolled into Golden Oaks spring, a water source with a notoriously slow drip of water – but since it's the only water for 20 miles north and 15 miles south, it's a necessary stop for hikers. We all slowly filled up our bottles and hiked on to our planned campsite a few miles away.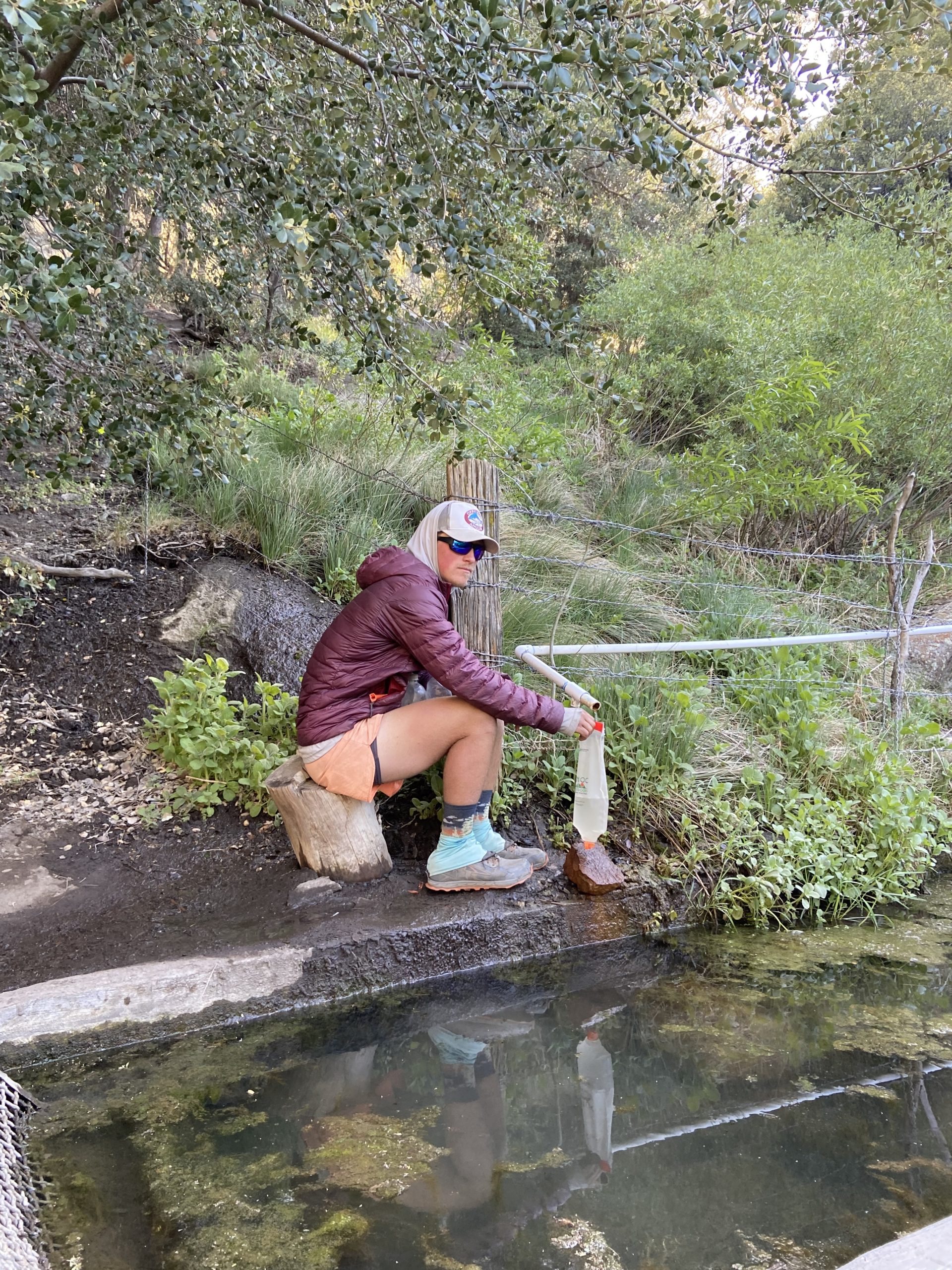 It's a windy but beautiful campsite tonight. We are parked right off the trail on a ridge, and I think I can see Mojave in the distance. We've set ourselves up so well for tomorrow – just 14 miles to the highway, where we will hopefully find a quick ride to Mojave, resupply at a gas station, then hop the bus back to Walker Pass. We might actually pull this off! Amazing.
It was hard putting up our third straight 20-mile day today. My body is not happy with the recent increase in mileage. Redline is really struggling as well today, he had a hard day and mentioned he was thinking about quitting as he struggled through the day. Not seriously considering it, but these types of negative thoughts sneak in occasionally. Mango and I are hurting, but we have had zero thoughts of quitting the trail and going home. Slowing down? Yeah, maybe. But leaving entirely? No sir, you'll have to drag me away kicking and screaming.
Day 44
Start: Bushcamp 2.7 miles south of Golden Oaks Spring
End: Highway 58 / Bus back to Walker Pass
PCT Miles Hikes Today: 14.1
We were up at 4:30 and hiking by 5. Town day is always an exciting day, but we also knew we had a bus to catch in Mojave, which lent our steps a sense of urgency. Mango's feet were really tender heading out of camp, and my left Achilles tendon was screaming at me, but eventually, we loosened up and really cranked through the miles quickly, only stopping once for a Clif bar.
We descended into the same area where, just 5 days ago, we pulled the plug and turned back due to crazy high winds. Today could not have been more different than that day – beautiful blue skies and a soft breeze all the way down. We passed several narrow Saddle spots where, if I had to hike them 5 days ago, I would have been scared out of my mind. Mango and I commented to each other how happy we were that we turned around. As we approached the saddle where we turned around, it was surreal to serenely walk across it, knowing what we faced 5 days ago. And again at Hell's Corner, we could see the wind-blasted trail, all the dirt torn away and flung elsewhere on the mountain.
Such a fast descent today – we cleared 14 miles before 10:30 am. We called the bus from the highway, which runs every few hours into Mojave, and found that the next one would come through in a half hour. Perfect! We hung out on the side of the highway on ramp, and the bus came right on time.
What to say about Mojave… not a whole lot going on in town, and definitely not as good of a vibe as Tehachapi. Lots of train noise, fast food joints, and boarded-up windows as we walked from the bus stop. We headed to Denny's, hoping to get a few hours of air conditioning and maybe an outlet to recharge our devices since we won't have a hotel room tonight.
The Denny's turned out to be an awesome stop – perhaps my standards have slipped, but as bad as the town of Mojave seems to be, this Denny's gave off just as good of a vibe. Welcoming waiters, outlets, free soda refills, and huge portions. I ate an egg skillet with hash browns, then a few hours later had a full-size nacho plate (the size you're supposed to share with friends, except… I didn't share). So full! Look at all those milkshake containers. We emerged happy and walked down to the bus stop for our 5:30 to Walker Pass.
The bus plan went off without a hitch, and we climbed out at Walker Pass campground around 7:30 to find a former thru hiker from 2016 with a case of beer, hanging out at a picnic table. Also, there was local Ridgecrest trail angel Tye Die, who had a lot to say about the upcoming section (and the storm which just moved through the Sierra last week!). We all chatted for the next hour while we ate dinner, and I climbed into the tent full and happy (and only slightly buzzed).
I'm proud of making the safe decision to turn back last week, and it was a blast to head SOBO for a few days, but I'm also ready to start heading North again. Strange to think Kennedy Meadows is only a few days away. The anticipation is definitely building! Can't wait to leave the desert behind, hopefully for good.
Day 45
Start: Walker Pass
End: Ridgeline bushcamp, 8 miles south of Chimney Creek
PCT Miles Hikes Today: 20.7
It felt like the heat came back in full force today, starting with the night. As we fell asleep last night, all we needed were our liners, and at some point in the night, I half-pulled my sleeping bag over me as a quilt. We woke up at 5 and comfortably changed in the tent, which is a far cry from how reluctant we usually are to leave our nice warm sleeping bags. We got moving around 6.
Our morning began with a climb out of Walker Pass. Broad, sweeping views greeted us, and it was a beautiful morning. Nice easy trail and incredible scenery. I know that the Sierra will be even more beautiful, but I still felt spoiled as I hiked this morning.
The heat definitely came out around 10, and I fell behind Mango, Bushwhack, and Steve. Even as I finished the climb and started heading downhill for the next 5 miles, I felt like I was plodding along, head cloudy, very low energy. I sat down on the side of the trail several times to eat and drink and try to fix the issue, but I was really feeling like junk.
Eventually, I caught up with the crew down by Spanish Needle Creek, where there was nice shade and plenty of flowing water. I chugged a liter, ate lunch, and promptly fell asleep for an hour.
When I awoke, there were several other hikers hanging out, but no Redline. He has been seriously struggling over the past week. We won't see him all day, and when he gets to camp late, he seems pretty wiped. Steve and Bushwhack told us they plan to do a 25 today and a 26 tomorrow, to get to Kennedy Meadows in 2 days. Mango and I decided to keep our initial plan of 20-20-11. Although she is feeling great, my body is really not happy with me. My left Achilles is hurting, and my groin on both sides continues to toss off really weird pain later in the day. Is this a hangover from the big mileage earlier this week? Or maybe is it the usual 700-mile "check engine" light that goes on for most hikers?
We had a difficult climb late in the day, and when we saw a site at the saddle and realized we were already over 20 miles on the day, we took it. As I write this, no Redline yet. The trail fam is officially on hiatus, with Songbird already at Kennedy Meadows, Steve and Bushwhack a day ahead of us, and Redline behind us somewhere.
I somehow lost my toothbrush today. How I can lose anything when everything fits in my backpack, I have no idea… just one of many items I'll have to buy at Kennedy Meadows in a few days.
Day 46
Start: Ridgeline bushcamp, 8 miles south of Chimney Creek
End: South Fork Kern River
PCT Miles Hikes Today: 25.0
Redline didn't show up last night, so Mango and I hiked out alone. Another beautifully warm morning, as we finished the incline from yesterday and had an easy first 8 miles downhill to Chimney Creek.
I was feeling much better than yesterday, though Mango was still leaving me in the dust. She's such a strong hiker. The 6.5-mile climb out of the creek had me huffing and puffing. I was very appreciative of my sun umbrella today, as there was no wind and full sun, I had it out pretty much all day. Still, Mango beat me to the top of the mountain by about 45 minutes.
We ate a quick lunch in full sun at the top of the incline. Mango let me know that she read a whole bunch of comments that our planned campsite had a problem bear bothering hikers and eating food, so when we reached the creek and campsite, we just grabbed water and pushed on, knowing that the additional miles were a small price to pay to avoid a bear encounter. As we hiked, we realized we were only a few more miles from a river that we could swim in – so on we pushed, tempted by the clear cool waters of the Kern River. I was stumbling by the time we reached camp, but we made it, and joyfully leaped into the river!
The water here is cool, deep, and beautiful. I also feel clean for the first time in 6 days! This is the best river we've seen since we left North Carolina, I'm in heaven.
We set up camp near the riverbank, and tonight we are falling asleep tonight to the sound of running water – amazing. Only 4 miles tomorrow to the Kennedy Meadows turnoff, and the restaurant doesn't open until 9, so we're sleeping in tomorrow! Can't wait for that legendary breakfast burrito as soon as the general store opens!
Days 47 and 48
Start: South Fork Kern River
End: Sherman Pass Road / Kennedy Meadows
PCT Miles Hikes Today: 4.4
We gave ourselves a rare treat this morning and slept in until 5:45(!), then I ate breakfast in bed (a Clif bar while still in my sleeping bag). It was a wonderfully relaxed morning, and we flew out of camp. Both of us were so excited to hit the turnoff for Kennedy Meadows.
It was a little emotional turning on the road and seeing signs for Kennedy Meadows general store. We've been anticipating this moment since before we even left for the trail – this is the end of the desert, the beginning of the Sierra – here comes a whole new chapter in our hike!
Kennedy Meadows consists of a few different places. First, the legendary general store located a half-mile or so off-trail. While there was a good crew banging out on the patio, the full restaurant didn't open until 11, so Mango and I decided to go a few miles down the road to Grumpy Bear's retreat. And when we pulled in, this was clearly where the party was – tons of hikers, a full restaurant and bar, and a packed patio. Outdoor showers, free laundry, bathrooms, charging outlets – this place had it all! Mango got right to work on her meal, and the pancakes came out bigger than her plate. Amazing.

Sorority Steve and Bushwhack were here, as was Sunspot, and we all had a lot of fun hanging out drinking beer on the patio. Redline hiked in as well, and he was feeling a lot better than he was a few days ago. Steve had mail dropped himself a coloring book, so many hikers were taking turns coloring pictures of animals wearing fancy human clothes. What else are you going to do on a zero day?!
Our first day was a blur of eating, drinking, and doing the usual camp chores. We picked up our bear canisters, bought a few things at Triple Crown Outfitters (where we got to meet Yogi, an absolute trail legend), and ran our laundry after a very long line of hikers finished their laundry. I was a little concerned that the party would keep raging all night and we'd have trouble sleeping since we set up our tent nearby, but the place really quieted down around hiker midnight (9 pm) and I had no problem sleeping.
Our second day was much more of a classic zero. I awoke and lay in bed for an extra hour, hanging out with Mango. We put the final touches on our Sierra plans and, of course, ate like crazy.
One last note… I weighed myself for the first time this trip in the Tehachapi holiday inn workout room. I started the PCT at 180, and am currently down to 165. I typically run around 165 and gained weight to start the trail to get up to 180, so it's not super alarming that I'm back down to my normal weight. But I hope I don't keep dropping weight at this pace… Mango told me earlier this week that I'm looking skinnier, and looking in the mirror, I definitely see it. It's so hard to keep weight on during a thru-hike. No matter how much I eat while I'm in town (and trust me, it's a genuinely shocking amount – think double meals and finishing it up with a full pint of Ben and Jerry's for dessert), consistently dropping 20 mile days on trail is the most effective diet I've ever seen. Just something I'll have to keep my eye on in the coming weeks, especially as we approach the more remote sections of the Sierra Nevada mountain range, where I'll get fewer opportunities to splurge in town.
And that's it for this section! Since this is a low snow year, we're planning to do 6 days to Kearsarge Pass – 3 big days to the Mt Whitney turnoff, a sunrise summit of Whitney and back down, then 2 days out of the pass. We will probably zero again in Bishop… it's Bushwhack's birthday this week, and we're throwing the Bushwhack's Bishop Birthday Bonanza. After that, we start tagging the high passes each day. Crazy 3 or 4 weeks coming up, I'm very excited!
Until next time, happy trails!
-Slice
P.S. If you like this post, check out Mango's trail podcast, Take a Hike!, now available on all major platforms (except Apple for some strange reason, probably due to that time I offended their artificial intelligence with a knock-knock joke. I'm sorry, I didn't know puns about computers were considered racist to other computers!) https://anchor.fm/takeahikepodcast
Affiliate Disclosure
This website contains affiliate links, which means The Trek may receive a percentage of any product or service you purchase using the links in the articles or advertisements. The buyer pays the same price as they would otherwise, and your purchase helps to support The Trek's ongoing goal to serve you quality backpacking advice and information. Thanks for your support!
To learn more, please visit the About This Site page.