The Desert: Long Water Hauls and Road Walks
My first section into the desert! There are long water carries but beautiful sunsets as I hike from Kennedy Meadows South to Tehachapi. I'm so thankful to all of the trail angels that are putting out water caches for us. We all appreciate it so much.
Day 93
Miles: 3.5
I bought way too much food. I think my pack is at about 40lbs. Took the bus from Bishop to Inyokern and the trail angel Pancakes picked us up and took us to Triple Crown Outfitters and then the trail.
We met Indy three miles in, and then we hiked 0.6 more and camped together. He was bailing as he didn't bring enough water. We offered him some of ours, but he needed to get out anyway to hike rim to rim in the Grand Canyon with his friends.
Day 94
Miles: 16
Sonic and Brie walked past us as we were packing up. We have 16 to water. Mousetrap is carrying a gallon of water. It's smoky, gets better throughout the day (opposite of what has happened previously). Again, nothing makes sense out here.
My pack is soooo heavy. We have taken so many more breaks than we usually do.
Most of the day was a slow climb along a ridge. If I wasn't so heavy I would appreciate it more. But everything just hurts.
It's my birthday today so we did pack out screwball and started drinking some at the top of the hill (8,000 ft). The way down went so much better. On the way up my pack felt like it was pulling me down and back.
Day 95
Miles: 13
After waking up, I got more water and shoved a bar into my mouth. Since we were only going 13 to water today we could hang around and explore our weird campground before heading out. The disassembled truck was the oddest to me. I don't know how the bed of the truck was facing the cab, nor how the front of the truck was between the two…
We hiked about three miles and then met at the bottom for lunch. We decided the climb shouldn't be that bad and even though we left late in the day we should have plenty of time at camp before it gets dark.
Both thoughts were dead wrong. I felt so sick on the climb, I took so many breaks. I remember reading on Guthook that the water we collected has had traces of uranium in it (which could explain all of the fallen infrastructure – a uranium mine). I'm not sure if this had anything to do with feeling gross. I know plenty of people who drank that water and felt fine. But I felt so sick and I just wanted to throw up. I stopped drinking the water and made it up the hill.
It was so unfortunate how bad I felt as today's hike included many views and some butterflies! The mountains are so different, even the ones that are next to each other. Some have trees and some don't at all.
Mousetrap was at the top waiting for me, also not feeling great. At least we would have clean water soon.
While we were collecting ourselves for our descent, Hawaii walked up. (Hawaii because he hikes with a Hawaiian shirt on, has flamingo camp shoes, and wears flowery Hawaiian shorts in town). He talked about not having enough food, so we convinced him to hike six more miles and camp with us so we could share our cheese and summer sausage with him! We have so much food and it'll be nice to shave off more weight. Hawaii had already done 22 for the day (we had done seven… yikes), but he said he was feeling good and would rather not camp alone.
On our way down the sun started to set and we sat on the trail to watch it. We still had 1.5 more to go, but we could do that in the dark as this view was worth it.
We made our way down to the tent site and wow was it small. Normally when Guthook has a tent site labeled one, there are about five. But this time it was a true one-tent site. We all put our sleeping pads together and cowboy camped.
After collecting water, we feasted tonight! Summer sausage, cheese, Oreos, cookie butter, gummy bears, dried fruit, chocolate mints, hot chocolate, and of course dinners of ramen, beef stroganoff, and chicken pasta sides.
Since Hawaii had service, he looked at the weather for us. A low of 50F! What a treat to not need to wear all of my clothes! I did still sleep with my Sawyer just in case.
I had a rough time sleeping. There were so many animal noises tonight, I kept waking up thinking something was going to get into my food. Everything ended up being fine, just lots of noise. Eventually, I fell into a deep sleep.
Day 96
Miles: 13
Mousetrap, Hawaii, and I woke up at about the same time (seven a.m.). We started chatting about water because there's a few long carries before Tehachapi. Hawaii had service so he was looking if anyone put out any water caches and updated Guthook. Wonderfully, there are three! One at each road crossing. Thank you Trail Angels for going out of your way to do this for us. I wish there was a better way I could thank you!
Ghost comes up the trail and we chat with him some. He makes the joke that he's already been hiking for three hours. It's a good thing we didn't tell him that Mousetrap and I didn't get moving until 11 a.m. yesterday. Since Hawaii was packed up and ready the two took off together. It's been taking me an hour to pack up with all of the food I have! So, by the time I'm ready to leave it's 9:30 a.m.
I'm ready to hit the trail. And then I get the shit shakes. I quickly run up the mountain to use the bathroom, and THEN I'm ready to go. I put on my music and I'm off! It's about three miles up and I'm FLYING! I get to the top in less than an hour. I've only hiked so quickly through the mosquitoes about 40 miles outside of Trout Lake. But this time it was because I was jamming to great music.
Where we stood at the top of this first climb today the landscape was so beautiful. AND I got to see my first Joshua Tree up close! Naturally, I touched it and yes it's very sharp. What a cool and weird plant.
I meet Mousetrap at the top and we head down the mountain together.  chatting about how beautiful the mountains are, how cool it is to see the trail where we came from, and how much we think that little house is that stands alone down in the valley.
We break for lunch! I make a rice thing and Mousetrap has his usual ramen with peanut butter. And then it starts to drizzle. The clouds have looked menacing all day, and I'm a little concerned about heading up to 7,500 ft. We decide to set up my rain fly and wait it out just to be safe.
After the rain passes and the clouds look more friendly, I pack up my bag and we're off again. This time only for about a half-mile so we can collect water at Joshua Tree Spring.
Looking at the time we decided we couldn't make it 18 total miles today and we have to just make it at least 13 but maybe 16.
Well, the mountains kicked our butts. There was so much wind I was almost knocked over multiple times. (My heavy pack doesn't help, it just pulls me down). The air didn't get above 50F and it was so foggy near the top. I haven't had a lot of weather-related difficulties. Yes, I started in the heatwave, and it poured on me for three hours without my raincoat (throwback). But I have not wanted to get to camp more to get warm than today.
We rolled into camp at about 6:40. Mousetrap got there a bit before me. But I called the first star.
Mousetrap did find a good camping spot where the wind was blocked and I set up my rain fly to help block the wind more. It took a while to get warm and I had quite a few negative thoughts about how this was going to be the most miserable night on trail. Mousetrap had to help me put the stakes in the ground as my hand was not functioning. I'm glad to have a buddy through this.
Now that I can move my fingers, my special hand has thawed and I've eaten dinner and drank hot chocolate, I'm feeling much better about tonight and the day. It was tough and cold but I'm very warm snuggled in all of my clothes and my sleeping bag. The sound of the wind is nothing I've heard before. It's been constantly loud for hours at this point. I'm very glad to be out of it.
Day 97
Miles: 13
When I woke up at around nine a.m., the mountain left no trace of what I went through yesterday. There was no wind, no fog, and it was hot.
I looked over at where Mousetrap was set up and he didn't seem to be moving much either. Yesterday's events seemed to take the energy out of both of us.
When we both eventually got up, we still weren't keen on moving just yet. We put our sleeping pads in the shade and started making a big breakfast. We were five miles to a water cache, so we had the luxury of using more. I had dried strawberries and granola with dried milk from one of the Peak meals. We also made coffee, hot chocolate with instant breakfast. On top of my Peak meal, I ate Oreos and some scoops of peanut butter.
While we were feasting, another SOBO who I hadn't met before walked up, B. She didn't stay and talk long as she needed to get to Walker Pass for a ride. B was a little shocked because a bear came to her campsite last night and she needed to recoup in town.
Mousetrap and I were in the middle of packing up when MacGyver walked up. We were pumped to see him and walked down to the road with him. The views were spectacular – I could see for miles.
Mousetrap and I filled our water capacity and were on our way. Mcgyver was going into Ridgecrest to resupply.
The climb to the cabin was difficult with so much water weight but we still killed it! We set up in the cabin and started to make dinner when a couple of ATVs rolled up. They had not heard of the PCT before so it was cool to explain what we are doing. They came out here to shoot and then were headed back home – it was nice not to have a crowded cabin. Besides the mice (one of which crawled on my arm EW), it was rejuvenating to sleep without my puffy and rain pants on. It was so warm inside the cabin.
Day 98
Miles: 20
Welcome to SoCal, where the trail is a two-mile dirt road walk first thing in the morning.
We woke up at eight, threw our stuff together, and started hiking. We wanted to eat breakfast away from the mice, so we found a nice log to sit on right before the road walk changed back to trail. I guess it's a common occurrence that we meet new people while we're eating because Little Shark hiked up to us and we chatted a bit before she was on her way.
I don't know who gave us superpowers, but we were booking it today. I averaged three miles an hour hiking (without breaks) and there were significant uphills as well! Mousetrap was faster than that but I was not too far behind. We caught up with and passed Little Shark and made it 13 miles by 3:45!
Again, we filled our water capacity at the cache – 65 x 5L jugs of water. Oh my goodness thank you so so much to Devilfish and the other Trail Angels who are caching water for us. Without these caches we would have 40+ mile carries or trying to find water that might not exist.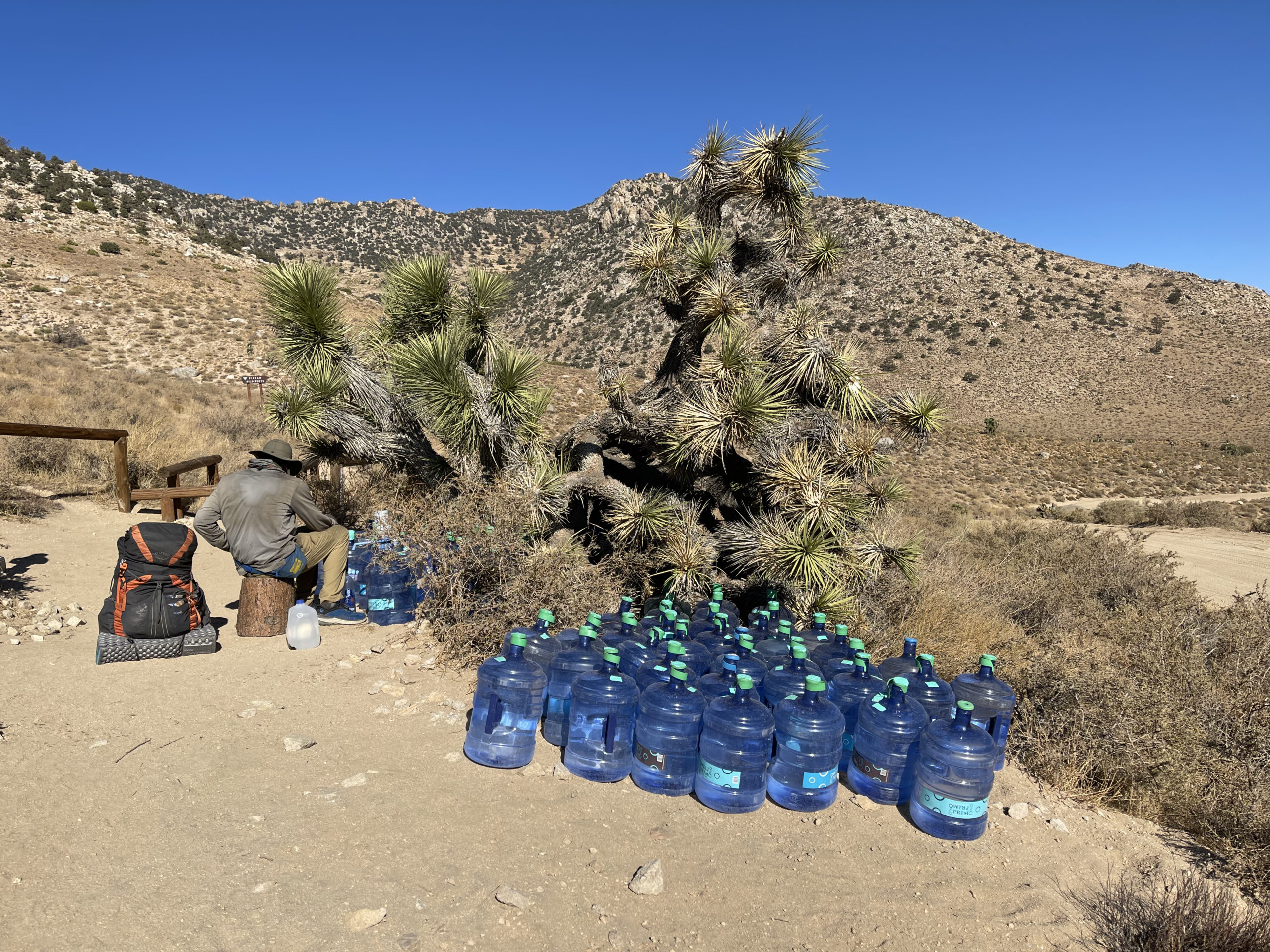 Mousetrap and I then decided that we could make it 7 more miles to the next marked campsite. And we made it by seven p.m. Woah, 20 miles after a month of doing 15s or lower. It was good to see that I still had it in me and that I don't feel so bad! I also think the food weight is coming down which is a HUGE help.
It was pretty dark while we were cooking and we could see headlamps heading towards us. Little did we know it was B-!!! I jumped out of my sleeping bag and ran to give him a hug. He wasn't with Nemo though. I demanded to know where she was!
She's doing adult things and has a few job interviews this week. I'm super proud of her but I miss her being around. My favorite group was the four of us back in Oregon. All we did was laugh.
B- introduced us to Wobbles and we all sat and talked until about nine p.m. Apparently, Yogi told them that they could catch us because we were doing like 10s. She wasn't too far off – but I am going to need to pick up the pace after Tehachapi. I've enjoyed taking it slow and really enjoying the Sierra Nevada Mountains, but I need to make it home before Thanksgiving. It was a long day for all of us and it was soon quiet besides the wind blowing past the Joshua Trees.
Day 97
Miles: 20
I woke up at four a.m. to strong winds, and I had a hard time falling back asleep. Wobbles' tent had come down and when we all started moving around seven he shared that the tent came down on him and his efforts in fixing it were basically nonexistent in his groggy state.
There's a wind warning today from eight a.m. – 11 p.m. It warned people to go into their basements because of falling trees. I was fighting the wind all day, being blown all around the trail. I hiked the 8.5 miles to the water cache at three miles an hour. To be honest I've been impressed! It's not going over passes like the high Sierras, but there are some significant ups and downs.
I saw B-, Mousetrap and Wobbles at the cache. We ate lunch together but B- and Wobbles got going pretty quick, they wanted to do higher mileage to get into Tehachapi Wednesday morning.
It's unfortunate, but I really don't know what the rest of the day was like. It was so cold and windy. I was hiking uphill in my puffy and not really sweating much. All I could do was stare at the ground and fight the wind.
I looked up occasionally to see rocky landscape. But then all of the sudden I looked up and there were huge trees around me like I was in a dense forest again. All day, it looked like smoke was being brought in with the high winds. But guess what!? IT WAS SNOW.
B caught up to me after I had gotten water at Landers Meadow Spring (25 miles without water so we loaded up – I carried 5L) and she seemed to be having a more difficult day than I was. I tried to comfort her and we hiked together and just complained for a while. It was nice to just scream at the forest together. I couldn't believe it was snowing, but this is the coolest thing I've ever done.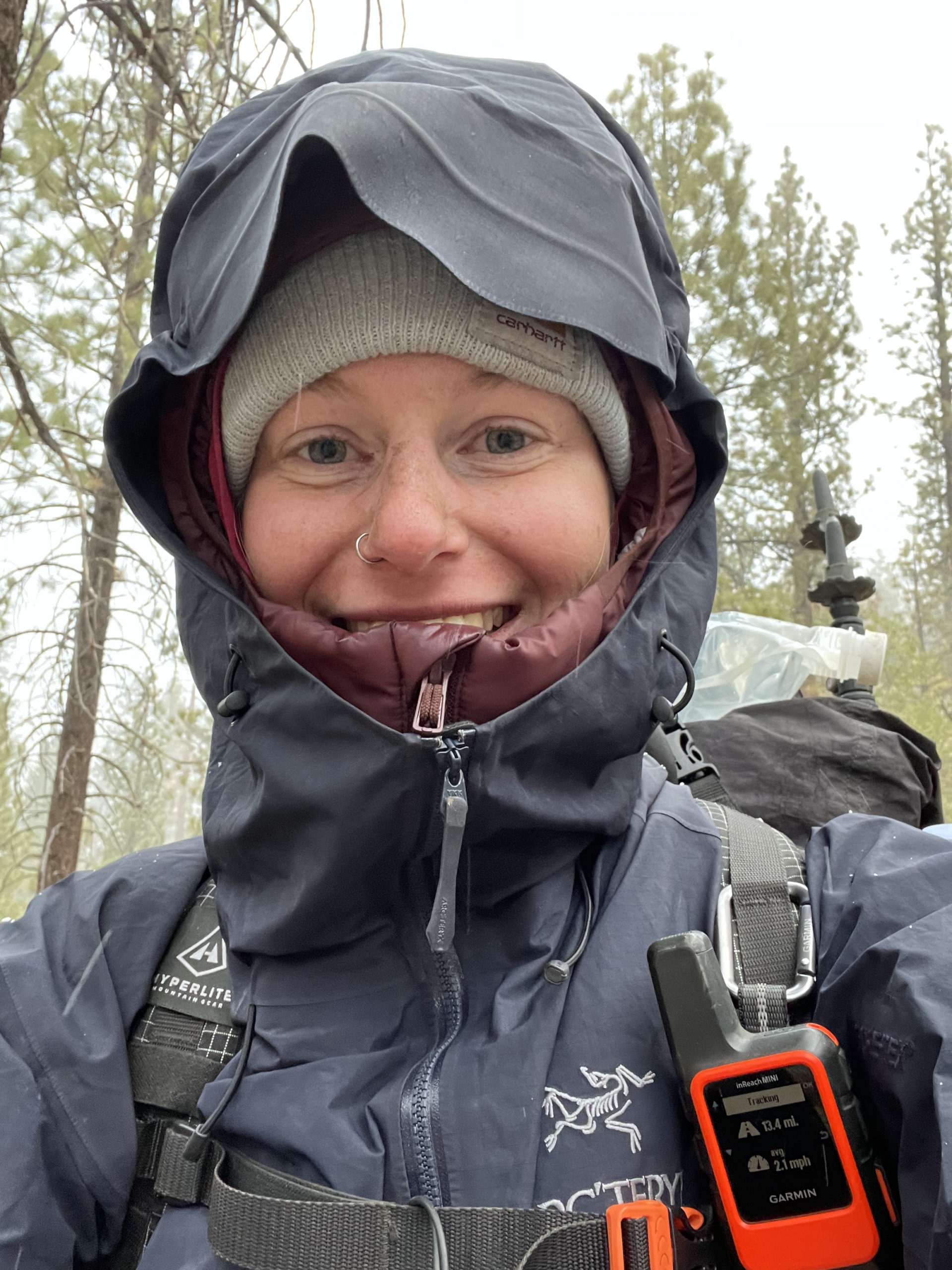 It really started snowing… and then it started accumulating! I put on my raincoat over my puffy. I was so bundled up! For the second time this section, I'm glad I didn't send my tent home.
Day 98
Miles: 17
It was a really cold morning. We had a late start and a heavy water carry.
I took 5L for seven miles after Mousetraps IT band started to bug him. I haven't run into many "issues" out here not having a left hand. The snow was a battle – sure it was tough without two hiking poles but I figured it out. My backpacks have always sat differently on me, but what I didn't realize is how the weight would feel. My left shoulder is the first to start hurting and then my backpack feels so uncomfortable.
When we were about a mile away from camp, it looked like we were not on the trail according to any map. And there were ATV tracks on a strictly hiking/horse trail so I was very confused. Mousetrap and I were tired so we said we'd figure it out in the morning. We were so close to the wind turbines! It was so cool to be so close and hear them.
Day 99
Miles: 15.5
What a terrible day. I haven't had a day like today since I started. Carrying 5L of water for 10 miles the second day in a row sucks. Having to do a 4.5-mile dirt road walk sucks. My foot hurts from the weight, my shoulder hurts from the weight. I'm already tired of the desert. Take me back to Washington.
I started to feel better after Mousetrap suggested going 2 more miles for the day instead of 5. It would make tomorrow a bit longer, but he was concerned for my foot, and I really appreciated the suggestion from him because I would have just pushed through.
Day 100
Miles: 6.5
Downhill into Tehachapi! It went so fast and I may have gone quicker because I was excited for food! B- said he'd stay a day with us as well, so I'm excited to see him again.
Day 101
Miles: 0
B-, Mousetrap and I ate so much food here! And we watched so many movies! It was a great zero! I received my last pair of shoes, the difference is significant.
Affiliate Disclosure
This website contains affiliate links, which means The Trek may receive a percentage of any product or service you purchase using the links in the articles or advertisements. The buyer pays the same price as they would otherwise, and your purchase helps to support The Trek's ongoing goal to serve you quality backpacking advice and information. Thanks for your support!
To learn more, please visit the About This Site page.