The Endless Desert – PCT Day 15 – 18
This is officially the longest Dirt Devil and I have been on a continuous trail together. The Long Trail was 274mi in 12 days and we're past that now so it's starting to feel more routine and less new.
That means days can get monotonous, town stops are more exciting, and we're starting to feel at home on the trail. Chip is also getting better with his people skills and starting to forms bonds with fellow hikers which is nice to see. All in all, things are going pretty well.
Day 15 –
A quick 8 miles and we made it to Silverwood Lake. It was early and fisherman lined the shores silhouetted by the rising sun.
We stopped at a beach for some breakfast. It was so peaceful, I thought about staying here for a few hours and napping on the beach.
Every time I think about stopping for a bit, my thoughts immediately go to the heat. The longer I stay somewhere during the cooler morning hours, the more I will have to hike during the hotter hours. It's a frustrating conundrum that forces me to leave areas sooner than I'd like; its just not worth hiking in the heat of the day.
Past Silverwood, we filled up water under an overpass and started up the hill. I was glad it was still early because in full sun and peak heat this would have been miserable. Up and over the mountain the day only got hotter. We learned our lesson yesterday getting overheated and under-hydrated, so we made a point to drink as much as possible and rest in the shade when we got hot.
Past the powerlines, you reach the top of a hill and finally see down into Cajon Pass.
It's a strange place. Far more beautiful, odd and grungy than I had imagined. All I ever heard about was the McDonald's,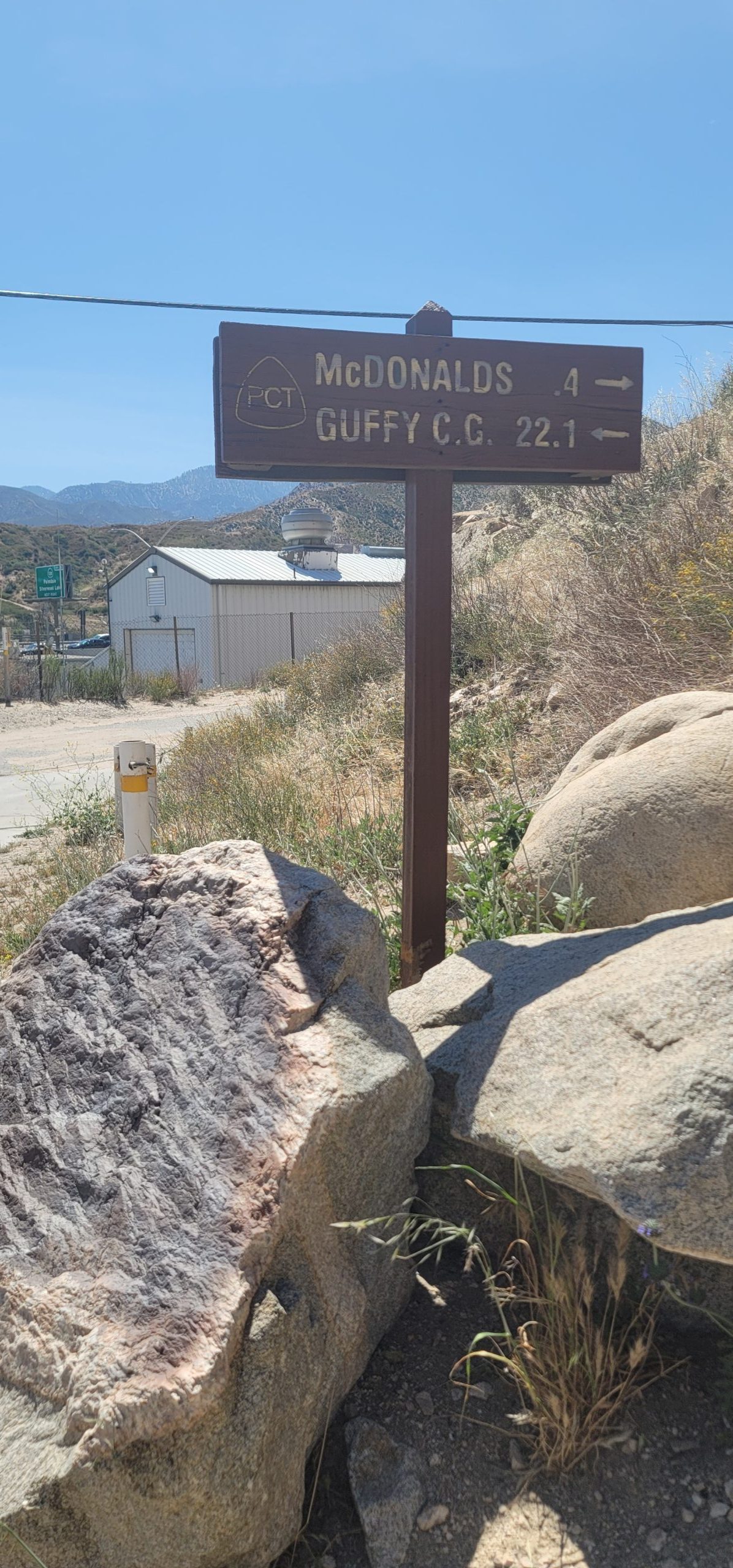 I didn't know anything else about this strange crossroads of America.
As the trail dips down it winds along grassy ridges and switchbacks.  Looking into the distance you can see many levels of traffic. Freeways, trains, trucks, carpools, going to and fro in organized chaos.
There are so many roads that pass through Cajon, yet somehow there's not much here,  just a couple of fast food restaurants inside gas stations and a little inn; that's about it. There's garbage everywhere, cars parked all over, people milling about. No one wants to be here, but everyone needs food and bathrooms so it's as busy as can be.
We wanted to wait out the hottest part of the day inside somewhere, but McDonald's indoor dining is still closed due to covid. We decided to cross the massive Barstow Freeway, to make it to the Subway
where we sat at a tiny table in the corner and downed footlong subs while we charged our cell phones.
Three hours later it finally started to cool down so we froggered back across the highways to restock food for the last 28 miles to Wrightwood. I got the McFlurry
I had been dreaming of and shared some with Dirt Devil as we sat on the sidewalk outside McDonald's (no oreo for him) (also please don't judge me for what I feed my dog on trail, as hikers we eat just a bad, if not worse).
Leaving the refuge of Cajon, there are another 2 scary underpasses – sometimes people come across rattlesnakes in the dark here so it's best to use a headlamp.
As the trail climbs the beautiful hills, trains cut through the mountainsides like a train enthusiast's ideal landscape.
The setting sun lit the hills in technicolor drama that made it difficult not to stop and amaze at where we were and how lucky we are to see all of this.
Day 16 –
We got up at 4:30 am to traverse 22 miles of mountain range climbing up 4,600ft. If we can make it all in one day, we can get to Highway 2 on the other side and hitch into Wrightwood in time for dinner.
The climb was probably our most intense thus far. The relentless uphill only got more difficult as the altitude rose to 8,200ft; I could feel my lungs working overtime and the thin air left my muscles drained. I could tell Chip was getting tired from the thin air too.
I think I pushed too hard during the climb as I felt lightheaded and dizzy, stumbling off the trail occasionally. Time to slow down and breathe.
We stopped to get water from another sketchy-looking pipe, it tasted much better than it looks, I promise.
Finally, the trail plateaued amongst massive pine trees and my breathing eased. Past some snowless ski resorts
, we started to see day hikers coming up the other side. They clapped for me, cheering me on and wishing me well. It seems silly and insignificant, but those moments put a big smile on my face and make me feel proud of what I'm doing. I guess it's the recognition from others, which I didn't think I needed, but really appreciate hearing.
We finally made it down to Highway 2 at Vincent Gap and arranged for a trail angel to pick us up so we could stay with him in Wrightwood for the night. As he pulled up in an old beat-up pickup, I was very excited to ride in the bed of the truck;
it reminded me of riding around in the back of trucks or on top of buses during my years living in Asia. It's always fun to stay with trail angels. They are very kind and generous, but usually quirky people as well. Their homes are often full of family photos, knickknacks cluttered around, but they offer what they can, even if that just means space on the floor. It's a wonderful experience to get to stay with locals, learn about their lives and their community. It's a part of the PCT experience that I really love and seek out every time I'm in town. And an added bonus, Dirt Devil gets to play with all the trail angel dogs.
At his home, we got another round of laundry and showers and headed into town for resupply, burgers, and beer. There were many other thru hikers we'd met along the way in town as well.
It's fun to run into other hikers so you can share stories of what's happened since you last saw one another, and compare plans going forward.
We also stopped in the hardware store, which is basically the local gear shop, to get advice on how to get around the upcoming fire closure. They told us to take the trail to Islip Saddle, then do an 11 mile road walk past the endangered wildlife closure to Three Points where the closure ends.
Another hitch in the bed of truck and we were back at the trail angels home for some sleep in a real bed.
Day 17 –
Hot coffee and another ride in the back of the pickup had us on the trail by 9 am. The main task for today is Mount Baden-Powell. It's a popular day hike up the 9,406ft mountain with sweeping views throughout the San Gabriel Mountains.
Being a Sunday morning, the parking lot was packed and the trail full of day hikers huffing and puffing their way up to the snowy peak. Dirt Devil was well rested from staying with the trail angel so he charged up the mountain like a champ.
I always worry about him getting through snow, over obstacles and water crossing, but usually by time I look back to help him out, he's already pranced over the difficult section. Sometimes I forget that even though he is small, he's still a dog and usually more capable than I am with physical challenges.
Once again there were many conversions with day hikers explaining what we're doing and how we do it. There are usually lots of questions about Dirt Devil and what special things need to be done for him on trail.
Over Baden-Powell, we crossed more snowfields and descended through a fire burned section until we hit Highway 2. The fire damage was significant, and I can see the concern for potential trees falling.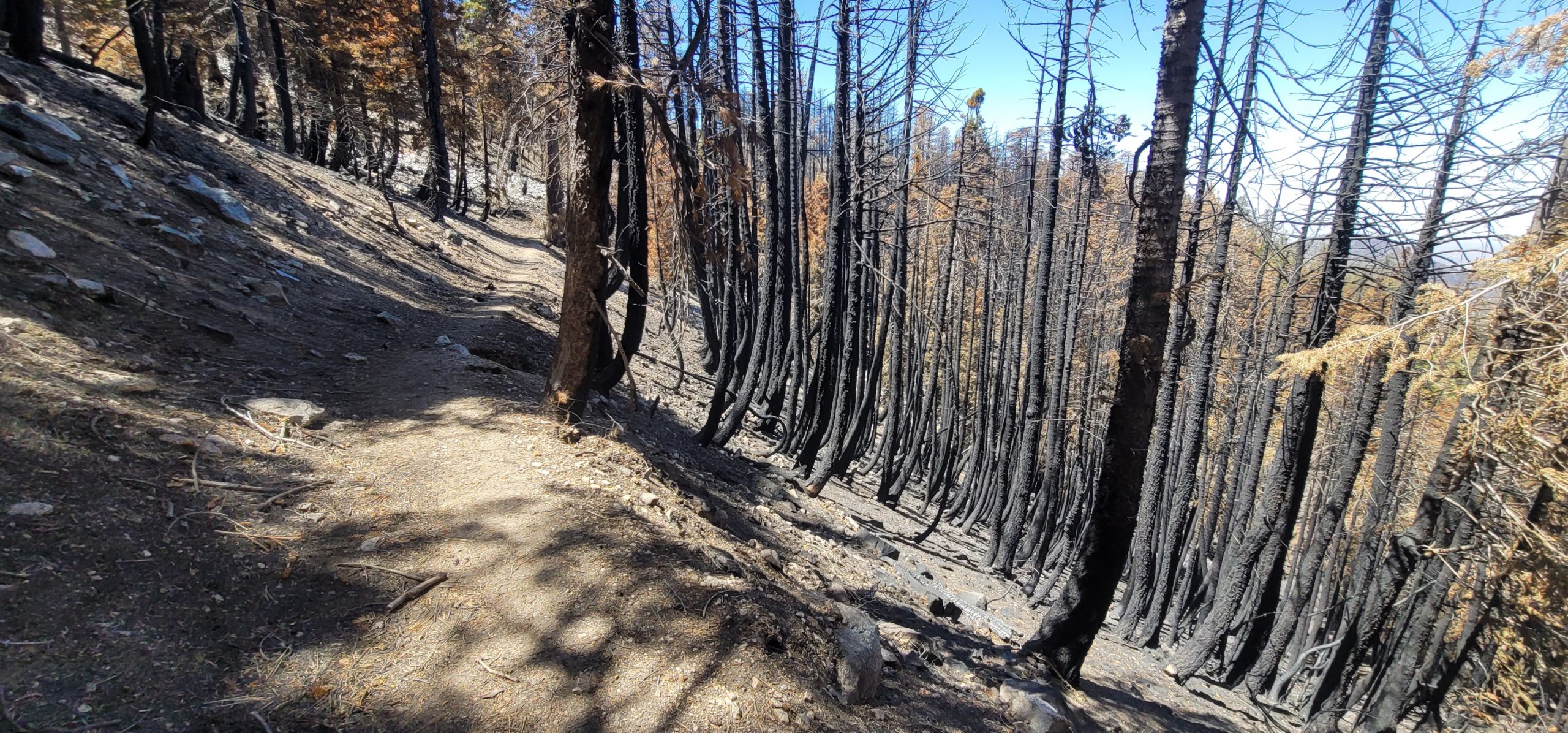 We were told by the hardware store that the road was closed and there wouldn't be cars, but this was far from the truth. There were sports cars everywhere, donut circles screeched on the pavement,
and cars revved their engines skirting the tight turns on this mountain road. Clearly, this is a place car and motorcycle enthusiasts come to test out their driving capabilities and often fail – We saw one major accident where someone was helicoptered out – apparently this is a regular occurrence here.
Not only was this road dangerously full of irresponsible drivers, but we also found out we had been ill-advised regarding the trail closure.
We had unknowingly walked through part of the fire closure where rangers had been giving people tickets for doing so. I was frustrated the hardware store told us to do this. Guthook, Facebook, and everyone had told us they were the local authority and to go to them for advice; the advice they gave was to do something illegal. Entering a fire closure zone is a misdemeanor crime with penalties up to 6 months in jail and a $10,000 fine.
For all the PCTers out there, do not do what we did, do not listen to the hardware store. The trail is closed from mile 381 to 403 so please respect this and do the full 22mi road walk or get a ride around the closure. I regret not being more informed and I am making greater efforts in the future to be cognizant of all closures.
Past the closure and back on trail, we got in another 8.7mi to a windy campsite for the night.
Day 18 –
It's still the beginning of our PCT adventure so most days are new and wonderful and memorable. Today was none of those things. The PCT is a fantastic experience with high highs and low lows, and then some days are just 'meh'. The desert scenery was monotonous at this point.
On top of the mundane, this section of trail is in strong need of some trail maintenance (thank you all trail maintenance workers and volunteers! I know it's a tremendous task to keep this trail in its mainly pristine condition so I appreciate all the hard work). But on this section of trail, mile after mile we push through the thick shrubs and thorns, scratching legs, tearing clothing and backpacks, exhausting us from the constant battle. The sandy trail is also deteriorating, crumbling on the downhill side.
This put added strain on an ankle injury from the prior day so I was in significant pain the whole time.
The silver lining to today, and there's always a bright spot at some point during a PCT day, was cold soda awaiting us at the rangers station. We had read on Guthook that there's cold soda and chips for $1 at the ranger station so we hurried the last few miles with the promise of a cold drink.
We decided to stay there for the night because tomorrow we would have to wait for packages anyways, and this seemed like a good spot given the cold beverages.
The bright spot in this boring day got much brighter when a fellow hiker's nephew heroically biked 20 miles up 4,000ft to bring us 60 liters of sodas, Gatorade, water, and huge deli sandwiches.
Trail magic, especially in such an unexpected and remote place,  magically heals sprained ankles and blistered feet. We went to sleep with full bellies and happy thoughts.
Affiliate Disclosure
This website contains affiliate links, which means The Trek may receive a percentage of any product or service you purchase using the links in the articles or advertisements. The buyer pays the same price as they would otherwise, and your purchase helps to support The Trek's ongoing goal to serve you quality backpacking advice and information. Thanks for your support!
To learn more, please visit the About This Site page.