The one about being scared
After chilling in Acton for a few hours and waiting out the heat we hitched back to trail. Had the wildest hitch so far. The guy that picked us up managed to cover everything from dooms day, to snakes evolving, to super volcanoes. He also showed us some tigers that a 95 year old woman owns on her backyard. He finished off by trying to sell us some drugs before we hiked off into the desert. Pretty crazy ride. We raced against the night and I tried to cover as much ground as possible before the sun went down. The evening got cooler and offered us a magical sunset. I said goodbye to Šimon and kept going alone.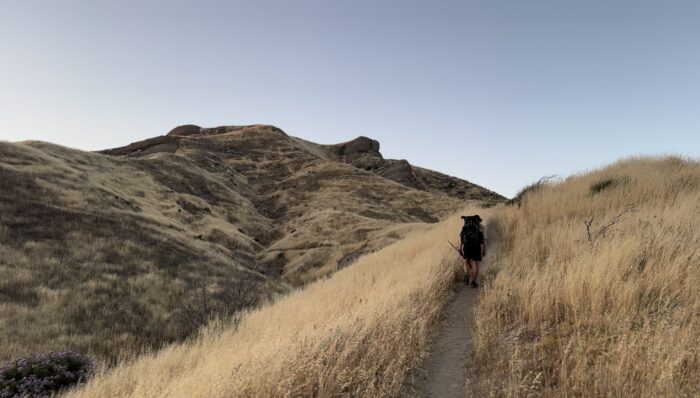 The sunset turned to night and I walked with my headlamp on. I was scared. Big bugs attracted by my light kept coming at my face and I saw a snake in the dark that made me paranoid where I put my feet. There was also frogs everywhere. Frogs freak me out. I had to cross a long dark tunnel around midnight that I just ran through the quickest I could to escape the potential boogie men and creatures of the night. I fell once and scraped my knee but it looked worse than it felt like. I hiked until I couldn't anymore and decided to blow up my sleeping pad next to a big cool rock. I wasn't actually as scared as I thought I would be cowboy camping alone, and I ate chips sitting in my sleeping bag before falling asleep under the stars. Feeling very capable and strong and tired.
The next day I awoke before the sun with just 4 hours of sleep. I hiked into Agua Dulce where I met up with Golden for breakfast. I spent two hours on the phone trying to order new gear for the Sierras but my card wasn't able to work. Having wasted the coolest hours of the day with no success I started to hike close to 10am with tears in my eyes. The guy on the phone had screamed at me and I felt tired and had period cramps. Definitely a low moment. Golden managed to turn it around and we hiked off into the heat.
My skin felt like it was on fire. It was so hot. The water in my bottles was close to boiling and gave almost no relief when I poured it over me. There was no wind and the air was trembling. We climbed the mountain during the heat of the day and finally reached an oasis on top of the mountain. It had water and shade and places for our sleeping pads. I was so happy. Gadget was also there and it was so nice to see him again.
We rested for a few hours before setting off again. It was still over 30 Celsius (90 Fahrenheit) even though it was after 5pm. We hiked into the night and my feet was hurting. I did about 25 miles and reached camp completely exhausted. We passed a bottle of red wine around that Gadget had brought out and fell asleep next to each other. 5 hours later we awoke, and still dark, I hiked off with my headlamp. I found a small stream later in the day where I washed myself and rinsed my clothes and it made me feel much better. We had agreed to meet in a cave for lunch and I finally reached it almost close to having a heatstroke. I crawled inside only to find an empty mine shack with no Golden. On the way out a big snake was lying in the opening and I panicked. It eventually crawled off and I fled out with my heart beating in my chest. Just a few minutes later I came upon another cave where Golden was and we spent the next few hours resting inside it. Outside it was boiling but inside the abandoned mine we put on our fleece jackets and sleeping bags. It was such a cool and random siesta spot.
The sleep deprivation hit us when we awoke the next morning. Too many nights with not enough sleep finally caught up. We started slowly but my body still felt strong. We hit the 500 mile marker and danced to I would walk 500 miles. As one would do. Felt like a big milestone and we reflected back on the beginning and how far we've actually gotten. We met a guy on top of a water cystern during the day that had done the PCT 7 times already. He helped us so much and answered all our questions. He ended up teaching us how to pitch our tents correctly, fix my backpack so it doesn't hurt my shoulders, gave us tips about gear and the Sierras. Could have been the most helpful conversation I've had so far. We ended up spending 3 hours chatting on top of the water tank, and Saunter told us that it was one of the longest breaks he had ever taken during his 8 years on the PCT. Which shocked me because we take long breaks all the time.
We took another break on a beautiful spot overlooking the valley where we had internet connection. We ordered all the new gear we'll need for the snow on Saunters recommendation, and had some dinner. I'm very excited to have almost all my things in order when we reach Kennedy Meadows in less than 2 weeks. We talk about it almost everyday. Strategies, food, gear and alternative routes. It's going to be a crazy adventure.
Before falling asleep a big spider and a mouse crawled across my sleeping pad by my face. In normal life I would have been terrified. But the exhaustion made me fall asleep seconds later even though the mouse was still running around us. In the morning we reached Hiker Town where we met up with some more people I hadn't seen in a long time. I went the longest in my life ever without a shower – 10 days, and I was the dirtiest I had ever been. The water was black when I rinsed my body and I found twigs in my hair. It was spectacular.
Me and Golden got a hitch to a small market where we resupplied and shared a burrito and a quesadilla. I counted that I ate more than 3000 calories in one sitting, and I didn't even feel that full afterwards. We talked with some really cool people and shared our life stories. As one of the older guys at the table said: The PCT makes you open up in more ways than normal life ever would. And I think that's so true.
So tired from the sun, the food and the lack of sleep we slowly started hiking again just as the sun set. We followed the LA Aqueduct for a few miles and cracked a beer when we stood on top of the infamous landmark of the pipeline. It was dark and dogs were howling in the distance. Our plan was to do a total of 23 miles that day but around midnight we decided to stop and sleep for a few hours. We started hiking again at 5am and was greeted by a beautiful sunrise and a tremendous heat. This last stretch has been very hard. I think the lack of sleep has been the worst. It really takes a toll on your body and your mind. Also not having a zero (resting day) in more than 3 weeks, is starting to show.
We slept under a bridge during the day that offered the only shade in 23 miles (38km). A thunder rolled in and I watched the lightning show from my sleeping pad. We awoke to a squirrel eating through Goldens food bag and he almost finished all his chips before we chased him off.
A day later at noon we reached Tehachapi. Got amazing trail magic in the form of Gatorade, fruits and vegetables by the side of the road. I was starving. We hitched into the desert town and got food at a German bakery with the others. We all went out for drinks in the evening but by 10pm I was back in my bed at the motel room, sound asleep.
◦ Night's cowboy camping: 31
◦ Clif bars devoured: 103
◦ Blisters: 4
◦ Beers: 53
◦ Rattlesnakes: 17
◦ Zero days: 7
Miles 444-558 (714-898km)
3 things I'm grateful for:
My overnight oats in the morning.
My body for walking for 500 miles .
The shower after 10 days.
Affiliate Disclosure
This website contains affiliate links, which means The Trek may receive a percentage of any product or service you purchase using the links in the articles or advertisements. The buyer pays the same price as they would otherwise, and your purchase helps to support The Trek's ongoing goal to serve you quality backpacking advice and information. Thanks for your support!
To learn more, please visit the About This Site page.