The one with the blisters and broken water filter
I'm here. I'm hiking the Pacific Crest Trail. It's been 12 days but I still can't really believe it's happening.
On the 5th of April I flew to San Diego. Spent two amazing days with my friend Vanessa who helped me cure my jet lag and organise my resupply boxes. Couldn't have done it without her. Then I spent two nights at the trail angels Scout and Frodo's place, which I can't even start to describe in words how beautiful it was. Even though I've read about the big community surrounding the PCT, it wasn't until I met them and heard their stories that I could really grasp the width of it.
Then came the Sunday of the first week of April. My starting date. It felt unreal to stand by the southern terminus at last, a place I've seen on so many photos throughout the years. I was in awe. We all took some of our own and then did the only thing we could – we started walking.
Just a few miles in, the only thing I was thinking was what the fuck. What the actual fuck. It was warm and sweaty. My bag too heavy. A million things was rushing through my head. I felt out of shape and unprepared. But the day went good. It was beautiful. More than I've ever thought the desert would be. The upside of an extreme year with loads of rain and snow means a green desert. A super bloom. There was flowers everywhere.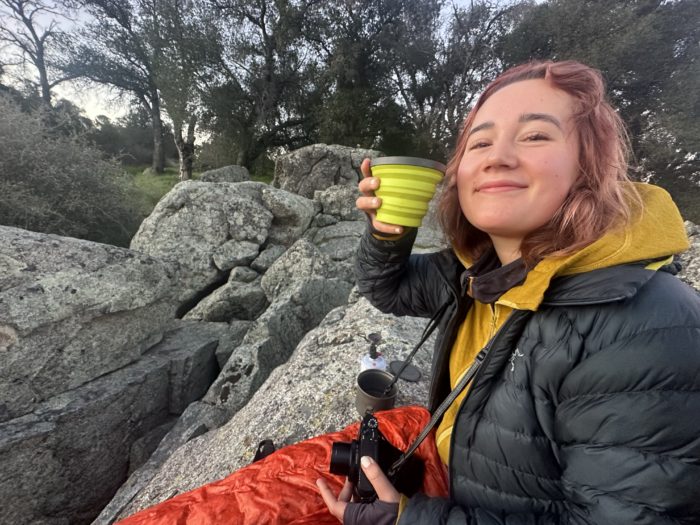 Me and an Australian guy finally made it to camp, last to arrive and almost out of water even though we had to dry-camp. We watched the sun set and played cards long after it had gone down. Shared a cake and celebrated our first day on trail. I had never slept under the stars so we decided to cowboy camp. I saw shooting stars and the galaxy seemed greater then it had ever been before. I didn't sleep a second that night even though I was exhausted.
The next couple of days we kept hiking. Kept cowboy camping even when the temperatures fell and we woke up shivering with ice covering our damp sleeping bags. We drank coffee to the sunrise and sat under the shade during the hottest hours of the day. Packed out beers and fireball and swam in cold rivers. Saw rattle snakes and countless of lizards. Smiled more than I've ever done during one week, even though my water filter broke and my sleeping bag was way too cold. I got blisters all over my feet and burnt my shoulders under the desert sky. Tripped over drunk when pitching my tent for the first time in the dark. Hiked with people from the Netherlands, UK, Germany, Australia and the States. Made camp fires. Played cards. Listened to Queen and HOOJA. Got trail magic on a cold, early morning. Talked and laughed and cried.
And just like that the first week on the PCT went by. I called home and said that it felt like I've been gone for so long. So much had happened. Everything. On the short span of 7 days. So many first times. First time setting up my tent. Eating a Clif bar. Hitchhiking. Resupplying. Digging a cat hole. Watching the stars while falling asleep. Filtering water. And learning the conversions from miles to kilometres. So many mistakes and so many lessons. So many new friendships and blisters. I've realised they grow strong if you hike, sleep, eat and suffer together. Both of them.
Some things have been easier then I thought, and some have been harder. But it's everything I could ever imagined it would be and I already never want it to end. Which I know sounds stupid coming from 12 days in out of (hopefully) five months. But that's how I feel right now.
I'm currently writing this from my tent. It's my first night camping alone and I'm not as scared as I thought I would be. Maybe being so exhausted after hiking the whole day on my bleeding feet helps. I'm about 20 miles (32 kilometres) from Idyllwild. In town we will pick up our new micro spikes and ice axes to have when we cross the snowy peaks of San Jacinto. We're all a bit nervous but also excited. It's going to be the first sketchy stretch of the trail, and the first stretch in snow. We've heard both good and bad things but we've decided to go check it out by ourselves before taking an alternative route.
I'm just so, so happy to be here. And like I said yesterday when I was limping all the way from camp, knowing I had a long day ahead of me on my wounded feet. I'd rather be in pain on the PCT than comfortable back in Sweden.
MILES: 0-150 (0-240 km)
◦ Night's cowboy camping: 6
◦ Clif bars devoured: 16
◦ Blisters: 9
◦ Beers: 12
◦ Rattlesnakes: 5
◦ Zero days: 2
EDIT: It's the day after. Fuck you Altras. I'm currently hiking in my sandals to Idyllwild because of my damned feet. Full Cheryl Strayed moment. It doesn't hurt as much, but instead in other places where the shoes didn't. I'm walking as slowly as human possibly can, blasting music to silence out the pain. I made the classic beginner mistake to take shoes that are too small. Such a fucking cliché. But you live and you learn I guess. Will pick up new shoes and the hyped up Injinji socks in town. Putting all my faith in that it will work. I hope so.
/Sarita
Affiliate Disclosure
This website contains affiliate links, which means The Trek may receive a percentage of any product or service you purchase using the links in the articles or advertisements. The buyer pays the same price as they would otherwise, and your purchase helps to support The Trek's ongoing goal to serve you quality backpacking advice and information. Thanks for your support!
To learn more, please visit the About This Site page.