Three months on the PCT: a reflection
The last time you heard from me, I was in Big Bear Lake, more than 700 miles South from here. Since then, I've finished the desert section and now I have almost made it to the end of the Sierra. Trail life and especially trail town life proved too distracting to keep up with this blog, unfortunately. But I'm going to do my best to better my life from now on!
The end of the desert
I fell truly, madly and deeply in love with the desert. The dry heat, the sun colouring my skin, the magic when finally finding shade or water. The desert was so much more beautiful than I expected before I set out on this trail. Cacti in different shapes, multi-coloured grasses, the brown, rolling hills overgrown with chaparral. A pink moon, coyotes howling. I also fell in love with the towns of the desert. The ones that looked like the backdrop to a western movie. And the dusty, highway towns with motels that looked like Lolita could walk past any moment, wearing her heart-shaped sunglasses. Saying goodbye to the desert nearly broke my heart. I spent the entire descent into Kennedy Meadows crying.
It was hard to say goodbye because the desert was so much fun. Yes, we visited every town, bar and restaurant in the vicinity of the trail, yes I spent way too much money on beer and yes, it took me two months to do the desert section. But it was one of the most fun experiences of my life. What made it fun was the unique band of characters that I called my trail family. We swam in ice-cold rivers and swimming pools, danced and sang karaoke at a veteran bar, cowboy camped like little caterpillars in a row, we night-hiked, played games and came up with hilarious hypotheticals.  "What would we do if everyone in the world except our tramily would disappear right now". We also got to know each other and had deep conversations about life, love and death. The group was endlessly entertaining: I don't know who else would walk around town in t-shirts with Christian slogans, buy a Lord of the Rings board game to carry from Tehachapi to Kennedy Meadows or offer any person passing us on trail to take professional pictures of them. Some people were always trying to make the trail more fun, organising barbecues, making cocktails, planning sidetrips to Six Flags or a biker bar where we could order pizza.
And this is something I wish for everyone on this trail; for it to be about more than miles and hardships but about bonding with the people around you and experiencing all of what this country has to offer. Despite the fact the tramily is split into little groups now, we made memories that I will cherish forever. The desert showed me how grey the last two years of my life have been: laughing out loud at silly things, drinking and dancing, making meaningful friendships, meeting new people, I felt like a starving person finally getting fed. Even the hardships made me feel alive, the heat, the drought, the hiking. The desert made me feel at home, which is why it was so hard to say goodbye to it.
Conquering fears in the Sierra
After Deep Creek Hot Springs the trail started feeling different for me. At first, I felt confident, brave, on top of the world. And then I fell. It was a sandy ridge, a sand slide ending in rocks and a fast-flowing river. I slid down the trail and whenever I tried to get up, the trail eroded further, causing me to slide down more. Eventually, I managed to get myself out of that situation. I wasn't hurt. But I felt like I had danced with death and I continued the trail, shaking and with a mental block. The second time I had a big scare was during the ascent of Baden Powell. I was already uneasy because of the exposed switchbacks and having to climb higher than I had ever been (+9000 feet). Halfway up the climb, we had to get water from a spring. The trail there was exposed and on a particular eroding part, I freaked out, sure I would fall. My friend Rabbit had to literally talk me off that ledge. I summited Baden Powell that day but only because my friends talked me through it. That night is when my first nerves for the Sierra and its high passes started. After that, I would obsessively read the FarOut app's (the app we use to navigate and exchange information about the trail) comments on the High Sierra passes.

When we finally reached Kennedy Meadows, the gateway to the Sierra, I was stressed – yet something inside me really wanted to climb the high passes. At first, the Sierra made me feel at ease, the first miles were beautiful and they felt safe. No scary ridges, no eroding trail, just climbs through forests and meadows and plenty of marmots to entertain me and distract me. We were making really good time and the altitude was not bothering me at all. When I woke up at 4am on the 5th day to climb Mount Whitney, the highest mountain in the lower 48 states, I felt determined and I felt optimistic. The trail up Mount Whitney is broad and there are big boulders on the exposed side, which makes it feel very safe. I ascended together with my friend Midnight and I felt elated to not feel the effects of altitude. However, on the way down I felt terrible and when we finally made it to camp at 4pm, I went to bed straight away. The next day, we had to climb Forester Pass. I didn't want to but it was our only way out. Because of the long, gradual climb before you actually reach the high elevation switchbacks, I had plenty of time to stress myself out. Luckily, because the climb up the last 2000 feet is very steep with very few switchbacks, it was over before I knew it. Then it was time for the snowy descent. Under the guidance of my friends I had fun with it, even glissading down – until I fell when we crossed a snow bridge. My worst fear came true, even though I didn't get hurt. When we finally reached the 'safe haven' of Bishop, I was exhausted and my nerves were shot. I decided to skip the part between Bishop and Mammoth Lakes with its high passes and snow and to hike from Mammoth Lakes to Tuolumne Meadows by myself. I took my time and started to feel more at ease. After taking some time off with my family, I hiked from Tuolumne Meadows to Sonora Pass with my friend Midnight. Sonora Pass is the scariest thing I have ever done. There was no fall this time but the exposed ridges and strong wind were enough.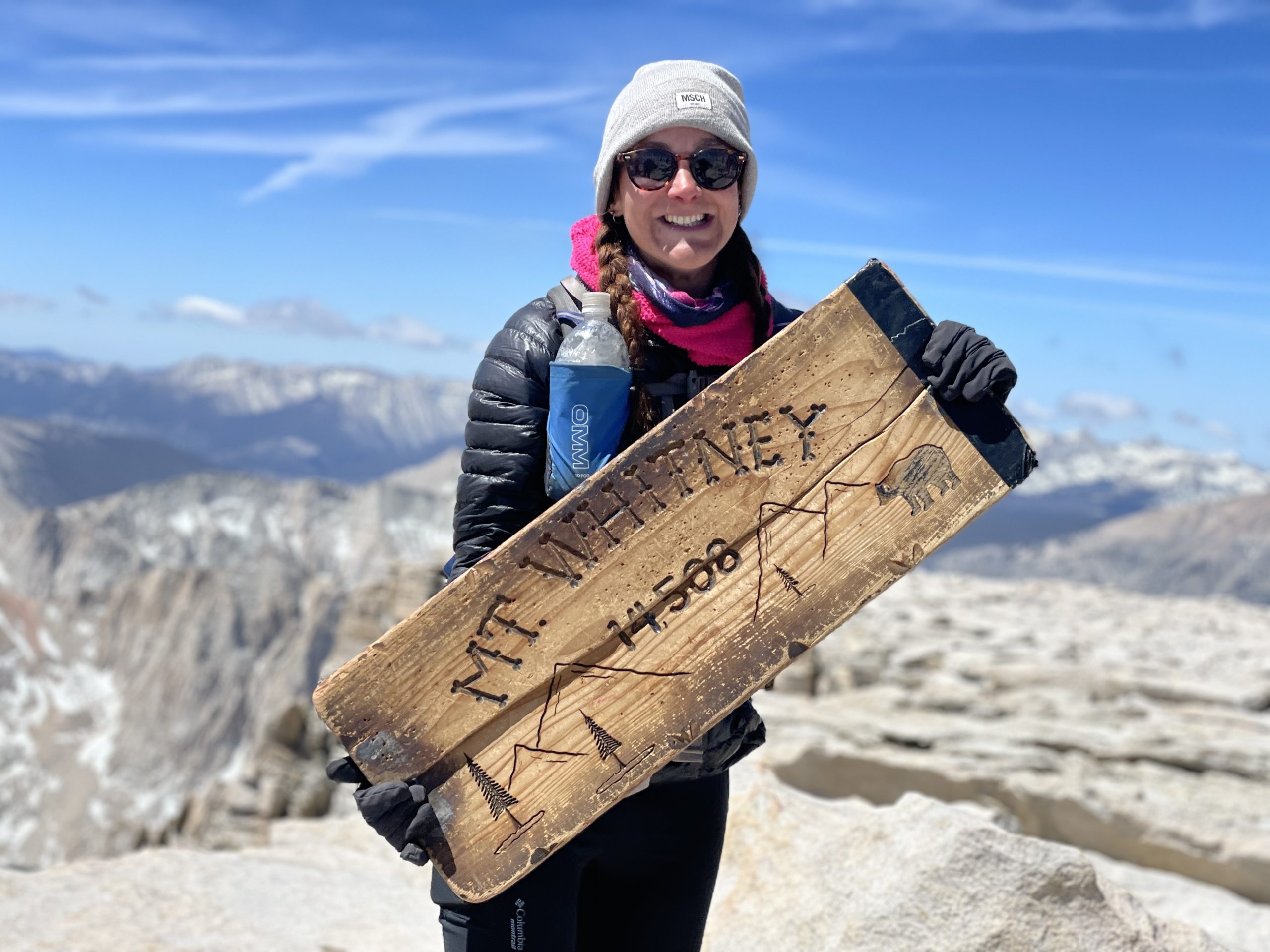 Should I stay or should I go?
I had never ever though about quitting before. Nevertheless, when I got down from Sonora Pass, I was ready to leave the trail. I never wanted to be on a mountain ridge again. Friends and family urged me to take my time with this decision and to talk to other hikers about my fears. I reached out to the hiking community and the support I received was overwhelming. Pretty much everyone I have ever met on trail, people back home and a whole bunch of strangers reached out with advice and encouraging words.
I set out on this trail with a couple of goals. One of them was conquering fears, another finishing something big. A very wise lady told me that conquering fear is like doing crunches. You do 20 at a time and you keep getting stronger. Maybe I had reached my crunch limit. Maybe pushing myself and conquering all of those fears between Deep Creek Hot Springs and here amounted to a 100, a 1000 crunches. Maybe it was enough. Maybe I just don't like being on mountain ridges, so why am I pushing myself to be out here? Another wise lady told me that when you do not do something because you are afraid, your fear grows and the next time you will dare to do even less.
As I was thinking about whether I should stay or go, I realized that even if I don't like the exposed mountain ridges, there's so much about the trail that I do love. I love that I've been breathing mountain air, living outside and drinking from streams for the last 3 months. I love the nature and the animals and seeing something new every day. I love going to sleep in my tent and getting stronger, being able to do more and more miles. There's so much left that I want to see and experience: Crater Lake, Burney Falls, Lassen Volcanic Park, Mount Shasta, the Cascades range, the quirky towns of Northern California and the moving sidewalk of Oregon. I have yet to see a pika,a bear, mountain goats or lions. It has never rained on me on trail.
Whereas the desert has been about people and having fun, this last section has been more introspective. I have been battling my fears and myself but I'm also learning. Something is shifting, my mind is expanding. I am learning to open up and to ask for help and how important it is to have people in your life.
I have decided to keep hiking for now. Everyone tells me the trail will be less scary in Northern California. I hope this time I will write another blog soon and not 700 miles later. No promises though!
Affiliate Disclosure
This website contains affiliate links, which means The Trek may receive a percentage of any product or service you purchase using the links in the articles or advertisements. The buyer pays the same price as they would otherwise, and your purchase helps to support The Trek's ongoing goal to serve you quality backpacking advice and information. Thanks for your support!
To learn more, please visit the About This Site page.