The Trails That Led Me Here: Part II
Alright, so where did we leave off?
If you haven't read Part I, link here.
Mount Jefferson, Thompson and Meserve's Purchase, NH

Woohoo! I convinced someone to hike with me. Introducing… my mom. We left very early in the morning and drank a bunch of iced tea on the drive. Hence why we both had to pee at the trail head. My mom's an athlete. She's more athletic than I will ever be, so I was slightly nervous to hike with her. I am a slow hiker. Though I am not big into breaks, I do find myself stopping to smell a tree or take in a view. I figured she'd just hip-hop up the mountain and I'd meet her back at the car. I mean, not really because she is my mom, but I did see her flying ahead of me. Surprisingly though, I was able to keep up (decently) with her, until we got to the Castles. Whenever there are massive slabs of rocks to crawl up, my strengths appear. Mountain heights just don't scare me, and the adrenaline rush is like no other. The Castles on Jefferson are so fun to climb, but I'd advise you not to do them if they are wet. The summit of Jefferson was beautiful, yet cold, and by the time we got back to the car, we were ready for beer and pizza. This was the first hike that I wasn't majorly sore the day after.
Mount Monroe, Sargent's Purchase, NH
And here is the beginning of the end. The hike that Danielle and I first went on together. The hike where after many "But are you really serious?", we decided to spend 5 months alone, together in the wilderness. She had spent the summer in Europe and I had originally been a summer hire to the job she left. All summer I heard stories about this Danielle girl and her crazy dance moves. People were obsessed with her. So annoying. When she showed up for her first shift back, I had just broken a cup, scraped my hands a bunch, and was bleeding all over the place.
Anyways, at some point during that day, I had mentioned that I was going hiking in a couple days and anyone was welcome to come along. Danielle took up my offer, thus initiating all the craziness that has happened, will happen, and is bound to happen.
We took the same trail that I hiked to get to Washington, but when we arrived at Lakes In The Clouds hut, we headed the other way. At the summit, Danielle took carrot sticks out of her pack and I seriously questioned our partnership. The summit was beautiful and cloudless. When we got off the mountain we got burgers at a local restaurant and ate our entire meal in the four minutes it took our waitress to come back and ask, "How is everything?" The look of utter shock (and slight disgust) was priceless.
Mount Tom, Crawford Notch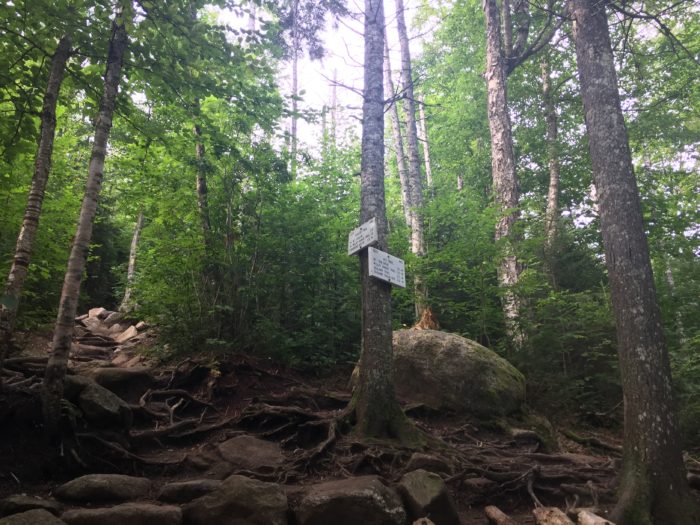 I was more spooked on this trail than any I have encountered thus far. I arrived at the trail head too early, which meant nobody else was there. Not a single car. I waited for about 20 minutes before beginning. I think the reason why I was so spooked was because I had grown used to being above tree line after a while. Mount Tom barely even had a summit. It was completely covered in trees. The people I passed on trail were particularly condescending, which I've never understood. Why is it weird to smile and say good morning? Just say it back and move along. There is no need to make it weird. This was the first mountain that I ran down. I had finally figured out what my dad calls 'the skip'. Somewhere along the way I picked a fern that I still have, and during the entire trip I ate a bunch of moon cheese. As Danielle says, you win some, you lose most.
Stay tuned for Part III
Affiliate Disclosure
This website contains affiliate links, which means The Trek may receive a percentage of any product or service you purchase using the links in the articles or advertisements. The buyer pays the same price as they would otherwise, and your purchase helps to support The Trek's ongoing goal to serve you quality backpacking advice and information. Thanks for your support!
To learn more, please visit the About This Site page.