Training for the PCT: Balmex, Butt Wipes, and Snot Rockets
Have I been training? The real answer is no. But I am prepared. Not that prepared means this will be a piece of cake. Prepared in the sense that I understand how to use my gear, I'm mentally ready for any hurdle, and physically, well physically how can I be ready? I'm definitely not prepared physically. I'm a lazy fat cow right now. I keep trying to slap myself out of it and then I get sick, or a new show comes on Netflix, or I go out drinking, or I just see a fast food restaurant and black out then come to with a number 2 and 3, or all of the above.
The Cheesy Todd Burger from Datz in Tampa,FL
"Adults with a BMI of 30 to 39.9 are considered obese" ("Overweight: MedlinePlus Medical Encyclopedia." MedlinePlus, U.S. National Library of Medicine). So according to that, I'm technically obese. My BMI is about 33.5, calculated by Google's body mass index calculator. It seems crazy to say that is obese here in America because if I'm obese, how many Americans are obese or even morbidly obese? Tens of thousands? Millions? Now there's a whole movement dedicated to loving the skin you're in. I can NOT jump on that band wagon. I won't let myself love my overweight ass because I'M NOT HEALTHY! At this rate I'll die much sooner than if I ate for nutrition instead of taste. My fatness has been controlling my life, my physicality and my mentality. It is my biggest obstacle and I'm the sole reason it is in my way. Why my lower back hurts every time I wake up, why I'm self conscious about simply going outside, why getting up from the couch requires so much effort, why I can't be happy for my skinny/fit friends, why my joints have started hurting when I move, why I don't enjoy salad, why I can't comfortably sit on an airplane. I want to blame consumerism but instead of blaming temptation I will blame my weakening will power. It's time to get back on my cankles and make strides towards a healthier life.
No, I have not been training, consistently. I have, however, done some random hikes here and there. Honestly my job has been useful in getting me ready, but it has also been the reason I've been sick for two months. In February, to help me save for the Pacific Crest Trail, I accepted a position with Teddy Bear Portraits. A company that sends photographers to daycares/preschools to take portraits of infants-5 year olds on picture day. I photographed about 60 preschoolers every morning around 7am to around 12pm, then edited the photos, uploaded them, and returned back to the schools to sell them to the parents. This job was straight commission so my money rode on sales. My days were normally 12 hours. Five of which involved wiping snot off every child's face, being sneezed on, hearing "one of the kids might have l-i-c-e!", waking up with pink eye and not being able to call out because 1. I need the money and 2. a whole preschool full of children are dressed for picture day. No wonder I've been sick since week two. This job was physical, tested my immune system and my patience, and got my ass out of bed before sun rise. It was what I needed, but it left very little room for anything else.
Bonnie and I hiking at Little Manatee River, FL
When I could I hiked, but hiking in Florida is an easy-going walk. Finding a hike around Tampa that reached 120 ft elevation gain is almost impossible. I went on three hikes in Florida, two of which were with my hiking buddy, Bonnie. She's incredible. In shape and hiking so fast I was running trying to keep up with her. We hiked 6.7 miles in 2 hours. 2 hours! Alone it would have taken me double the time. It was a nice little wake up call.
Red Rocks Trail, CO
My first attempt at training with elevation higher than 120 ft was in Denver. I hiked with a day pack for 7 miles with 1,280 ft gain in a total of 3 hours. It was so beautiful and so very difficult. Only 1,280 ft and I was beat! Cold, sweaty, and snotty. After trying some elevation it was time to try hiking a long distance with my pack.
Silver Lake Withlacoochee State Forest, FL
30lbs in my pack, 15 miles, 8 hours! We hiked 15 miles, camped, woke up the next day and hiked about 5 more miles. This was my first real backpacking endeavor. Painful, never ending, and sleepless. By mile 11, I was waddling like a penguin and by mile 12.5, I couldn't stop or everything would start spinning. Maybe I should have put less weight in my backpack, maybe I should have walked more before this venture, maybe we shouldn't have done 15 miles that day, but it happened and it was worth it. I did find two ticks on me after and I couldn't sleep to save my life, but when I woke up from my couple hours of restless sleep, I was smiling. Not at first, though. At first, I woke up from a dream where we all decided to skip the day two hike and go home early. A decision I definitely would have regretted and I knew that. So yes, maybe I forced that smile across my face, but I'm so glad I did because once I started hiking nothing else mattered except putting one foot in front of the other. A refreshingly simple concept.
Pinecone peace sign of hope 10 miles into hike
I read you can't possibly train for a thru-hike, which makes sense. How can you prepare for a 6 month hike, besides going on a 6 month hike, right? That doesn't mean don't do anything. It's good to get out, test some gear, get ahead of some of the issues you will encounter. For example, the 15 mile Silver Lake hike allowed me to test shoes I definitely won't be wearing again for a long hike and to test my sleeping system, which needed improvement. I was wearing Salomon X Ultra 3 Mid GTX hiking boots, they were ok but I LOVE my Altra Lone Peak 4.0 mids. As for my sleeping system I was in my Moutain Hardwear 32 down sleeping bag which I like but I was testing a sleeping pad. It was like sleeping on a pool float, full body and about two inches thick. I hated it. Now I will be using a small Therm-a-Rest ProLite sleeping pad that is only about an inch thick and covers half of my body, which is much better!
Beaudry Loop, CA
My next elevation test was in Los Angeles, California. I am staying in LA with my sister for 10 days before I head to Tehachapi to meet Bonnie and begin our flip-flopping PCT thru-hike. So far I've done two hikes. The first hike was Beaudry Loop. A 6.6 mile hike with a 1,573 ft gain that took 3 hours. I tested a Columbia long sleeve wick shirt. 10/10 would buy again! It did exactly what it said it would, cooled me as it was drying my sweat. Incredible. I also tested my GoPro 3-way selfie stick I bought for my GoPro hero 5.  Extremely useful for those of us who don't want to see the selfie stick in the photo. LOVE it. Elevation is not bothering me as much anymore, although the first two hours going uphill is strenuous. Almost as if my hips are being crushed and my legs stop working, but once I hit hour 3 I'm READYYYYY.
Cobb Estate Angeles National Forest, CA
I continue learning about what I need most. Right now, since I'm sick, I need tissues and a bag to put my used tissues in. But of course my last training adventure I went on, I forgot tissues. I was not prepared, at all. The only useful items I brought in my 30lb pack were water, sunscreen (that I definitely should have used more of), and my GoPro. Things I needed – tissues, wipes, a long sleeve shirt, wipes AGAIN.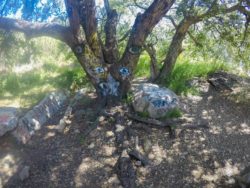 The day started pretty well. I went potty, numbers one and two, at home before the hike began. The day continued, I drank coffee (bad move), drove Sophie (my dog friend) and I to the hike, and began walking to the trail head. I had to pee real bad, so I found a hidden spot near the beautiful tree pictured above, and had a quality squat pee that very suddenly turned into a poop. Unannounced and unwanted, I was shitting. Without being able to dig a hole and with no wipes in sight. There I was, a girl with a dog, an unwiped ass, and an 8 mile hike looming ahead. It didn't even cross my mind to get back in the car and go home, I just thought "hope that doesn't give me an infection". It did take me a second to keep going. I didn't just pull up my pants and start hiking. Sophie was very confused and didn't understand why I was so uncomfortable. After taking several deep breaths and readjusting my underwear 4 different times, we started our hike. An 8 mile hike, 1,785 ft gain, a total of four hours and 20 min.
4 Miles into Cobb Estate hike, CA
We did it. Four hours with lots of water breaks, snot rockets, a slowly worsening chapped ass, and a preventable sunburn. I was glad my only companion was Sophie. The most non-judgmental friend a girl could have. Really wish I had applied more sunscreen on those water breaks and that I had brought some tissues, but I was determined. I am determined, snot rockets, sunburns, and poop are not going to ruin this for me. They're just bodily functions. Everyday things we have a routine for. I'm just in the process of changing up my routine and it's trying to mock me, but it will not defeat me. How could it? These are first world problems after all. We are all human, built to survive a lot more than shitting your pants. I finally cleaned up 5 hours after the incident and yes, my butthole was very chapped, and yes, some poop traveled into my lady parts, and yes, I immediately washed my underwear. But you know what, at least this happened during "training" because on the trail, there is no shower, no washing of my poop stained underwear, and no Balmex to finger into my raw butthole! Well, maybe I will bring some Balmex. That proved to be a necessity.
I feel like my random training sessions have paid off. We won't know for sure until I'm out there hiking the real hike, but right now I feel more than ready. I will be a guest of mother nature for the next 6 months. I want to begin by thanking her for having me and letting her know there is nothing I can't handle. Bring it, mama.
Affiliate Disclosure
This website contains affiliate links, which means The Trek may receive a percentage of any product or service you purchase using the links in the articles or advertisements. The buyer pays the same price as they would otherwise, and your purchase helps to support The Trek's ongoing goal to serve you quality backpacking advice and information. Thanks for your support!
To learn more, please visit the About This Site page.