Uncomfortably Comfortable: Why I'm Hiking the PCT
Why am I hiking the PCT?
I've thought about this question a lot. I've even attempted to write down the answer, but one didn't come easily. I still don't think I have it pinned down. But, here's my attempt.
The short answer: I don't know.
I mean, I have a vague sense of why. A feeling that, well, feels personal and even a little selfish. I just want to do something for me. Something challenging. Something where I can forget about what other people think; where I can strip myself down and reflect.
Self-Reflection
This feels like such an abstract concept, but I think it's an important thing that is missing in my life.
The PCT is a 2,650-mile-long trail stretching from the border of Mexico all the way into Canada. It has an estimated total elevation gain of 489,418 feet, which is 16.8 times the height of Mount Everest, if my math serves me right. That means, in my simple mind, that I will be hiking the height of Mount Everest, from sea level to summit, over three times a month for the five months of this hike.
Now, I'd assume there are far easier ways of achieving "self-reflection" than attempting to thru-hike the PCT. Things like meditation, journaling, and maybe even a far, far shorter hike all come to mind. Those things sound good and all, but they are missing a key piece that I am craving.
Adversity
I'm craving a little bit of adversity. I've lived an extremely comfortable life. That's not a bad thing, by any means. I feel very lucky for the life that I have. I'm thankful for my parents and my family for giving me this life, but I can't help feeling a little… uncomfortably comfortable.
I want to be miserable. At least a little bit. I want to hike through the waterless desert sections in late May, when the temperatures are pushing triple digits and every inch of unexposed skin is turning lobster red. I want to spend countless nights alone in the middle of the Sierra Mountains, huddled in my tent and jumping in fear at every little sound. I'm looking forward to the miserably wet Washington weather that I've grown to love over the past 30 years of Pacific Northwest living. I'm craving the pain, the blisters, the chafing, the loneliness, and even the stink. I want to be dropped off at Point A with the sole purpose of making my way to Point B; a clear, outlined goal.
It's not all going to be pain and suffering. Being out in nature is generally a very positive experience. The morning sunrises and evening sunsets, the first sip of coffee in the morning, the birds, the views. And, of course, the infamous hiker hunger (because I love to eat).
There are things I'm not excited for; sure there are. I'm not excited for the bugs. I hate bugs. I have a fear of mosquitoes and ticks, and mice (I know a mouse is not a bug). I'm not excited for hitchhiking, an integral part of getting in and out of towns for resupply. To many people, this probably comes easy. But not for me. When I do, inevitably, catch my first ride into town, it will also be my first-ever hitchhike. I don't want to wind up in some guy's basement being told to put the lotion on the skin. The thing I fear the most, however, is not finishing. It is giving up, or being forced to quit due to injury. I need to come to terms that this is a real possibility. In fact, with my injury history, it is even a probability.
So if this journey is so "personal," why am I blogging about it?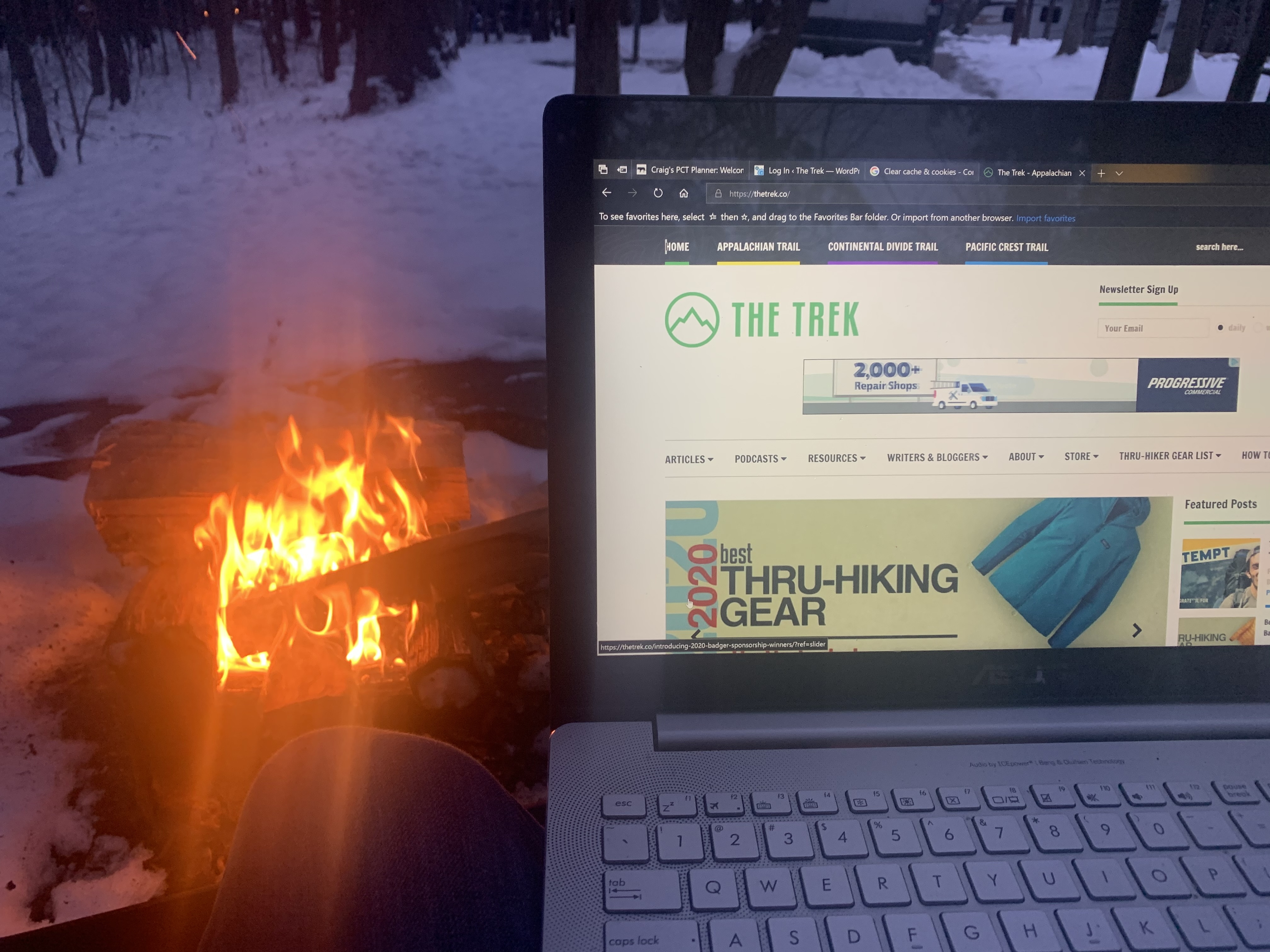 That's another question I've struggled to answer. I've never blogged before. I can't even force myself to keep a journal. Even though writing has been something I've wanted to do since I was a child, I've failed to put forth any effort toward it. So I guess this is another selfish thing. I'm not doing this to get Instagram followers or establish some sort of social media presence. I'm not even doing this for my family or my friends. I'm doing this for two, fairly selfish reasons:
So that I can have some sort of record of my journey. Maybe I can look back on it in my old age and get a few laughs. Maybe I can show my children, or grandchildren, so they can pretend to read it and say things like "Why the hell would you go outside to hike when you can just put on your VR headset and do it from the couch instead?"
Maybe, hopefully, this will force some sort of writing routine into my life. It has been a goal of mine to write a book. Don't worry, it wouldn't be another PCT post-hike book. I've always wanted to write fiction.
In Conclusion
I'm hiking the PCT for some selfish reasons, and that's OK. I'm discontent and I don't really know why. Maybe with a bit of self-reflection I can figure out why I feel so uncomfortably comfortable. I am craving adversity and hoping, with this adversity, that I might find myself becoming comfortably uncomfortable instead.
Those of you who are hiking the trail, what are your reasons?
Affiliate Disclosure
This website contains affiliate links, which means The Trek may receive a percentage of any product or service you purchase using the links in the articles or advertisements. The buyer pays the same price as they would otherwise, and your purchase helps to support The Trek's ongoing goal to serve you quality backpacking advice and information. Thanks for your support!
To learn more, please visit the About This Site page.