Up and Down and In and Out (Days 17 to 22, Idyllwild to Big Bear)
Before moving on to this new section, I just need to say one more time how great Idyllwild was for a zero – seriously, top 3 trail towns I've experienced, without a doubt! We finished our evening last night by cooking up a family-style feast for our trail fam, and finished up with s'mores over a fire.
Anyway, on to the updates!
Day 17
Start: Saddle Junction / Idyllwild
End: Fuller Ridge campground
PCT Miles Hikes Today: 11.1
Before I knew it, my 5 am alarm was going off, calling me back to trail. We packed up the cabin, hauled our bags to the front office, and were shuttled back to the Humber Park trailhead by an absolute angel named Jeannine. She and her husband take care of many hikers every year, and it was exceptionally nice of her to drive over so early (6am!) and drop us off. Thank you, Jeannine!
We had watched it hail and snow yesterday at our cabin in Idyllwild, which is over 1,000 feet lower in elevation than the trailhead. So we weren't surprised to see snow all over the parking lot and lower trail. Beautiful, but indicative of what was to come all day today.
As we hiked up, I became increasingly confident that we had made the right decision to hike out today, instead of taking another zero to wait for some of the weather to pass. San Jacinto was socked in by clouds, but there was no wind, and the trail was relatively clear. Some of the hikers we met were waiting another day, but since we had already double zero'd, we were anxious to get back to trail.
The 2.5-mile side trail back to the PCT was long, straight uphill, and annoying. It took us about an hour to power up the hill and start making the miles count again. We hiked a few miles to the San Jacinto summit side trail, and decided as a group that the snow wasn't that bad and that we were going to attempt to summit.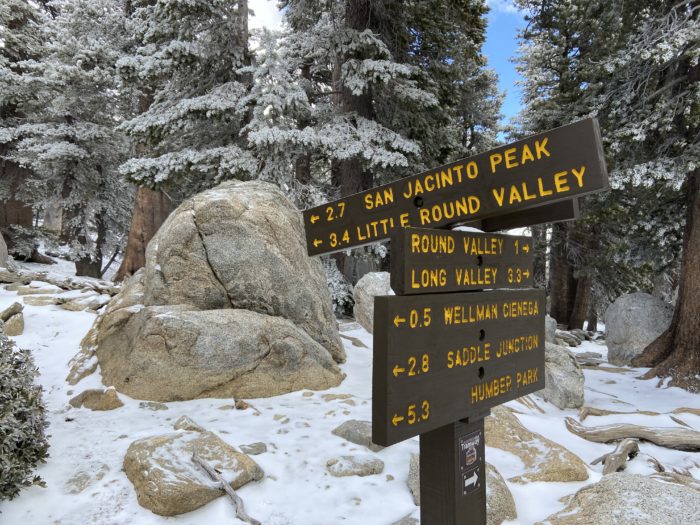 It was nice to hike with Tenderfoot again. She and Doc had gotten off trail at Paradise Valley Cafe, to sort out some injuries. Doc's hike is over due to knee issues, but Tenderfoot hiked out with us today. Mango and I ended up hiking most of the day with her.
The ascent was rough because of the elevation (we climbed to 10,800 – my highest elevation ever!), but not much use for microspikes on the majority of the trail. We summited around 1130, fully socked in, but we were just happy to be done climbing for the day.
I figured that the difficult part of the day was behind us, but I was very wrong. Fuller ridge, a notoriously snowy 4 or so mile stretch of trail, stood between us and camp. The temperature remained below freezing, and we got snowed on for about 2 hours. Microspikes came on and off, as we traversed snowfields that seemed intent on spilling us off the mountain. It was an ankle-breaking rest of the day. I didn't take many pictures because I was focusing on safety, but here's a good one of an outhouse with the door blown off. Must have been a very violent poop, eh?
We rolled into camp, having completed a very disappointing 11 or so PCT miles, thanks to our long walk back to trail and our side trip to summit San Jac. Tomorrow we descend 6,000 feet to the desert floor. I'm completely frozen in my tent right now as I type this – it's hard to imagine that this time tomorrow, I'll likely be wearing shorts and sweating.
Day 18
Start: Fuller Ridge campground
End: Bushcamp a few miles north of I-10
PCT Miles Hikes Today: 20.8
So, so cold last night. I was already awake when my 5 am alarm went off, as I was curled into the fetal position shivering. Last night we could hear ice falling from the trees and hitting the ground all night, the temperature was well below freezing. We quickly tossed our things into our packs and ran out of camp.
All morning, we continued to plummet towards the valley. Yesterday we were at the summit of San Jacinto at 10,800. Today, we were going downhill all the way to 1,200.
It was amazing to slowly but surely go from frozen fingers and toes, to getting slightly sweaty, to absolutely roasting in the sun over the next few hours. The swings in temperature in the desert are so much more extreme for each 1,000 feet of elevation change than on the east coast.
We passed 200 miles on our way down! Really cruising now!
By the time we reached the desert floor, it felt like the temp had been turned up to 100 degrees. We stumbled towards the first water source in 20 miles, which was a non-potable water fountain set in the middle of the desert floor. Is this for PCT hikers specifically? We were so thankful.
Wow… we had done 15 miles before noon. Hiker legs are definitely coming in! We rested for an hour in the 18 inches of shade that a large boulder provided, then decided to push on the next 3.75 miles across the scorching desert floor in the hottest part of the day, to try to get some shade under the interstate 10 overpass. This was both a good and a bad decision. These miles were across a brutally hot desert valley. I pushed straight through without a break and was so hot at the end. I caught a raging headache about 15 mins after arriving, I think because of the heat.
The good part of pushing those miles was that when we arrived at the highway, another hiker named Space was there. He told us he had gotten off trail to heal up from a knee injury and had driven out from San Diego to provide cold drinks and drives to town if we wanted them! We gladly accepted bottles of ice-cold Gatorade and lay down in the shade to recover. 30 mins later and fully rehydrated, we felt like new people and accepted a ride from Space to In-N-Out burger 15 mins down the highway.
Oh glory! I had a double-double, a cheeseburger, fries, and a Coca Cola. We relaxed under the highway to the soothing sounds of racing cars and rumbling trains and waited out the hot afternoon chatting with all of the other hikers who came in.
Around 5, we hiked out a few miles to get away from the loud noises of the highway. I'm thrilled we pulled a 20-mile day today, our first 20! Certainly the first of many. My legs hurt from pounding downhill all day, but my belly is happy from the burger. I guess the only downside is that I'm still buzzing from the Coca Cola at 8 pm as I write this. Oh well, worth it.
I still can't get over the change in weather over the past 24 hours. From freezing cold winter straight to the deepest part of summer in one day. Wait, we skipped spring! I guess you just can't get that Goldilocks zone in the desert.
Day 19
Start: Bushcamp a few miles north of I-10
End: Bushcamp near Mission Creek
PCT Miles Hikes Today: 17.8
Our warmest camp yet last night, probably because it was our lowest camp yet as well. We fell asleep to the distant sounds of trains and awoke to the yips of coyotes. A very pretty evening.
It's cool to see the changes each day brings. Today, I noticed that I no longer need a headlamp to hike at 5:30am, like I did a few weeks ago. Life at the slow pace of a thru hike means more time to experience the small details of life. Mango and I decided to start waking up earlier moving forward (maybe 4:30?) to beat the sun.
We spent our morning hiking past a wind farm and going up and over a steep canyon. After we cleared our one climb of the morning, we ridge walked all the way to Whitewater River, 9 miles into our day. Despite reaching the river at 10 am, it was already blazing hot. Yesterday we heard from a day hiker that it was going to be over 90 today, and we were feeling it. We joyfully leaped into the river.
The water was FREEZING and it was the most glorious plunge I've ever taken. Although most of the group hiked out after 2 hours, I killed 4 hours sitting next to the river, waiting out the heat of the day. What a treat to sit in the shade next to a river. We even did some dirtbag laundry in the water!
Eventually, I started feeling restless and hiked out. It was blazing hot, and the next few miles of ascent was not fun. I was hiking solo, so I put on an audiobook and hiked onward, taking short breaks in the small shade provided by the desert shrubs. Beautiful, but hot.
I met back up with the group about 15 miles into the day, as they were taking a big break under a nice tree (amazing how you become a tree connoisseur on trail), and we hiked on up Mission Creek towards our planned campsite.
For the next 3 miles, the trail pretty much disappeared, as we hiked up dry riverbed, jumped across the small creek, and bushwhacked our way through dense vegetation. We lost the trail many times but always found our way back (despite some very creative detours).
Our campsite tonight is beautiful, right off the creek and a perfect temperature. We all ate dinner in a circle among our tents as the last light left the sky. Definitely a later day of hiking today, I was struggling towards the end. It's clear to me that my best hiking hours are before 11 am. As a group, we decided to wake earlier tomorrow and try to get up as much of the uphill as we can. We are ascending back to 8,200 feet tomorrow, and it's uphill pretty much the whole first half of our day!
Day 20
Start: Bushcamp near Mission Creek
End: Coon Creek Cabin
PCT Miles Hikes Today: 17.5
The whole tent site woke up early at 4:30, trying to beat the heat up the massive uphill. We were only partially successful…
Mission Creek continued to be absolutely awful. We frequently took wrong turns, following cairns to nowhere and footprints that led to dead ends. Any advantage of an early start was quickly erased by backtracking and finding the trail. Below, Sorority Steve points to where we probably should have been hiking, while Mox looks so frustrated. The whole group was frustrated.
I led the group for a while to start the day, but I accidentally led them into a dense forest and on the wrong side of the creek. I was fired as group leader. Mox took the reins and immediately led the group through a grand, wide riverbed that was definitely not the trail. We had to bushwhack our way up a steep cliff to get back to the trail. Mox was fired as well.
Our Canadian friend Misha was the only one who could find the trail this morning, likely because of his innate sense of how to return to his Motherland in the north. We wound our way up the canyon, and even when we found the trail, the elevation change was extreme. Despite the early start, the sun had caught up with us, and the terrain was not getting easier.
I was pouring sweat as we approached 10 am. We hit our planned water stop about 10 miles into our day, and I collapsed into the shade, only emerging to filter and chug 3 liters of water. We had about an 18-mile waterless stretch coming up (including our dry camp tonight), so I had to pack out 5 liters of water (~10.5 pounds). Combined with the steep terrain, I was not a happy boy. I also had already eaten all of my snacks for the day. It was 10:30 am, and I knew I was in trouble.
Thankfully, the worst of the day was behind us – after the water source, the trail smoothed out, and we finally emerged at a nondescript dirt road which signaled the end of the relentless climb at an elevation of 8,200 feet. Yesterday, may I remind you, we were at 1,200 feet. Bonkers.
I hiked with Mango most of the afternoon. I started getting a wicked headache around 2 pm, maybe because of the elevation change. Or possibly because of the exertion. Mox threw up twice today and is camped about 5 miles back, recovering. We are hoping it's just a temporary elevation sickness or heat exhaustion. This trail is pretty brutal. Two more hikers around us have dropped out in the past week.
My brain on fire with the headache, we arrived at our campsite around 4. It's this cool forest cabin that used to be rented out, but now it's just a shell that hikers can camp in. We ate dinner and explored, but ended up pitching our tent tonight because we were worried about mice in the cabin. Still, fun to poke around.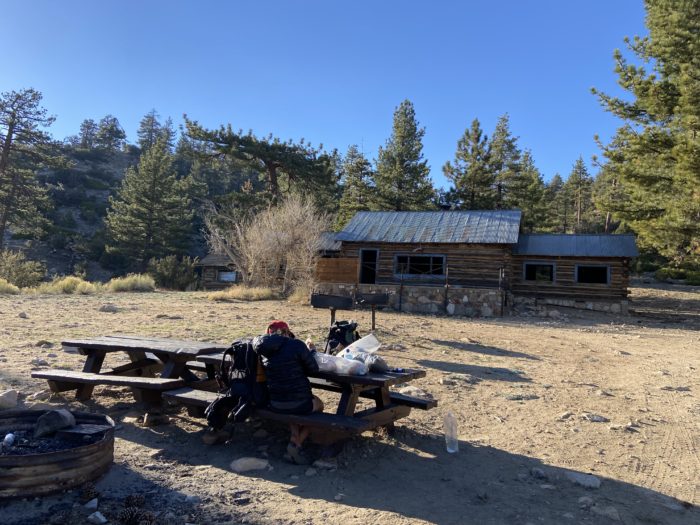 My head is feeling a little better now that I'm lying down (and popped some ibuprofen), but still a stark reminder of the various things that can derail a day of hiking. Poor Mox, I hope he's doing ok. We have set ourselves up for an awesome nearo 2 days from now, as we are only 20 miles or so from the road to Big Bear tonight.
Day 21
Start: Coon Creek Cabin
End: Bushcamp 4.6 miles from Highway 18 / Big Bear
PCT Miles Hikes Today: 15.1
We had an interesting night last night! After we fell asleep at 8 tucked cozily into our tent near the cabin, some locals rolled in with their car and started shouting, shining their headlights right on our tent, and revving their engine. Very annoying and a stark reminder to avoid civilization whenever possible. Then, I awoke at 2 am to a deflated sleeping pad. I blew it back up, but it was deflated again by 4 am. I must have brought a cactus spike or something into the tent and gotten a small hole in my pad, so it slowly deflates as the night goes on. I'll have to try to figure that out in Big Bear tomorrow, but I'm already resigning myself to buying a new sleep pad.
Beautiful morning to hike – perfect temperature! We decided to treat ourselves and sleep in until 6, knowing that we had easier mileage planned and it was mostly downhill.
We got a few miles into our day, then hit a dirt road crossing near some wood cabins that people can rent. As we were crossing the road, a nice couple from the UK came down from one cabin with their dogs, and we got to play with some poodles for a few minutes! These dogs just loved romping – lots of puppy energy.
I walked for a few miles this morning with a fast hiker named Flying Pig, who has been putting up big miles every day on trail. Today he was trying to do 30 or so miles to get to Big Bear. There are many different reasons hikers come to the trail – some come for the pure wilderness, some come for the social community, some come for the physical challenge. It's often a mix of all 3, but the dial for Flying Pig was clearly set mostly to physical challenge!
We were on cruise control for much of the day. We stopped often to just hang out, talk to other hikers, drink water, etc – and we were still able to do 10 miles of our planned 15 by noon. The trail was so smooth, and the weather so beautiful, that the miles just came easy.
Around 2 pm we passed by a beautiful, large campsite and we decided to call it a day. No sense in pushing too far today – we need to hitchhike tomorrow morning, and if we wake up early (as we always do), hitches are much harder at 7 am than they are at 9 am. It makes sense to leave a few miles to the gap. My right hip had begun to bother me, likely because of how difficult yesterday was, so an easy day was ok by me either way. We set up our tents, stretched, ate an early dinner, and sat around chatting. Eventually, Mox rolled in, having fully recovered from his heat exhaustion yesterday – he pulled a 20 to catch up with us.
We are excited for town tomorrow – all talk tonight was trying to plan our order of operations for tomorrow. We need to resupply, hit the gear shop, eat 10,000 calories, and do laundry. Fingers crossed for an early check-in at the hotel!
Day 22
Start: Bushcamp 4.6 miles from Highway 18 / Big Bear
End: Highway 18 / Big Bear
PCT Miles Hikes Today: 4.6
Town day! We woke at 5:30, flew down the trail, and arrived at the trailhead around 8 am, ready to hitch to town and grab breakfast. 
This section of trail was covered in horse poop – it must be a popular spot for riding. We hiked in a line, and the leader would yell "Poop!" to warn the others to watch their step. I was singing Cat Stevens in my head as I hiked… "Come on ride the poop train!" (You have a lot of time to think weird thoughts on a hike like this.)
In the trailhead parking lot was what appeared to be a rental car bus… with a man inside of it cooking breakfast? As we approached, it turned out to be a man named Joe, a former thru hiker and trail angel who helps shuttle around hikers in the rental car bus he bought at auction! He even had a few hiker boxes. We grabbed an unmarked gummy-looking thing that looked vaguely like a tide pod (for laundry later), and hopped in his bus for a ride straight to Big Bear Lake!

We had an incredible breakfast. I actually had a double burger and split a full order of French toast with mango. The hunger is getting real, 3 weeks into the trip.
The rest of the day was typical town stuff – resupply, laundry, wandering around looking at shops, eating ice cream, relaxing in bed watching TV – just recovering and taking some time away from hiking. Big Bear treated us very well. I'm almost disappointed to be leaving tomorrow – but, coming off of the Idyllwild double zero last week, and not having any injuries to rehab, I think I'd feel guilty bumming around for another day. Definitely a zero upcoming in Wrightwood, though!
On a sad note, another one of our trail friends is heading home today. This last section of trail was pretty rough, and it's not a surprise that it has taken some people out. Another reminder to us all that 80% of hikers who set out with the intention of a full thru don't finish a thru. All we can do each day is hike on towards Canada and hope we end up in the 20%.
And that's all for this post! The plan is 6 days to Wrightwood, then do a zero to help recover from what will likely be our biggest mileage days yet.
Until next time, happy trails!
-Slice
P.S. If you like this post, check out Mango's trail podcast, Take a Hike!, now available on all major platforms (except Apple for some strange reason, probably due to my recent lawsuit over who really invented the iPhone. It's held up at the appellate court level, but I'm confident in my eventual victory.)  https://anchor.fm/takeahikepodcast
Affiliate Disclosure
This website contains affiliate links, which means The Trek may receive a percentage of any product or service you purchase using the links in the articles or advertisements. The buyer pays the same price as they would otherwise, and your purchase helps to support The Trek's ongoing goal to serve you quality backpacking advice and information. Thanks for your support!
To learn more, please visit the About This Site page.