">
"Uphill Battles: Mental and Emotional Challenges of a PCT Thru-Hiker, Part 2 of 2"
Continued from the first half of this article Uphill Battles: Mental and Emotional Challenges of a PCT Thru-Hiker, Part 1 of 2 that covered both physical and environmental hurdles to overcome on a long thru-hike, this second installment covers the other two major challenges you'll likely experience on your hike: social and intrapersonal issues.
~Social~
Social challenges have to do with the people you meet on and off trail, hike with, are passed by, your significant other or spouse, and those people from your normal life that hold space in your heart and thoughts. Your relationship with these people, whether long, brief, or nonexistent, will invade your mind and influence your hike. If you have the idea that you'll be on the PCT by yourself with just your thoughts, think again. While I can't speak from first-hand experience to other long-distance trails just yet, people are all over the PCT. You'll see other thru-hikers or section hikers almost daily. Near towns there will be day or weekend hikers, or even a group of guys hiking in some beers by the water. You'll get texts from loved ones and wonder what other friends or family are doing if you haven't heard from them in a while. You'll miss your spouse or partner if they're not with you, or you may develop a deeper love for them if they dared venture out with you. There may be the random spat, frustration, or dispute that comes up every now and again with them, but if you can survive six months together sharing a tent, there's not much else you can't make it through. You'll be exceeding grateful for the kindness of a stranger or trail angel or disgusted at the unkindness from a select few. You may find yourself frustrated at the weight of other hikers' packs and how much faster they are than you, or you may be the fast one and find yourself looking down on the slower hikers. You may experience people in town or at restaurants who treat you with a level of 'prejudice' because of your dirty appearance and foul smell, or simply because they've had a poor experience with a hiker(s) in the past. You may love the other hikers you leave camp with each day, or you may encounter hikers your truly dislike for a myriad of reasons. If you stick through your hike, you'll inevitably encounter another hiker that skips, yellow-blazes, or just downright hitches away chunks of the trail. While everyone should hike their own hike, if you take pride in the trail like we did, you may find yourself wholly frustrated and hurt by those who skip trail for no good reason and still call themselves a "thru-hiker". It's a matter of pride. All of these encounters can enrich or erode your experience if you let them. Good or bad experiences elicit reactions and thoughts. Those reactions and thoughts will then impress on your overall mood and mental state, either positively or negatively. We are, after all, social creatures.
Rather than detailing a line list more of possible social scenarios while out there, I'll give a few of my own person challenges that made me love other people, angered me, frustrated me, made me anxious, and even scared me. For me, social challenges while on trail were the most difficult to wrestle with; more so than physical trials or environmental issues, social "incidents" elicited the most emotion. Often times they gave way to deeper, intrapersonal questions to reconcile.
To reiterate, Basecamp and I are both competitive people. At the beginning of the PCT NoBo, we had heavy packs, there's no way to get around it. Those packs caused us to move slower than other hikers who had lighter rigs. As a result, we both found ourselves frustrated when we were passed by other hikers, especially because we come from a world of running and moving quickly. There were times, that frustration would lead to anger in both of us, sometimes resulting in rude thoughts towards others that weren't deserved, or even tears that weren't expected. We were afraid we'd be left behind by our friends. It took both of us months to grapple with this. Even after reducing the weight of our packs and hiking bigger days, we'd still be passed on occasion, but over time we learned to let it go lest it ruin our hike and relationship with others. By the time we were in Oregon, we didn't even care. For well over a thousand miles we'd let our competitive nature get the best of us, and soil hours of hiking with negative thoughts and energy. We had to let it go, and by the time we did, we found ourselves enjoying the experience and people that much more.
On top of this, I hike faster than Basecamp. She's a true athlete, but she suffers from asthma, which can affect her breathing and pace. As a result, I hiked behind her 99.97% of the trail and let her set the pace. She also wanted to take less zero days in town than I did at first which was directly related to our slower pace and wanting to finish the trail before fire or snow could close it later in the season. In my mind I reasoned that if we would only hike faster, we could make more miles and be able to take more zero days like I wanted (and thought I needed at the time). As a result, I'd hike behind her some days brooding at the fact that we weren't doing between three and four miles an hour, and longing for rest days in town with food and beer. We came across other hikers and would sometimes discuss this dynamic with them. Some understood while others suggested we hike our own paces and set a meeting point at the end of the day. For me, I couldn't justify leaving Basecamp during the day, or hiking ahead, or whatever it may have looked like. We'd set aside our normal lives together and started the trail together as a married couple. While others will surely disagree, I felt like we needed to hike together as a team, even if that meant going as fast as we were both capable of hiking instead of blowing through miles as fast as I 'thought' I could.
So yes, we had several discussions with one another about this, and it would sometimes get heated, but never resulted in yelling. Of the 2653+ miles that we hiked together, there were only two brief instances where we hiked separate. The first scenario was in SoCal on a climb where I asked Basecamp if she would be okay with me hiking in front (I had eaten a lot of M&M's and needed to get the sugar boost out, but didn't communicate that to her). There was a misunderstanding there. She thought I was communicating that I just wanted to hike in front and set the pace, not blow past her and climb like a madman. My flying uphill and waiting for her after 10-15 minutes started a deeper conversation about us being incompatible hikers on a trail like this. The other time we didn't hike together was because of a small argument we had one morning in Washington where Basecamp hiked off ahead while I finished packing my bag at camp. Neither scenario lasted long, and we always came back together and sorted things out. Looking back, I feel that had we hiked apart from each other on the trail, it could have caused a rift between us that may have continued to grow until it blew up. In the end, we chose each other throughout the entire trail, compromised where we could and had to, and talked things out. Even if we never came to a signed treaty agreement on some matters, such as this, we made a conscious decision to fight for connection while on the trail and set aside grievances that, in retrospect, weren't really that big of a deal after all. Through that process of verbalizing, communicating, and fighting for connection, I believe that we became a stronger team through the PCT, even if we had to sort through some difficult conversations.
It was rare, but on occasion we experienced unkind acts and comments from people off trail. Other hikers, though some quite strange, were on the whole, kind. The first trail town that we stopped in, Julian, was a cute respite away from the desert heat. We were excited for our first trail town. The first thing we did after being dropped off by our trail angel was to head over to the brewery and grab a pint with food. We carried our things to a table outside to be respectful of those inside and just how badly we already smelled. When sitting down, two men at the table behind us mumble, "Fucking hikers. It's that time already." They dared not say anything to our face, like most people who make rude comments or combative statements online. They were trolls, through and through. I heard what they said, looked at them, and smiled. I didn't hear another negative comment about hiking from their table.
In Idyllwild, we went to the Idyllwild Brewpub thirsty and hungry. With two others, we sat outside. Our waitress initially greeted us without a smile, brought over 3 beers, and a taster, and then disappeared for over a half hour serving all the tables around us, but never making eye contact with any of our party. After nearly an hour a bartender walked over and handed me the incorrect beer. Our waitress was in the corner standing with other servers, talking. We never placed food orders (because we never received food menus), and only had 3 overpriced beers amongst the four of us, in an hour. Normally I'd blame something like this on someone being a poor server, but observing the smiles and attention that the surrounding tables received made me feel (and I'd wager to say all of us) singled out and treated differently. I hesitate to use the word "prejudice" in how we were treated, but I will definitely say that Basecamp and I felt underserved and underappreciated as customers, likely because we were pegged as through hikers. We ended up making a lateral move to the nearby pizza shop and were treated like royalty.
Lastly, when we arrived in Bishop, CA for the first time out of the Sierras and Kearsarge Pass, we were exhausted and needed a few pieces of gear. First arriving there, we did what we always did in a new town. We went to a brewery. Sitting outside with our bags lined along the outside of the beer garden as per requested, Basecamp, and another female hiker were over at their packs grabbing something when a male customer started into the brewery, scowled at them, and stated, "Fucking hikers. Great. It must be that season." He then walks off, afraid of any confrontation. Later that day as we were walking to a gear shop, a car blows the horn at us near a red light. Without looking at first, I raise my hand and wave since most honkers are waving at us, or cheering, etc. This particular motorist had his middle finger raised, glaring straight at us as he drove away. While our negative experiences on trail were few and far between the trend I noticed is that none of these individuals wanted confrontation. I won't go down a rabbit hole here, but this feels rather representative of our society today with trolling and poor comments online- no repercussions.
When we reached the town of Sisters, OR we were in desperate physical and mental need of a few rest days before starting our broiling road walk around the Lionshead closure. Messing around on our phones just after starting the road walk, we saw that fire had broken out in the NorCal area near Seiad Valley. It was devastating. As if a domino effect, another fire broke out near Shelter Cove in Oregon. With the new fire closures and Lionshead closure, most hikers had to skip hundreds of miles ahead of where they were to be able to walk on trail. A huge chunk in the middle of the PCT was inaccessible and closed. The result was that all those hikers ended up right on top of us by the time we finished our road walk at Frog Lake, OR. So, that meant that there were hundreds to thousands of new hikers we would have never met, now right there with us. That also meant hundreds to thousands of other people filling available campsites, lodgings, and wiping out resupply items. We'd started our hike in early March to avoid this "bubble" of hikers that normal happens to the April and early May starters. But, we were where we were, and had to fight for campsites, often times having to pitch our tent on access roads, in a ditch, or making a new site with some serious foot shoveling. We felt completely horrible for the hikers who'd been displaced and had to completely readjust what their hike looked like and how they wanted to proceed. I can't imagine the slurry of emotions they must have felt, but I can detail how we felt. We loved meeting all the new, interesting, wonderful hikers, but we felt cheated from our own experience. Rather than having protected campsites near water or wonderful spaces with beautiful views, we were hunting for campsite scraps. It even became difficult to take a poop in the woods because there was so much hiker traffic on trail. Resupply stops such as Trout Lake weren't restful and enjoyable, but chaotic, cramped, necessary endeavors that we wanted to leave as quickly as we'd gotten there. Of course, that was our initial reaction to the herd jumping up to where we were. As time went on and we spoke with more fellow hikers who'd had to skip ahead, we began to empathize with them, and put ourselves in their shoes. Basecamp and I would talk about this in our tent at night. As if a switch flipped, we started to become friends with everyone around us, set aside the feeling of "being cheated" and embraced the change we couldn't avoid. We were with these people for the rest of the trail to Canada. Had we let resentment stay and fester, who knows how the end of our hike would have looked.
On a positive note, we came across some of the most selfless and giving humans on the PCT. On occasion we'd meet trail angels in parking lots or sometimes on the trail that just gave freely. They would offer food, drinks, beers, supplies, and words of encouragement asking for nothing in return, but of course they usually got a "thank you" and a hug. When we'd encounter trail angels off trail and in town, they would often host us in their homes, shuttle us around, and wash our clothes with a smile. We would give them tips, or donations, etc. where they would let us, but often times they refused any type of compensation. There were some towns and restaurants that gave hiker discounts on food or lodging. Random strangers would offer hitches into town and not accept gas money. Walking from trail towards Buck Lake in NorCal, a sweet woman in her yard walked over to us, started chatting, and invited us inside for leftover BBQ chicken, pints of beer, sandwiches to-go, and then drove us into town with her husband. They never wanted a thing in return. An angel in Tehachapi named Abel hosted us and let us slack pack a section of the trail- this means that he dropped us off at one point, held our gear, waited for us to jog/run to the end of the segment, and then picked us back up. That was a good chunk of his day right there. In Oregon we did a road walk around the Lionshead trail closure from Sisters, to Redmond, to Madras, to Warm Springs, and then to Frog lake Trailhead. During the 6 days it took us to complete this stretch in burning heat and high desert, we experienced countless strangers and trail angels pulling over to offer us water, food, or a lift. Even the local law enforcement handed us a bottle of water instead of ordering us to get off the highway. A sweet woman named Joanne and her husband John dropped us off at the start of this road walk, and left us small water caches along the road for days, ultimately ending with her parking on the side of the road and blasting the air conditioning while we ate lunch in her backseat. Can you guess how we met Joanne and John? We were introduced to them by yet another loving couple we met at Crater Lake who allowed us to camp at their reserved site, Ron and Mary Lynn. When our tent blew out in Washington and we needed a three-hour hitch from Seattle back to the trail, Joanna and John connected us with their relative, David. He drove us the entire ride back to White Pass, and stopped at McDonald's for us on the way. There was always a never-ending succession of favor and "the trail providing" that restored our faith in humanity and showed us unbridled kindness and love wanting nothing in return. We were truly humbled by the kind spirits of all those who helped us on the PCT. Their generosity enriched our experience and filled our cups.
~Intrapersonal~
When it's all said at done, at the end of each day before you fall asleep, there will be you with yourself; your thoughts alone, even if you have a partner or tramily. When your eyes close, your mind may race after a rough day riddled with adversity, or quickly quiet from a beautiful day of hard work and laughter. In either case, each experience on trail is only so impactful as you're willing to let it be. I won't say your thoughts and mind will be your own worst enemy, but there are just moments out there that will be hard. There's no easy way to get around that. You'll experience the extreme highs of majestic vistas, great moments with friends, and your brain will light up when you taste pizza after a week in the wilderness. Inversely, the lows may be rock-bottom low. It won't be easy finding a calm or happy space if you're freezing cold and soaked to the bone after managing only a few miles and looking forward to cold-soaked ramen. The key is to accept that most anything can happen out there, and sort through it within yourself. Have you ever seen the movie "Inside Out" before? Well, in the movie each emotion is a character, and they all have to live with each other in harmony (as best they can) for the 'system' to work. You may find yourself having internal conversations with your sadness and happiness at the same time, while your anger is holding on the other line.
While hiking or in your bag at night, you may find yourself replaying choices you made, conversations with others, or interactions with folks from town, both good and bad. Two things to remember are: you cannot control nature (so don't even try), and despite what happens or what's said, each person is just doing their own thing.
// You Can't Control Nature //
On trail, I had several hikers tell me that I just needed to "surrender" to the process of hiking, the hardships, the soaking-wet socks, being hailed on, etc. I say that's a steamy pile of garbage.
Nature is massive, immersive, powerful, and uncontrollable, but I refused (and still refuse) to surrender to it, and when hikers told me to 'surrender' I replied with something like, "Nah. I'll go down fighting the whole way. But what I will do is accept that I'm small and only inasmuch control of the environment as my gear and skill sets allow me to be for myself. "
On your hike, you may feel the same way I did about surrendering, but if you align with those hikers who see things with more of a "Zen" lense and also need to deep-dive surrender, then do it! If you fall somewhere in between those two schools of thought, then good for you! You've undoubtedly heard the phrase "Hike your own hike." To you, I say to do that, but also think your own thoughts, feel your own emotions, and cry or punch a tree if you need to get something out of you. The one thing I advise you not to do is to let someone else control your experience out there. You can't manipulate the weather, you can't will away the rain, or melt the snow with your thoughts, but you can prepare yourself enough so that you know what to expect from the environment out there and how to internally cope with the adversity that comes your way- be it surrendering or cursing at the rain and powering through. Don't hold that "ish" in, get it out, and don't be afraid to do so in front of friends or complete strangers. They may respect you for it, or think you have a few screws loose, but at the end of the day, you'll be that much healthier not holding it in.
Even if you've built and fortified your own mental Fort Knox, there may still be times where you just need to take a mental wellness day in town and stay in bed, or even at a cozy campsite on trail. If so, that is completely okay, and you should tell yourself that when your friends ask you why you aren't heading back out on trail with them, or even if you yourself start to question the decision to rest. You'll be putting in more than 40-hour work weeks of both physical and mental labor. Take care of your body, but more importantly, take care of your soul.
Most of the hazards you'll face on trail boil down to risk assessment and risk tolerance. This article isn't to detail those two facets of the backcountry, but look them up for your own research and trail preparation. If you prepare yourself for risks in the backcountry, you'll fortify your own emotional and intellectual "bandwidth" so you can handle the stress and strains that will occur in your environment and natural in the environment.
// Each Person Is Just Doing Their Own Thing //
You'll be hiking the PCT with thousands of other hikers, they'll be your brothers and sisters "in arms". I say that not to make light of what our military heroes experience, but because there's a sort of similarity there. You will be going through terrains and experiences that can be both traumatic and deadly. When you endure situations like that with others, it bonds you in a way that normal day-to-day things can't. With your fellows, you'll freeze, laugh, argue, cry, and feel your hearts race together. Even if you don't particularly like the company you're with, you will still have a connection, one that draws you towards them.
That being said, most everyone out there will be an adult. There will be cliques, most certainly, but at the end of the day, each person is just doing their own thing, and so should you. Practice independence within your community or tramily, because odds are, your tramily members will do the same. I don't mean you should ostracize yourself from others, but if you need to rest, rest. If you need to hike ahead of others to burn through a huge handful of M&M's you ate, do it. Need to call your mom or dad at the top of Whitney while the rest of your people are in the hut celebrating? Do it. You need to listen to your own gut instincts in situations that unsettle you. If you see flashes of lightning and you have a gut-check about following the group over an exposed ridge, hold back. Traveling in groups is far safer than flying solo, and in fact I'd advise going with a group into Sierras during early season (May) or other areas with known snowpack. However, a "pack" or "herd" mentality can also provide an unrealistic sense of safety or security, so listen to the voice inside you when it yells.
Not everything other hikers do will be right or align with your viewpoints. I'm not saying that what they do is or isn't okay, but it's okay for them to do it and for you to not. On our hike, we experienced a good number of hikers skipping trail. Early in SoCal Basecamp and I watched one particular hiker (who happened to be pretty rude in nature) take a right turn at the trail in the San Gorgonio Wilderness. He then continued to hike up the access road. There was no snow on the trail, just a bit of climbing, and we watched him choose to "yellow" blaze instead of taking the actual path, because it was the easier route. We later observed him do this several more times. We watched hikers keep walking along the road out of Seiad Valley around the massive climb out, rather than just doing the climb and hiking the trail. We watched three hikers ask a trail angel at Markleeville to drive them all the way to Tahoe because they heard there was snow in the stretch between. Some people just skipped sections because their friends were doing it. While we were proud to have not skipped a section, it was okay for others to make their own choice to skip and for us to not. We choose to take the trail, to climb the hard sections, and struggle a bit more. Was skipping something that we approved of? Absolutely not, not unless there was a legitimate safety issue or trail closure that couldn't be avoided, but everyone is going to make there own experience out there and it's perfectly okay for you to deviate from what others are doing. We even chose to do a road walk around the Lionshead Closure just because we felt convicted to have a continuous footpath.
Choosing what's best for you can get a bit trickier when you're hiking the trail with a partner. When I say partner, I'm referring to a wife, or husband, or significant other that you knew before starting your hike, or even a significant other that you met on trail. So, there is either romance, wedding vows, or some combination of the two involved. This is completely different from a friend or tramily that you choose to hike with. You can prepare yourself all you want for things to come between you and your partner out there, but situations will pop up that you can't prepare for. Think things like, different hiking speeds, the need for rest days or hiking hard, who carries what shared items, who does what camp chore (if any), who gets more water in a dry stretch of trail, and even matters of love. There are a lot of scenarios that will require intentional communication. You will need to discuss things in great detail so that you're both on the same page. You need to check in with your partner and see how they are doing both emotionally and physically. You'll need to express to them how you are, what your needs are, and even what you want. The key to hiking with a partner is knowing your wants and needs, knowing theirs through communication, and finding a compromise.
Compromising is the only way you'll have a successful hike and finish with your partner. Without it, one person will undoubtedly take the back seat while the other leads or commands. If you guessed that would build resentment in both parties, then you'd be correct. Remember me mentioning that it's okay to cry or get things out in front of others? Well, you'll need to run the whole gamut of emotions in front of your partner if it's going to work, and yes fellas, that means crying in front of your lady friend or wife or husband will make them feel more connected to you if you're emotionally available to them. The one bit of advice I'll end with on dealing with yourself and a partner on trail is to say exactly how you feel or what you think when you feel or think about it. Don't pull punches. If you need five minutes to think an emotion through to best present it to them, fine, but get that mess out. Sit on a mossy tree or stump, look at them, and talk about it. One mistake that Basecamp and I made while on trail was that we would keep hiking during intense conversations rather than stopping to look at and touch one another. It's proven fact that physical touch and eye contact lend to better understanding and communication. It wasn't until we reached Oregon that we started to pause our hike for more important conversations or things we needed to sort through. Once we started to devote time to this, we noticed that things just flowed better. Unless you and your partner have separate tents, you'll be ending each day in the same tent with your person. You can either end the day on a peaceful note cuddled up next to them or bumping shoulders with someone your disconnected with that's making your mind race with the right things to say next day. Sort it out before you go to sleep.
Whether you have positive or negative experiences with others on or off trail, the environment, your physical aches and pains, or struggle with your own thoughts at night, you'll have to wrestle with these things. Emotionally, bad experiences can and will drive you mad if allowed. If you let them, it will affect your trail experience and possibly send you back home. I suggest to you, the reader, to be the potter on trail, not the clay. Treat each experience on trail like clay, both good and bad. Take it, absorb the exchange, and mold it to what you want it to be. There will be negativity out there, but you will need to mold it in such a way that you see beauty or humor in it, and not allow it to ruin your hike. The good interactions with others will be what you remember: the laughs and campfire nights, the kindness of strangers, the tears you share with your fellow hikers, and all the coffee sunrise mornings from a sleeping bag with your tramily. Soak up the good, mold the bad, weather all the storms, and use each moment to make your hike memorable.
To see more photos, videos, reels, and podcast, check out our  Linktree  where you can find our Instagram, YouTube, TikTok, Facebook, and Podcast links!
Podcast Name: "Yeti Walks Into Basecamp", found on Spotify and Apple Podcasts.
We look forward to sharing more with you!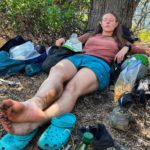 Affiliate Disclosure
This website contains affiliate links, which means The Trek may receive a percentage of any product or service you purchase using the links in the articles or advertisements. The buyer pays the same price as they would otherwise, and your purchase helps to support The Trek's ongoing goal to serve you quality backpacking advice and information. Thanks for your support!
To learn more, please visit the About This Site page.