Week 1: A Week of Change
Howdy howdy! It's been about 5 days on trail! Currently at mile 77 in Julian. So far the trail has been really hot and buggy. No one was prepared for the bugs. I've been really happy with the trail so far. I've met lots of great people on the trail. Camp is the only time I see them though. Hiking is usually done solo. It does get a little lonely out there. Hiking alone has had a big impact on me than I thought it would. On the first day I nearly wanted to quit because I did not hike with many people. Also the heat was killer.
Day 1
Oh man was day 1 exciting. I had been dreaming of being at the southern terminus for about 2 years now. Everything was great until like mile 6 and like 9:30am when it got hot. The rest of the day was brutal. Even the downhill into Hauser Creek was brutal because it was so hot. Hauser creek was really great. My feet felt amazing after soaking them. The climb to mile 16.7 was brutal and I ended up camping here. It was hot, I was hungry, and I was probably a little dehydrated. I really wish I got to Lake Morena but such is life. This was the smart decision. Camp was absolutely beautiful. I saw all colors of the rainbow in plants and bugs.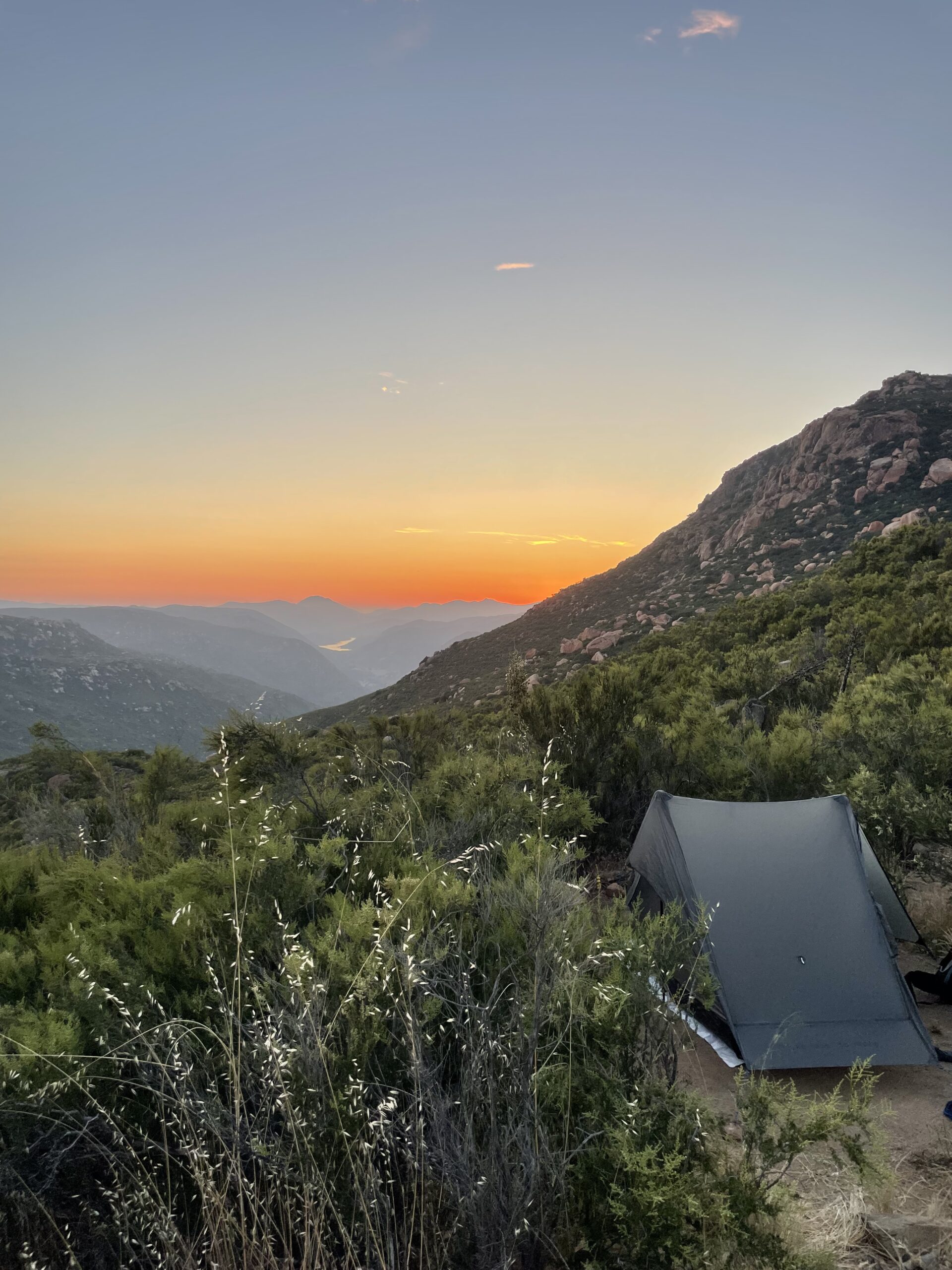 Day 2
Day 2 was so much better than day 1. Water was plentiful and the heat wasn't bad. Every problem that I had on day 1 was non existent. Except the flies. They suck. I never read anything about flies being a problem in the desert section of the PCT. It was also a very social day. I befriended many people and it made life enjoyable. I still hiked alone, but I hung out with people at Cottonwood Creek and Kitchen Creek. We hiked about 18 miles. Camp was a beautiful little spot hidden between all the manzanita. I camped with my friends Yonas and Don. Oh and the morning was spent hanging out at the Lake Morena malt shop. The breakfast burrito was delicious. 10/10 would recommend.
Day 3
Day 3 was a long day. I hiked 22 miles. Originally it was supposed to be 20 miles but caterpillars decided to take over campsites. I got to go into Mount Laguna today! After 7 miles and a little bit of rain. Can you believe that? It rained! Got to eat a delicious pancake breakfast at the Pine House Cafe. Laguna was really pretty. I loved the pine trees. After leaving Mount Laguna it began to get hot again. I started to pass people that started before me. That gave me a little bit of a confidence boost. Up until this point I had seen 3 snakes but none of them being rattlesnakes. I got lucky and saw my first one. It was quite the scary experience. I turned a corner with a beautiful view and did not see the little guy coiled up next to the trail. I heard it hiss and rattle at me. I jumped, yelled at it, and ran away. When I turned around I saw the 4 foot snake slither across the trail. The snake was about a foot away from me. My heart rate was up for like the next 2 miles. The rest of the day was pretty uneventful until the end. As I approached the intended campsite for the night, I came into a sea of caterpillars. Even my friend's tent was covered in them when I showed up. This forced me to hike another 2 miles to caterpillar free camping. It was worth it. I had this sick campsite between some rocks and I got to meet some new people. Dinner was delicious. I picked up some bacon bits in Laguna and had them with mashed potatoes.

Day 4
This was a pretty uneventful day. It was primarily downhill which was nice. However, there were so many rocks. Too many rocks on the trail. They kept stabbing my feet as I hiked. As soon as I got to a dirt road, I laid down and put my feet up to help with the swelling. This is was also in the sun. Eventually I got up and continued hiking down some pretty steep trail. I would have hated to hike up that part of trail. I eventually got to this water source at around mile 68. There were about 10 other hikers and more slowly came in throughout the day. We all hung out there from about 12-4. Some of us left and hiked to the next campsites around 2 miles away. Camp had a great view. I got to camp with 2 other people and there was a group camping not to far behind us.
Day 5
Today I am in Julian! My dad picked me up from Scissors Crossing and brought me into town. So far today we have bought some resupply to get to Warner Springs, ate some good burgers, and had some delicious pie and ice cream. I also got to introduce my dad to some of my hiker trash friends. He thinks we all smell. It was really nice to see my dad. Solo hiking for long periods of time makes me a little uncomfortable, so it is nice to see a familiar and comfortable face. My plan for the rest of the day is to stay in town for awhile and then hike about 2 miles to camp for the night.
Affiliate Disclosure
This website contains affiliate links, which means The Trek may receive a percentage of any product or service you purchase using the links in the articles or advertisements. The buyer pays the same price as they would otherwise, and your purchase helps to support The Trek's ongoing goal to serve you quality backpacking advice and information. Thanks for your support!
To learn more, please visit the About This Site page.