PCT Week 10: More lakes, passes and Yosemite
The next section goes through a part of Yosemite National Park, which was always on my bucket list. So it's mandatory to make a little side trip to see the famous Half Dome. But also the trail has some more stunning landscape in store: mountain lakes and some more passes.
PCT Day 56: Back to the trail
23.11km (14.3mi) / 5h / elevation gain of 476m (1,561ft)
Mammoth Lakes to Middle Fork San Joaquin River (mile 911)
We catch the free trolley from Mammoth Lakes back to the trailhead around noon and take the same trail from Horseshoe Lake back to the PCT. My backpack feels so heavy today as I think I packed way too much food. But actually, I went hungry before, so I wanted to make sure this time. It's only two days to Tuolumne Meadows, but we want to spend two nights in Yosemite after that. So I packed four days of food and will get a package in Tuolumne Meadows for the further four days to Sonora Pass.
The uphill is pretty hard for me today as my backpack is dragging me down. My hip belt is still not tight enough, so I carry too much weight on my shoulders which hurts after some miles. Thankfully it goes downhill from here. We just meander through the forest and just get a few views of snow-covered peaks around us. We get to the junction to Red's Meadows Resort and a little side trail leads to the beautiful Rainbow Falls, which actually has two rainbows. We go slackpacking down to the falls and up again which is a relief for my back.
After that we continue through the forest and go uphill, seeing Devil's Postpile National Monument from the distance. And here starts the mosquito hell. They even get me while I walk, which never happened before. As my clothes are too tight they can easily get through it. It's driving me nuts and I keep thinking about all the stories that it will just get worse with them. That might be the biggest challenge on the PCT for me, to keep my sanity when millions of mosquitoes are trying to eat me alive. We arrive at the campsite behind a bridge and mosquito repellent and a fire in the fire ring give me some peace.
PCT Day 57: How to feel alive
39km (24.2mi) / 10h / elevation gain of 1,904m (6,246ft)
Middle Fork San Joaquin River (mile 911) to mile 933
We have a long day ahead of us because we want to go over Donohue Pass today which is 35km (21.7mi) away. The way leads us gradually upwards to a parking lot and higher up until we get a beautiful view of the mountains around us. After some ups and downs, we reach Thousand Island Lake which has a lot of little rock islands. Somehow I don't pay attention here and just follow the trail along the lake and enjoy the views. After a mile or so I look at the map and see that I'm off-trail. Instead of backtracking, I decide to go cross-country to the PCT. This involves steep ascents and a lot of rocks. I get lost even more and it takes me a long time to find my way back to the PCT. I think I would have been way faster with backtracking. So don't go cross-country when you get lost. I got really annoyed with myself and got in a bad mood.
After almost an hour I find the PCT again and follow it up to Island Pass, which is not really a pass. The way leads down and I'm taking a break where I thought the others would be. I thought they would be ahead of me as I took so long to find my way back to the trail. I was not sure if I should wait for them or continue to catch them. I ask other hikers and find out that they should be behind me. So, obviously, I skipped them with my cross-country detour. They are for sure worried about me disappearing but to be honest I was worried for myself as well when I got lost.
I ask all hikers passing by and after a while, I found out that they are just around the corner where I briefly walk back and meet up with them. Another one of us is missing, too, and they were worried and now relieved to see at least me. I'm in a way better mood now that I found them, too. It's easy to laugh about my astray now.
Reunited we tackle Donohue Pass. We have to cross a few rivers but can keep our shoes dry first. Until one of them gets my and Squiggle's feet wet as we didn't want to jump over a big leap. We tried another way and failed. But little did I know that's not something to worry about as there will be a lot of river crossings ahead. Then it starts to rain and we continue in our rain jackets. Soon, there is a strong wind blowing and rain and wind are not a good combination. It was unpleasant. But I listened to music the entire day and I got my energy back after I got lost. It helped a lot having a little party in my head, singing along on the way up the mountain.
There are just a few tiny snow fields to cross, otherwise, it's an easy walk through the rocks. The rain finally stops but it's still very windy. We reach the top and enter Yosemite now. There is a little lake and with the clouds, it looks very dramatic. We continue down without staying at the unpleasant top.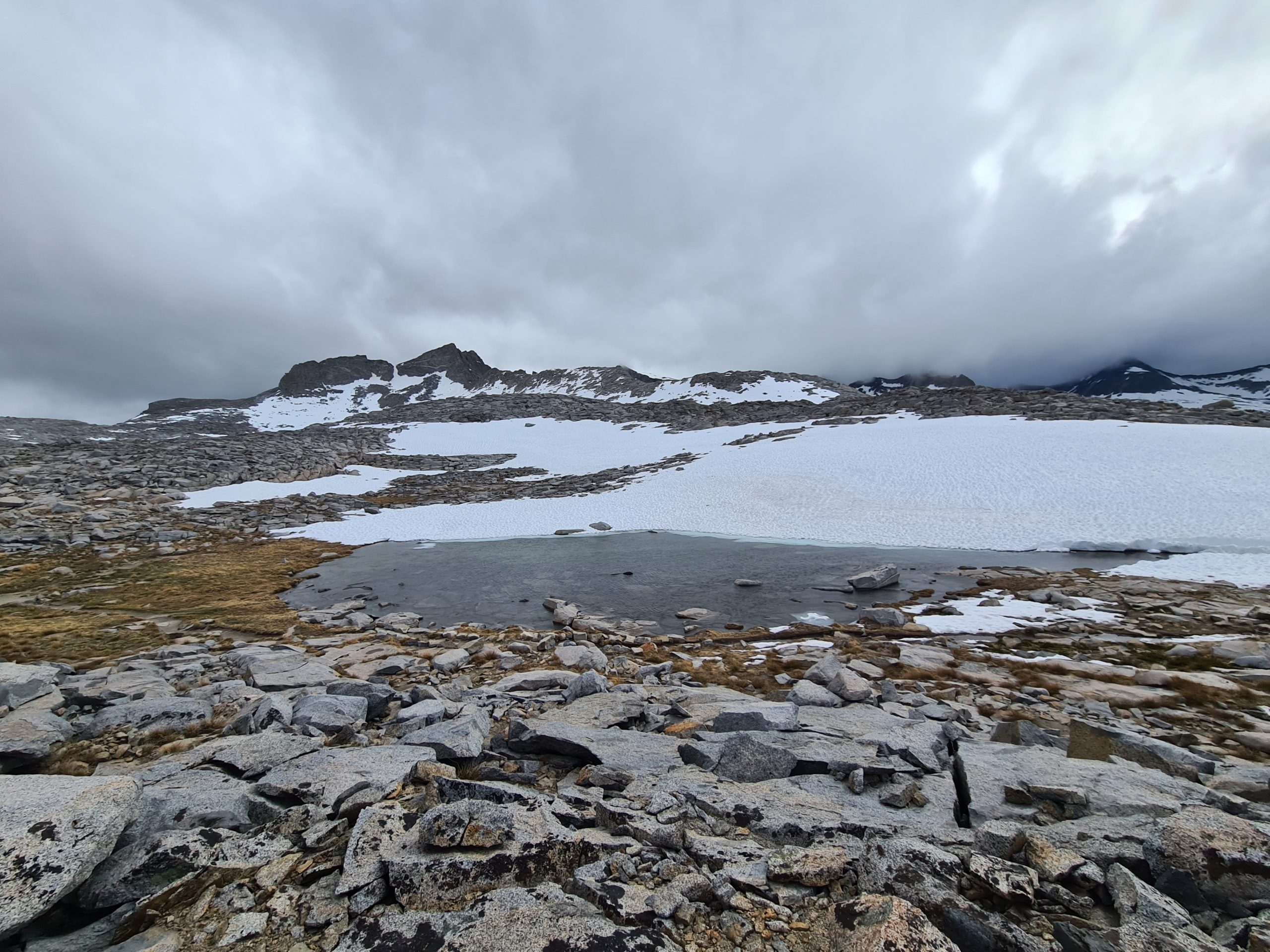 After a few snowfields where it's easy to get lost but not that hard to find back to the trail there are a few river crossings ahead and it's not possible to keep your feet dry on these ones. As I already have wet feet I don't care much, shrug my shoulders and just go through it. There are some more, one is even thigh-deep and gets my shorts wet as well. My legs are so cold after the crossing that I start rushing downhill to get warm again. Somehow I have a lot of energy at the end of this day and I fly downhill ahead of everyone else, even though I did some bonus miles today. This was actually fun today even though it was kind of unpleasant. I just felt alive. The Sierras are a perfect adventure playground as it has a thrill to it that other sections lack.
We reach the campsite. Somehow I'm not very hungry today what's a pity as I have so much food and have to carry it all. The backpack just doesn't get any lighter. But I force down some dinner anyway. It starts raining again and we hide in our tents. One of us is still behind and apparently, he's not feeling well so he stays at another campsite behind us which is right after the pass. It will be cold up there tonight. I hope he feels better after one night's sleep though.
PCT Day 58: Side trip to Yosemite National Park
16.7km (10.3mi) / 3.25h / elevation gain of 69m (226ft)
Mile 933 to Tuolumne Meadows (mile 942.5)
Today is an easy and short walk to Tuolumne Meadows. It's basically no uphill and we follow the river all the way to the road. We pass a lot of lovely meadows, a deer family, and a shady forest.
We then hang out at the Tuolumne Meadows store parking lot, laying on the warmed-up asphalt as the bunch of hikertrash we are. We wait for the bus at 2:15 pm to Yosemite National Park, where we are doing a side trip to. You need to take the opportunity to see it when you're that close as I always wanted to see it.
We're driving for like three hours to the Yosemite Valley. What I didn't know is that we need to hike up 850m (2,788ft) to the Upper Yosemite Falls to get to our campsite. And it's a steep hike. And I only ate one Clif bar today as I have had trouble eating the last few days. It's like the beginning of my hike when I couldn't get food down. I don't know why that happened. I have all this food in my backpack and can't eat it. So, I start hiking up and realize that it's a long way up to the top. It's the worst low I had on the trail so far. I'm sure that I'm not going to make it but I have no choice but to push on. There is no other possibility to sleep. And all these people here overwhelm me. I get angry at myself for not eating and it worries me about being able to hike in general. Which makes everything worse. It's actually beautiful as I can see the entire waterfall and Half Dome but it's hard for me to appreciate it. There are sheer steep rock walls that don't look like you can hike up there at all.
I'm barely able to take pictures. It takes me a long time but I eventually make it to the top where the others wait for me. The sun has already gone down and there is just a little bit of red light on the peaks left. We soon continue to find a campsite a little bit further away and it gets dark until we find a spot up a little hill in the forest.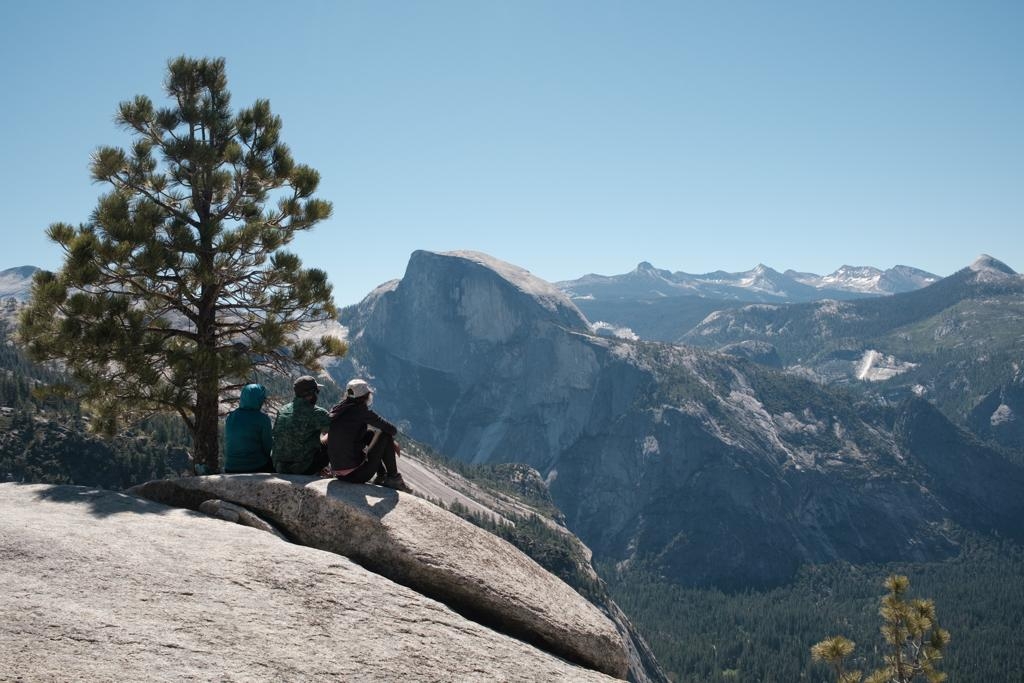 The next morning we hike up to Yosemite Point where we have a great view over the valley and Half Dome which doesn't look so intimidating from here anymore. We spend quite a lot of time here chilling until we finally go down. It gets quite warm now and very busy on the trail with all the day hikers. The hike down seems so long and it's quite slippery with sand on the rocks. We make it down to the valley floor and go get some food and drinks until we spend the evening at the North Pines backpacker campground. At the moment when we want to pitch our tents, a bear walks by and we can briefly see it. Our first bear, so exciting!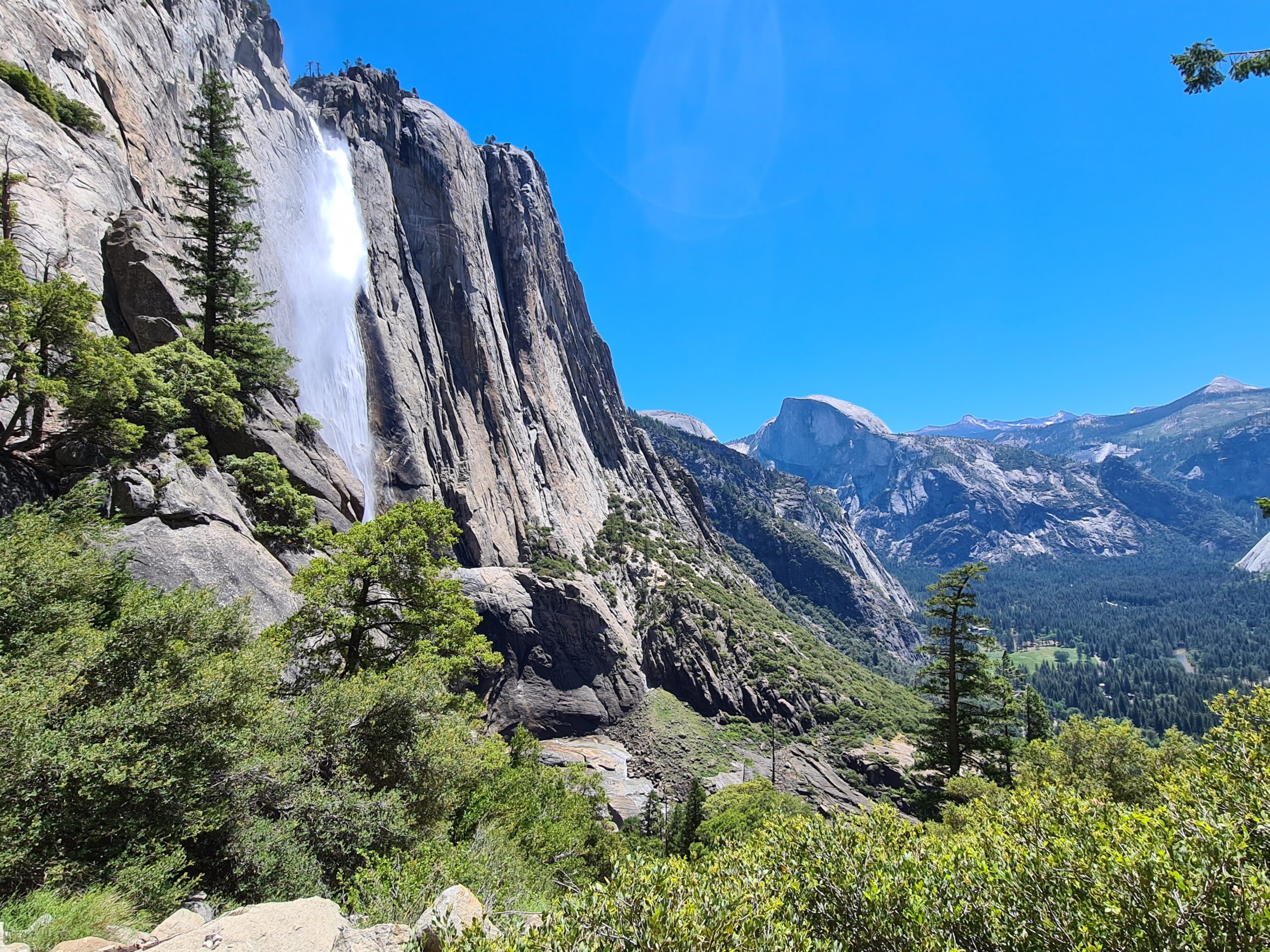 Later we get leftover stew AND cheesecake from a guided group. And later we make some s'mores over the campfire which I never had before and they are even better than I imagined them. I'm just too full to eat more than one. It's awesome even if the campground is quite crowded. Yosemite is so beautiful but all these people are freaking me out after I spent so much time in the wilderness. I am homesick for the trail. It's still worth a visit though.
PCT Day 59: Chasing waterfalls
Tuolumne Meadows to mile 951.1
16km (9.9mi) / 3.5h / elevation gain of 364m (1,194ft)
We take the bus back to Tuolumne Meadows at 8:15 am which again takes a lot of time. I mostly sleep on the drive back. We reach Tuolumne by noon and sort out our resupply. I'm bouncing my resupply box which you can do for free as I don't need that much food. I didn't eat a lot the last few days, so I have plenty left. I'm just missing two dinners and I buy them at the little store. Also, I send my ice axe away to Popeye's place as I couldn't sell it so far and don't want to carry it anymore.
We start hiking quite late in the afternoon and just do 8.5 miles to the next campsite. We pass some lovely meadows with a river and an amazing mountain backdrop. We take a refreshing bath in it and enjoy the views and try to skip stones. We follow the river and get to the Tuolumne Falls which is a beautiful waterfall. Unfortunately, it's also mosquito country here, so no place to stay and marvel at for too long. Another waterfall comes up a little later. It's actually a lovely stretch of the trail when there wouldn't be mosquitoes.
So far the trail today was very easy as it mostly went flat or downhill. Now we do a climb up through the center of mosquito country to the campsite. First, we meander through some rocky areas where it's easy to lose the trail, and then we hit the forest where I try to outrun the mosquitoes but it doesn't work. They are swarming me. It's even worse at the campsite and we need to put our rain gear on to restrain them from eating us alive. It's very very hard to keep our sanity. Suddenly a bug net doesn't sound too stupid anymore. So far I wore my rain gear more because of mosquitoes than of actual rain.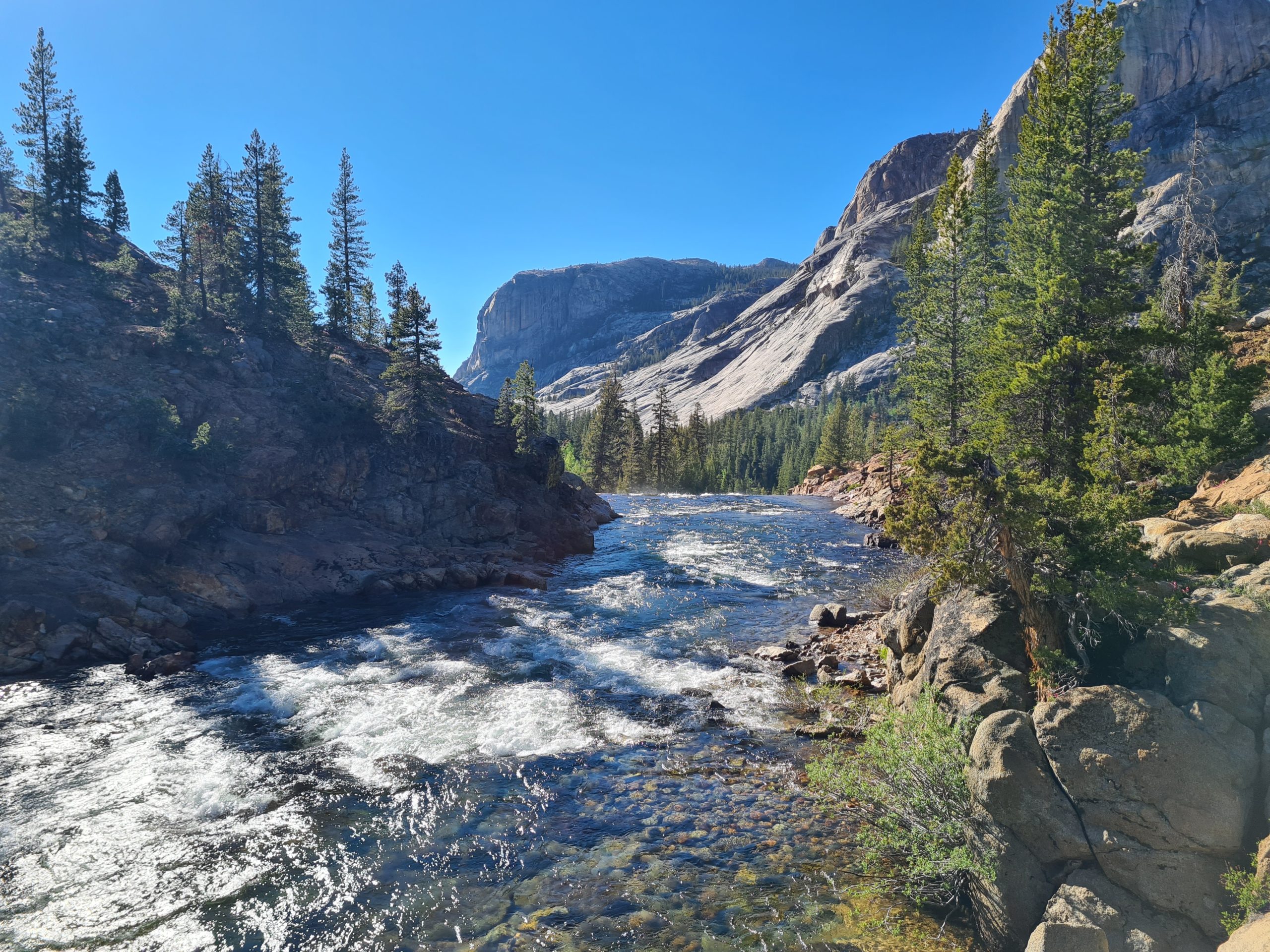 PCT Day 60: The Riviera of the Sierra
Mile 951.1 to Benson Lake 
35.4km (22mi) / 8.5h / elevation gain of 1,403m (4,603ft)
In the morning we walk over a lovely meadow where the mist comes from the ground which makes a magical atmosphere in the rising sun. Soon there is a first river crossing where it's time to get our feet wet. It's a day with a lot of climbs, each not too much but it adds up. We do a lunch break at a nice meadow at the lowest point.
The last major climb for today is up Benson Pass which is actually quite steep. Then we descend down to Benson Lake which is a bit off-trail but worth a visit. I had problems with my Achilles tendon on the last couple of miles, this time it's the right foot. The lake is a perfect place to cool off.
It's very windy out here but at least there are no mosquitoes. That changes a little bit later as the wind dies out a bit. We set up for cowboy camping and the skeeters start swarming us. So we hide in the tent but then it gets really windy again so that's too loud to even think of sleeping. Every time I fall asleep the wind wakes me up again. So we go out for cowboy camping again in the middle of the night and can get at least a couple of hours of sleep.
Affiliate Disclosure
This website contains affiliate links, which means The Trek may receive a percentage of any product or service you purchase using the links in the articles or advertisements. The buyer pays the same price as they would otherwise, and your purchase helps to support The Trek's ongoing goal to serve you quality backpacking advice and information. Thanks for your support!
To learn more, please visit the About This Site page.