Week 21: The End.
One Last Time.
For the final time I said my goodbyes to my family, I packed up all my gear, and started walking towards the trail head. I had been off trail for a week now. My body was rested and my mind clear of all distractions. There was one last thing that needed to be done, tag the border and hike 30 miles back. There were still many miles to complete and a whole week ahead of me. This week would definitely go by fast, so I wanted to breathe in every last moment available.
Other than a couple hikers, I wasn't too sure who else was around me. Everyone I had hiked with until this point had either finished already or were still behind me. Gazelle was for sure within a day, but as I hiked along I passed many new faces. With a later start this afternoon, I reached my site for the night. It was a tight spot shared with another group of hikers. I wasn't used to camping with big groups, it was different.
Now deep in Washington, the climbs were the real deal. Early mornings would be necessary to cover as many miles as possible. Even though there was no rush, the resupply was tricky and in order to reach the border with enough food, planning was necessary. There are a couple options out here, Stehekin and Mazama. Both have their pros and cons, and while I definitely want to experience every single town stop on the trail, in this case I must choose to skip one.
I make my way to the top of the first climb of the day, the views around me are incredible. The Northern Cascades are by far the most beautiful section of the trail. The effort needed to reach this section of trail is what makes these landscapes feel more special. My legs were ready for the push. The week off I had gave me the right amount of rest necessary to finish strong.
The best part of this section? BERRIES! Berries everywhere. The entire trail is covered in different types of berries. Blueberries, Huckleberries, and even Strawberries. No need to take food breaks, just grab a handful and snack all day. It does slow me down a bit. For every mile I walk, a couple minutes are spent foraging for little snacks all around me. Totally worth the loss of time.
Fires in the Horizon.
As I head north, smoke can be seen ahead of me. While I was in Leavenworth we had seen and smelled wildfires. At this point luckily the fires hadn't reached the trail. But it was clear that new fires were popping up all around us. At this point all I can do is walk north. I have been lucky enough to not be rerouted due to fires like many others on trail. There is still no rush, just need to be mindful and aware of the situation going on all around me.
I'm still in awe of the views ahead. Just beyond the peaks, Canada. With all the climbing, there are also lots of descents. The valleys run deep around here. At each high point, you can actually see the next climb ahead, the steep switchbacks you'll be going up against in a few hours, it can be quite intimidating. But, if you look back you can see exactly where you came from, where you descended from. The work and effort it takes, it all makes it worth it.
As I start to look back though, smoke can be seen filling up the horizon and the winds pushing the fires towards trail. The trail behind me is now covered in smoke. As I pass southbounders I warn them of what's ahead. They would be walking directly into the smoke. Being a couple days out from any road, all you can really do is push through it all.
I have quite the climb ahead of me. The mountains around me, green, covered in berry bushes, a little snow still looming. What's amazing about this specific section is that everyone can have a completely different experience here. The colors of the mountains change with the season. During the winter and spring they are white covered in snow, as the snow melts in the end of the spring, summer arrives, the entire valley is green, and as fall comes around, reds, oranges. It's incredible no matter when you reach it.
At the very top of the climb, a wide valley opens up. The switchbacks go down into a forest full of lush waterfalls. There's definitely no lack of water sources in Washington. I make my way across the valley floor to a large river crossing. It's late, the rushing water is intense, and I am by myself. The most optimal path is not safe. There's no easy way back to the last tent site. I make the decision to cross. The deep water is cold, it runs up my thighs, I take it slow, and reach the end. I'm exhausted.
North Cascades National Park, Bear Country!
It's early. I had cowboy camped the night before after arriving very late to camp. The next climb is just ahead. Muppet and Papa Crypto who I started hiking with just days before catch up to me. We are all three French speaking. It's been nice being able to speak French with other hikers. We all make it up the climb, and views just get better. And just like every climb before, we can see the next one. The next set of switchbacks are pretty clear and obvious. Nothing we can't handle!
The next descent though is an absolute nightmare. BLOWDOWNS! It's hard to really put into perspective how many blowdowns there are out here. We are not talking about some small downed trees here. These are all massive old growths that have existed longer than humans have been on the planet. And we have to climb over every single one of them. Some parts of the trail are just not accessible, and climbing or sliding down the switchbacks is required.
Thunder is heard in the distance. A storm is coming. I quickly make my way through to a suitable spot to set up my tent. A rainbow can be seen through the tree line. Thankfully no rain drops are felt, but the lightning is concerning. Most of the fires so far on trail have started due to thunderstorms. And with the previous fire being so close to the trail, the worry that we might have any trouble ahead looms over me. Some animal noises are heard all night, we are deep in bear country. 100 miles left.
We awake to somewhat cloudy skies, there's definitely a storm brewing above us. The cover of the forest helps with any drops of rain. All around us, old growth, it's incredible how massive these old trees are. The trail starts to even out as we enter North Cascades National Park. This is where planning ahead is important. Stehekin is the next possible re-supply with Mazama only half a day ahead. But, you have to send yourself a box forward to Stehekin. While is is a fun stop, I choose to continue to Mazama, the final town on trail.
Now in a National Park, the trail is easy and well graded. I pass a bunch of day hikers and weekend backpackers. A long, wooden, suspended bridge is necessary to cross. It's probably one of the coolest man-made features of the trail. The trail turns a sharp corner, not paying attention and looking down, I hear something in front of me, a lone black bear only 3 feet away from me. We both stare each other down and it runs off. I've seen a good amount of bears on trail so far, but none this close. I'm nearing the road, small drops of rain start to fall from the sky. I rush and reach the highway. Luckily I am able to get a hitch quick to Mazama. I am now 3 days away.
The Terminus, CANADA!
I spend the night in Mazama at the Lions Den, a hostel in town. Many have completed the trail already. Due to the storm, there were rumors that the road back to Mazama from Harts Pass was closed. It was important that Harts Pass be open, as this was where we had to get back to once we tagged the border. I still had two days so my hope was that the road would reopen. I prepped myself for my last days on trail. One last resupply from the Mazama bakery, and I was off. A quick hitch back to Rainy Pass and back to trail where I reunited with Papa Crypto, Muppet, and bunch of new faces. It was time to head to Canada!
Up the climb we go, the stormy weather getting worse, as rain fell from the sky, motivating us to keep moving forward without stopping. We reach the top, in front of us, massive peaks of the Northern Cascades, and a view into the Canadian Wilderness. We stopped for a second as the storm subsided, and onwards we went. Our goal: reach Harts Pass. A quick descent back up. There was no stopping us. After a long day we are just around corner from Harts, we will reach it first thing in the morning.
It's an early start. We all reach Harts Pass by midday. More than a dozen hikers are hanging out. All finishers. There's trail magic, and while it's tempting to stay longer, my goal is to get as close to the border as possible, 30 miles left. A quick break and a moment to congratulate everyone, I'm off. I'm a day away. As a I start my journey to the end I pass many hikers who have also finished and are on their victory lap. The border into Canada is still closed, so all hikers must hike back 30 miles to Harts Pass. A whole day of congratulations and hiking until dark and I'm now 10 miles away. I set up camp on top of a ridge. The weather clears up, and I'm ready to reach the end.
One final sunrise. I take a moment to enjoy it. It's by far the most beautiful moment I have had on trail. I'm hours away from completing my dream. The descent is quiet. More hikers are heading back south, more finishers. With one last push, I reach the highest point in Washington. The view in front of me, Canada. A smile on my face all the way down. Every moment I have had on trail on my mind. 1 mile left. With every last step a different memory. I am ready. One last set set of switchbacks. There it is.
August 29, 2022, 11:34am. I reach the Northern Terminus of the Pacific Crest Trail. A small group is sitting in silence, taking the moment in. We all get our chance for lots of photos and to relax. More hikers reach the terminus. Everyone excited, everyone relieved, everyone proud. 2 hours. That's how much time I spend at the monument. I wish I could spend more time. But 30 miles left to get back to Harts Pass, I must start the journey back. It's time for my victory lap.
South Bound Victory Lap, The End.
The stress of completing the trail is over. I start my journey back. While being forced to go southbound back to Harts Pass was something I was not looking for at the start, it became one of my favorite parts of trail. Everyone you pass is excited for you, many of whom I had hiked sections of trail with. Everyone is congratulating each other, hive fives all around, it makes the finish feel so much more real. The goal tonight is to reach the same tent site as the night before. It does feel weird going southbound. Behind me, Canada and one last sunset.
We all reach camp for the night. It's shared between NOBO and SOBO hikers. It's late, but there is no stress about getting up early to reach Canada. It's definitely past hiker midnight, we have a picnic in the dark, laughs and memories shared. I eat the last of my food. This is the final night on trail. With a belly full of food, and warm heart, I enter my tent, lay in my quilt, a smile on my face. I'm proud. I'm content.
To no one's surprise, we are all up early. We are all so used to early mornings that it's natural. We do have quite the hike back and the earlier we reach Harts Pass the better. The good news is that the road has reopened, and getting a hitch back is possible. I start the hike back. What were once descents are now ascents, and vice versa. I have one last climb. There will be no breaks today, just get to the pass as quick as possible.
The best part of going southbound, seeing old friends. Gazelle who I had last seen in Leavenworth, and I had hoped to finish with, turns the corner, she's on her way to the terminus today! Tumble Weed, who I hadn't seen since Tehachapi, also heading towards the terminus! Azul, last seen in Ashland! All the memories shared! I'm so proud of them all! I couldn't imagine reaching Canada without all these wonderful people. I reach Harts Pass. I'm officially done. Trail magic is waiting for us as we all wait for hitches back down to Mazama.

As we wait, we are given some bad news. A fire that had hit close to the terminus had grown. We had seen the smoke from trail. It was worrying, not for us, but anyone still heading north. I was relieved that the trail was still open for us. But reports were suggesting that the trail might close just miles from the terminus. We were silent on the drive back. While happy for ourselves that we completed the trail. It was clear that not everyone would be able to. We reach Mazama. I reunite with my parents who had made the journey up to Mazama. It's over. My journey has come to a close. I was headed home after nearly 6 months on trail.
Epilogue: A Reunion, a Perfect Ending.
Back at Harts Pass, while reuniting with Azul, she gave me some amazing news, two very special people in my trail life had just reached Mazama. Gazelle had mentioned it too, back in Leavenworth. As I walked into the Mazama bakery and reunited with my parents, they also mentioned two hikers they had just met here in town.  I turn around and see a familiar face, Basecamp! Just down the street, Yeti Legs! While I met many wonderful hikers along the trail, only a few people had been apart of my journey since night 1.
I met Basecamp and Yeti Legs on my first night. We had hiked 99% of the desert section together. Started the Sierra together, summited Whitney together. Motivated me to stay on trail after my injury and near death experience on Forester Pass. Caught back up with them in the Sierra, but our paths split after that. We stayed in contact with each other the entire way. We were hours away from reuniting in Northern California, but never did find each other again until the very end. When I got back on trail after Trail Days, I had hoped to be able to reunite with them and finish together.
It was as if the trail wanted us to reunite. After a long conversation and a perfect moment together, it was finally time to say goodbye. I placed my gear into the back of the car. We shared one last hug. They still had one last push to the finish. I warned them of the potential fires. As the sun set, I watched two of my best friends head off to finish their journey. Two complete strangers nearly 6 months ago. I could not have imagined finishing the trail without them. It was by far the most perfect ending I could ending I could have ever asked for.
The drive back was quiet. To think, 24 hours before I had completed the Pacific Crest Trail. I already missed it. The farther I got, the more I felt the needed to go back. I knew this would be the case. A month before, I had already prepared myself mentally for post trail. My journey was far from over. The Pacific Crest Trail has been apart of my life for years. Ever since I found it back in 2017, it has been the love of my life. While I close out this adventure, I was already looking towards my return to trail next season. There are more memories to come.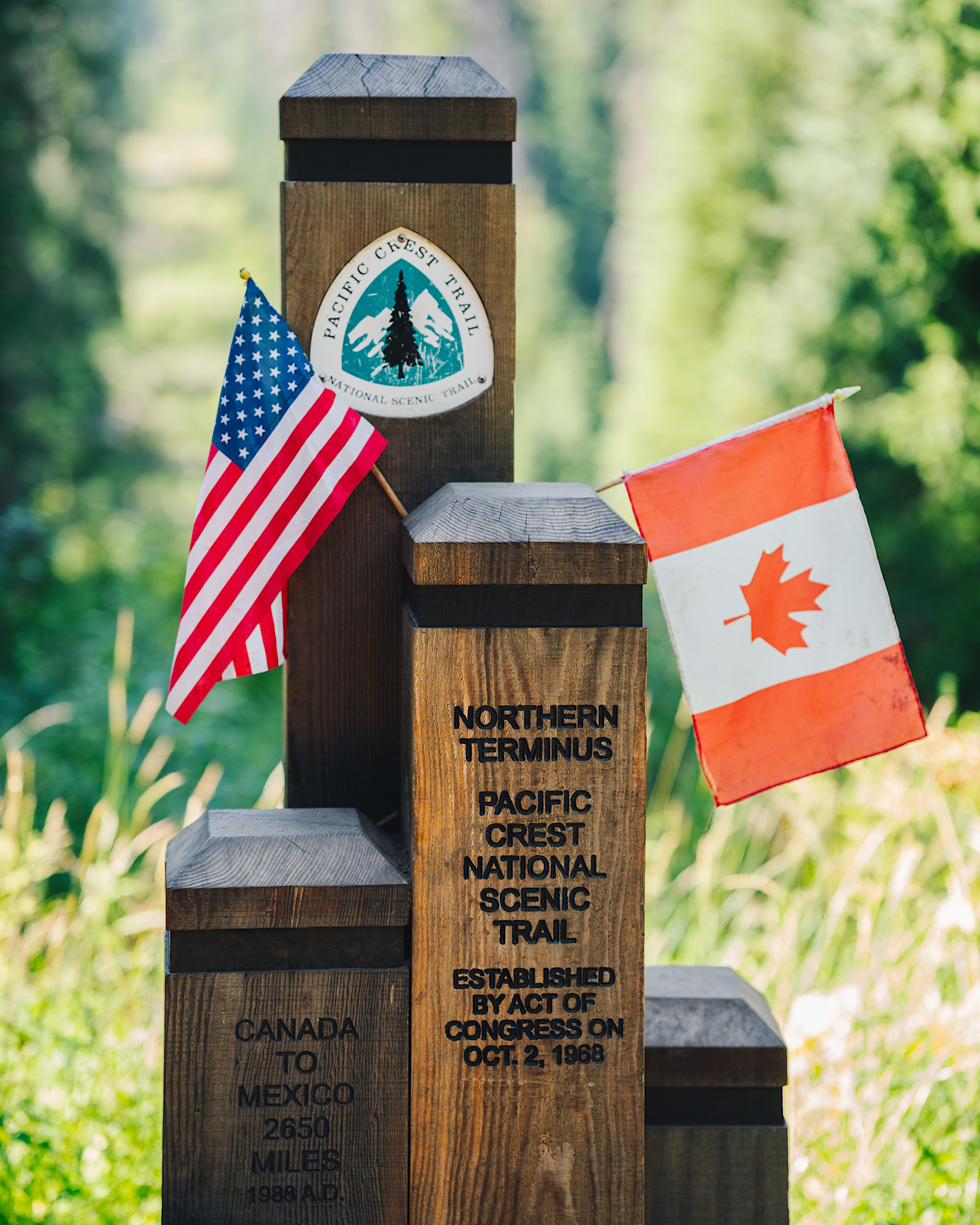 I'm more confident. I'm stronger. I'm happier. I came out here to re-inspire my creativity, to spread more positivity, to live more sustainably, to be in the moment. Safe to say I experienced every second of every day, and had a smile on my face the whole time.
Affiliate Disclosure
This website contains affiliate links, which means The Trek may receive a percentage of any product or service you purchase using the links in the articles or advertisements. The buyer pays the same price as they would otherwise, and your purchase helps to support The Trek's ongoing goal to serve you quality backpacking advice and information. Thanks for your support!
To learn more, please visit the About This Site page.