Week 4: Oregon, I love you but..
Walking past the California|Oregon border I felt a sense of urgency to complete the state as fast as I could. I continue to remind myself that the northern terminus is not the end and I still have a long trek ahead of (behind) me; however, slowing down continues to show reward. Leaving Ashland refueled and rested, I set foot back on trail excited for what lay ahead— not knowing this would be the most eventful week of the trip.
Your Weather
Oh, Oregon, your ability to morph from a sunrise speckled with melting hues of oranges and reds to a grim sky that pelted us with marble sized hail kept us moving through your incredible landscape. I woke up able to gaze out my tent's mesh and breathe in the early morning colors. As the sun started to appear over the peaks I realized I was drenched in sweat. Oregon, I love you, but why did I not sleep with my cozy quilt once this stretch? I appreciate the warmth, but maybe you should learn to turn down the heat!
Oh, Oregon, your mood shifted from pleasant evening hikes with sunsets that seemed to melt into the vast rolling mountains to lightning storms that sparked rapidly growing forest fires. I enjoyed all the hiking that lingered into the sunset's last rays and the windy days that kept the mosquitos away from my tasty flesh. Oregon, I love you, but why did you have to go spark fires that kicked me off trail? I wanted to continue walking through the variety you offered, but I guess you continue to be hard to desire.
Your Lakes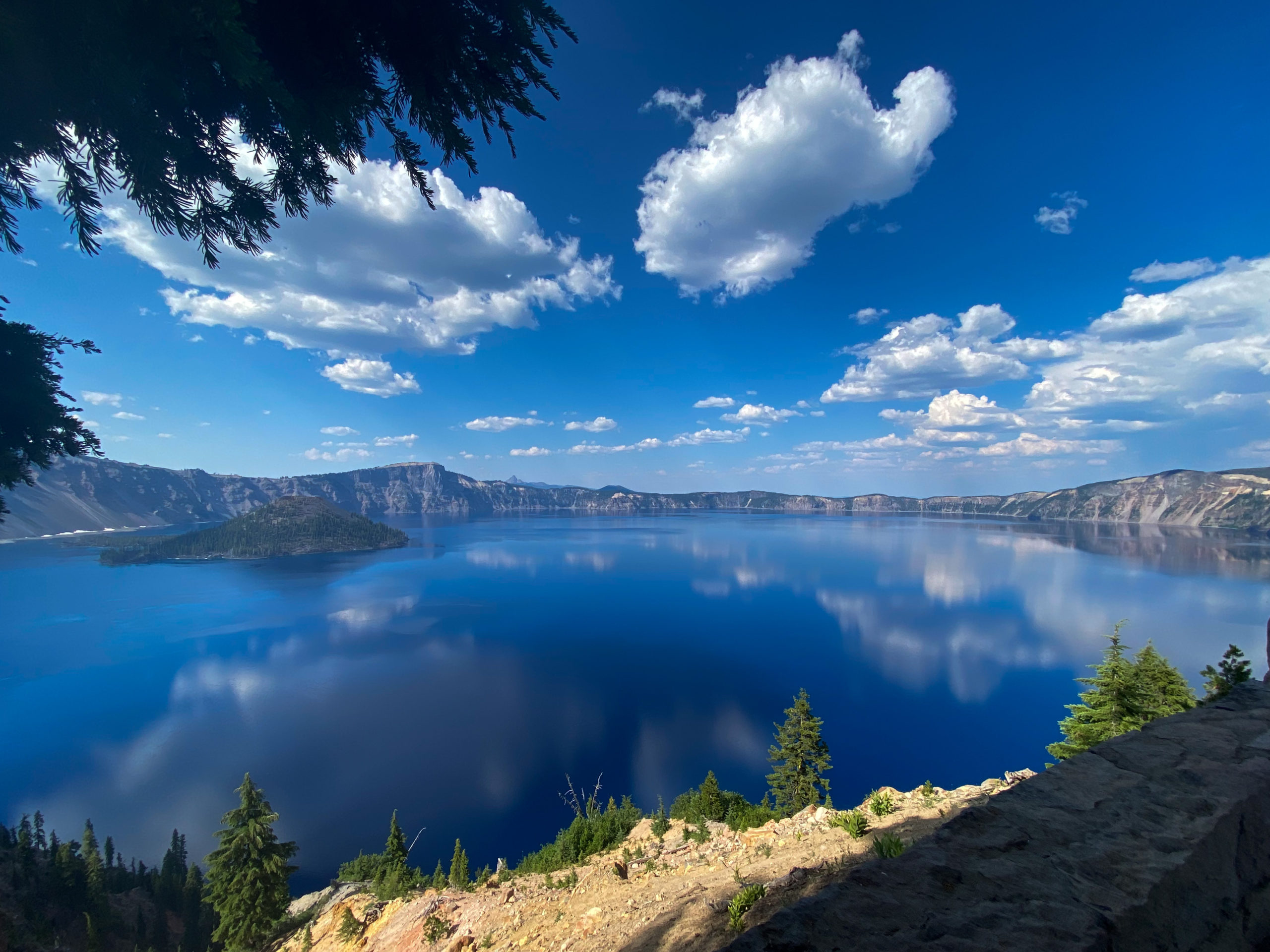 Yes! Lakes on lakes on lakes! You had an abundance of water, yet a surprising lack of it. Waking up feeling feverish from your early morning heat, there were days I needed to jump in a lake. Looking back you had two particular lakes that bring me fond memories.
Lake of the Woods
After a night of dry camping I woke up sweating as my naked body tried to cope with the heat. Licking my lips, I immediately needed to hike the miles to get to some water— a small stream 5 miles away.
Arriving with empty bottles we ended up spending two hours filtering water, "camel-ing up," and waving at all the hikers who hadn't spent the last 12 hours dehydrated! Deciding we wanted pancakes (something commonly craved out here) and having some new friends arrive at the stream (Eager Beaver, ChocoBun, and Fruity Hat) the only thing left to do was find a hitch to the beautiful Lake of the Woods.
We found a lake filled with 68° clear water, pancakes, bacon, coffee, outlets, beer, and ice cream— everything needed to make our little hiker hearts happy. Coming from the Ocean and being given the fitting trail name, Neptune, I love any large body of water I'm able to spend time in. This brings me to the next lake and my favorite day on trail.
Crater Lake
My bloodshot eyes stared at the blinding light from my phone: 2:00AM. The temptation to roll back over and snooze was pulling at my heavy eyelids that only seemed to have received 2 hours of sleep. Luckily my partner was already shoving her sleep system in her bag and my sense of urgency to see the sunrise over the nation's deepest lake was renewed. With a dim headlight lighting the way, we found it hard to walk straight as the clear sky and new moon made the stars quietly encourage us to look up at their twinkling abundance.
As we made it to the lake and the stars began to disappear, only a few bright planets remained in the 5AM twilight and my first view of Crater Lake was more than I could have ever imagined. Time seemed to slow as we soaked in the emerging colors over the vast blue lake. As the sky brightened our sleep-deprived bodies finally began to rest.
Our day at this incredible lake did not end here! Too tired to hike after the sun rose over the peaks, we waited until 5:00PM to finally start walking out of the lake's "no camping zone". In a stroke of PURE LUCK we ran into a couple (LimeARita and Stardust) who happened to be going CLIFF JUMPING INTO CRATER LAKE!! After giving silent hints that we would like to come they quickly shouted out an invite as we started to walk away:
"DO YOU WANT TO COME?!"
"FUCK YES WE WANT TO COME!"
We finished the day in the most surreal way, watching the magical haze of sunset and swimming in the bluest water I have ever seen; a memory that will remain with me and my partner forever; a magical ending to the most magical day.
Your Magic
Oregon, you greeted us with trail magic, continued to provide trail magic, and offered experiences which I can only describe as MAGIC.
Your landscape is filled with incredible peaks, mushrooms, flowers, lava rocks, and crystal clear lakes. The people we met were some of the most genuine humans my partner and I have interacted with. Despite the drastic weather changes and long miles, your smooth and even trail filled me with nothing but smiles and happy memories. As I finish up your final miles over the next week I can only hope this magic continues.
Oregon, I wish we had more time.
Oregon, I love you, but why am I being forced to jump ahead and spend less time with you? I wanted to spend as much time with you as I could the moment I walked across your border, yet you decided to kick me off with smoke and flames.
Oregon, I love you and am looking forward to coming back to spend time walking the miles you took away from me.
Affiliate Disclosure
This website contains affiliate links, which means The Trek may receive a percentage of any product or service you purchase using the links in the articles or advertisements. The buyer pays the same price as they would otherwise, and your purchase helps to support The Trek's ongoing goal to serve you quality backpacking advice and information. Thanks for your support!
To learn more, please visit the About This Site page.