Week 5: Crossing the desert (566 Miles)
Tehachapi, CA: the best trail town I've visited so far. I've been in town now for a day and a half and if there wasn't a 3 day limit at the campground I may never leave this place.  I don't really need all this time off but with $5 camping at the towns airport, awesome restaurants and grocery stores nearby I'm enjoying this desert oasis as I know these types of places are hard to come by on the trail. Oh, and there is a porty potty shower doesn't get much better than this!
The last stretch from Agua Dulce to Tehachapi was supposedly one of the more difficult of the PCT and it sure lived up to its reputation.  Shortly after leaving town, the trail encounters one of its last major closures due to a burn area. Instead of hitching a ride I followed the 12 mile road walk which only consumed half a day but seemed to take forever. When I'm roadwalking with my pack on I feel more like a homeless person than a hiker and I'm always eager to get back on trail.  The road walk took me through the nearly deserted town of Lake Hughes, CA. Apparently the lake has been dried up since it was used to put out the fire in 2013, and with the lake disappearing so did the townspeople.
After rejoining the trail the PCT departs the transverse mountain range before joining the Sierra Nevada range. The transverse range runs in an East to West direction while the Sierras run South to North but the ranges do not meet at any point, between them lies the Mojave Desert. Which happened to be the time the trail got quite taxing.
Back in January I had traveled through this part of California and helped with trail maintenance on the PCT near Tehachapi so I knew what the surrounding landscape looked like. Combining that with the fact that I have a generally good sense of direction made these few days a struggle.  Shortly after Lake Hughes, the trail ascended to a ridge where you could see a large wind farm to the east. Unfortunately for me I knew this is where the trail went from past experiences so walking for a full day in the opposite direction was hard to handle. After descending the transverse range the trail makes a sharp turn and heads for the wind farm.  But since the trail runs through private land in this area the route was anything but straight.  And by private land I mean an area used as a hunting club, each PCT sign in this section had bullet holes in them.  After passing through the gun club fully entact I reached the LA aqueduct and service road. The LA aqueduct is a man made river that brings water to LA all the way from the Rocky Mountains.  At first crossing, the aqueduct is open but soon after the aqueduct becomes a closed concrete channel, with no access for drinking water.  Talk about irony, I was walking through one of the driest and hottest sections of the trail while literally standing on top of 1000's of gallons of water all of it not accessible for drinking.
Thankfully I teamed up with another hiker at this point which helped distract me from the struggle. While I had lucked out with cooler temps than normal in the desert, strong winds were constant throughout the day. With no trees or obstructions to block the wind, the relentless wind created the feeling of being inside a sand blaster. At the end of the day I was extremely exhausted from the wind and tried 4 different locations until I was able to set up my tent securely.  I was able to get a few hours of sleep and then I was up at dawn in order to take advantage of the cooler weather. After a day of desert walking I arrived at the first relaible water source, a canyon stream. Not only was this the first water source I had seen in a while it was also the last for the next 25 miles… Relief had arrived but it was only temporary, carrying 5 plus liters up to 6000 ft. was really not appealing to me.
With a few hours rest at the stream I loaded up and started the last climb prior to town. At this point I was so motivated to get to town and pass through a familiar area that I didn't feel my heavy pack and made short work of the 25 miles.  The following morning  I arrived at the road crossing leading to Tehachapi and within 5 minutes was picked up by trail angel "Dog Bite".  This trail angel takes off from work to shuttle hikers around town for weeks, what an incredible person! Dog Bite dropped me off at the airport where I enjoyed my porty potty shower and began consuming mass amounts of food.  It's hard to put into words how happy I was getting in to town, whenever I'm having a rough time on the trail things always seem to work out and make me so thankful for these experiences. Honestly who would be happy using a porty potty shower unless they haven't showered in a week. The trail helps put things in perspective and teaches you that you don't need tons of fancy things or posessions to get by and shows how even the smallest of kind gestures can impact others!
Walking down the Aqueduct road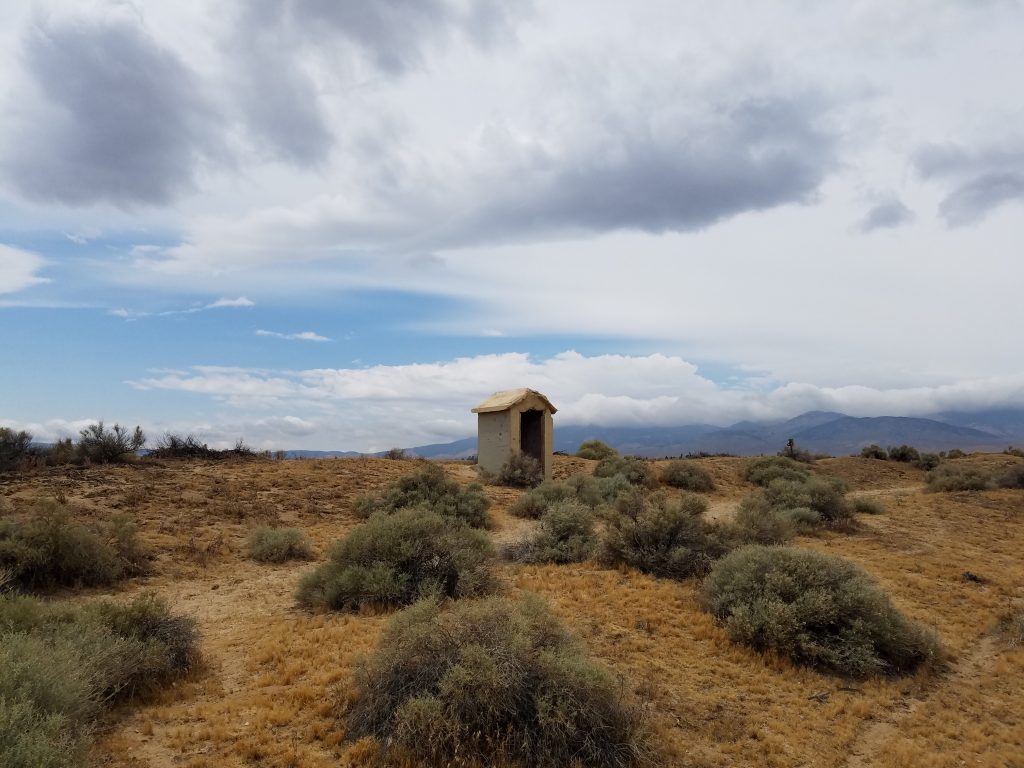 Shelter from the wind, it was difficult to leave this hut.
This sign took a beating and is still standing
These wind turbines look pretty dangerous…
I survived the desert section! (For those who saw "Wild" Cheryl Strayed skipped this part… just saying)
Part of the trail that I helped rebuild in January
Here it is pre trail maintenance (pack animals were used to carry building supplies)
It may look like a porty potty on the outside but inside is a fully functional shower.
Next up is a 140 mile stretch that is the start of the Sierra Nevada Mountain Range. Once I reach the high Sierra the trail passes through a vast wilderness so I may not be able to update for awhile, but my next round of pictures should make up for it.
(Again, sorry for the rotated pictures I'm having difficulty getting these pictures oriented correctly.)
Affiliate Disclosure
This website contains affiliate links, which means The Trek may receive a percentage of any product or service you purchase using the links in the articles or advertisements. The buyer pays the same price as they would otherwise, and your purchase helps to support The Trek's ongoing goal to serve you quality backpacking advice and information. Thanks for your support!
To learn more, please visit the About This Site page.