PCT Week 9: The High Sierra
The next section leads us deeper into the Sierra and takes in some spectacular scenery. There are also a lot of challenging passes. Together with a couple of river crossings, it turns into a great adventure. It's not possible to crush many miles per day, but the stunning landscape is totally worth spending some more time in.
PCT Day 47: Back into the wilderness
Kearsarge Pass Trail to mile 790
16.3km (10.1mi) / 4.5h / elevation gain of 1,058m (3,471ft)
We take the bus from Bishop to Independence at 8:45 am and walk down the road to the Onion Valley parking lot for a bit. No cars are coming as it's not very busy on weekdays, but it doesn't take long until the first car stops to take nine of us in the back of the pickup. It was the most uncomfortable ride with all the people and backpacks, but I'm still happy that getting a ride was easier than I thought.
The motivation to climb 800m (2,624ft) up again to Kearsarge Pass is not that high, but in the end, it was much easier than I thought. Even the heavy backpack with the full resupply wasn't too bad. The trail is so beautiful that it's no problem to do it again. I enjoy the views of all the lakes we are passing together with the steep rocky walls around them. We take a break at the first lake which marks almost halfway to the top.
Then we do another break at the pass. We don't take much longer going up than going down. The trail is not steep, so it's easy to walk. It's much warmer today than it was two days ago and I enjoy this a lot. It's been a while since I hiked in shorts. At Kearsarge Pass lives a chipmunk which was also here the day before yesterday.
On the other side, we have the awesome view of the lakes below us like Bullfrog Lake. It's even more beautiful than it was before because half of it was in the shade last time. It's hard to keep your eyes on the trail with all the surrounding beauty. The exhausting part of the day is over. We just descend a bit and then go relatively flat back to the junction with the PCT. We decide to take a detour down to Lake Charlotte because we have a lot of time left. As there is a pass ahead of us you should climb in the morning because of the snow there are not many miles left to the last campsite before the pass.
Lake Charlotte is beautiful and we have it all for ourselves. We take a nap and enjoy the sunshine today. It's a bit of a climb down though, but it's worth it. It must be awesome to swim here in the summer We then go up again to rejoin the PCT which goes a bit uphill with amazing views of Lake Charlotte down below. It's not far anymore to the campsite by a little lake which reflects the surrounding peaks, which are now golden because of the last sun rays of today.
PCT Day 48: Going over Glen Pass
Mile 790 to mile 804
22.2km (13.8mi) / 6.75h / elevation gain of 892m (2,926ft)
We're getting up later today so that it's not gonna be icy anymore up at Glen Pass. On the ascent I notice that this might not be my best day as my backpack feels heavier than it did yesterday and going up is a hard slog this morning. It's relatively steep and in the end, a lot of switchbacks lead to the pass at 3,651m (11,978ft) The ascent is almost snow free, but the other side isn't. But before we worry about that we admire the view down to the Rae Lakes and the mountains around us.
The snowfield down the pass has an angle of around 45° and there are two lines. I take the lower one as people are coming up the other one and there is not much space for passing. I put on my microspikes and after the first meters down I'm quite happy about that decision. But I didn't use the ice axe though, as it's almost impossible to slide down the slope as the steps are deeply cut in the snow and there is kind of a snow wall that would keep you from sliding down. Then it's an easy traverse.
Harder are the parts without snow where I have to scramble over some loose rocks. I reach the snow free switchbacks where I take off the microspikes. Another snowfield is coming up, but this one has no dangerous drop-off. I fall once, but that's no problem. We take a break after it and look at the part we just did. It looks way wilder from down here than it was. We watch the other people coming down, some of them glissading on the last snowfield.
Now we continue down towards the beautiful Rae Lakes, crossing one more snowfield where I'm glissading down on my butt. It's not so easy with my sleeping pads on the bottom of my backpack as I keep getting stuck, but that also helps to maintain control as I can't get too fast with it.
We take a longer break at the first lake. Some even go swimming, but it seems to be ice cold. I just marvel at the beauty of the alpine environment and take a little nap in the sun. We just did 5km (3mi) to get here, which took us more than 2 hours. We realize that the first part of the Sierra to Kearsarge Pass was the easy one as we still could do 20 mile days. That won't be possible anymore as you also need to do the passes in the morning so that the snow is still firm and easier to walk on. Now we get slowed down by the treacherous terrain. It is what it is.
Now the trail goes mostly downhill until we reach the forest again. We drop all the way down to 2,600m (8,530ft) and now we are even lower than where we started yesterday at the trailhead to Kearsarge Pass. It's 1,000m (3,280ft) up again to the next pass, the Pinchot Pass, and I'm glad that we are not doing all of this today. There are some smaller river crossings that are easily done by hopping over rocks or balancing over logs.
Then it goes up again. Fortunately, it's not steep and the trail goes up along a gushing river with some cascades. I'm feeling much better now than in the morning and it's easier for me to go up now. There is another river crossing with a not very trustworthy-looking narrow log that I skip to go over some rocks. But that way I get a little bit wet feet. I'm always thinking that it's better to get wet feet than to fall into the water and get wet all over. We climb around 500m up and take the last campsite before the pass to spend the night. There is a nice meadow with a beautiful view into the mountains and there is even a stream for water as well as two little lakes. The sky glows in the nicest colors after the sun goes down.
PCT Day 49: Lesson learned at Mather Pass
Mile 804 to mile 819.4
24.7km (15.3mi) / 8.5h / elevation gain of 1,131m (3,710ft)
Popeye gives us a motivational speech before we start tackling Pinchot Pass early in the morning. Our new motto is "Don't die". We already knew that it wouldn't be easy to do two passes in one day as we would get to Mather Pass quite late in the day. But actually, we didn't have any idea what was ahead of us.
It's still a long climb to the top as the trail is never steep and takes its time to lead us up. There are quite a few snowfields but they are easy to walk at that time of the day as the snow is still firm. On the final ascent, switchbacks are taking us to the 3,696m (1,2125ft) high Pinchot Pass. Today we are hiking with Sharkbait and Squiggles, making us a group of five.
Both on ascent and descent no spikes or ice axe were needed. The trail goes down to 3,000m (9,842ft) again, passing a beautiful lake and some rivers that have to be crossed. We're arriving at the forest and on the lowest point there is another river crossing and this is the time to get our feet wet as there are no rocks or logs to hop on over. The water is ice cold and almost knee-deep.
Then the trail goes uphill again on the way to Mather Pass, what's supposed to be the sketchiest of the passes. We thought we gonna be there by noon which would already be quite late but didn't arrive there before 1:30 pm. It's going slowly uphill and we have to do another river crossing where wet feet aren't avoidable again, giving them no chance to dry out. There is water everywhere, even on the trail itself the water is running down. There are marmots on the way as well as a deer standing close to the trail.
Soon we can see the switchbacks on the steep south slope of Mather Pass. This pass is not physically demanding, but the most technically challenging of the passes in the Sierra. The snow is already slushy when we get there but the bigger challenge is to find the best way up through snow and loose scree and rocks in between. The last meters to the pass are then snow-free and easy to walk. I reach the top of the pass at 3,686m (12,093ft) without bigger problems and I'm waiting for the others to arrive. I start to get worried as time flies by and I go a little bit back to see where they're at.
From there I can see Popeye going down a steep snowfield back down to The Italian and I'm wondering what's going on there. It's nerve-wracking to watch them. But he makes it safely down to him, takes his backpack and they continue their ascent. When they arrive at the top they tell me that The Italian postholed very badly and slid down the snow for like 150 feet until he was able to stop himself. He was wearing microspikes but still. It was a close call. So that's the reason Popeye went down, to help him.
What do we learn from that? Don't do these passes in the late afternoon. Anything can happen. The Italian is quite shaken as he reaches the highest point and we just want to get off the mountain. But there is a lot of snow on the other side, too. We put on microspikes and get our ice axes out and start to descend. Popeye and Sharkbait already went ahead and took the direct route to glissade down. The Italian doesn't feel like glissading, so the rest of us are trying to take another route that isn't that steep.
But then, on the first steps down, I posthole with one leg all the way down to my hips, and my foot gets stuck so bad that I'm not able to get it out. Finally, I have to abandon my shoe down in the snow to get out. The Italian is helping me to dig out my shoe after that which isn't easy. We are not amused about how this descent goes.
So we backtrack up again and start to think about cowboy camping at the top until the snow is frozen again. But I don't like the idea and try to motivate the others to try the route Popeye and Sharkbait took and to glissade down. After we looked for sheltered spots for camping and couldn't find any, we decide to go down. It would have been a cold and miserable night up there and I wasn't very keen on that.
So we go carefully down and then glissade the rest of the steep slope. All goes well besides that I'm losing the lower part of one of my trekking poles on the way down so I have to go a bit up again to retrieve it. The ice axe helps a lot going up again. The rest of the way is strenuous as we posthole now and then, climbing down some rocks in between the long snowfields that seem to be endless. My feet are soaked and cold.
I'm so happy when we finally reach the end of the snow, but it took us 1.5 hours to get down. We reach Upper Palisade Lake and reunite with the other two who already settled for the night at the campsite. I'm more than happy that this adventure turned out well, but I'm mentally exhausted from the day. When I take off my wet shoes my feet are so wrinkled like I have never seen them before. And the guys scare me with stories about 'trench feet" which I never had heard of before. Apparently, that's when your feet are wet for too long and they need to get amputated in the end. Gross.
PCT Day 50: Easy day without a pass
Mile 819.4 to mile 834.1
24.3km (15mi)/ 6h / elevation gain of 595m (1,952ft)
In the early morning, we hear a very loud crash that wakes everybody up. It appears to be a major rockslide not too far away. Scary.
We don't have a big day ahead of us today as we will not make it to the next pass in time. So we're just getting there as close as possible to do Muir Pass the next morning. The trail continues along the Pallisade Lakes and goes mostly downhill. Then it follows a stream that goes through a canyon until the water spectacularly plummets down a rocky cliff. We're sitting in front of the tumbling water in awe, watching the masses of water gushing down. Then some short switchbacks lead us down into the forest and along a big river to the lowest point at 2,449m (8,034ft) where we take a lunch break. On the way, we can see a lot of marmots and even a deer standing by the river.
The trail now meanders steadily upwards, always close to tumbling wild water and some waterfalls. We hike through tall pine trees and it gets rockier the higher we go. It starts to drizzle, but it doesn't start to rain. I try to put my rain cover over my backpack just in case to just find out that it doesn't go all the way over my sleeping pads that are on the bottom of my pack. I still have a nylofume pack liner though, but it was nice to have a rain cover for lighter rain and to keep the outside of the pack dry as well. Fortunately, this is the first time it rains on the trail and it's not even real rain.
We stop at a nice campsite by the river. We wanted to stay at the next campsite but a lot of people have already gone there and we are not sure if there is any more space. At 3,007m (9,865ft) it's the lowest tentsite we had in the Sierra so far. We arrived at camp at 4 pm, which is unusually early for us. We spend a nice evening chatting and go to sleep as soon as it goes dark as we will rise early in the morning to make it over the pass before postholing starts.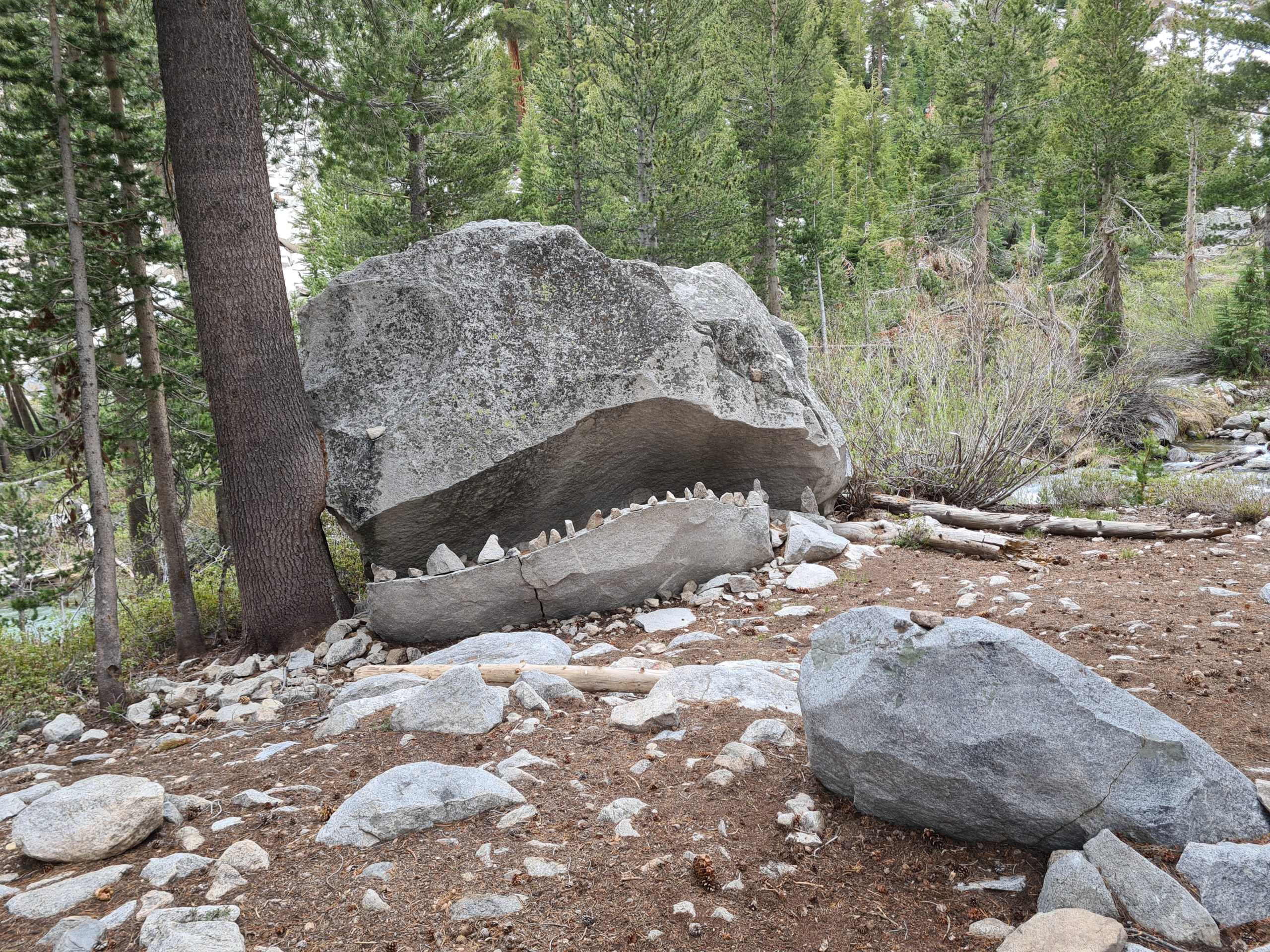 PCT Day 51: The postholing nightmare
Mile 834.1 to 855.5
35km (21.7mi) / 9.5h / elevation gain of 848m (2,782ft)
We start at 6 am to go up Muir Pass, which is not one of the difficult passes but the one with the most snow. At 3,300m (10,826ft) we get to the first snow and it's already slushy and there is some postholing involved. I think it was just too warm the last few days and nights. Luckily it's overcast this morning, so the sun doesn't warm the snow up even more. We make slow progress through the snow and it takes us almost three hours to get to the top. There is a little hut at the top, the John Muir Shelter. My feet are soaking wet and cold from the snow. We hide inside the shelter and I try to warm up my feet that went numb in the cold. It's much warmer in the hut than outside and many hikers gather here. A good place to have a snickers.
On the descent, there is a lot of postholing. Somehow it's not as bad for me as for the others. I don't posthole as much and I can go much faster because of that. I have no idea why, maybe because I'm already as light as a butterfly. It was 4km (2.4mi) up in the snow and it's now 7km (4.3mi) down in the snow which takes a long time. There are a couple of lakes that are still under ice and snow. A snow bridge breaks under my feet and they get wet in a creek. But that doesn't really matter anymore as they are already soaked. At least they are warm by now.
The sun also comes up to warm up my feet and the snow. There are a few river crossings as well but they are all easily done by hopping over stones. At Evolution Lake the snow finally disappears and we take a lunch break with marmots. 12 miles by 12pm like we did before the Sierra seems to be impossible here, we can be happy if we make 12km by 12pm.
From now on it's just easy downhill walking. We get to a lower elevation, back into the forest. There is a beautiful meadow with a river running through and a deer peacefully grazing in the sun. It's so idyllic and picture-perfect like it came straight out of a Disney movie. We get to a junction where we take an alternate route to an easier river crossing than the original one would be. This one is just knee-deep and the water is calm. We can even take off our shoes and walk through it barefoot.
Now we get into a beautiful valley. For the rest of the way, we follow the river that's gushing inside a gorge below the trail and plummets into various waterfalls. When we reach the planned campsite by the river under some trees there are a million mosquitoes already there. It drives us crazy after just a few minutes and so we retreat and backtrack a little bit along the trail to find another site that is higher up from the river, doesn't have trees and where's a little wind going to have fewer mosquitoes. I couldn't believe people saying that the mosquitoes in the Sierra are awful, but now I understand. So far it was just too cold for them, so we didn't have any issues. I got a lot of bites from just being at the other site for a couple of minutes.
They go right through my leggings and it's impossible to get rid of them as they follow you around. We are now down to 2,471m (8,106ft) and it's clearly mosquito country. The thing about going early into the Sierra is that you don't have that many mosquitoes, but much more snow. Choose your poison. It must be so beautiful in the summertime with all the lakes open, but mosquitoes will ruin this. I'm glad that we didn't have to deal with this until now.
PCT Day 52: Walking a marathon
Mile 855.5 to VVR
42.88km (26.8 miles) / 10.5 h / elevation gain of 1,274m (4,179ft)
The day starts with a further descent until we reach the junction to the Muir Trail Ranch, which is still closed that early in the season. From here the trail goes up for 13km (8mi) up to Selden Pass, the easiest pass in the High Sierra, at least this year. It's not too steep but still a long ascent. We're passing some beautiful mountain lakes and then hit just three smaller snowfields on the way to the pass. They're easy to walk on without microspikes.
On the top of Selden Pass at 3,326m (10,912ft) we take a lunch break while having an amazing view of the lakes below us. You can even see how Heart Lake got its name. As we did 16km (9.9mi) by now we decide to go all the way to Vermillion Valley Resort (VVR) Today instead of tomorrow morning. This would be a long day, but we feel pretty good and are all craving real food.
On the way down there are some more snowfields, but these are easy, too. The trail goes downhill through a forest and follows a river which we eventually have to cross. I was quite happy that we kept dry feet so far today, but now it's time to get wet feet again. The river is just knee-deep but has a strong flow. This would be a tough one if it's higher up.
We reach the last climb for today which goes up for 284m (931ft) to the Bear Ridge Trail Junction, where we turn off to get to VVR. This side trail is 7.5 miles long and takes us steeply downhill and through some swampy and mosquito-infested areas to the lakeside of Lake Thomas Edison. Here you could get picked up for the last 2.5 miles, but we decide to walk that as well. We didn't want to pay 10 dollars each for the ride, so we keep walking. After we get to VVR we learn that the pickup from the trailhead is free from now on as they want to get hikers in.
We hike on the dam along the lake and then take the road to VVR. The last miles are a long slog, but we finally make it in time for dinner. In the end, we went the distance of a marathon with over 42km (26mi). My longest day so far. But we are all happy that we made it here today. We get a very warm welcome with a handshake and a free first drink. We even get gifted bananas and apples from a lovely lady. Then we immediately go for food. There is not much on the menu, but it's very good and fills our bellies. There is even an amazing warm apple pie with ice cream for dessert, which reminded me of Apfelstrudel at home.
In the evening we sit around the fire pit, chatting with other hikers about the adventure of the last days. It's nice to finally have a fire as it's not advised to have one of the trail due to the risk of starting a wildfire, having a million stars above us. VVR sure is a little oasis in the mountains after a week full of adventure with going over five alpine passes.
PCT Day 53: Short day back to the PCT
VVR to mile 880.6
6.6km (4.1mi) / 1.5h / elevation gain of 334m (1,095ft)
We spend most of the day at VVR, have lots of food, and do a little resupply for the next two days to Mammoth Lakes. It's expensive here and it's easy to lose track of your expenses as you're on a tab. But VVR has a lovely atmosphere and the food is good, so it's well worth a visit. We leave at 4 pm and take a small boat across the lake to shave off some miles. We take a different route out than we took into VVR and this one has way less elevation gain than the Bear Ridge Trail.
It's an easy walk back to the PCT from the end of the lake. We then have to do a river crossing, but instead of getting our feet wet, we find a downed tree just like 100m (328ft) upstream, where we can easily cross. The worst part is the mosquitoes here, that eat you alive. Now it's uphill towards Silver Pass and we pitch our tents on the way up at the last decent campsite before the pass, so we can do it tomorrow morning. It's not mosquito hell here, but they're are still here and it's quite annoying. I crawl into my sleeping bag like a burrito to stay warm and to keep the mosquitoes away. We can hear the gushing river from our campsite and I really like this white noise in the background.
PCT Day 54: 900 Miles done
Mile 880.6 to mile 901.4
34.8km (21.6mi) / 8.75h / elevation gain of 1,428m (4,685ft)
We go further uphill in the morning, cross a few creeks but keep our feet dry, and pass a tiered waterfall. Getting higher we cross a few snowfields and pass a beautiful lake with loud frogs on the way to Silver Pass, our last pass before Mammoth Lakes. Somehow the highest point is not the pass itself but a little bit more up the mountain at 3,333m (10,935ft). On the way down there is quite some snow, but it's easy to walk on as it's still firm and not too steep. I have no idea why the snow on Muir Pass was so slushy and here, at a lower elevation, it's still frozen.
We go down into the forest again and get water from a stream. The mosquitoes are back and trying to eat us alive, so we can't stay here for long. Now it goes uphill again and this ascent is hard work, harder as some of the passes. It's not even a pass, but the switchbacks are quite steep and exposed, so it's very warm on the climb up. But the views are awesome. Snow-covered mountains are towering around us and down below is a sweet little meadow with a river running through. The highest point is unspectacular between some trees, but after a little bit downhill, there is a nice lake, Lake Virginia. Perfect for a lunch break. And almost no mosquitoes, too.
There is a brief ascent and then we get down to the Shores of Purple Lake. From here another climb starts that is equally hard as the big one before, but at least not that long. It levels at the end and is followed by a nice traverse along the mountainside until we continue downhill and pass the 900-mile marker. We're stoked that we are so close to 1,000 miles on the trail now. And I have my two-month anniversary on the trail today. I will celebrate it tomorrow in Mammoth Lakes, where we should get in the morning.
As always, the days before town days are great. You're fantasizing about all the food you're gonna have and there is so much anticipation, it's like Christmas. Actually, it's even better than Christmas.
There is a bit of an uphill and then we reach the campsite in the forest. There are a lot of places spread out between the trees and we're having a nice little gathering with other hikers for dinner. Our little trail family has now two new members by the way as Squiggles and Sharkbait are staying with us.
PCT Day 55: Getting to Mammoth Lakes
Mile 901.4 to Horseshoe Lake (Mammoth Lakes)
9km (5.6mi) / 1.75h / elevation gain of 233m (764ft)
It's just a few kilometers to the junction of the Horseshoe Lake Trail, which we take for 5 kilometers (3.1mi) of ups and downs, passing beautiful McLeod Lake to finally reach the trailhead at Horseshoe Lake. We get there before 9 am but the bus starts going at 9.30 am. But it's easy to get a hitch to Mammoth Lakes and we are there in time for breakfast. We go to Schat's bakery for lunch, of which sandwiches I had been dreaming about for days, and pizza for dinner. Later we go out for drinks at various bars of which the Tiki Bar turns out to be the wildest. We have a fun night, but I don't get much work done on the next day. I barely make it shopping and to be there in time before the post office closes to send a resupply package to Tuolomne Meadows.
Affiliate Disclosure
This website contains affiliate links, which means The Trek may receive a percentage of any product or service you purchase using the links in the articles or advertisements. The buyer pays the same price as they would otherwise, and your purchase helps to support The Trek's ongoing goal to serve you quality backpacking advice and information. Thanks for your support!
To learn more, please visit the About This Site page.