We're In This Together (Days 1 to 4, Campo to Mt Laguna)
Day 1
Start: Southern Terminus / Mexico Border
Finish: Bushcamp just before descent to Hauser Canyon
PCT Miles Hiked Today: 11.4
Wow, it feels amazing to be back on trail again.
Lauren and I woke early in our San Diego hotel, as we were still on central time. We immediately had several mishaps, including me losing my hand sanitizer, and Lauren dropped a big dollop of cream cheese on her puffy. We persevered through, and hopped in the car for the 75 minute drive to the southern terminus.
The PCT literally starts at the Mexican border. As we were driving up, we passed many border patrol cars, and when we missed the turnoff to the monument, we had a brief drive on the dirt road bordering the wall.
Hipsy Gypsy and Oak were the volunteers at the southern terminus for the PCTA. They checked our permits and we were ready to roll!
It felt surreal to be on a long trail again, after 5 years off. But it also felt so natural to step in to the shoes again. The trekking poles were planted by instinct with each step, the pack adjustments for my ULA Circuit were all done in the same exact order from my last thru hike. It felt right.
The trail paralleled a road for the first few miles, and people driving by would honk their horns and yell encouragement to us. Feels like a very supportive community out here.
Compared to the AT, the PCT is smooth as silk – very few rocks today, other than for a few miles in the middle of the day. It's also hot as heck. We got kind of a late start today, and we paid for it on the inclines… I found myself stopping to catch my breath often. Any breeze is welcomed with open arms, for the momentary relief from the searing sun.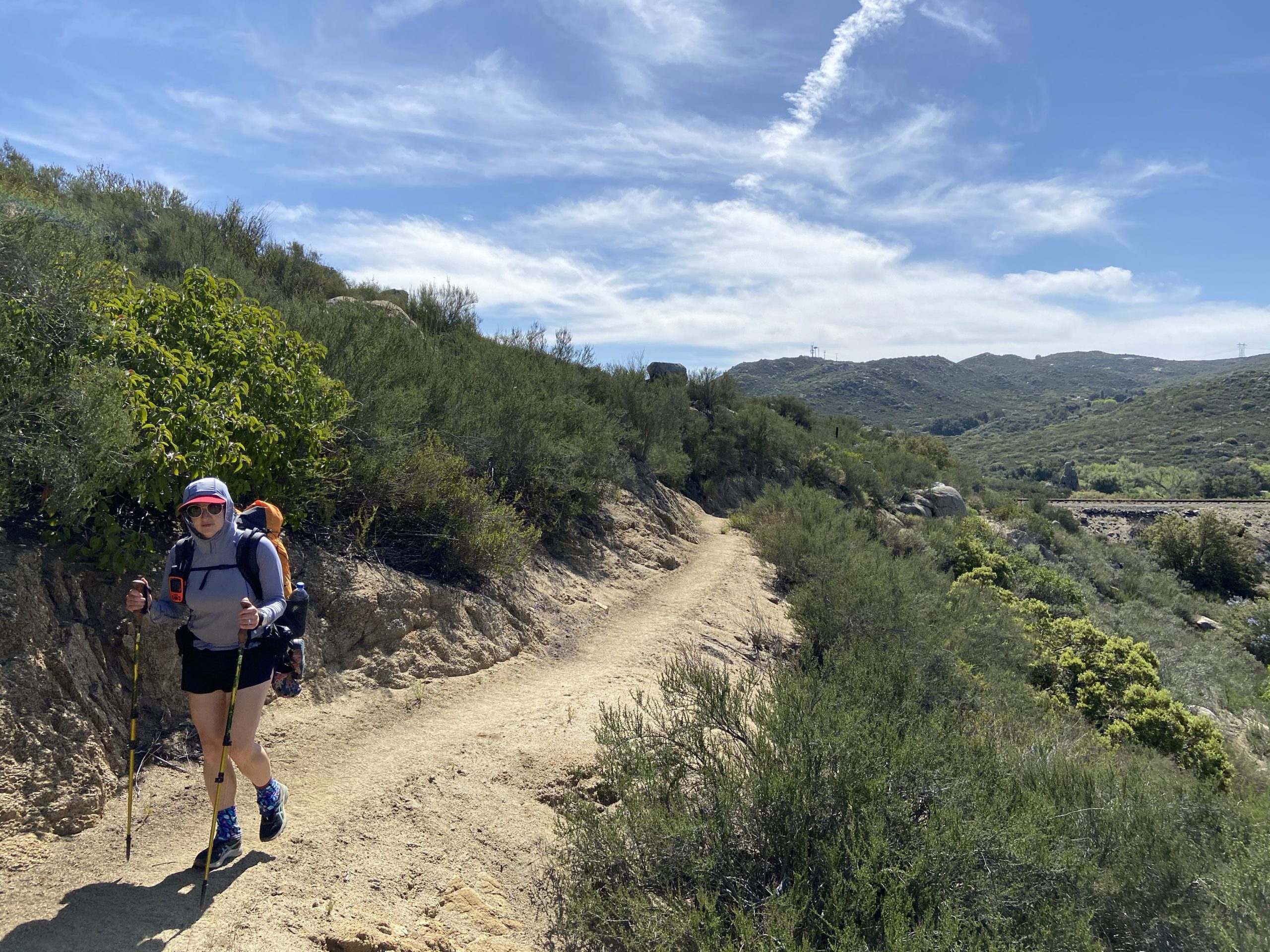 There is often no water between Campo and Lake Morena at mile 20, so many hikers pack out 6 liters of water if they are spending the night. We saw on Guthook that there is an unmarked pond around 9 miles in, about a half-mile down a road, with plenty of water as of a few days ago. We decided to roll out with 4 liters of water each, enough to get us to Lake Morena early tomorrow if the water isn't there today. Fortunately, the pond was there as advertised! (Even if it was a bit off trail – I can't complain, water is so heavy.) We took a break in the shade and waited out the hottest part of the day while chugging water.
We met so many young people today also thru-hiking! Most of us posted up in the shade near that pond around midday, and we all got to know each other. Savannah, Kyle, Patrick, and Nicole were all fun to talk with. It is all of their first thru-hikes.
Lauren and I hiked out with Savannah and spent the rest of the day chatting while we hiked. Savannah knows so much more about the plant and animal life around this area. I very quickly realized that I could barely tell a tree and a shrub apart, but she seemed to have a PhD in SoCal fauna. Very cool to hear about all the plants.
My lesson of the day is that you can apparently still get a sunburn while wearing a sun hat. Dang! Oh well, live and learn.
We rolled into camp around 5, chatted with all the other hikers for a few hours, then hit the sack early. The plan is to head out early and tackle the climb out of the canyon before the heat of the day sets in. Good group! I hope we keep hiking with them all in the coming days. Was also a ton of fun chatting with JD, Chandler, and Delaney. We've got quite the posse at the campsite tonight.
Day 2
Start: Bushcamp just before descent to Hauser Canyon
Finish: Lake Morena
PCT Miles Hiked Today: 8.6
Slept so hard last night, and it was a very comfortable temp. We sleep with our water filters each night in case it dips below freezing, but last night felt well above that point.
I was up at 4 and couldn't get back to sleep. Lauren woke up around 4:45 and we got hiking before 6, hoping to push the full 8.5 or so miles to Lake Morena before the sun came out in force.
We stopped off at a forest service road for some breakfast and filtering the last of our dirty water from yesterday's pond visit. For a shallow pond, it really didn't taste too bad!
As we got about halfway down into the canyon towards Hauser Creek, the trail began to get a bit treacherous. I can't imagine night hiking a section like this, the footing would be too uncertain. Plus, the views as we descended made it all worth the pain.
After a surprisingly quick ascent out of the canyon, we rolled into Lake Morena around 11, having knocked out a solid 8.5 miles before lunch. We took a right at the small road and walked to the restaurant / convenience store. Lauren, after doing the 8.5 miles on nothing but pop tarts and pond water, ordered a giant breakfast burrito and French toast. Breakfast was all the more delicious because we knew we were done for the day!
So many hikers rolled through over the next few hours. First, we met all the hikers from yesterday who spent the night at Lake Morena, then we met all the hikers who hiked in from Hauser Creek this morning, and finally in rolled our crew from the campsite last night. It ended up being quite the gathering!
We made our way back to the campground next to the Lake a little after lunch. The campground has a large grassy area in which hikers can camp after paying a nominal fee. We had an excellent day lying in the grass and getting to know each other.
The most common ailments at this point are definitely foot blisters and sunburn. After a spirited debate on if you're supposed to pop blisters, we ended up popping them on everyone's feet using a sewing kit we found in the hiker box. A trail angel later showed up with a first aid kit and reprimanded us for popping them, but then a premed girl told us that she was taught to pop the blisters. So, we have no idea what to do. I guess the best policy is to pop em', tape em', and keep on hiking.
We got takeout pizza for dinner from the restaurant. I feel spoiled that I have eaten 3 quality meals today! Amazing start to the trail, I know it won't last, so I'll enjoy it while I can.
I'm very thankful that we have been surrounded by such fun, good-humored people so far on trail. 8 of us have formed a fun little trail family and we plan to meet up for camp again tomorrow around 12 miles in. Body is feeling good and I think I'm up to the mileage.
Day 3
Start: Lake Morena
Finish: Fred Canyon tent site
PCT Miles Hiked Today: 12.0
Jeeze, clearly I'm not as in practice as I thought I was. At various times last night, I lost my wallet, my headlamp, and my watch. You may be asking yourself, "But Slice, don't you live in a 7×5 tent and put everything you own into one backpack each day?" Well, yes, but there's still a lot of places for stuff to go missing. After emptying out the tent in the dark a few times, I found my wallet and watch, but headlamp wasn't found this morning until we took down the tent. (I had set up my tent on top of my headlamp.) Ah, the joys of backpacking.
We were up at 5, hiking by 6, which is quickly becoming our standard schedule. Beautiful, cool, overcast morning.
I had an epic trail reunion this morning! We met a few hikers as we were eating breakfast, and one of them was a 2016 AT hiker as well. A few more questions and I realized this was Google (now trying to get a new trail name), and I just didn't recognize him without the beard! We had a fun few minutes catching up, and he took off up the trail – he was heading for Mt Laguna today, a 22 mile day. We smiled, knowing we'd get there eventually, but 22 mile days are hopefully not coming any time soon for us.
Eventually, Chandler caught up, and we spent most of the early morning chatting as we cruised down the smooth trail.
Injury update: every morning my hip flexors feel like they are screwed on tight. They're seizing up until I get them warm and moving, then they relax and I can move pain-free. I should be better about stretching and massaging them in the evenings. My left ankle also flared up along the top this morning. But most folks out here are hurting in some way. Knees, ankles, hips… and if you're lucky enough to have healthy joints, then, of course, you've got blisters. What a life.
We killed some time eating snacks at a campground we passed through (with water spigots!), and hung out with Mr. Tea, who is a retired gentleman and an AT veteran. He is also an early candidate for my favorite person on trail – incredibly funny and hangs with all the youngin's with no problems at all.
We spent the hottest part of the afternoon at Kitchen Creek, which was deep and cold enough to soak our weary feet. Lauren, Savannah, and Bowie had themselves a swim party just downstream from where the rest of the crew was sitting.
With only 3 miles left to our planned campsite, we took our time walking the last ridge walk. The views continue to be spectacular. I'm sure I will sound like a broken record by the time we finish, but jeez, check this out.
It's a rowdy crowd at the campsite tonight. Our little group is really growing close and it's a joy to hike with different people each day and get to know them. Camp is all laughs every evening. Another '16 AT hiker rolled in as well named Sorority Steve, and we had the whole group rolling on the ground with stories from trail. We eventually called it a night and headed to our tents.
I continue to be amazed by the camaraderie and friendship that has blossomed so quickly among the hikers. I know that I'm hiking this trail with Lauren, so of course, it should feel like a more social trail than the AT. But every day has been special not because of the views, but because of the people we meet and spend time with. It really feels like we're in this together, and that's a cool feeling.
Day 4
Start: Fred Canyon Tentside
Finish: Mt Laguna
PCT Miles Hiked Today: 10.6
Whew, cold last night! Even as we were sitting around chatting after dinner, the temperature started to drop, and we gladly crawled into our sleeping bags long before dark. We woke in the night to big gusts of wind, and I was freezing cold most of the night. The wind chill felt like it was below freezing.
Up and hiking early again today. It's funny, I feel like we are being good influences on our broader hiking family. The first day, only Lauren and I hiked out before 6. This morning, at 5 am sharp, the campsite lit up with a bunch of cell phone alarms. While I discourage setting loud phone alarms in the wilderness, it was unquestionably amusing to hear someone's phone loudly proclaim "HELLO, IT IS 5 AM!"
It was so cold that we were out of camp by 5:30 because hiking was the only way to stay warm. I was wearing every single layer I had while we hiked.
Not a bad day! We hiked uphill for miles and miles, crossing into a beautiful alpine environment as we cleared 5,000 feet of elevation. My favorite part of the day was hitting whatever elevation is required for pine trees – all of a sudden, big tall pines surrounded the trail, providing us with plenty of shade. And, Lauren and Savannah found a geocache hidden in a trunk. (We mistook it for trash and tried to pack it out, before realizing what it was.)
Worth noting: Lauren found a tree that smells like butterscotch. Thank you Savannah, our local tour guide!
Smooth sailing into town. We easily cleared 10 miles by 11 am, and walked into Mt Laguna in time for breakfast. The only restaurant in town was surprisingly tasty!
Lots of hikers grabbing resupply boxes from the post office / general store / lodge front desk (small towns tent to consolidate things into one building). People are already tossing Clif bars and snacks to one another, swapping them like currency. It was a real (hiker's) farmer's market out here today!
Funny story: David Bowie (our German friend) thought he bought a can of pasta in sauce from the store, but accidentally only bought a can of pasta sauce. I left before he figured out what to do, but if he didn't swap it out, it looked like a very sad dinner. (He did also have a tallboy of Coors Light, which hopefully took the sting out of the error!) And, Ethan wrote himself an encouraging message in his mail drop. "Just remember, you're going to be OK."
And now we are relaxing in a hotel room in the lodge, watching crappy movies and resting our weary bones. It's a good life, despite the knee pain.
The plan is 3 days to Julian, and then 3 more days to Warner Springs. It's pretty much all downhill to Julian – we'll see how the knee holds up 🙃
Until next time, happy trails!
-Slice
Affiliate Disclosure
This website contains affiliate links, which means The Trek may receive a percentage of any product or service you purchase using the links in the articles or advertisements. The buyer pays the same price as they would otherwise, and your purchase helps to support The Trek's ongoing goal to serve you quality backpacking advice and information. Thanks for your support!
To learn more, please visit the About This Site page.