Why I'm Hiking the PCT This Year Instead of Going Back to School
"Dude, guess what? I think I'm going to hike the PCT next year."
Receiving this text message from one of my dearest friends, Kelly, aka my "trail sister" would dramatically alter my responsible and carefully researched plan that I had just spent most of this year preparing for.
The Sisterhood of the Bespectacled Dirtbags
Kelly and I befriended each other during a service term in 2018 with Student Conservation Association (SCA) NH AmeriCorps. We soon discovered we shared an affinity (bordering on obsession) for the White Mountains and spent nearly every weekend hiking the list of 4,000-footers in the state, the NH48.
Once we completed those, we weren't quite sure what to with ourselves, so we found some more 4,000-footers to hike in Vermont and Maine. Oh, and a tiny bit of the Adirondacks too, which is a whole story in itself. We had ourselves one heck of a time, and somehow, we found we could still stand each other after spending so much time together.
A sisterhood had been formed.
Life happened for a bit and then, naturally, we somehow both found ourselves back in NH. We revisited some of our beloved 4,000-footers (this time in the snow) and made plans for our next goal: the PCT.
As you can probably predict, that plan didn't work out. Things didn't work out very well at all. I assume that 2020 wasn't a good year for most, and you can safely assume that it didn't win any awards for "top year" in my books.
All jokes aside, we took very different paths in the spring of 2020, and still, the challenges of those times could not keep us apart. When Kelly, being the saint that she is, learned that I had endured some extenuating circumstances, she invited me out to hike the Colorado Trail with her and a couple of friends.
I eagerly latched on to her invitation like it was a life raft (it was) and just like that, I found myself in Denver with Kelly.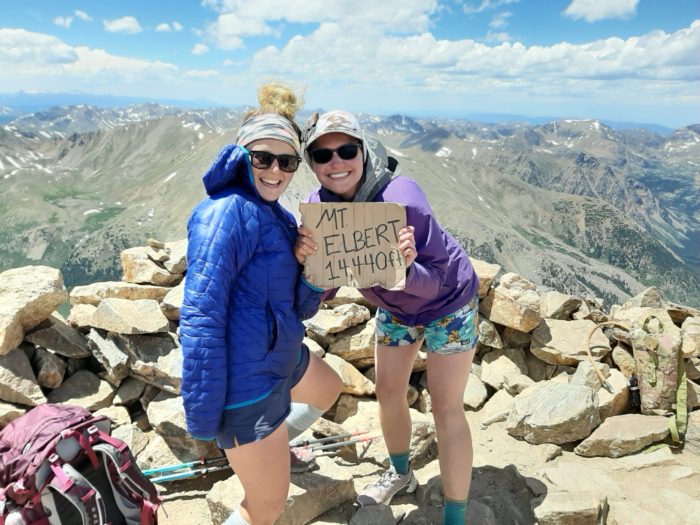 Getting to do a long hike together on the CT wasn't the original plan, but it was spectacular nonetheless. During this journey, we visited old friends, spent time reconnecting, and formed many new friendships, including those within our awesome trail family.
After completing the CT, I returned to my hometown in Western NC, where my gracious parents (and dog) welcomed me back with open arms. I took my dog Lily on some short backpacking trips on a few stretches of the AT in Georgia and NC, started working as a delivery driver at the newly opened Amazon hub, and tried my best to move forward and reintegrate into "normal" life.
I immersed myself in work, determined to quickly pay back the debt I had accumulated from my time on-trail and plan for whatever the next step of my journey would be. The adventures I had earlier that year soon felt like a lifetime ago, and I convinced myself that my thru-hiking days were over for the time being. It was time to do the responsible thing and figure out what I was doing with my life.
Quarter-Life Crisis
I spent many days over the winter of 2020-21 pondering this great mystery and made the decision that it was time to go back to school. After doing much research and thinking about the career I wanted to pursue, I decided that environmental law would be an excellent fit for me.
I began preparations for taking the LSAT, gathered my application materials, and spent quite a bit of time writing, re-writing, and revising a personal statement that would convince admissions committees that I was ready to attend law school. I studied more and took the LSAT a second time to further improve my chances of success in the admissions process.
I poured myself into preparing for this certain next step, feeling both a bit nervous and incredibly excited that I had figured out a solid life trajectory for at least the immediate future. Whew.
And then came that text from Kelly.
Not only was she planning on hiking the PCT in 2022, but so was our friend Laura, a member of our beloved trail family from the CT.
I was incredibly happy for them. Not wanting to miss out completely on what was sure to be a grand time, I told them that I planned on hiking from Campo to Tehachapi with them before getting ready to attend school that fall. Heck, maybe I'd even make it to the Sierra with them before I had to start getting ready for the school year.
The more I thought about it, the worse I felt about my decision. I knew I wanted to follow through with my plans for school, but I also knew that it would be highly unlikely that I would want to leave the trail once I was there. In that scenario, I predicted that I would get off trail, only to find myself feeling the loss of what could've been if I were still on trail with my friends.
I would be back in school, counting down the days until I would graduate and be able to hit the trail again. Worse was the thought—what if in the process of attending school and working towards a career, I never found my way back to the PCT? I realized that if I wanted to fully commit to my academic and career goals, I would have to finish the PCT first.
Sound Logic
Once I reached my completely rational decision, I stopped applying to schools and started making moves to hike the PCT. I applied to blog for The Trek, waited anxiously for permit day to commence, and in a complete state of disbelief, watched Kelly and Laura and myself all receive our permits.
So yeah, this may not be my original, carefully thought-out plan, but somehow, I think it works—PCT 2022, law school 2023.
Affiliate Disclosure
This website contains affiliate links, which means The Trek may receive a percentage of any product or service you purchase using the links in the articles or advertisements. The buyer pays the same price as they would otherwise, and your purchase helps to support The Trek's ongoing goal to serve you quality backpacking advice and information. Thanks for your support!
To learn more, please visit the About This Site page.