Wildly Human
The taste of tattered petals
Flowers with tattered petals
Carry story of wind and dance
With wrinkled edges,
Pollen footprints,
And imperfectly bent stems.
These tattered flowers
Are fabulously not up to standard
To be cut, stacked, and sold.
So in the wind they
Remain;
Dancing and fraying
Tasting the raw, wild soil.
I scribbled this little poem into my journal as I passed through fields of vibrant wildflowers in the Sierras. I love the colors, I adore the imperfections, I revere the aliveness of the land.
Flecks of blues, pinks, oranges and the rest of the rainbow spectrum are littered on mountainsides. The colors grow up on stems even through places that look barren to life. Hikers too with our bright puffy jackets and gear move along the mountains, we too can contrast expectation by finding ourselves in the remoteness of the wild. Beauty and life persists. 
I love the Sierras for the grandiose and granular. The epic mountain passes and the delicate veins of streams. The big bright blue overhead and the little blue butterflies flitting over the grass. I felt both immense and humble hiking the trail. Brimming with energy and in reverence of how large the world can be. Dancing on high and too seeing the tiny insignificant marks my feet leave in the dirt. The largeness and smallness of nature and my place in it still astounds me.  
Connection is what keeps me grounded. When I think of connections my mind settles on my time at Vermilion Valley Resort (VVR). I hiked eight miles off-trail to resupply at this small camp destination and I was met with such warm hospitality from staff and fellow hikers. A couple friends and I worked a few hours in the kitchen in exchange for free meals and I happily embraced the change of pace. To measure time in milkshakes made was a gift. That night over a dozen people circled around a campfire and the campground "Mushroom City" was cramped with tents. Hiking long trails is the perfect recipe for a quickly formed community. 
Pushing through fatigue, the days after VVR were some of my longest and most rewarding. I hiked several 20 mile days and still made time to paint, read, swim, and stop to appreciate views. Still, I could feel the wear on my body, I was exhausted. Just past the 900-mile mark, I found a hollowed-out tree with several feet of debris stacked in its hold. I crawled inside and began to meditate, to open myself to the energy flowing from the tree. My spirit was replenished and I made a few friends who were suprised to stumble upon a girl meditating in a dead tree… that isn't totally normal? 
While my body ached I was filled again and again by the beauty of many pristine places. 1,000 Islands Lake was one of my favorites. I plunged into the water and was surprised it didn't take my breath away. Already I was moving away from the alpine lakes of the High Sierras.  I spent hours swimming and writing by the water in bliss. There was a large group of PCTers not far from me and months ago I would have convinced myself I needed to walk over and be a part of, but in that moment I knew I wanted space to simply be. I gave myself that gift.  The trail is teaching me to better honor myself.
One more day, my longest yet, brought me to Tuolumne Meadows in Yosemite. I took several days to explore the valley. I contended with the heat by eating ice cream for lunch and jumping in rivers, but even the heat couldn't detract from the glory of the park. A friend and I hiked up Half Dome and it was one of my favorite memories from my time on trail. The trail included miles of challenging stairs, beautiful waterfalls spewing rainbow mist, and unbeatable views. We camped at Little Yosemite Valley part of the way up and hiked the remaining stint starting at 4am to rise to the summit with the sun. The final section is the cables, which entails practically pulling oneself straight up a rock face with gloved hands gripping to thin lines. I'm sure it would have been scary if I took the time to really think about it.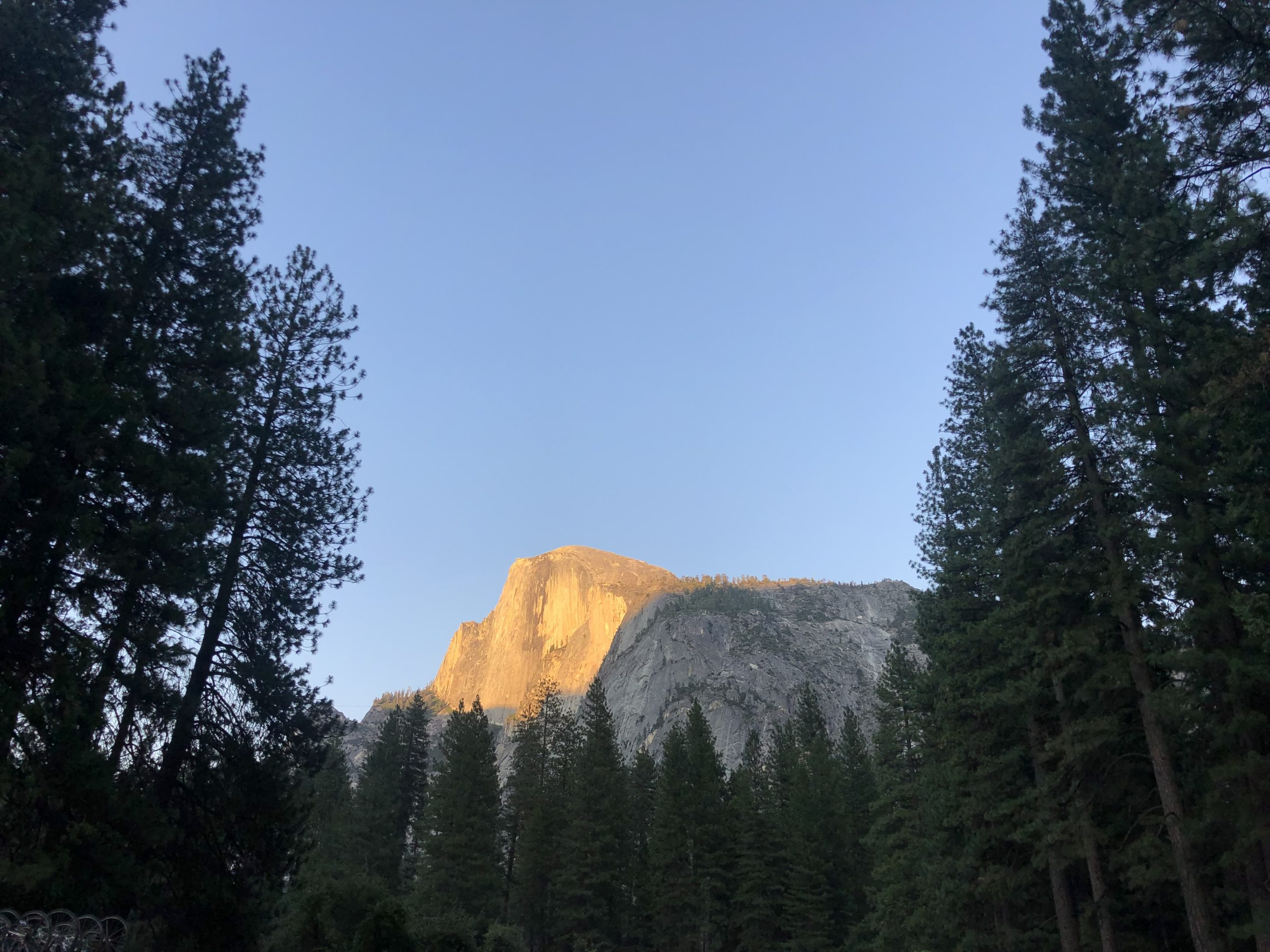 Atop the whole world, that is how it felt. Apart of a vast expanse of beauty, that is how I saw it on top of Half Dome, I still still see myself in the world this way. I smiled down at the valley and across at the mountains beyond. That day marked exactly two months since setting foot on the PCT. Feeling so big. Feeling so small. 
Waterfall showers, deep conversation, floating my air mattress on a lake, meditating on mountain views, these were a few of the special moments sprinkled into my final week on the trail. I also partially broke my phone. I dropped it on my last night. I suppose it was a final letting go, a reminder to stay grounded in what really matters. So that last day I was fully present in each step. No photos. Not seeing how wild and dirty I must have looked. No checking my mileage on guthook. Only looking outward and feeling it all.
The last day happened to be the most beautiful. The trail to Sonora Pass is a breathtaking ridge walk looking out at far-off layers of mountains of pale greens, blues, and reds. It was just me and flecks of flowers by my feet and a few birds diving in the thrashing wind. A loud kind of quiet. A longing for everything I had right then and there, wanting it to extend indefinitely. 
As I descended from the ridge a highway came into view. A yellow-striped snake in the distance. I was disturbed by the protrusion in the natural landscape, but slowly I made peace with change, or I started to. In the early afternoon on a day in July, I came to that highway at Sonora Pass and suddenly that was it, the trail was behind me. In a sense, it was over, but a greater part of me knew the wild was there to stay. I was taking it with me. I am forever changed, molded by something greater than myself. 
I have now been off trail for a couple of weeks. I was worried I would experience post-trail depression but the trail taught me to better appreciate the present and to go with the flow of life. For the most part I have been embodying these ideals, sometimes however, I do miss those delectably dirty days. Still, I am so grateful to have time with my family and I love sharing pictures from my various stages of glorious grossness on the PCT. The trail has taught me to slow down, to be thankful for simple wonders, to love big. Now is the time for me to apply these ideas to my life at large, to keep growing into the person I want to be. 
Soon I will be back at school finishing my final year at university. Then anything and everything will continue to unfold. I don't know when my time will come to step back on the trail where I got off, but I am already dreaming of cinching my backpack's hip belt. Nothing makes me happier than knowing that the PCT and other long trails are here to stay because if I have learned anything from ten weeks of hiking, it is that the wild is home to incrediuble growth and becoming. 
I am thankful to be wildly human.
Affiliate Disclosure
This website contains affiliate links, which means The Trek may receive a percentage of any product or service you purchase using the links in the articles or advertisements. The buyer pays the same price as they would otherwise, and your purchase helps to support The Trek's ongoing goal to serve you quality backpacking advice and information. Thanks for your support!
To learn more, please visit the About This Site page.