What Works for Me: My PCT Gear List
AT 2016 vs. PCT 2018
In 2016, I thru-hiked the Appalachian Trail with an extremely heavy pack (22 pounds) and this year I am going to hike the Pacific Crest Trail with a much lighter pack (9 pounds). I have listed the gear from my 2016 thru-hike to the best of my ability. I no longer own most of the gear and cannot remember every single item I carried, mainly because there was too much.
On my first thru-hike I was definitely prepared, but had a lot of gear that I did not need. On the other hand, there were definitely some areas I was lacking. Now that I have switched up my gear, I am way more prepared for colder weather. I have a much warmer sleeping bag, a ten degree as opposed to a 32 degree. In addition, I have a more ideal jacket and winter clothing. Furthermore, I am more prepared to be an LNT (Leave No Trace) hiker, I didn't even carry a trowel on my 2016 hike. For me, it wasn't a matter of switching to less gear so much as lighter gear that is more practical. I just dropped a bunch of gear I simply do not have the need for.
The Gear
I have listed the prices for my various gear items; it is approximate pricing as most were gifts or purchased via deals I had with my occupation at an outfitter. I sold a lot of my gear from my AT hike and used that money to purchase new gear. Some gear is not pictured because it has already been sent to California.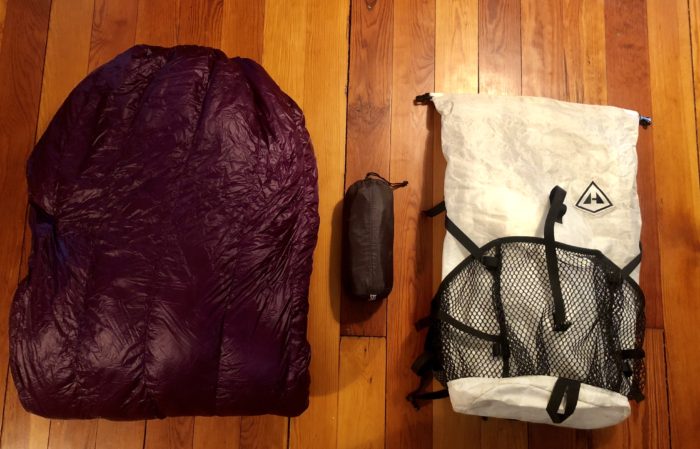 The Big Three: 3.61 lb

Trash Compacter Bag – Pack liner

28.1 OZ
$267 – bought on Black Friday Sale
You might be wondering where my tent is and it's in my partner's pack. He will be carrying our ZPacks Duplex and there are a couple of reasons for this. First, his base weight is lighter than mine, even with the tent, so I do not feel bad that he is carrying extra weight. In addition, he usually has a quicker pace than me so he will most likely arrive at camp before I do and he has expressed that he would prefer to set it up while he waits for me. So, as of right now, I will not be carrying our tent.
Clothing Worn (Not included in base weight)

4 oz
$50
I thru-hiked the AT in these same shorts, hoping they'll last another thru. There is orange paint of them from sign at the summit of Mt. Moosilauke in the White Mountains of New Hampshire, so a little part of the AT will be with me.

Sports Bra

3 oz
$10
I am unsure of the brand or where I purchased it, the price is a guess.

Salomon Air Logo Cap

8.8 OZ
$60
I will be switching to the Salomon Odyssey Pro after this pair wears out, they only have about 200 miles left in them. I have been selected for the P3 program this year and Salomon is one of the main sponsors. I am lucky enough to test out their new kicks, look for a review in the coming months.

Darn Tough socks + Injinji Liners
Sunglasses – Spy Optic Helm
Gaiters – Dirty Girl – Doughnut pattern
Clothing Packed : 2.46 lb

Extra Socks – Darn Tough Socks + Injinji Liners
3.2 oz
Patagonia Thermalweight Capilene Bottoms
Patagonia Midweight Capilene Top
Patagonia Houdini Wind Pants
Arc'Teryx Cerium LT Hoody
Patagonia Torrentshell Rain Jacket
Gloves – Outdoor Research Liner Gloves
Clothing Storage – Enlightened Equipment Stuff Sack

.6 oz
Came with Enigma Quilt
Electronics : 1.51 lb

iPhone X + Lifeproof Case
Battery – Anker 13k mAh + lightning cable
Dual Charger Wall Port
iPod Nano
iPhone Charger
iPod Charger
Headphones
Dongle – Lightning to Headphone Converter
Gut Hook

On my iPhone
$18 – purchased on Black Friday Sale

Headlamp – Petzl Tikka
Electronics Storage – Osprey Small UL Zipsack
Toiletries : .2 lb

Toothbrush – Handle Cut Down
Glasses – Warby Parker Welty
Glasses Case – Eyekeeper Eva
Contact Case
Sunglasses Case
Diddy Bag – Osprey Small UL Zip Sack
Kitchen/Water : 73 lb

Water Filter – Sawyer Squeeze
Water Bottles – Two 1.5 Liter Smart Water Bottles
Evernew 2 Liter
Platypus Platy Water Bottle 2 Liter
Snow Peak Titanium Spork
Cold Soak Container – Talenti Jar
Food Storage – Zpacks Food Bag
Miscellaneous : .39 lb

Towel – Lightload
Trowel
Wallet – Cash, ID, Cards in ziplock
Knife – Spyderco Cricket
2 Trekking Poles – Black Diamond Trail Pro Shock
Shoulder Pouch – Superior Wilderness Designs Custom
1.5 oz
Pee Rag – Bandana
Total base weight: 8.88 pounds
Total Price : $1,139
Why Ultralight Works for Me
Honestly, I never planned to be UL, it just kind of happened. Until recently I wasn't even aware my gear was considered to be ultralight until my significant other brought it to my attention.
On a recent section hike, I kept hearing these jokes about ultralighters. Something like "What is another name for an ultralighter?" *pause* "A mooch." This was before I knew that they were talking about me. Looking back it pushes my buttons a bit, but what are you going to do?  My gear is exactly what I need and nothing that I do not.
During my Appalachian Trail thru-hike I suffered from a stress fracture in my hip for various reasons. However, one of the main reasons the fracture occurred was due to a heavy pack. I do not want to endure the same pain that I had on the AT. I hiked about 1,000 miles for three months on the AT with that stress fracture and it was the most pain I've ever endured and I am not going through that again. I am taking all the measures I can think of to avoid injury this time and a light pack is one of them. I'm carrying the gear that works for me.
We start our Pacific Crest Trail thru-hike on April 15, which is just two days away. I am so stoked to begin this journey and to share with ya'll both on The Trek and with The Pacific Crest Trail's P3 Program. California, I'll see you soon–I'll try not to be a mooch!
Affiliate Disclosure
This website contains affiliate links, which means The Trek may receive a percentage of any product or service you purchase using the links in the articles or advertisements. The buyer pays the same price as they would otherwise, and your purchase helps to support The Trek's ongoing goal to serve you quality backpacking advice and information. Thanks for your support!
To learn more, please visit the About This Site page.