Wrong Way Jose (Days 63 to 67, Vermillion Valley Ranch to Tuolumne Meadows)
Day 63
Start: Vermillion Valley Ranch (VVR)
End: Lake Virginia
PCT Miles Hikes Today: 11.2 from VVR back to the PCT, then 5.2 PCT miles
We had a great night in the tent hostel at VVR – they had real beds for us to sleep in. Twin beds, but still! It felt good to be able to sleep on my side without my hip bones crying out in pain as I rolled over.
We previously planned to wake at five a.m. and do a 20+ mile day, but after my 4th Mango IPA last night, I made an impassioned, only slightly buzzed pitch to the rest of the group that we sleep in and stay for breakfast at seven a.m. We all decided the smiles were more important than the miles, and so we (and every other hiker) lined up at the front door and all rushed inside to place our orders ASAP. I made sure to drink 3 cups of coffee because I knew I'd need to make up for the lost hiking hours later in the day.
After a hearty breakfast, we began the ascent back up to the PCT. Since the water ferry isn't running this year due to the extremely low water levels in the lake, we had taken a five-mile side trail in and needed to take an 11-mile side trail back out to reconnect with the PCT a little further NOBO. Oh, and the 11 miles were all uphill, up and over Goodall Pass. Have you ever tried to pump out miles uphill with a breakfast burrito in your belly? I was having the weirdest burps and lagged behind both Mango and Redline for most of the ascent.
The hike started through a burn zone from last year's fires. We were all a little somber as we hiked, passed by the charred remains of thousands of trees. I'm not sure how VVR was spared from this destruction, but the devastation for a few miles near the lake was total.
We eventually turned away from the lake and found beautiful, unburned alpine meadows and trees. Some seriously beautiful hiking and I found myself lost in the sights and sounds, without a thought in my head.
As we followed Cold Creek, crossing it a few times and rock-hopping over tributaries, the mosquitos came out in full force. When we stopped for lunch, I broke out the bug suit. Redline probably slapped 30 or 40 over the course of our time at the river. This is but a taste of what's to come – I think the worst mosquito days are ahead of us, in Oregon.
We pushed up and over 11,000 foot Goodall Pass and reconnected with the PCT after 11 long miles. We were way behind schedule, but we weren't too concerned – the High Sierra and all of the snowy 12,000-foot passes are behind us, so the miles should come easier in the coming days and weeks.
Our campsite tonight is a stone's throw from beautiful Virginia Lake. Before going to bed, I soaked my feet in the ice-cold lake and watched the fish leaping out of the water to catch bugs. We get a chorus of croaking frogs as we fall asleep tonight. Looking forward to a big day tomorrow to make up for the light mileage today.
Day 64
Start: Lake Virginia
End: High Trail Trailhead
PCT Miles Hikes Today: 23.6
Another cold morning today, around 35 degrees per Redline's thermometer. But we knew we'd be hiking downhill pretty much all day, so we set off expecting the day to warm up quickly. Amazing views of the sunrise over the lake as we turned the corner and headed downhill.
We had two targets today. First, we wanted to put up big mileage to make up for our light day yesterday, to get us back on track to hit Tuolumne Meadows early in the day a few days from now so we can catch the bus to the Yosemite valley. The second target was hitting Red's Meadow in time for a decadent lunch. Redline heard through the grapevine that the restaurant opened for the season two days ago, and that glorious cheeseburgers were to be had. It was about 15 miles into our day, so we knew we had to fly. Which, I'm only slightly ashamed to say, is the reason why I took no pictures between the campsite and Red's Meadow – I had burgers on the mind.
We rolled downhill easily and hit the turnoff around 12:30, having put up a heroic pace for the morning. As we took the side trail in, we quickly realized that Red's Meadow was more of an equestrian retreat than a hiking retreat – we were constantly sidestepping horse poop on the trail in, and we passed about a dozen corralled horses as well. But signs of life were good – it meant the restaurant probably was open. And as we approached the central buildings, we saw that indeed it was! We hadn't had cell service or WiFi for eight days at this point, and you never know if these trail rumors are true, but in this case, the gamble paid off – we ordered double cheeseburgers and sat down to relax.
People on horses ambled by, most of them wearing cowboy hats. I felt a little out of my element for the first time in a while – this is a place of horse enthusiasts, and I'm a long distance backpacker. I'm sure the Venn diagram has some overlap, but almost everyone was on the horse side of the diagram today.
After the double cheeseburger and side of potato salad, I got ice cream and some candy, then decided I was asking for trouble hiking out on a totally full stomach and should probably stop eating. We still had 8 miles to do on the day, so we sadly ambled back to trail and set off. To nobody's surprise, trying to digest and hike uphill at the same time is basically impossible, but eventually things settled down.
On our way to camp, we passed a very cool natural rock formation called Devil's Postpile, which is apparently known as the most badass basaltic rock formation in the US! Both the towering straight lines and the collapsed small hexagon-shaped rubble were very cool to look at.
The mosquitos steadily got worse as we hiked on, and as we approached our planned campsite near High Trail Trailhead, I was constantly swatting them away and feeling little burning sensations as the little bastards found open skin. I found a flat spot to set up our tent, tossed down my bag, and immediately threw on my bug suit. Honestly, this piece of gear is becoming MVP of my camp setup, and I owe it all to Mango – it was her idea to buy them and ship them to Kennedy Meadows. Another example of why it's good to be a part of a team!
Our site tonight has a privy, potable water out of a faucet, and a bear box. I feel so spoiled!
Day 65
Start: High Trail Trailhead
End: Bushcamp in the Lyell Fork River Valley
PCT Miles Hikes Today: 18.4 (plus 1 unintentional bonus mile)
A beautiful, cool morning today. We started the day with 3 miles of uphill, gaining 1,300 feet. I'm not sure if it was the burger yesterday, or the good night of sleep, or soaking the feet before bed, but as I started hiking, I didn't feel like I needed to stop for anything. I raced ahead of Mango and Redline and blasted up the 3 miles in under an hour, with the next 3 flat miles going by just as quickly.
My best time is early in the morning when the sun isn't hot yet. Sometimes it feels like I'm racing up the mountain, chasing shade, just trying to get in as many miles as I can while I still feel good. When it's cool and shady, I can hike forever. When it's hot and sunny, I'm often huffing and puffing and plodding along, just trying to get to the next tree's shade.
Unfortunately, I was moving so fast this morning that I blew by a trail junction and started hiking down the wrong trail. It wasn't until a half mile later, after I got water from a small alpine lake and sat for 30 minutes waiting for Mango and Redline, that something started tickling the back of my brain. Sure enough, I checked my GPS, and I was no longer on the PCT. I sighed, sent Mango a message on the Garmin that I was probably unexpectedly behind her now so she didn't worry, and started descending back to the missed trail junction.
I quickly met back up with Mango and hiked with her a bit, but my legs were still feeling strong, and I hiked ahead. As I got to Thousand Island Lake, a stunningly beautiful series of lakes, I took ANOTHER wrong turn. Fortunately I only got about 100 feet down the wrong trail before I realized my error, and bushwhacked back to the PCT. I sat down and watched the junction to make sure that Mango didn't make the same mistake.
When Mango approached the junction, she turned down a DIFFERENT trail than I did, and just kept on walking in the wrong direction! I shouted her name, and waved my poles, but she had her headphones in. I dropped my pack and ran down to her, and we both hiked together for most of the rest of the day, so that we could always have two sets of eyes on which trail was correct.
We could see Donohue Pass as we hiked up. It's always cool to be able to point your finger and say, there! That's where we will be in a few hours!
As we were climbing, Redline finally showed back up – he had gotten to the same trail junction as Mango, and taken the same wrong path as I did, but he didn't catch his mistake until he was halfway around the lake. Brutal! I can't believe we all got lost on different trails on the same day. Too funny.
The ascent was not steep, but it was so, so rocky. My right ankle was on fire as we got to the final push, and crossed one big snowfield before reaching the summit.
As we descended, more rocks flared up my right ankle again, and I limped my way downhill. This is the worst my ankle has hurt since I started trail. Still, I was reasonably confident that the rocks were to blame, so I wasn't too worried. Teetering on rocks and hopping from rock to rock stresses the ankle tendons something fierce. All I needed to do was get to the valley, sleep it off, and see how it feels tomorrow.
We set up right at the base of the valley. As we started dinner, Redline broke out some wild scallions (?) he picked as he was hiking, and Mango cut some up for her supper. These are the freshest vegetables we've eaten since we started trail!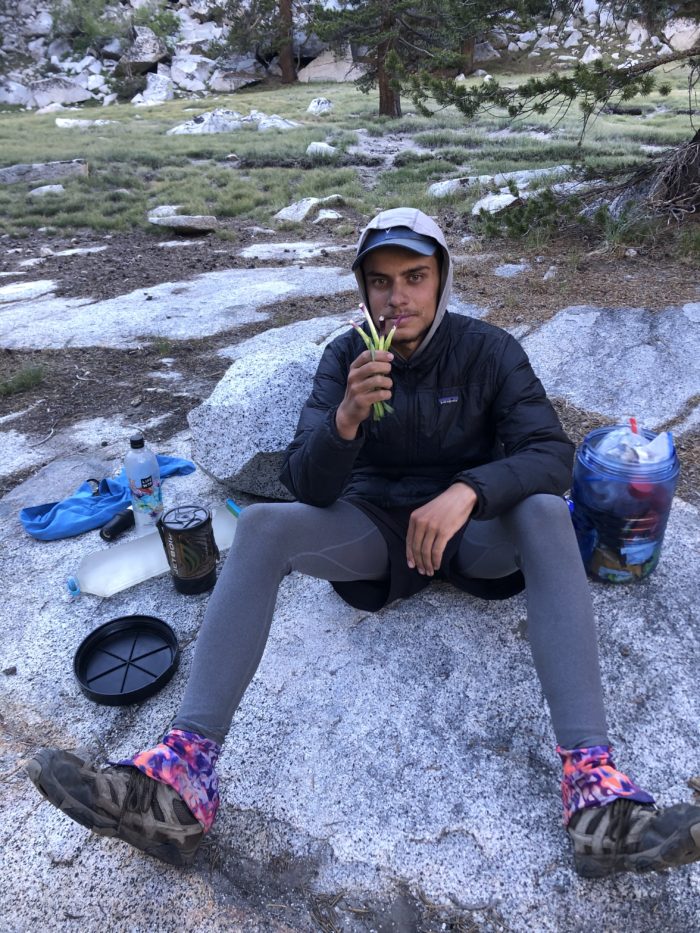 I got to soak my sore right ankle in the snowmelt river running through the valley. It's feeling a little better, but tomorrow will be the big test.
We have 9 freakishly flat miles to Tuolumne Meadows tomorrow, which we will need to bust out before 10:15 if we want to catch the bus to Yosemite Valley. As long as my body recovers well tonight, there's no reason we shouldn't be there in time. But, much to Redline's dismay, it will require a 5am wake up in the morning.
Day 66
Start: Bushcamp in the Lyell Fork River Valley
End: Hwy 120 / Tuolumne Meadows / Yosemite
PCT Miles Hikes Today: 9.0
We woke at 5am, ready to hit the trail and run towards Tuolumne Meadows. The valley we camped in apparently has a lot of bear problems, but the only animal problem we had last night was the local marmot, who decided to chew up both of Redline's trekking pole cork handles while we slumbered. Poor Redline, first the deer chomps on his straps, now the marmot chomps on his handles. He clearly shouldn't have gotten the beef-flavored trekking poles.
The miles came easy, though my right ankle was still giving me some grief. I think I'll opt for the bus tour of Yosemite instead of the hiking tour, to give it some rest.
As we hiked closer to the road, the scenery became quintessentially … Yosemite. Big granite walls poked out from the landscape in ways that don't seem to be anywhere but here – super cool.
We got to the road crossing and store / post office just as it opened at 9. If you can believe it, this is the first paved road that the PCT crosses in over 240 miles. The High Sierra is some seriously remote hiking! We took a break at some picnic tables, eating store food and waiting for the bus to arrive.
Today is the first day of the season that the Yosemite Area Regional Transport (YART) bus was operating – and it was an amazing option to help hikers get from trail to the valley. The bus was air conditioned and I quickly found myself nodding off in the seat, despite the caffeinated soda I had chugged only 15 minutes before boarding.
When I awoke, we were pulling into Yosemite Valley. We could see half dome in the distance, waterfalls pouring off of high peaks all around us, and the Merced River winding its way far below through the valley floor. I had seen pictures of Yosemite before, but I was still shocked at the scale of the cliffs. My neck hurt as I tried to peer at the mountain tops. They quite literally shot out of the floor, up thousands of feet, ending in shiny rock. Amazing. I thought the valley views coming off of Mather Pass would be impossible to beat, but these views put that pass to shame.
As we left the bus, we decided to swing into the fancy hotel, The Ahwahnee, to check if they had any rooms available. Upon hearing that it would be $700 per night, we politely moved on to the much more reasonably priced backpacker's campsite at $6. Our home for the night claimed, we headed to the touristy area where the restaurants are, and gorged ourselves on sandwiches, pizza, and ice cream for the remainder of the afternoon, as we charged back up our electronics.
We retired to the nearby pizza restaurant for dinner, where an employee gave us their 50% off employee discount on our pizzas. Full and happy, we walked back to the backpacker campground, which was completely full of tents.
Day 67
Start: Hwy 120 / Tuolumne Meadows / Yosemite
End: Bushcamp near Soda Springs
PCT Miles Hikes Today: 0.4
The Valley is 4,500 feet or so lower in elevation than Tuolumne Meadows, and the evening was incredibly warm. I slept in my sleeping bag liner and felt very comfortable. Despite the extremely full backpacker's campground last night, everyone went to bed by 9 p.m., and the campground was dead quiet. I guess that's the benefit of hanging with backpackers, we all tend to hit the sack whenever it gets dark! We still woke at our normal time of 5 or 5:30, since all the other campers got moving as soon as it started to get light. We packed up and headed back to the deli to grab breakfast.
We ate double breakfast (egg sandwich and sausage biscuits with gravy), then exploded our resupply across three tables. I was still carrying probably 2 full days of food, so I bounced my mail drop (which had five days of food in it) forward to South Lake Tahoe. Mango picked up her box and I supplemented with a few of her leftovers, and the rest (cheese, avocado, Fritos) were available from the nearby store. We also finalized some logistics for hopping off trail over July 4th weekend to head to a wedding in Colorado. Going to a wedding as a thru-hiker is always so much fun – you get to ruin all the pictures you're in because there is no way to make the thru-hiker beard look well-groomed.
Flights booked and schedule settled, we headed over to the Merced River to find a shady spot and hang out until our five p.m. bus back to trail. Mango and I talked briefly about doing some of the quintessential Yosemite hikes like Half Dome or Cloud's Rest, but at the end of the day, we decided we wanted to relax. My right ankle was still delicate, too. The end result was sitting in the shade by the river, eating pints of ice cream and a bag of Cheetos, drinking White Claw, and occasionally hopping in the ice-cold river to go swimming. It was truly a dream.
Since there are no showers or laundry for hikers to use here, we did some dirtbag laundry in the river and cleaned ourselves off as best we could. I think we'll get the chance to do laundry at Kennedy Meadows North in four days, but I'll take any chance I can get to wash the sweat stains off of my shirt.
Bushwhack and Meals showed up towards the end of our time – they had hopped the bus in and will be hitching back to trail tomorrow morning. Nice, sounds like we will be back to hiking with them!
We also got some bad news from Redline: he is getting off trail for the year here in Yosemite. He'll return in a future year to piece together the rest of the trail. He has a lot to be proud of – 900 miles of backpacking in 2 months, and this was his first multi-day trip ever. It was a lot of fun hiking with him for the past 700+ miles. We'll give him a proper sendoff in Yosemite. Good luck at college next year, Redline – we will miss you, buddy!
Mango and I said our goodbyes and grabbed the five p.m. bus back to Tuolumne Meadows and trail.
We ate some dinner that we packed out from Yosemite at the picnic tables near the bus stop, then decided to meander down the trail until we found a nice campsite, which we quickly found. So, today was technically not a zero day, since we hiked a little under a half mile of trail!
The High Sierra may be behind us, but I hear the upcoming section of trail is anything but easy. We have a few more river fords coming up, and we bounce around 10,000 feet a few times in the coming days. But we are excited to start pushing good mileage again and have shorter sections between towns. We hope for four days to Kennedy Meadows North, then another four days to South Lake Tahoe.
Until next time, happy trails!
-Slice
P.S. If you like this post, check out Mango's trail podcast, Take a Hike!, now available on all major platforms (except Apple for some strange reason, probably due to that time I founded an incubator for rival smartphone operating systems a few years ago. Our greatest success, OrangeOS, was immediately taken down as copyright infringement by the Supreme Court, but Tim Cook clearly likes kicking me while I'm down.) https://anchor.fm/takeahikepodcast
Affiliate Disclosure
This website contains affiliate links, which means The Trek may receive a percentage of any product or service you purchase using the links in the articles or advertisements. The buyer pays the same price as they would otherwise, and your purchase helps to support The Trek's ongoing goal to serve you quality backpacking advice and information. Thanks for your support!
To learn more, please visit the About This Site page.