When You're Going Through Mosquito Hell, Keep Going
The mosquitos got bad around Christie Springs, just after Ashland, Oregon.
Actually, that's not accurate.
They got bad around Hyatt Lake campground.
They got biblical around Christie Springs.
As Hemingway would put it, it happened gradually, then suddenly. Over a couple of miles, the noise in the flat, dry forest leapt from a few isolated whines to a high pitched chorus. From that point on, we were in mosquito hell. They crawled across our arms, legs, and chests when we sat down. When we hiked, they hung behind us as a bloodthirsty apparition. All day we'd cringe as they dive bombed our ears, slap as they pricked our cheeks, and swear as we scratched the welts. When we escaped the forest into a meadow or across a road, they would drift like mist from the trees in pursuit. Even covered head to toe in fabric, they'd bite in between our fingers or prod their way into our chests in between shirt buttons.
This was the reality for myself, my hiking partner Black Widow, and countless others who made their way through Oregon in early July on the 2017 Pacific Crest Trail. The heavy, late season snows gradually melting throughout a hot summer, coupled with an aggressive new mosquito species that moved into Oregon in the early 2010s, meant perfect conditions to breed a swarm.
Black Widow and I had been hiking together since we'd randomly ended up in the same group the day that we all left the southern terminus. It was an unlikely pairing: a 23-year-old German on her first thru-hike before entering the teaching profession, and me, a 35-year-old bartender who couldn't stop staring out the window during school. We had bonded over shared reasons for loving of the Pacific Crest Trail. To us it was magic.
Over our months hiking together, we would often wonder out loud how either of us were supposed to return to normal life after it. Even on the bad days, neither of us could name a place we would rather be. California hadn't been easy. By the end, Black Widow had already endured heat stress, blisters, heel problems, knee problems, shoulder problems, migraines, and a bout of Norovirus. I'd gotten Norovirus and chafing once. It hadn't dulled our love of the trail one bit. However, after the steep, rugged, draining, progressively worse sections of northern California, we were looking forward to the break that was Southern Oregon.
Traditionally, hikers fly through this section. It's the flattest stretch of the PCT, with thick, uniform forests of pine and cedar which block out any views that you might linger at. Also, the mosquitos are there to spur you on. We'd heard all this before, but no one had mentioned their numbers this year.
After a few stubborn days we turned to the heavy poison, dousing ourselves with 100% DEET and accepting whatever consequences there would be down the road. My only hope was that whatever mutation befell my future child was something useful, like a prehensile tail, or one that wags when they're happy.
For all that we put on, the ten hours of protection promised by the bottle lasted for a tenth of that time. After that, we could almost hear the mosquitoes giggling as they licked it off.
The ever present tree trunks and branches that made up our view meant there were no distractions at all from the bugs. The only way to escape them was to hike as fast as possible. We had to think twice whether we really needed to stop for water or food or rest or to piss. The sparse forest floor was interrupted regularly by an obstacle course of deadfall or of lingering snowfields — speedbumps that allowed the mosquitos to catch to our ears and faces.
The conversations we'd been having since Campo disappeared, the silence of our set jaws replaced only by brief flurries of invectives hurled at the world around us. We'd stopped asking how we were ever going to return to city life after this trail and had started fantasizing about a world with screen doors.
There were highlights to southern Oregon: overlooks like Devil's Peak
The beauty of Mt. Thielsen slicing into the sky from white slope dotted with green arrows of pine
The magic of a day spent circling the rim of Crater Lake, where the deep blue water seemed to be the color that all other shades came from.
These kept us going as the trail stopped being magic. The miles became an obligation. The hours blended into one treadmill of frustrations leading nowhere.
One morning, after a dozen identical miles of trail and 215 total miles of Oregon, Black Widow and I walked out of the forest into Shelter Cove. Our plan was to get to this secluded fishing resort for Kokanee salmon early in the day to pick up our resupply packages, eat a hamburger, then return to the woods. However, as we wandered around the resort, with its RV stations, rustic cabins, laundry room, and shower facilities there was a moment of confusion. It was too quiet. We weren't slapping at ourselves. There wasn't a low-boil resentment of nature in general and the state of Oregon in particular.
Where were the mosquitos?
Sure, we'd already killed a couple that landed on us as we passed the T-shaped docks lined with fishing boats.
However, mathematically compared to the last dozen days, one or three mosquitos equaled fewer than zero mosquitos. We laughed at this nonsense, as did the other hikers who gathered beneath the shaded canopy just outside the small convenience store/bait shop with their resupply packages. How had we lucked into this DMZ (DeMosquitoed Zone)? While our electronics charged and our laundry dried in the sun, we joked about our avoidance strategies for these pests, shared gifts from home, raided the hiker boxes, and talked more about the mosquitos.
As hikers spread across the resort for chores or to take a dip in the lake, a woman in her early 40's from Bend, Oregon named No Chicken came to sit across from me on the picnic table. I'd met her in Northern California, when she was planning out a strategy for avoiding the poison oak scattered along the trail. She'd looked annoyed then, but now her hazel eyes were narrowed in disdain. Her shoulders were hunched and her jaw was set.
"I'm done." She fumed "I've had it. I just am not dealing with the mosquitos any more. I called my son to come pick me up."
She looked at me for a reaction.
"Yeah," I replied with a shrug "They're proof god doesn't care."
Between the snow, the fires, the mosquitos, and the smoke, this was a year of breaking points. I'd seen a lot of people hit theirs and had tried unsuccessfully to talk them out of it. Even those that had escaped injury-free from California were dropping out in Oregon. I wasn't going to try to dissuade her. Each of us hikes our own hike, which means we decide when that hike is over. I wished her luck getting home. We gathered around as she divvied up her last resupply box. Then her son pulled into the parking lot and she was off the trail.
Gradually the more motivated PCTers began to peel back off into the forest. Black Widow and I decided to spend the entire day there. How could you pass up this sanctuary? We laid out on the dock in the sunshine, petting every stray dog that passed by on their way to their owner's boat. We marveled at the people complaining about the one or two bites they've gotten today.
"It's a lot worse than last year," one pot-bellied fisherman with a navy tattoo across his greying chest told me as he slapped a mosquito on his arm, the first one I've seen in ten minutes "Hardly any mosquitos at Shelter Cove then."
I nodded in sympathy at this travesty of nature, then headed to the pay showers to wash 10 days' worth of smashed insect limbs out of my beard. Meanwhile, Black Widow got fed pizza and candy by some friendly section hikers.
Later that night, Black Widow and I set up our tents in the woods near Shelter Cove's entrance road where it was free to camp. We unzipped our flaps, dove through the swarm, and zipped them back up quick. Then the now familiar, irregular applause rose from each of our tents as we hunted the intruders down across the nylon walls.
"Yah, it's the best when you only almost kill them," Black Widow announced in her sing-song German after another clap. "Then they writhe on the ground first."
It was as satisfying to witness as it was creepy to hear said out loud.
When the applause died down we settled into our sleeping bags. I started writing in my journal about this unusual, non-enraging day, then paused.
"Hey Wids." I called out.
"Yah?" She called back.
"Are you near your breaking point?"
There was a brief pause as she translated the question, then an instant answer.
"No. Not close. Are you?"
"No."
I wasn't anywhere near it, because there had to be something good on the other side of this. Still, it wasn't easy. The joy of hiking is that you live every minute of every day. The same is true for shit days. And this had been a long string of them with more to come.  
Black Widow and I had come to learn that there were two main kinds of Pacific Crest Trail hikers: The ones that wanted to hike the PCT, and the ones that thought it would be fun to hike the PCT. We'd both seen No Chicken go, and we both knew that she'd let the poison thought enter her mind: I'm not enjoying this right now, so what else could I be doing with my time?
Besides injury, finances, or personal emergencies, this thought takes the majority of people off the trail.
Black Widow and I had come here to hike the trail, no matter what. The last three days were the real test for both of us. While I'd been slathering DEET on every exposed inch of myself, I hadn't been as focused on getting it off my hands before I ate. Because of this, I couldn't keep food in or trust a fart for the next three days, which the bugs took full advantage of. This led to the most terrified I'd been on the trail, squatting behind a tree at 3am, weak and dehydrated with mosquitos crawling over my face as branches snapped underfoot in a wide circle around me in the dark.
"C'mon," I begged the world. "Please, not like this."  
Black Widow was not having any fun either. Her constantly aching knees meant she couldn't run or outpace the clouds of mosquitoes. We'd learned that the swarms were the worst when you were hiking top speed and they were still flying past your eyes. You shouldn't ever look back. I did, and saw a solid black cloud behind me larger than my body. I yelled "Oh, fuck that!" and ran.
Black Widow couldn't. So she just put her head down and hiked inside of the swarm.
I sprinted all the way to the nearest campsite, where another swarm was waiting. They always were. I dropped my pack and got my tent up in record time. The dumber ones went after my pack, hovering around it and jabbing their needles into the nylon, searching for blood beneath the caked salt.
Black Widow stomped in ten minutes later, wordless until she started swearing in sing-song German as she set up her tent. Two Swiss girls had set up their tents before us and watched helplessly as their Teutonic sister was attacked. They'd set up their tents every night by five to escape the worst of it.
They were considering leaving as well. I told them not to let the mosquitos win. However, we had to accept that there was no way to win against them either. There was no longer any satisfaction in killing them. They didn't flee like citizens from a Kaiju when one got crushed. They didn't show remorse when they died, or even let out a cartoonishly satisfying "eep!" They were just mindless compass needles magnetically drawn to our flesh. We became adept at feeling the pricks and killing them before they fed, but the itchy welts still came up.
So we took even more responsibility for our experiences. We lowered our expectations of what this trail would be and lived for the quiet moments by a lake, where the breeze scattered the glittering sunlight before bringing cool relief to our faces, blowing the mosquitos away.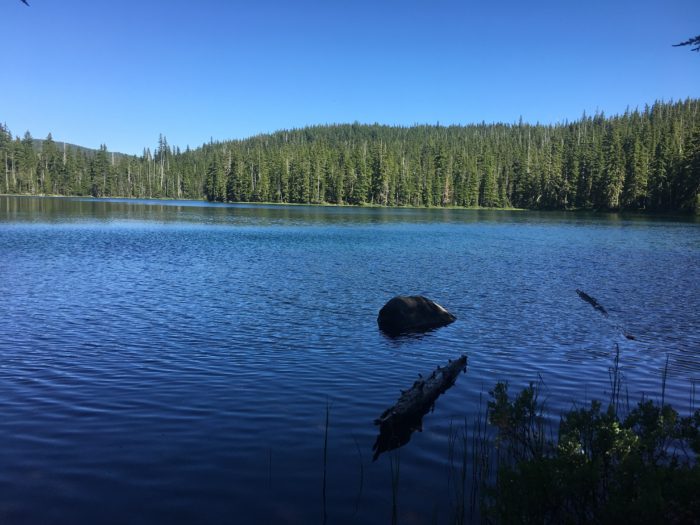 We searched for burn areas to rest, where the sterile, ashy ground and dry dead trees meant no eggs were laid.
As we hiked on, Southbounders began sharing the good news: we were getting close to Three Sisters. The mosquitos weren't so bad there. Black Widow and I shrugged at the news. Southbounders couldn't be trusted with distances, or anything really. We were resolved to hike on for however long it took. This was our world now: a dirt treadmill inside tree trunk walls beneath a ceiling of branches, where waves of mosquitos rose and fell but never disappeared.
We were taking lunch on a lake shore when a Southbounder told us we were only 20 miles from Three Sisters.
We were swatting at our faces when a Southbounder told us through a bug net that we were only 7 miles from Three Sisters.
We continued on. Then, all at once, the forest opened up into a new world.
All the branches became mountains.
All the trunks became meadows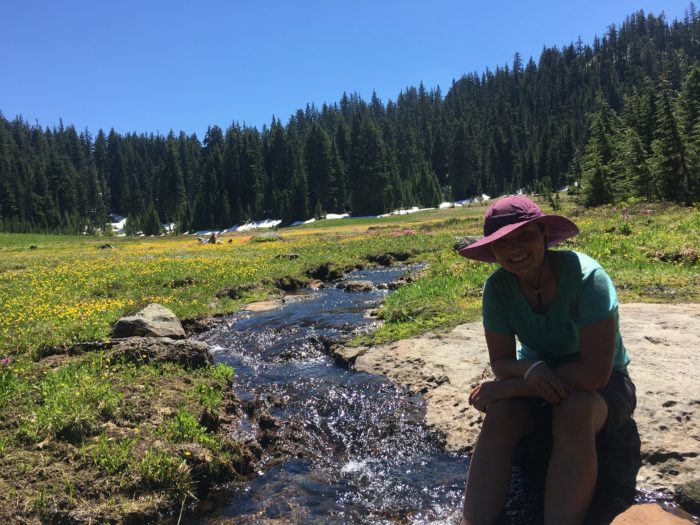 And all the mosquitos became butterflies.
We laughed and clapped and hugged and shook each other and grinned. We'd made it to Thee Sisters. We were out of mosquito hell. It wasn't just freedom. We felt reborn to the trail. For the first time in weeks, a better future awaited us. We snapped photos of the mountains, then took lunch in a meadow. We sat with our feet in the snowmelt creek and laid back in the flowers with nowhere to be. The butterflies lit on us, unrolling their proboscis to gently lick the salt off of us that had accumulated from racing through the forest. We could have stayed there forever. It was a magic day, unimaginable just an hour ago.
Laying back with the grass tickling my neck and arms, I felt bad for No Chicken. She never kept walking, so she'll never see them transform. In her final memories of the trail, she'll always be stuck in mosquito hell.
There were more swarms in the last few hundred miles of Oregon, but they were never as numerous or ever-present. They finally tapered off around Washington, just in time for the black flies. They were bad, but nothing on the PCT was ever as hard as southern Oregon.
The mosquitos probably won't be as vicious this year. But there will be something that you encounter. A long stretch of ugly burn area where the sun nips at your shoulders. A road walk detour that won't ever end. A series of mornings where your fingers and toes ache from the cold as you lace up frozen shoes. Post-holing through the snow for miles. Climbs that send your lungs reeling and drop you to the trailside. A muddy descent you've slid down again and again, scraping your legs up. Boredom. Loneliness. Pain. A stomach bug. And mosquitos. There'll always be mosquitoes.  
Whatever it is, keep hiking. Do not give up. You only have one first time ever to hike the PCT. Just keep putting one foot in front of the other no matter how bad it gets and I promise you, at some point down the trail, your mosquitos will turn into butterflies.
Affiliate Disclosure
This website contains affiliate links, which means The Trek may receive a percentage of any product or service you purchase using the links in the articles or advertisements. The buyer pays the same price as they would otherwise, and your purchase helps to support The Trek's ongoing goal to serve you quality backpacking advice and information. Thanks for your support!
To learn more, please visit the About This Site page.