Patagonia Refugio 30L Daypack Review
Hello? Waiter? Yes, I'll have the word salad please. Which one you ask? Why, the "7.3-oz 400-denier 100% postconsumer recycled polyester with a PU coating and a PFC-free DWR finish (durable water repellent coating that does not contain perfluorinated chemicals)" of course.
What's that? I'm just saying what the Refugio Daypack is made of? And it's just a long-winded way of saying "recycled, waterproof polyester?" Well. I'll just have a breadstick and a crouton then.
Patagonia might be the most ethics-obsessed outdoor company in the world. Actually, scratch that. They might be the most ethics-obsessed company, full stop, on this mortal coil. Every square centimeter of the Patagonia Refugio Daypack is a testament to their commitment to fair trade and recyclable manufacturing. This is undeniable, since it says so on every tag, product description, and on the rabbit hole that is their activism page. Although sadly, as far as I know, their "self-imposed 1% Earth Tax" hasn't caught on at Google, Tesla, or Amazon yet.
Does the price of that activism get passed on to the consumer? Almost undoubtedly, yes. Are most consumers happy to pay extra to know that they're supporting a company that at least makes some effort to save the mother nature? Probably so; who's to say. And how much, it's impossible to say, but clocking in at $120 on Patagonia's website, I find the Refugio to be a decently affordable pack for its size and versatility. But is it ultimately worth it?
MSRP: $119
Capacity: 31L (1892 cubic in.)
Weight: 795 g (1 lb 12 oz.)
Materials: Waterproof, recycled polyester
Circumstances of Review
I've been carrying the Patagonia Refugio everywhere with me for three months now. Seriously, I ride my bike to work every day with it, and it has also been a faithful companion in the back seat of the engine for every roll of the year. So far it has been all over Eastern Washington and Oregon, as well as Arizona, Texas, and Nevada.
I've also carried it on a number of day hikes and on a couple of overnight trips in Umatilla and Wallowa-Whitman National Forests—just to make sure that it's truly up to snuff in terms of carrying capacity, longevity, and water resistance.
Options
The Refugio Daypack comes in both a 26L option and a 30L option. The 26L is cheaper by $20, but it has a full-pack zipper up the back, which I'm not a huge fan of. Nor does it have shock cord on the outside like the 30L. With those added securities, I think the 30L is much more suited to actual outdoor activities and serves equally well as a commuter or day pack.
There are also lots of dope colors. Patagonia's design team was on point with this one, as per usual. I wish I'd gone with something more adventurous than black-on-black, but I'll just live vicariously through y'all.
Fit
The Refugio is built with a fixed 19″ torso length, which they have deemed the "Refugio Fit." I do find the fit to be fairly universal, as I'm of extremely average build, and there's plenty of room to adjust up or down. The one sternum strap fits my torso well, as do the shoulder straps. I think the shoulder straps and the ventilated back pads are also well-padded without feeling either excessive or austere.
Packability
I think this is the point that makes or breaks the Patagonia Refugio. It's advertised as a commuter pack that helps "ease transitions from work to play," and so it needs to really accommodate space for any of your outdoor gear as well as your laptop and other gadgets. Maybe an iPad or something. I don't know; I'm a dinosaur who already missed that boat. Regardless, I find the removable laptop sleeve to be imperative, and I think it's a keystone feature for this thing. I loved having it with me for those 14-day stays in hotels.
On the other hand, for the kinda fast-packing/kinda backpacking trips I took, I kept the sleeve out and had more than enough room to fit all of the essentials. So I think it lives up to its versatile hype.
Even with everything packed into the Refugio, there was leftover space in every compartment for other essentials and food. I didn't even need to bring the fanny pack.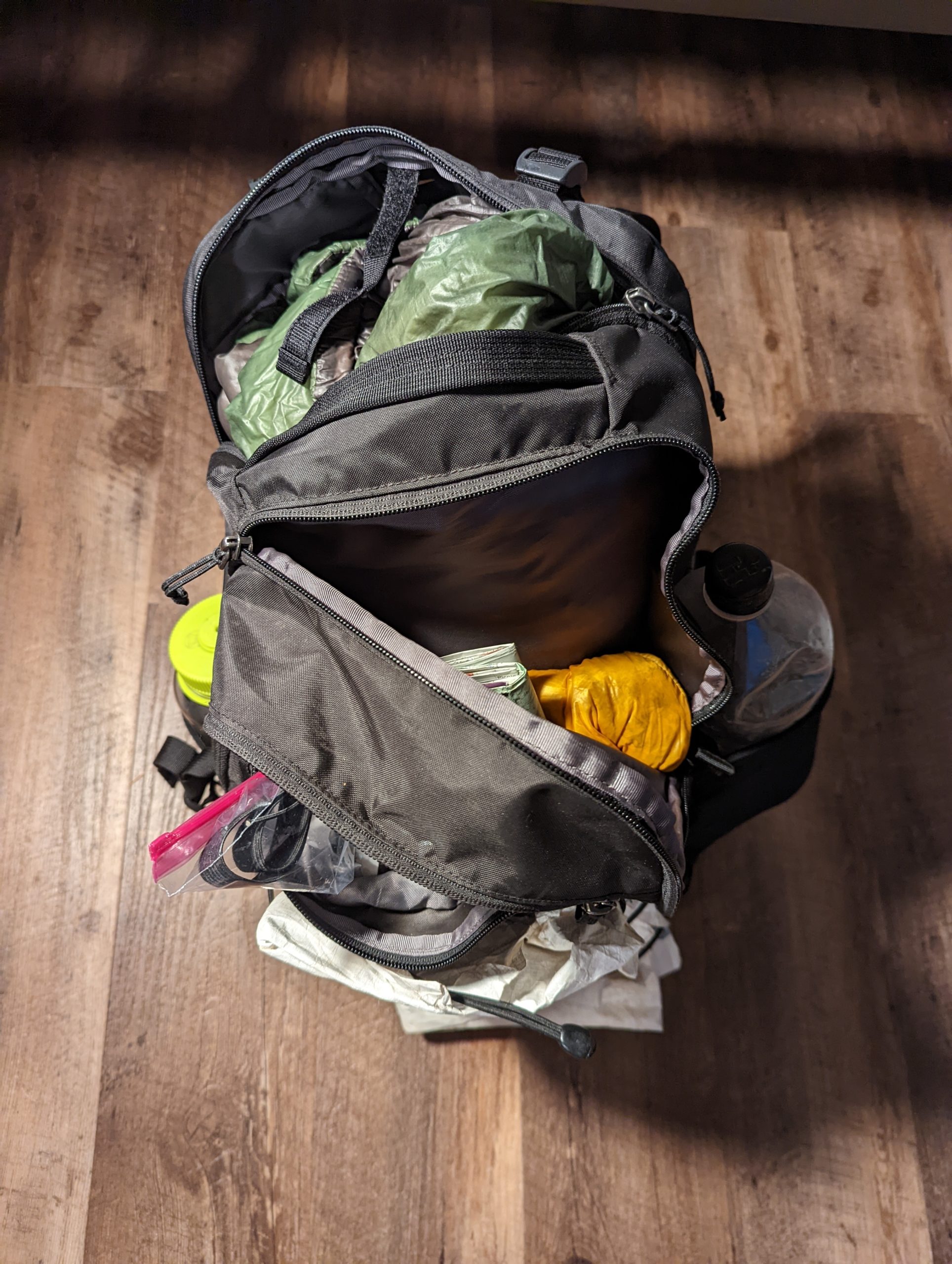 Patagonia Refugio Daypack 30L Features
I'm going to break up the "features" category into two parts because let's be honest: if you're considering buying this pack, it's not because it has the most features, it's more for the brand recognition and quality of the materials used. You'd be hard-pressed to find a corporation with more sustainable practices than Patagonia (although small, cottage companies are perhaps more sustainable (but that's a different type of business model/argument (but are all corporations inherently unsustainable? (I'm not sure, my high school economics class didn't teach me that)))).
Technical Features:
Padded 15″ Laptop Sleeve
Breathable Back Panel And Hydration Hanger
Bike Light Clip
Dedicated Desk Caddy compartment
External Shock Cord
19″ torso length fits most adults (the "Refugio Fit")
Ethical Features:
Patagonia Refugio Daypack 30L Pros
Versatility
This pack holds up under a good variety of circumstances, so it's a great option to always have in your backseat or on your back itself. There's a lot to be said for a single backpack that serves you well at work, at the gym, on a bike, or on a mountain.
Durability
I'm not the hugest nerd for the D, but it is my understanding that 400-denier polyester is a pretty tough material. And after three months of continuous usage, I can say that this pack is showing absolutely ZERO signs of wear in any spot. All that with 100% recycled materials is a pretty good deal for every party involved.
For the Love of All That is Holy Ergonomic Water Bottle Pockets
How much I love easily accessible, flexible water bottle holders. Seriously, it's such a small joy to not have to take off a pack, or strain and flail with wanton abandon, to reach and put back those things. The Refugio pockets are made with 100% recycled nylon, are very easily accessible, and also show no signs of wear–despite repeatedly heavy usage.
Water Resistant
Although this may seem like an industry standard at this point, I'd say that in the arena of day packs, water resistance is still not as common as it is in the long-distance backpacking community. That said, the Refugio is a notable exception and has performed well in the rain every single time it's been called upon (which is pretty often in Washington). That said, I'm not sure I'd pack my laptop for an extended walk in a thunderstorm, but all my maps stayed dry despite six or seven hours of fairly constant drizzle/rain.
Patagonia Refugio Daypack 30L Cons
Top Heavy
If you put too much weight in the top accessories pocket, then you can count on the pack flopping open every time you open either of the other two main compartments. And if you left that top accessories pocket unzipped while you were getting into those two main compartments, well, you can count on all your silly things like toiletries, sunglasses, headphones, sunscreen, and Pokemon cards to go spilling out everywhere. Definitely not speaking from experience.
No Hip Belt
I'm a simple man, and all I'm asking for is a simple hip belt. Nothing fancy. It doesn't need padding or pockets or anything, just a little bit of extra weight distribution when it's being worn on the trail. I understand the lack of need for one in most circumstances that this pack was designed for, and perhaps the maximum load it was designed to carry doesn't necessitate a hip belt, but I still think that it would keep the pack locked into your body for more strenuous exercise. It would be an easy add-on, at any rate, and that seems like an oversight. A little stashable pocket for them would be the perfect feature.
Weight
Weighing 1lb 12oz. (28oz.) the Refugio clocks in right around the middle of the daypack herd in terms of weight-to-carrying capacity ratio. It's not that heavy, but it's not as light as some of the higher-end options that are dedicated trail packs like a Pa'lante Joey or Gossamer Gear Vagabond.
Conclusion
It's worth noting that I went into this review wanting to be underwhelmed with the Refugio. There's a certain collective aversion to Patagonia in the backpacking community, you know—this subtle elitism that probably stems from the fact that Patagonia has essentially rebranded itself as a lifestyle brand as much as an outdoor company. Patagucci is a portmanteau I've heard thrown around once or twice.
That being said, the Refugio is an undeniably great daypack. The materials are top-quality, the comfort is notable, the versatility is intoxicating, and overall my few complaints are ultimately frivolous.
In terms of price point, it's pretty much impossible for me, or anyone really, to put a price on morality. All of the sustainability and ethics that Patagonia puts into the manufacturing of their products sort of shields them from the criticism of being overpriced. Although, at $120, I don't think the Refugio will break the bank. Especially for all the uses you can get out of it. It's good to know you can count on the Refugio in so many different situations because, as Jim Gaffigan once said, you never know when a hike might break out.
Shop the Patagonia Refugio Daypack
The Patagonia Refugio 30 Daypack was donated for purpose of review.
Affiliate Disclosure
This website contains affiliate links, which means The Trek may receive a percentage of any product or service you purchase using the links in the articles or advertisements. The buyer pays the same price as they would otherwise, and your purchase helps to support The Trek's ongoing goal to serve you quality backpacking advice and information. Thanks for your support!
To learn more, please visit the About This Site page.