PCT CA SECTION G
WALKER PASS TO CRABTREE MEADOW
MILE 652 – 766
Day 40 – 16.6 miles
FINALLY we're back on trail! Feeling so thankful that my body bounced back quickly and I'm still able to do this.
The day started in Mojave, we woke up at 4am to catch the 4:40 bus to Ridgecrest. I was half dead on the hour and a half long ride there, thankfully, there was a nearby Starbucks where we got dropped off and we were able to get some coffee and a small breakfast. The bus then picked us up in Ridgecrest at 7:50, and another hour later, we were at Walker Pass.
We got a late start to the day, around 9am, but my plan was to just take it easy today, no rush.
It felt so good to be back on trail, I'm just so happy to be here. This whole experience has really taught me to not take this for granted. I'm actually feeling like all of this probably happened for a reason, this whole experience has been very meaningful to me and I see a lot of progression in myself.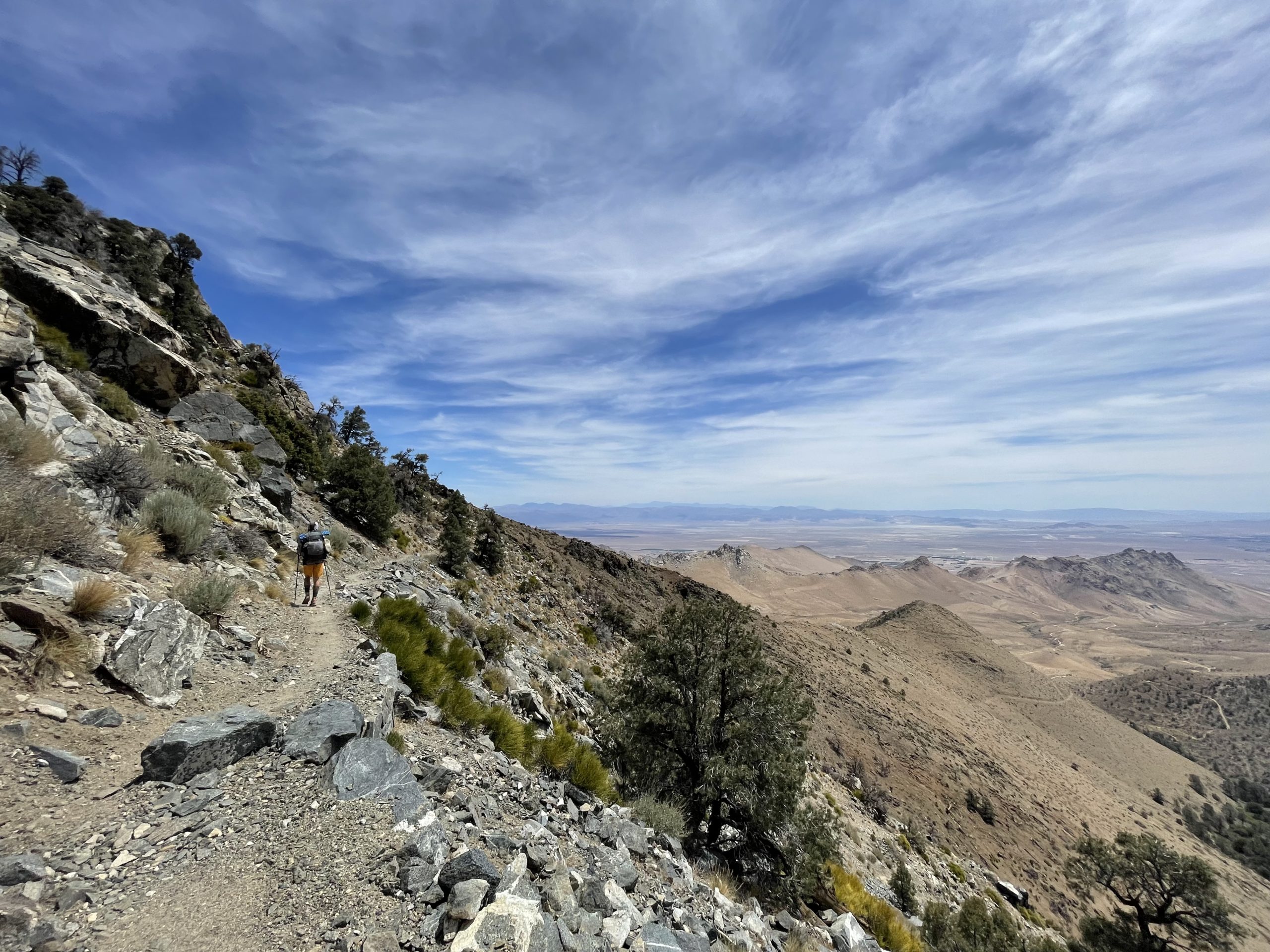 I went into today honestly really scared. What if I get dizzy again? What if I haven't figured out what's wrong? There's a lot in life we can't control, I'm doing my best to learn from my past mistakes and to make forward progress, and I also understand that sometimes things just happen.
The landscape is changing, there were so many Joshua Trees today and it was beautiful. The terrain is also becoming a lot more mountainous and I'm sure it's only going to get better from here! I'm so excited to see the High Sierra, and almost more excited to see my NorCal again.
Just trying to take things one day at a time though, and appreciate the time I have out here because if I've taken one thing away from my dizzy spell is that this is going to end and this is all temporary. Not saying that I'm going to have crippling vertigo and need to quit, but this will end, whether it be at the terminus or otherwise. Just thankful for another day out here, hope to have another one tomorrow.
Day 41 – 18.5 miles
Today was great! It's finally starting to feel like less of the desert. We woke up late, but neither of us slept well so it was ok. We hung out in camp for a while and I drank a trail coffee for the first time in too long.
We got going and filled up our waters a mile in, there were two main climbs today, the first of which was in the very beginning of the day, then the last was at the end.
The landscape changed dramatically, water still isn't abundant but with only 3 days of food the weight has been a lot easier on me.
Since we both slept terribly, we decided to take a mid day nap at the water source. I got about an hour of sleep and actually really enjoyed the nap, might have to do that more.
We decided to push a bit further today because we want to make it to Kennedy Meadows south in time for the grill, which closes at 4pm. I would just love a burger, and we also have a few boxes to pick up.
It's very windy where we're camped tonight but that's ok. It's an easy 15 miles into town tomorrow and I'm looking forward to it. Glad to be out here for another day.
Day 42 – 15 miles
Today was the end of the desert! I'm so glad, the desert absolutely ruined me and I don't feel even the slightest bit bad about skipping the last bit of it.
We went fast today, the grill at the Kennedy Meadows General store was on my mind and I was going to get that double cheeseburger. We stopped at the South Fork Kern river, a much welcomed sight. Angler tried some fishing, didn't even see a single fish.
We carried on, propelled forward by hunger. The landscape is different now, the cacti are sparse and the skyline is jagged with granite spires and domes. I'm so excited to see the mountains of the high Sierra. It's already so perfect.
We got to Kennedy Meadows South around 2pm, we got our food, resupply boxes and relaxed on the patio until around 5. We found a quiet spot away from everyone to camp tonight. We saw Faith again and it was so good to see him! It's been a really long time.
Tomorrow we begin the Sierra, and I'm excited. Glad to be here for another day.
Day 43 – 14.3 miles
Today was our easy day, I wanted to make sure we had a "down" day after Kennedy Meadows to celebrate finally being out of the desert. Today was also Angler's first opportunity to catch a Golden Trout, which he has never caught before.
We woke up at behind the Kennedy Meadows General store, which was awesome and also a lot quieter of a camp than I had anticipated. Everything was wet with condensation and it was super cold.
We made some coffee and coco to warm up, and walked the road to the campground to save a mile, sue me. We got to the South Fork Kern and had a nice breakfast, Angler fished.
Unfortunately, at our second water source, we ran into a women who was hiking with her dog. It was a really aggressive dog and unleashed which I just hate. Of course it started growling and acting super aggressively towards us, I do not tolerate aggressive dogs, they are dangerous and I know people who have been hurt very badly by dogs like this. It took me threatening to pepper spray it for the women to get control of it, and I'm just so disappointed with people like that, makes me feel really unsafe in a place I should feel safe.
Usually that kinda thing ruins my day, but I didn't let it today. This was our easy fun day. I'm gonna have a fun day.
We got to camp around 2pm… crazy early but Angler wanted to fish some more and relaxing is good for my body, so I'm not complaining. A lot of people showed up here and it's not quite as peaceful as the General Store. That's ok, beggars can't be choosers, usually everyone shuts up around 8 anyway.
Hoping so, there seem to be two drunk dudes just being general drunks here…. I can't fucking stand drunks. Hopefully they just keep to themself, this is why I don't like camping in big groups like this.
Oh well, might have to face my fears of the earplugs and use them (I semi convinced myself that they contributed to my vertigo, wondering if it was actually more of an electrolyte imbalance issue though cause it turns out we were only making 1/2 the amount we should have been….).
Day 44 – 18.9 miles
Today was just good all around. We woke up to a small amount of condensation but nothing major, and I made a cup of coffee. It was cold so we got moving quick.
Most of the day was a climb, we had a big one in the morning and then another to finish off the day. We weren't sure how far we'd get so we just kinda waited to see how it went.
I was hungry all day, I can't seem to eat enough food. The views were amazing, and even though there wasn't as plentiful of water, I was still happy about the small amounts we did find.
I just felt really thankful to be here today, and thankful to be doing this with Angler. A lot of people ask how we can stand living in a tent with each other for 5 1/2 months and I still don't really see what's so hard about it? He's my best friend and even when we bicker I still wanna spend every day with him anyway.
Did I mention the views??? Holy crap. Tonight we're camped at a really nice secluded spot near a nice view. We tucked ourselves up in some granite pillars to hide after the absolute shitshow of people at the meadow yesterday. We definitely were needing more space tonight and it'll be nice to just rock a piss wherever we want.
This is the highest I've ever been! 10,699'! A lot of people have been fear mongering about the elevation, so far we feel fine, and I'm just gonna let things unwind for us and make those calls for ourselves.
Sometimes I get scared that my body will freak out, but yknow what? I won't know til I try and at least my OOP maximum has been met now so any future hospital stays will be free! Just kidding, I'm sure it'll be fine.
Day 45 – 9.9 miles
+2.2 miles down the Trail Pass trail and about 6-8 miles of road walking while trying to get a hitch.
Today was rough, I woke up just lacking the general motivation to do anything. Just having one of those days. First time on trail where I woke up and just didn't want to hike.
The day went by quick enough, the terrain was easy and we got to the Horseshoe Meadow Trailhead around 1pm.
This is where the shitshow began. We tried to hitch, there was hardly anyone in the parking lot anyway. An hour went by, two hours went by, maybe we aren't in a good spot? We had started walking the road and we're getting further and further away from anything.
We were running out of water, it was hot, I was out of food. Three hours went by, still nothing. I had began to give up. We turned around and headed back towards the creek, we might have to stay the night here.
Four hours crept up on us, we were almost to the creek. Hunger gnawed at my stomach, I felt like everything I was trying just wasn't working.
Around the third hour I had dug out my Tyvek where I had made a PCT HIKER TO TOWN sign, every car that had passed us at this point had just waved and kept driving so maybe if we made our intentions more clear (as if the thumb out and faces filled with desperation wasn't enough of a hint).
A 4-runner drove by on the opposite side of the road, I held my sign high and hoped for the best. The man stopped, he said he'd give us a ride but there was a fee, I didn't even care, I would have given this man my whole damn pack at this point to just get us off this road.
He said he'd come back, he had another hiker that was waiting for him at the trailhead. We waited patiently, he came back and gave us the much needed ride to Lone Pine. His name was Brian and he gave us his number, and after the long drive to town, I understood the fee and didn't even mind paying it.
Brian was awesome, we'll probably get a ride back with him too. He had just had knee surgery and his positivity really helped turn my day around. He recommended a cafe and we said sure! Drop us off there! And I'm glad he did, I destroyed the burger within 5 minutes.
I was so tired and spent by the time we got to the motel that I pretty much did laundry, took and shower and fell right asleep. I actually wrote this a day after because of how spent I was. All in all, the day started pretty bad but Brian really helped turn it around. The trail provides.
Day 46 – 0 miles
Today was good. Woke up, had a good breakfast at a local diner, and then got to chores. Nothing particularly exciting about today, other than for the first time since we started I genuinely woke up sore. Not the sorest I've ever been by far, but still there. I actually woke up in the middle of the night to take an Advil cause I can't sleep when I'm sore (or any other time for that matter fml).
I am a little concerned about the elevation, particularly because of my insomnia and weird vertigo issue. But, the ER said I'm good and if it happens again just wait it out, I'm not dying. And I sleep like shit all the time anyway so maybe I'll just be operating at my baseline, might work out better actually.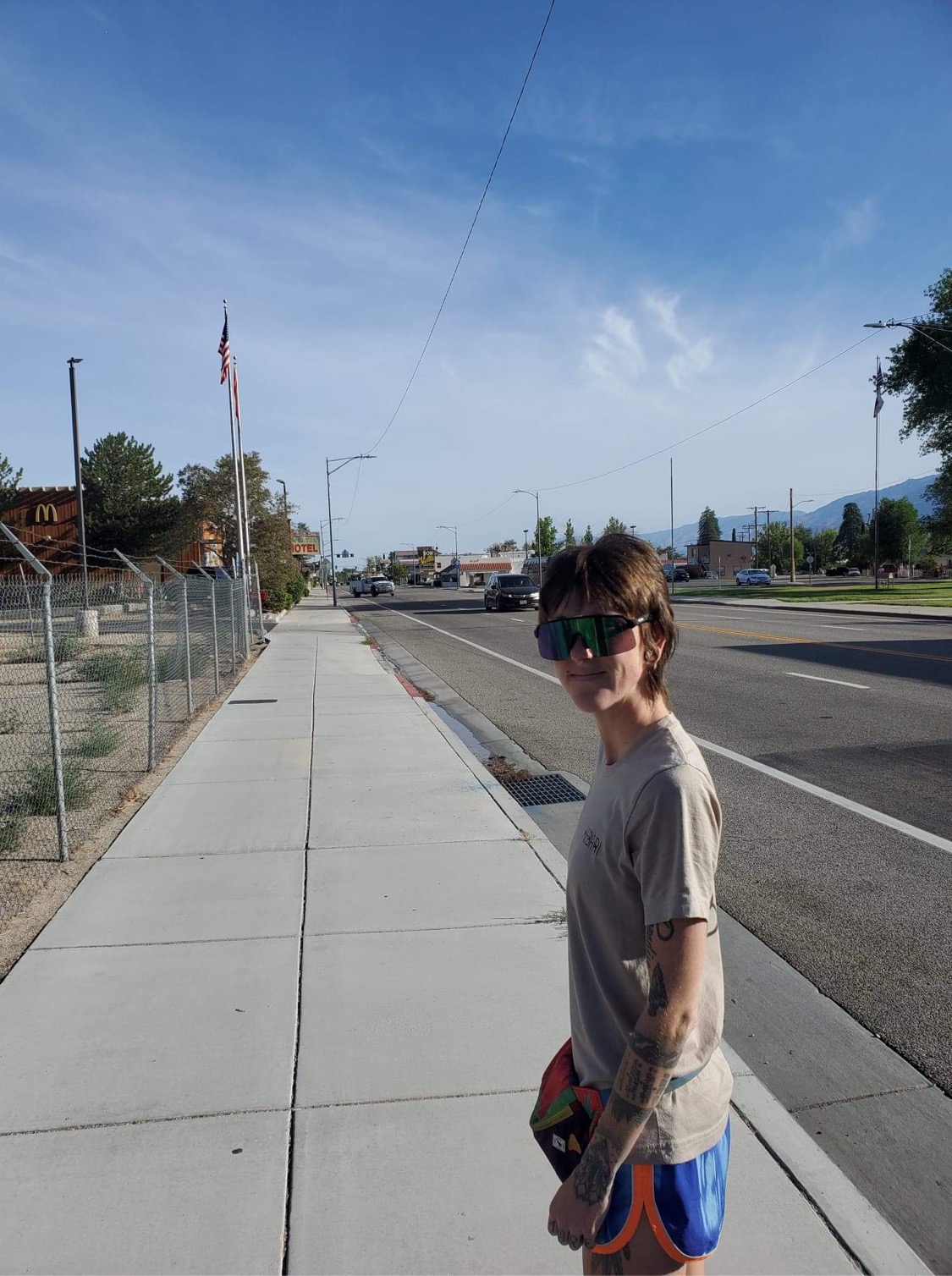 We got some good chore stuff done, got some more food for Independence to ship ahead and arranged a ride with Brian tomorrow. I also bought a new Thermarest (the slick Uberlite one, I'm also using a closed cell foam pad underneath for durability and insulation) because as much as I wanted to love the Sea to Summit one, I just didn't. I hit the ground while sleeping and I'm only like 105lbs so that seems ridiculous to me.
Pretty excited to see what the Sierra has to offer. The rest has been nice. You can see the mountains so good from here and the people who live here must just love that. How cool would that be to see them year round and watch them change with the seasons.
Day 47 – 9.9 miles
Wow! Today was awesome! We entered the High Sierra and it's everything I could have hoped it to be.
We started the day with a huge breakfast from Alabama Hills Cafe, then went back to the hotel to wait for Brian to pick us up. At 8am we were off to the trailhead, at 8:40 we arrived at Cottonwood Pass trail.
Cottonwood pass was pretty easy, the hardest thing is just the weight of all this damn food in my bear can but the longer we're out here, the lighter it will get. We stopped at Chicken Spring Lake and weren't all that into hanging out long because of the larger crowds bathing in the lake. The views were pretty good until we hit the Sequoia National Park sign and then wow! Just wow.
The meadows and towering granite peaks were just perfect. We decided that we wanted a bit of solitude tonight since the groups in the Sierra seem large and abundant, so we opted to take a side trail that wasn't listed on FarOut, in hopes that nobody else would use Gaia like we are.
Score! We ended up camping along Rock Creek Lake which is just an amazing place. The view of Mount Whitney is arguably the best you'll get (I might change my mind later, I'm just so blown away with all of this). Angler even caught a few Golden Trout today, life is good.
There's a faint smell of smoke in the air and I'm hoping nothing is on fire, smoke makes me kinda nervous but at least we have a lake to jump into so we won't burn alive worst case scenario.
I'm so excited and thankful to be here. I'm thankful that my body endured the ridiculous amount of elevation gained today, and I'm thankful that Angler is here to enjoy this with me.
There's a 10% chance of thunderstorms today, and I'm not gonna lie, I kinda hope we get one tonight because I like them (of course, when they aren't dumping on my actual person and I can be tucked away inside my tent).
Day 48 – 11.1 miles
+1.2 miles to Crabtree Meadow
Today was good again! The smoke had cleared completely and we decided since we had low miles planned for the day that we wanted to sleep in. Even though sleeping in for us still means getting up at 6:30, it was nice to toot around in camp and not just rush out like normal. And I'm so glad we did, because we ran into Michael who we hadn't seen in probably 500 miles!
We slowly meandered our way back to the PCT, following the blissful sounds of a crystal clear Rock Creek along the rest of the way. On the second crossing of Rock Creek we took a break, Angler caught some more fish. We knew a climb was coming up, so we cameled up and hit the road.
About 3/4 of the way up the climb, we met a large group of hikers who we hung out with for a while. We met High Blazer who we finished the rest of the climb with. Periodically stopping to admire the beautiful landscape and snap a few photos. Words cannot describe this place, I'm just so happy to be here, I really can't say it enough.
Right before Crabtree Meadow, I had happened to mention to High Blazer that I had done the 7 Peaks Challenge while we were on the topic of peaks (he was telling me about how he had the gpx file for the Sierra High Route and now I know what I'm doing next time I have Wi-Fi). Amazingly enough, he knew the person who started the challenge, and he was actually with her for the first two peaks.
FriedGreenTomato was waiting at the junction of Crabtree Meadow, just like High Blazer had said. I told her I did her challenge and she was so excited to hear that someone else had done it! We talked about how it absolutely kicked our butts and I told her about my vertigo episode. We shared a good laugh about how wrecked someone can get.
I expressed my interest in the CDT while we were mutually bitching about the desert section, and ironically enough she had done both the AT and the CDT. I think she may have convinced me to do the AT, actually…. Didn't take too much honestly.
I really love this lifestyle even when it's hard. I hope that I can continue to do this for a long time. I'm really getting a lot from this experience and I'm thankful to be out here for another day.
I'm going for Mount Whitney tomorrow and I really think I can do it. Even if I fail, I will be proud of myself for trying.
Affiliate Disclosure
This website contains affiliate links, which means The Trek may receive a percentage of any product or service you purchase using the links in the articles or advertisements. The buyer pays the same price as they would otherwise, and your purchase helps to support The Trek's ongoing goal to serve you quality backpacking advice and information. Thanks for your support!
To learn more, please visit the About This Site page.