PCT Week 2: Julian to Idyllwild
We've passed 100 and then 150 miles! This has been the week of the Altras as our feet expand into their newfound toe space and adjust to the zero drop with zero easing in. We've been treated to expansive views and desert blooms at the cost of long climbs and water carries. I also spent half of a stormy night trying to get my blood sugar down after a pump mishap. But we've had a blast and are enjoying our first real zero!
As evidenced by the continued roller coaster blood sugar graphs, I have not perfected managing my sugars yet. But seeing as how the entire rest of my body is still adjusting to hiking all day every day, I'm giving myself a bit of grace!
Day 7: Julian to dry campsite, 6.40 miles
After the hot couple of days that we had getting into Julian, we decided to do the climb out late in the day. We spent the day eating pie at Mom's Pie and hanging at the Julian Beer Company.
Trail angel Ghost gave us a ride back to Scissor's Crossing where we immediately got some trail magic from Bad Santa. We connected our steps from where we originally got picked up and then climbed once the sun started setting.
We were treated to sweeping views of the valley and a cacti forest as the sun slowly set. We hiked a little over 6 miles into the night to a somewhat sheltered campsite on the ridge.
Day 8: Dry campsite to Barrel Springs, 18.94 miles
We woke with long water carries and a long day ahead of us. With expansive views all morning, we finally made it to the third gate water cache.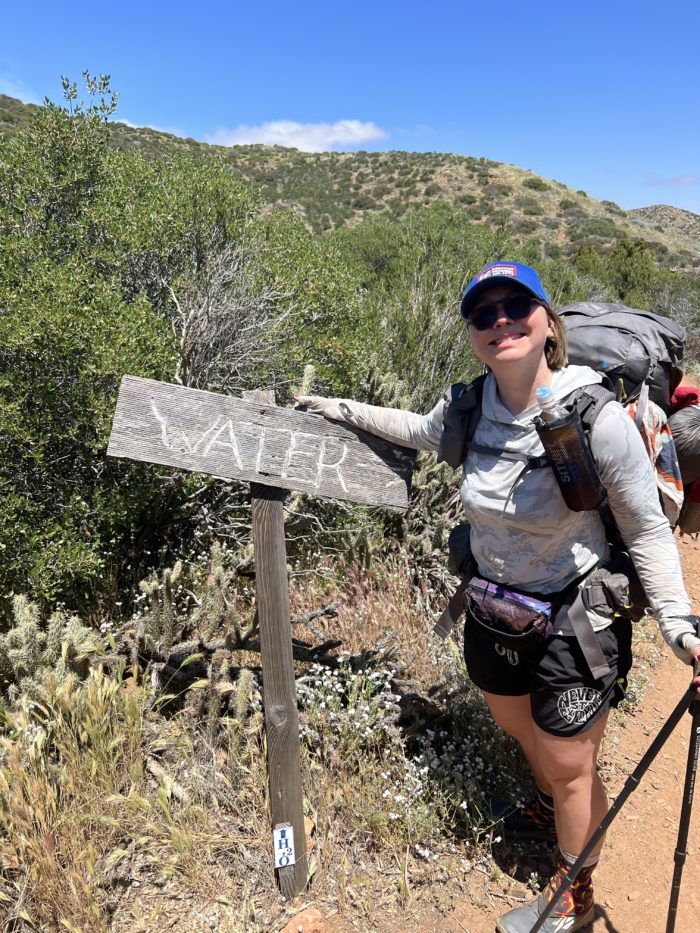 With the much wider Altras, our blisters finally had some time to breathe, although our feet were very slowly getting used to the zero drop. Every ache or pain resulted in a panic- is this pain going to last until Cañada?!
After a long day and a little bit of hobbling, we hit 100 miles! I'm so proud of us! We camped at Barrel Springs campground, which had plenty of sites and a beautiful spring-fed trough.
Day 9: Barrel Springs to picnic tables, 13.88 miles
After leaving camp, we hiked miles through the most PERFECT meadow. When I say we were obsessed with this meadow, I'm not lying. There was not another soul in sight, cows mooed lazily, the wind blew through the grass, and we were very happy.
After many meadow miles, we all of a sudden came upon the famous Eagle Rock!
We eventually made it to the Warner Springs post office turn off and picked up our resupply box.
After leaving Warner Springs, we hiked through more…wait for it…meadow!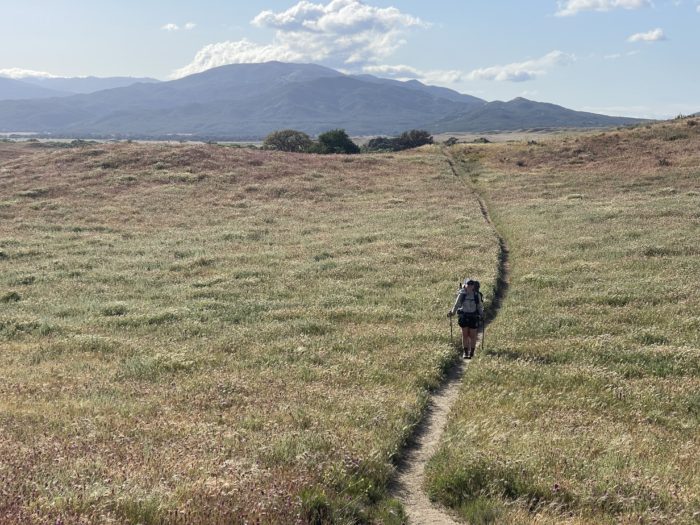 We camped in a beautiful oak grove for the night, protected from the wind.
Day 10: Picnic tables to Mike's Place, 17.46 miles
Today was all about climbing. The up never stopped but the views were amazing.
After a long day we made it to Mike's Place, complete with rusted cars, hammers scattered around, and water tanks reminiscent of Mad Max.
We quickly set up our tents since a storm was brewing. The wind and gusts were picking up, and the rain started shortly after we ate our dinner. The adhesive on my omnipod pump had peeled up earlier in the day right after putting on a new pump and I had thought that the leukotape had secured it down…but I was wrong. After dinner my blood sugar eventually rose to 471 and increasing, so I put on a new pump with a complimentary syringe injection of 3 units of insulin and some time after 10pm I finally started coming down.
Day 11: Mike's Place to Tule Springs , 10.46 miles
Well…the trail taught us a lesson in flexibility today. We waited until 3:30pm for the sideways rain and intense gusts to subside before setting off from Mike's Place.
The rain had stopped but we had a windy hike ahead of us. I would have loved to stay under my quilt on the patio at Mike's Place but we had an upcoming weekend in Idyllwild with my husband and friends so…hike we did!
We did a respectable amount of miles before complete darkness and camped by Tule Spring.
Day 12: Tule Springs to Julian, 15.87 miles
It's almost time for a zero! We have an "easy" 15ish miles to Paradise Valley Cafe….SPOILER: THEY WERE NOT EASY.
At least many thousand feet of climbing usually means good views.
Although we didn't need more water, we stopped at Mary's water cache. Between a free library and full size cutouts of famous authors, it was a trip.
We also passed 150 miles! Mitch surprised us at the turnoff for Paradise Valley Cafe and took us to get our snow gear box at the cafe.
Also, happy 3rd birthday to my perfect psychotic cattle dog. Glad I got to spend your birthday with you, Stevie!
Affiliate Disclosure
This website contains affiliate links, which means The Trek may receive a percentage of any product or service you purchase using the links in the articles or advertisements. The buyer pays the same price as they would otherwise, and your purchase helps to support The Trek's ongoing goal to serve you quality backpacking advice and information. Thanks for your support!
To learn more, please visit the About This Site page.