REI Quarter Dome SL 1 Tent Review
Choosing a tent that works well for you is one of the most important gear decisions a backpacker can make. It pays to do some research and hold out for a tent that strikes the balance between durability, easy set-up, spaciousness, and—most of all—weight savings.
Lucky for you, we've done some of the heavy lifting research-wise, as I've spent the last few weeks testing the REI Quarter Dome SL 1 on summer and fall backpacking trips through the mountains of Montana.
The tent was an ideal companion on trail and checked more boxes than I'd initially expected. It even did the impossible by converting me from my long-standing habit of using a two-person tent on solo trips.
MSRP: $329
Minimum Trail Weight: 1 lb. 15 oz.
Packed Weight: 2 lbs. 6oz.
Peak Height: 38 inches
Number of Doors: 1
Material: RipStop Nylon (tent), DAC NFL Aluminum (pole)
Intended Use
The Quarter Dome SL1 is designed for three-season backpacking in both dry and rainy conditions.
Circumstances of Review
I tested this tent on multiple backpacking trips throughout the Bitterroot Mountains in Montana. I encountered rain for a small window of time during one night of a trip, and the rest of the nights during the testing period were dry. Temperatures were mild, averaging mid-80s during the day and high 30s through 40s at night.
Key Features of the REI Quarter Dome

Roof vent: Perfect for air circulation and reducing condensation.
Spacious vestibule: Ideal for efficient gear storage.
Vertical sidewalls that provide a "no-drip" entryway: Vertical walls create tons of elbow room and prevent water from getting into your tent while opening the door on rainy nights.
Reflective stake loops and guylines: Allow you to find the tent easily in the dark with your headlamp. Less risk of tripping over your guylines.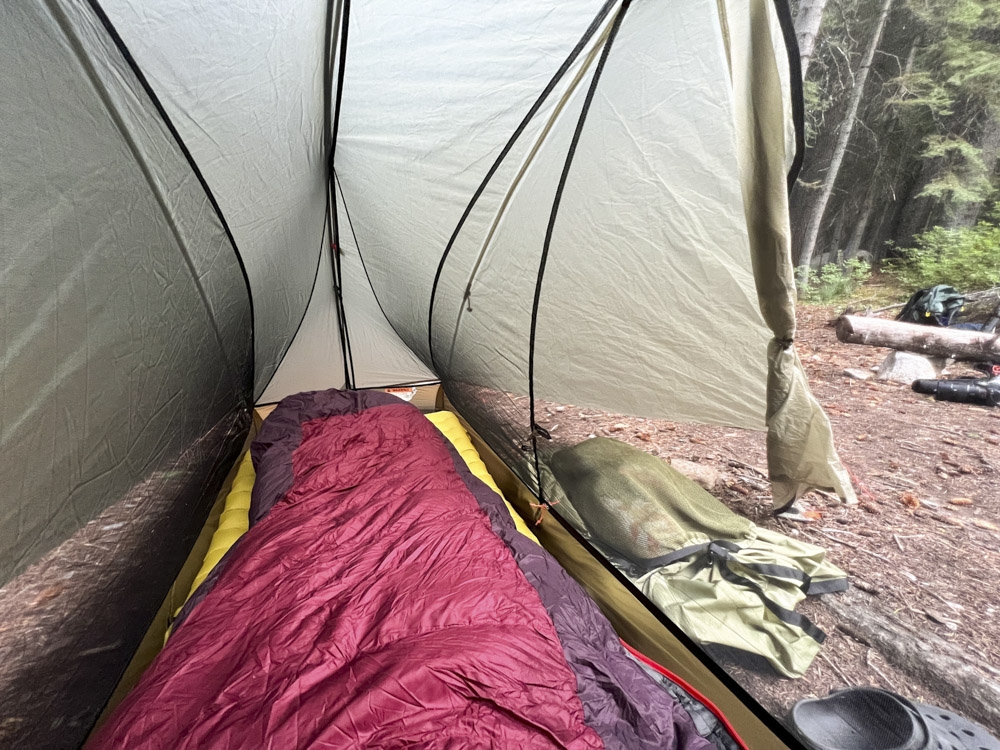 How To Pick A Tent
Aside from more apparent considerations, such as weight and packed size, picking a tent boils down to two main factors:
Size
Choosing between a one- or two-person tent may sound like a no-brainer, but there's more to it than meets the eye. Many tents are streamlined for weight savings, so they're a fair bit smaller than what many people consider adequate space for two. A 2P tent typically fits two people shoulder-to-shoulder on their pads with no room for excess gear or packs. 1P tents are the same: if you fit on a sleeping pad, you'll fit in the tent, but don't expect to have much room left over.
These limitations may feel constrictive to hikers who are larger or who like to keep their gear inside at night. Due to this, many solo backpackers size up to a 2P tent to comfortably make home for the night. By the same token, some couples opt for three-person tents.
Each hiker will have their own preferences on the amount of space they need to be comfortable at camp. Knowing the average limitations and space constants can help you make a more informed decision.
READ NEXT – The Best Tents for Thru-Hiking
Design
What's the difference between freestanding, semi-freestanding, and non-freestanding tents? Imagine setting the tent up in your living room with no stakes . Would the tent still retain its full shape (not including the rain fly)? If the answer is yes, your tent is freestanding. If most of the tent stays up and only a few corners require staking, then your tent is semi-freestanding. However, if it's not possible to set it up at all without staking into the ground, then your tent is non-freestanding.
Non-freestanding tents are often lighter because they lack dedicated poles. However, they can be difficult or impossible to set up on rocky or hardpacked surfaces. In contrast, freestanding tents can go up almost anywhere, as they require stakes only for the rainfly and for extra security on windy nights.
Many backpackers find a happy medium with semi-freestanding tents. Although not as light as non-freestanding tents, they are lighter than their fully freestanding counterparts thanks to simpler pole architecture. At the same time, they keep your tent mostly structured regardless of the ground surface at your campsite.
At the end of the day, it comes down to personal preference and the ground surface where you're camping. Each trail will require different types of gear, and each hiker will have different criteria for a comfortable night's sleep.
REI Quarter Dome Pros
Space For Days
I have historically hated 1p tents and have been known to carry a 2p model even on solo trips. I typically find one-person models to be cramped and claustrophobic, with minimal room for gear. However, much to my surprise, the Quarter Dome almost had more space than I knew what to do with.
Coming in at 88in x 35in/27in (the width tapers toward the foot end), the tent is incredibly spacious inside. The 88-inch length provides ample room to stretch out. I had tons of extra space at my feet, enough for my pack to easily fit inside with me. I am on the shorter side (5'2, or 66 inches tall), so I had almost a foot and a half of extra space, but that still leaves more than enough of a space margin for most hikers, regardless of height.
Additionally, the mesh netting is relatively fine (yet durable), which makes the tent feel bigger since it's easy to see outside without opening the door.
The Quarter Dome is 38 inches high, which gives a ton of overhead space to sit up, get changed, and reorganize after a day of hiking.
Finally, the vestibule almost feels like a grand center hall when you first enter the tent. The Quarter Dome has one door that forms a vestibule when the rainfly is set up. It creates more than enough space to keep your pack, shoes, water, and anything else outside without obstructing the door.
Thoughtful Design
The Quarter Dome has several features that make me almost jump with excitement. The first is an optional roof vent that can easily be opened in warmer months or kept closed during the shoulder seasons. You do need to leave the tent and open or close the vent from the outside, but the process is seamless and easy.
Second, the Quarter Dome boasts an excessive number of mesh pockets and hang loops on the inside of the tent, which helped keep things like my headlamp, bear spray, and toiletries organized.
Finally, the tent has far more reflective tape on the guylines and stake loops than I'm used to, making it incredibly easy to find in the dark.
Easy Set-Up
Although the single pole design was a little intimidating at first, I quickly got the hang of it. Ultimately, I found the tent fast and easy to set up. Instead of carrying multiple poles to pitch, the Quarter Dome features a hubbed pole which was  efficient to assemble and clip onto the tent. The stake loops and rainfly also use a color-coded system, which helps ensure everything is in the right spot.
REI Quarter Dome Cons
Splashback During Heavy Rain
As mentioned in the beginning of this review, I was only able to test the tent in rain during a small window (it's been a very dry summer in the Bitterroots). Overall, the tent held up pretty well and I remained mostly dry. However, I did have some issues with splashback during heavier storms.
The Quarter Dome has a shallow bathtub. The mesh walls go rather close to the ground before meeting the nylon base. I loved how roomy this made the tent feel, but it did allow water to splash off the ground and into the tent near my head and feet. This mainly occurred during heavier bouts of rain rather than light showers, but still something to consider.
Footprint Sold Separately
Although footprints are commonly sold separately, I still consider them essential to pitching. It's worth noting that you will need to budget for this extra item when purchasing the tent. The Quarter Dome SL1 footprint costs $55 and weighs 4.6 ounces. The tent does come with stakes, though, which is nice.
Overall Value
Can you tell that I'm all about this tent? I never thought I would be into hiking with a 1-person tent since they are typically so claustrophobic and cramped. However, the REI Quarter Dome has resolved all of these issues and more with thoughtful and practical design. A huge vestibule, large sleeping area, and more pockets than I know what to do with help keep me organized and clutter-free, making any campsite feel like home for the night.
The weight of the tent is about average compared to similar models, yet the price is considerably lower, making this a great option however you slice it. I wouldn't hesitate to recommend the Quarter Dome to any weight-conscious solo backpacker.
Comparable Tents
The REI Quarter Dome SL 1 was donated for purpose of review.
Affiliate Disclosure
This website contains affiliate links, which means The Trek may receive a percentage of any product or service you purchase using the links in the articles or advertisements. The buyer pays the same price as they would otherwise, and your purchase helps to support The Trek's ongoing goal to serve you quality backpacking advice and information. Thanks for your support!
To learn more, please visit the About This Site page.
Comments
4
Nice review. Thanks. About the netting on the tent, it is called no-see-um mesh. It has really fine holes. Mesh with larger holes is Mosquito mesh, it is used on cheaper tents. and no-see-ums will get through it. Also, Mosquito mesh breathes or allows air through better than no-see-um mesh because it has bigger holes.

After years and a career built on selling tents I now use a tarp, but I am considering a Haven hammock. Too heavy for backpacking but I am getting old and those days of long distances are gone.

Cheers!

Oh and your description of Freestanding and not Freestanding was great. You would be surprised at how many people have no idea what they are talking about when they talk about tents.

The extra guy points you noticed are for lines to attach to stakes and should be deployed when expecting bad weather or high winds. They actually add structure to the tent and are designed to add strength when used.