Gear Review: Sierra Designs Nitro Quilt 800 (35 Degree)
Thinking about switching to a quilt but not totally ready to let your mummy bag go? Let me introduce you to the Sierra Designs Nitro Quilt 800. By combining the best aspects from both quilt and mummy camping, this bag is exceptionally versatile and the perfect quilt for those leaving mummies for the first time. The footbox, Hide-A-Way Hood, arm / hand pockets, and oversized design will keep you bundled up similar to a mummy bag. However, all these mummy-like features are streamlined and virtually invisible when not being used, so you can switch into a more traditional quilt camping style at any point.
Weight: 1lb 4oz / 567 g
Materials: 800 fill Dri-Down;  15d Nylon Ripstop interior and exterior
Rating: EN rating of 37-degree comfort and 27-degree limit
Details: Full-length unisex design, insulated hand and arm pockets, Hide-A-Way Hood for chilly nights
Circumstances of Review
I used the quilt on about a dozen occasions from mid-May to early August in and around the Rocky Mountains. The warmest night spent in the bag was 50 degrees and the coldest was hovering around 30, with most other nights falling somewhere in the middle of this temperature range. The quilt was tested with two different sleeping pads, one having a 0.7 R-value and the other with a 4.2 R-value.
Sierra Designs Nitro Features
Hide-A-Way Hood: Combines a quilt with a mummy bag and is perfect for when it gets cold enough to want your face covered.
Footbox: Ensures that the quilt stays in place over your body, without constricting your movement.
Insulated Hand and Arm Pockets: Allows you to really get bundled up and keep heat inside the quilt.
Oversize Design: Helps keep the quilt on your body throughout the night despite tossing and turning.
Why Do I Want a Quilt Over a Mummy Bag?
Mummy bags are what typically comes to mind when you think of a sleeping bag. They zip from the bottom (full-length) or the middle (half-zip) of the bag, and leave nothing but your face exposed. Although they are warm, they can be constrictive and don't allow for many different sleeping positions. Quilts are essentially insulated blankets for camping. Although they can sometimes have less of a comfort range in colder temperatures, quilts offer a greater range of movement while you're sleeping. They are great for summer camping when you may want to switch between having your feet covered or hanging out of your bag.
Although mummy bags can come in lightweight versions, quilts tend to be a good choice for ultralight backpackers. They typically weigh less and pack up smaller because of the absence of zippers, cords, and the back fabric.
The Sierra Designs Nitro Is 800 Fill. What Does that Mean? 

Your fill power is a measurement of the quality of feathers in your sleeping bag or quilt. This number accounts for the overall warmth-to-weight ratio and typically ranges from 600-950, with 950 being the highest quality and often the most expensive. The fill power is determined by how many cubic inches one ounce of down can fill—the higher the number, the larger the space the same amount of feathers can fill.  Essentially, if you have an 800 fill down quilt that is rated at 32 degrees, and the same quilt filled with 700-fill down, the 800-fill model will be lighter because its feathers are loftier and can fill a larger area, eliminating the need to fill it with more weight in feathers.
Sierra Designs Nitro 800 Pros
Hide-A-Way Hood

This feature is one of the main reasons why the Sierra Designs Nitro Quilt is great for those looking for a crossover between a quilt and a mummy bag. The hood can lie flat if you are using the quilt more as a blanket in warm weather, but can easily be slid into if it starts to get colder during the night. Essentially, the hood is a slit in the quilt that is insulated and paired with a back panel to seal off drafts when not being used. Once inside, the hood fits tight enough to your face to prevent drafts, yet is not constrictive and even allows users to sleep on their side all while covering their head.
Footbox
One of my favorite features of this quilt is the footbox toward the bottom of the quilt. It helps keep the quilt in place and ensures that your feet stay covered throughout the night. Want your feet hanging out in warmer weather? You can easily adjust how much or little of your feet you keep in the "box," all while lying down and staying wrapped in the quilt.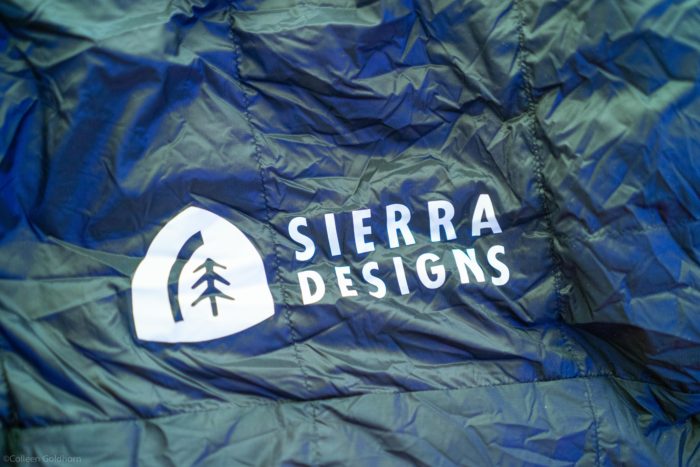 Insulated Hand and Arm Pockets
Yet another way to seal in warmth, these pockets give users the option to really bundle up and wrap themselves in the quilt. The system is most effective when lying on your stomach with your arms wrapped up around your head. Since the Hide-A-Way Hood can only be used when lying on your back or sides, the insulated pockets give stomach sleepers an alternative way to stay warm.
Lightweight, Yet Durable Material
Weighing in at one pound, four ounces, this bag falls into the ultralight category. When gear starts getting this light, it's often important to pay attention to the durability of the gear to make sure it wasn't compromised when cutting weight. From my test of the bag, I have been pretty impressed by the materials used and have no reason to suspect any issues with durability. At first glance, I was a bit skeptical of this because the down feathers can be seen clearly through the 15d ripstop nylon exterior. However, the exterior shell has proven to be strong and durable when both sealing in warmth and withstanding the wear and tear of backpacking.
Cons
No Pad Attachment System

The quilt does not include any sort of system to attach to a sleeping pad—which is often a preferred feature for those who toss and turn. Instead, Sierra Designs made the quilt extra wide (46-inch wingspan), which gives you the option to tuck the quilt under you. In theory, this extra width, paired with the footbox, should keep you covered despite tossing and turning. I only toss and turn a small amount and was able to stay mostly covered throughout the night. However, this is something to keep in mind for those who are known for lots of movement while they sleep.
---
Overall Value
I really do love this bag, and especially recommend it to those switching to a quilt for the first time. Its special features and clever design make it a unique crossover between a mummy and a quilt, and for $250, the price is fair and about average for similar models. All-in-all, the Nitro Quilt 800 / 35 is versatile, compact, and incredibly well-designed. It's clear that significant time was taken to think through each part of the quilt, and the result is a quilt that is truly unique and a welcome addition to my sleep system.
Comparable Quilts
Shop the Sierra Designs Nitro 35-Degree Quilt HereShop the Sierra Designs Nitro 20-Degree Quilt Here
This product was donated for the purpose of review.
Affiliate Disclosure
This website contains affiliate links, which means The Trek may receive a percentage of any product or service you purchase using the links in the articles or advertisements. The buyer pays the same price as they would otherwise, and your purchase helps to support The Trek's ongoing goal to serve you quality backpacking advice and information. Thanks for your support!
To learn more, please visit the About This Site page.