Gear Review: Six Moon Designs Skyscape Scout
I'm not a gearhead, and it's because I simply can't afford to be. I seldom buy the brand new, current season gear, and never buy anything at full price. I bought my previous backpacking tent used from an online marketplace. The tent before that, I'd owned for nearly ten years. As a new writer for The Trek, I was thrilled to be offered the chance to review a brand new tent. Instead of asking to test one of the newest, lightest, most expensive one-person tents out there, I chose to review a tent that would fall within my actual budget: the Six Moon Designs Skyscape Scout. 
Weight: 40 ounces (stakes and footprint not included)
MSRP: $135
Materials: Polyurethane coated 190T Polyester
Floor space: 23 square feet
Peak height: 45 inches
Circumstances of Review
This was my go-to tent for a summer of adventures. I slept in it through early-season conditions in the Enchantments zone in Washington's North Cascades, for over two weeks of section hiking the PCT in Oregon, and for a handful of nights on California's Lost Coast Trail. It's been exposed to snow, wind, rain, sun, and saltwater.
Features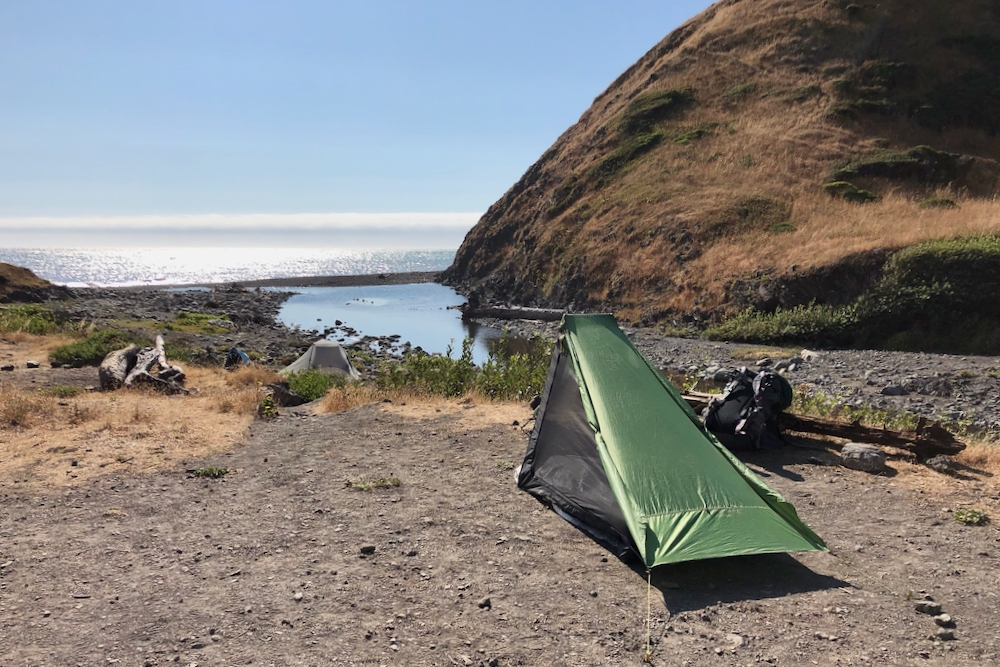 Hybrid double wall: The tent is all one piece, but only a narrow strip of the ridge line is single-wall. The vestibules connect at (or near) the ridge line and can be rolled up for views and better ventilation.
Dual pole structure: Partnered with a foot-wide spreader bar at the apex, the dual pole setup creates an A-frame-like structure and allows the tent to be extremely rigid when guyed out.
Extended floor: The 8.5-foot floor length makes for a roomy and comfortable night's sleep no matter how tall you are. The diamond floor shape leaves ample room for gear.
Who Is This Tent Best For?
Six Moon Designs advertises the Skyscape Scout as a great option for budget hikers getting into lightweight backpacking. In fact, with the low price point and the surprisingly easy setup, I'd say this tent is a good choice for hikers getting into backpacking of any sort. The Scout is also a great option for backpackers who expect to be in more foul weather situations such as spring on the AT or autumn in the Rocky Mountains. The hybrid double wall, the heavier-duty fabric, and the A-frame structure mean this tent can get you comfortably through the wet and windy shoulder season nights. 
Skyscape Scout Pros
Roomy: There's so much room in this tent that I've started telling friends that it's a 1.5-person. The diamond-shape floor leaves plenty of room for my sleeping pad and gear. I kept my pack in my tent every night and never felt crowded. When it was raining I appreciated being able to sit up and move around in the tent without having to touch the exterior walls. 
Great versatility: I loved the versatility of being able to roll up the various vestibule walls. It was great having some of the sides rolled up for better airflow as I went to sleep and it was quick to roll them back down if I got chilly in the middle of the night. Having a door on both sides also gave me more flexibility when choosing a site. 
Heavier-duty materials: The materials used for the Scout make it stronger and longer-lasting than many other lightweight tents on the market. The polyurethane-coated polyester is waterproof and breathable, and has better tear strength. The polyester doesn't wet out the way nylon fabrics do, which means the tent won't sag in the rain. 
Quick, easy setup: Stake out the two bottom corners and the head, slip the poles into their sleeves, adjust the tension, and you're good to go!
Skyscape Scout Cons
No dedicated footprint: Even with the heavier-duty fabric I still like to use a footprint. Six Moon Designs does sell Tyvek and Polycro footprints, but they're rectangular and can't be staked down. 
Needs more pockets: The tent features only one small triangular pocket. I found it pretty user-unfriendly, with items like my phone slipping out too easily. It would be nice to at least have a rectangular pocket like in the Lunar Solo. 
Needs seam sealing: Because of their limited facilities, Six Moon Designs doesn't offer in-house seam sealing for the Skyscape Scout. You'll have to purchase a bottle of quick-dry seam sealer (SMD has more info here) and apply it to the outside of the tent seams yourself. It's not difficult, but can be a bit messy. 
Overall Value

The Skyscape Scout is a worthy option for new long-distance hikers who want to count ounces and not break the bank. Six Moon Designs knocks it out of the park with the value of this tent. By working with commonly used tent fabrics they're able to keep the price low, and by using your own hiking poles the weight drops into a very comfortable zone. It's not truly ultralight, but it's nearly half the price of the next one-person tent in the same weight range.
Comparable Tents
Shop the Six Moons Designs Skyscape Scout Here
This item was donated for purpose of review.
Affiliate Disclosure
This website contains affiliate links, which means The Trek may receive a percentage of any product or service you purchase using the links in the articles or advertisements. The buyer pays the same price as they would otherwise, and your purchase helps to support The Trek's ongoing goal to serve you quality backpacking advice and information. Thanks for your support!
To learn more, please visit the About This Site page.