Seeing it thru
I'm writing right now as a means of processing and coping with the news of all California National Forest land closing due to wildfires, and as a reflection of my time spent on the Pacific Crest Trail.
I haven't written a blog post or much of anything since I started walking in Oregon, and I think that's because wildfire season became real for me once I entered the state. Each town that I went into for resupply was an opportunity for me to figure out the logistics of getting around fire closures; I used my time, cell service, and energy trying to slice the state into smaller pieces in order to get around them. I got into camp at night feeling more tired and more drained after each section of Oregon, and hiking through smoke didn't help my energy levels one bit.
I began to walk slower, almost dragging my feet as I got closer and closer to California, because that's where I knew I'd find the majority of the fire-related challenges. I was actively walking towards the most intimidating part of the trail and felt anxious and at the mercy of the winds.
Taking my time in Oregon was nice, though, and I was in awe of the topographical diversity of the state. One minute you're walking through high desert, the next it's a lava field beneath your feet, then you're in the forest stepping on soft and forgiving pine needles, just before climbing back up above treeline and standing at the base of a mountain again.
When most of my friends skipped right from Timberline Lodge to Makenzie Pass to avoid logistical hardships of getting back on trail around a fire closure, two friends and I hiked on to the very edge of the burn zone and then jumped around and between two closures, missing only 37 miles of open trail instead of over 100. We also got off trail and did a 14 mile out and back side trip to summit South Sister Mountain, just to buy ourselves some more time in Oregon. I summited at sunrise alone and it was one of the most magical moments of my almost two months on trail thus far.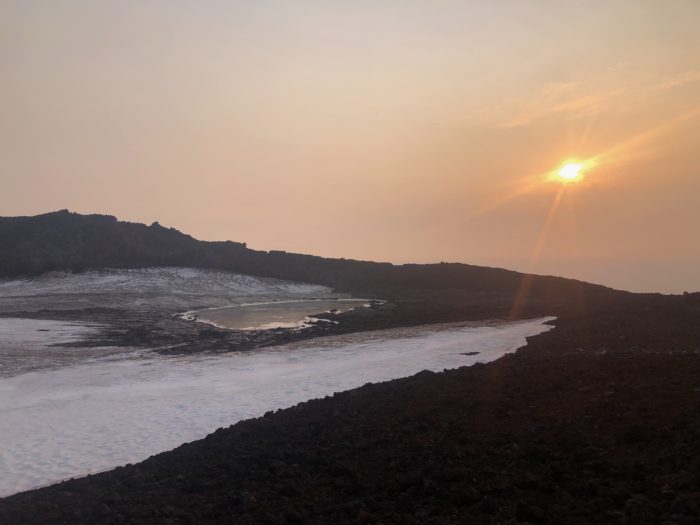 I went to breweries and ate tacos in Bend, I cliff jumped at Crater Lake, and I made friends all the while. Washington was largely solitary for me, but in Oregon I found my trail family. When I got to Mazama Village at Crater Lake, I was shocked by how many southbounders I saw there — people I had hiked with for a little bit before but then lost, and also people I had never met before, which was rare for a SOBO. We zeroed there, enjoyed the lake and each other's company, and sang songs at the top of our lungs at our big campground.
The next morning I packed up camp and walked to meet my friends at the general store, where a one handed me their phone and I read the headline of the latest PCTA announcement: "10 Northern California National Forests are closings or closed. Basically NorCal is closed." I looked around to see confusion, disbelief, frustration, and sadness reflected back at me in the faces of my friends. All of Northern California was closed? How could this be possible? Just yesterday there were some closures, but we at least would be able to log a handful of miles here and there in that section. We had known that our prospects of hiking in NorCal were bleak, but somehow the news that we had to miss all 600 miles of the section was still a shock. Actually, it felt debilitating. No one wanted to get back on trail that day. Walking felt stupid — surely we should stay in range of cell service to devise a plan. But ultimately, the troops rallied and we decided to press pause on panicking until we got to Ashland, the final city in Oregon, where we would zero and plan our way into a burning California.
Somewhere in between all of the chaos of celebrating and mourning in Crater Lake, I decided to walk for 24 hours straight. I made the decision only a couple days before attempting to do so, and set the tentative goal of hiking 100 kilometers, or 62.1 miles, during that time. It would be perfectly timed, because that distance would put me in Ashland, only a couple miles from the California border. Also, I knew that I would be getting off trail from Ashland a couple days later to go to a wedding, which made the challenge even more tempting as a sort of last hurrah in Oregon, before the bullshit of skipping around in California commenced.
I set off for the 24 hour challenge with two friends and was honestly uncertain about whether or not I'd be able to finish, let alone hike that far of a distance, but as time ticked by and the miles added up, I became more and more sure that I was going to be able to get it done. The sun went down which added an element of difficulty to the hike, especially when so much motivation on a normal day comes from seeing your surroundings and taking in the views. At night, my imagination ran wild; every twig breaking or eye shine was a bear or mountain lion in my mind. I couldn't even listen to music or an audiobook because I wanted to maintain every ounce of awareness for my surroundings. If I was alone, I don't think I could have done it, but sure enough by 10:20 the next day, we had hiked all one hundred kilometers.
After the challenge I barely moved for an entire day. We spent time in Ashland scrambling together a resupply plan to get us through the Sierra, one of the most anticipated but logistically challenging sections of the PCT, and after a day or two we had a semi-reliable plan of making our way through the section that we should have had another month to prepare for. Perhaps the hardest part was preparing ourselves to carry the three extra pounds of those God-forsaken bear canisters, but ultimately we came to terms with that, too.
Then, I flew to Michigan to see my partner and go to a wedding and meet his college friends and go to the Sleeping Bear Dunes. The turn around from on-trail life to then very much off-trail life was jarring and exhausting but also extremely rejuvenating and exciting. I ate good food and danced hard and seeing my partner was absolutely amazing. In fact, it made it even more difficult to get back on trail because I was still disheartened and unmotivated from the number of miles I had to miss just from NorCal alone.
It wasn't that I didn't want to be hiking anymore. It was more-so the feeling of defeat because of things that were beyond my control. Any imposter syndrome that I had had before stepping foot on trail came rushing back. I kept telling myself, "You're not a thru-hiker anymore," because that's how I felt. I wasn't able to see it through.
Regardless, I hopped back on a plane in Detroit and flew to Reno, since the northern-most access point to the PCT that wasn't yet closed from fire was Sonora Pass. My lovely friend who lives in Reno drove myself and my trail crew to Kennedy Meadows North, where we sat and waited for our resupply packages and finally started to feel excited to be on trail again — and in the Sierra no less! — having left the majority of the fires behind us.
Then, whispers all around us of another update from the PCTA: "Pacific Crest Trail is closed on all national forests in California."
Confusion – disbelief – frustration – sadness, again, and this time, tears.
It couldn't be, but it was. Without having walked a single mile in the state of California, after flying and driving and shuttling and hitching around closure after closure, just to get to the gateway of the Sierra, only an hour or so away from setting foot on trail and continuing south, our time on the PCT had been ripped away from us. We could not legally make it to Mexico this year.
Of course, one could argue that we could hunker down and wait for the forests to open up again, and then continue on. We could walk on roads or continue hitching to open parts of the trail to make miles. Or, we could gamble getting fined $5,000 and hike illegally, risking it all to continue the walk.
Someone else could surely try any and all of those things, but not me. I believe that it is incredibly irresponsible to continue to hike on a section that has closed due to natural disaster Resources are spread thin enough, and I will not be the reason why a wildland firefighter has to leave their post in order to rescue me as peoples homes are actively burning to the ground. What's more, I can't quite express at this point how exhausting it is to get on and off trail every couple of days to reroute around closures. Staying in towns, buying meals in tourist towns, paying for rental cars and flights, and resupplying for sections of trail just to get kicked off of them is financially unsustainable. Being surrounded by active fires on all sides, and smelling smoke as a constant reminder of that, is scary and not the way I planned to complete this thru-hike. I came to walk on the PCT, and now I am unable to continue doing so. So I'm getting off, and will come back another time to see this state when it is safe to do so.
I would also like to take a minute to acknowledge the privilege that I have as a thru-hiker to be able to run from wildfires. Along the way, I met people who were posting up in other towns because they had been evacuated from their homes. One couple said they were trying to get cell service just to see whether or not their home had burned. I have never experienced wildfire season since I grew up on the East Coast, and have never felt the effects of climate change so severely until coming this far West. My heart breaks each time I hike through burn zone and watch the smoke roll in every afternoon around 2pm without fail, shrouding the mountains in a thick and sickly veil of haze. It's unlike anything I have ever seen and I will never forget the trauma that wildfire season leaves in it's wake out here.
In terms of my own hiking journey, myself and a handful of other SOBOs are making lemonade and getting our asses over to Colorado for our next thru-hike. We will begin a northbound journey from Durango to Denver on the Colorado Trail, and we will see what happens. Being off trail for over a week now has been a massive freaking whirlwind of high highs and the lowest lows, but these legs are ready to rip through some more trail. After a 15 hour road trip and visit to a gear store to piece together a slightly updated kit for an entirely new thru-hike, we'll be ready for the next adventure. We might have gotten kicked off of one trail so far, but we're not going home yet. We are going to see it thru.
Affiliate Disclosure
This website contains affiliate links, which means The Trek may receive a percentage of any product or service you purchase using the links in the articles or advertisements. The buyer pays the same price as they would otherwise, and your purchase helps to support The Trek's ongoing goal to serve you quality backpacking advice and information. Thanks for your support!
To learn more, please visit the About This Site page.
Comments
6
Thanks for the thoughtful and expressive explanation of your PCT stoppage…enjoyable read…best to you in Colorado

Meanwhile we easterners are coping with flood. Mother Nature can be a cruel mistress.

Yea, you are going to be disappointed. The CDT is on fire too. Right where you are going. Parts of rocky mountain national park are closed. Might wanna research that a little more. I'd jump on the AT if I was you …..

You must have misread! I started the CT NOBO, not the CDT NOBO. Surely no one would start the CDT headed north this time of year. Will be done with the CT in under two weeks, perfect weather, no fires to be had 🙂 Did all the research I needed to do, no disappointment here!