Seven Exercises to Build Strength and Stability for Hiking
Injuries account for about 30% of the reasons long-distance hikers don't complete a thru-hike. Many of these injuries are due to repetitive stress and others are caused when the hiker is thrown off balance and must react quickly.
We often think about training our larger muscles but neglect to develop good posture and alignment.  This series of exercises was developed by Dan Pulsifer, a certified fitness trainer, to help build strength and stability so that your body can move more efficiently with less risk of injury.
As an added bonus, all of these exercises can be practiced in the comfort of your own home, using your backpack as weight. Start practicing these exercises slowly with less weight in your pack. As your muscles strengthen you can add more weight and move quicker.
Strength
1) Good Morning
Why: We often focus on the front leg muscles that we can see. In order to maintain balance in the body we also need to focus on the posterior chain, glutes and hamstrings, which help drive you forward. Holding a weighted bag to your chest also engages the lower and upper back and shoulders.
How: Hold your backpack high on your chest, palms facing toward you. Pull your shoulders back as though you're trying to rip your bag in two. Stand up tall, finding a strong spine from your head to your tail. Engage your core muscles and with soft knees, push your hips back and hinge forward at the leg creases. Keep your chin slightly tucked and lower your upper body until you feel a stretch in your hamstrings. Squeeze your glutes and return to standing tall.
2) Squat
Why: A common habit when climbing hills is to curl the spine and shoulders forward. This has the negative impact of cutting off your upper body from your natural gait. These squats will help develop strong quads while also maintaining good posture.
How: Place your pack upright on the floor. Find the strong line of your spine from your head to your tailbone. Squat down so that your knees are wider than the pack, with your toes pointed slightly outward. Bear hug your pack. Pull it tight to your body keeping your chest open and your shoulders back and down. Keep your chest up and your gaze straight ahead. Drive through your heels to stand up tall. Squeeze your glutes in the upper part of the movement. Descend under control, as though sitting back in a chair. Go as low as you comfortably can while keeping your back flat, and your feet flat on the ground. Don't allow your back to round.
3) Overhead Press
Why: Thru-hikers tend to focus a lot on their lower body. Having a strong upper body can help in overall muscular balance and efficiency of movement. Plus, strengthening your upper back and shoulder muscles will help you execute better bear hangs.
How: Start with a light pack. Raise your bag to chest height, holding it at the top and bottom. Stand straight and keep your stomach tight as though bracing for a punch. Keeping your core tight and braced will keep you from arching your back and causing injury. Push your pack up and overhead. Keep your gaze forward. Using your shoulders, slowly lower the pack back to your chest.
Pro Tip – Combine the squat and overhead press into one smooth movement. Doing this at a quicker pace can be a great cardio exercise too.
4) Bent-Over Row
Why: As we tire, we often round our shoulders forward, making our overall movements less efficient. This exercise engages the muscles of the upper back and shoulders to help maintain better posture and alignment.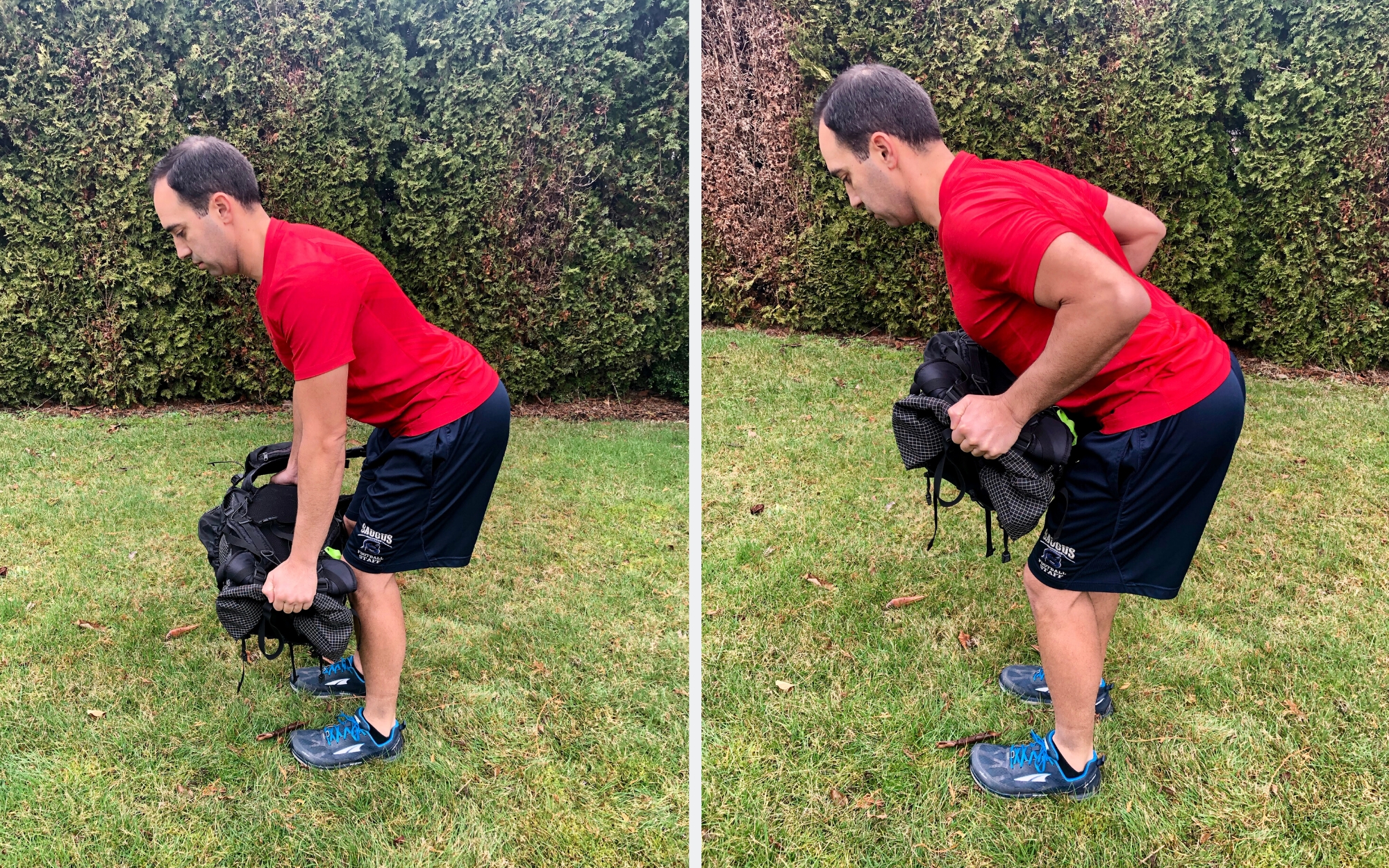 How: Hold your pack loosely from each end. Stand up tall with your feet about hip width apart. Find the strong line of your spine from your head to your tailbone. With soft knees, push your butt back hinging at the hips. Let the bag hang in front of your knees. Keep your chin slightly tucked with your gaze lowered to maintain a straight spine through your neck. Pull your elbows up and back keeping them close to your sides. Keep wrists in line with forearms. Slowly lower the bag back to knee level. Remain in bend over position and repeat row.
Stability
5) Star Lunge
Why: We often practice moving forward, but most injuries occur when we're forced to move in a different direction. With the star lunge we practice moving in multiple directions under control. This will strengthen legs, hips, and core.
How: To execute a correct series of lunges, always keep your toes pointing forward. Try to keep your bend knee in line over the ankle, never extending it past your toes or behind the ankle. Start the star lunge by standing tall with feet hip width apart. Anchor your left foot and take a normal step forward. Bend the right knee over the ankle, settling into a lunge. Push back on the front foot and return to standing. Step your right foot out at a 45 degree ankle, keeping your toes pointed straight ahead. Bend the right knee, settling into a lunge. Push back on the right foot and return to standing. Step out to the right side. Bend the right knee, sitting your hips back and over the outer knee. Keep the knee in line with the ankle. Step back at a 45 degree ankle, keeping your toes straight ahead. Bend the front knee to do a reverse lunge. Step straight back, bending the front knee for a reverse lunge.
To increase the difficulty of this exercise, you can hold your pack at chest level or put it on your back. For an additional challenge, hold your pack on one shoulder. This will further challenge your stability and core strength.
6) Rainbow Lateral Lift
Why: Similar to star lunge, this is a movement that is taking us out of the forward plane. In this exercise you will lift, twist and move sideways under control.
How: Start with feet shoulder width apart, toes pointing straight ahead or with a slight turnout. Put your pack to the outside of your left foot. Engage your core. Push your hips back and bend your knees as though you were sitting back in a chair. Drive your feet into the ground and lift your pack up one side of your body. Arc the pack up and over your head and gently set it down just outside the toes on your right foot. Repeat in other direction.
7) Step Downs
Why: We often focus on building strength in order to climb hills, but rarely think of the challenge of long descents. Most injuries happen when you're trying to slow the body down. With this exercise, we practice decelerating the body with a stable foot platform.
How: Find a step or platform no higher than mid-shin. Start with both feet on the elevated surface. Using a normal stride, step forward and down with one leg. Ground the toe and heel and maintain a strong ankle. Bend the back knee into an upright high lunge. Take care to keep the knee over the ankle, not tracking in or out. Push through the lower foot and return to stand on the elevated surface. Repeat with other foot.
Once you feel you've mastered this step, hold your slightly weighted pack in front of you at waist height, arms slack. As you step down, rotate the pack to the outside hip of the forward leg. Keep your chest open and torso upright. This is harder than it sounds!
Affiliate Disclosure
This website contains affiliate links, which means The Trek may receive a percentage of any product or service you purchase using the links in the articles or advertisements. The buyer pays the same price as they would otherwise, and your purchase helps to support The Trek's ongoing goal to serve you quality backpacking advice and information. Thanks for your support!
To learn more, please visit the About This Site page.