Shaking It Up
Shake Down Time
Typically a shakedown hike is when you pack up everything you think you'll need and head out for a few days. You then discard what you didn't need and replace items that didn't work for you. What's the opposite of that? A shake up? We knew what we wouldn't need since we've been on enough weekend backpacking trips to have already narrowed it down. The point of this trip was to test new gear we bought. We learned there were actually more things that we wanted to bring! Completely misunderstood the assignment, I know.
The items that had to be purchased urgently were: Tyler decided his hammock system was no good, and honestly I agreed, it needed to be replaced. He got some items similar to what I have for my hammock system since the set up and use went much better. I guess this is why we do these shakedown hikes right?
Day One: Right Down to Business
The first day we were out there, while heading through some overgrowth to the river for water, I walked into about six small stumps a friendly beaver had left concealed. My shin wasn't thrilled and I had bruises and scabs for a week, but with my affinity for injuring myself, it was really nothing new. The mosquitos always make us question our decision to be outdoor people and this was no different. I could feel the pull of Skyrim and my couch get stronger with every bite, and my resolve to backpack weaken.
I was wearing a backpack that didn't quite fit right. It was a last minute place holder while I replaced a pretty expensive and highly rated hyper lightweight pack that wasn't comfortable enough for the price. Because the straps on the pack I was wearing were too wide, I couldn't itch all my bug bites. The bad pack nearly ended the trip four miles in. I've since replaced it with a perfectly fitting pack, shout-out to the woman at EMS who's sold me three excellent backpacks to date.
Cryptids Vs Critters
Tragedy almost struck on the first night when we were camping off trail across a river in the national forest. We got in our hammocks to go to sleep and I heard some rustling in the leaves and undergrowth near our campsite. It sounded very lightweight but also bipedal and was circling our spot. Due to the lore based podcasts I listen to I surely thought some sort of flesh-pedestrian (i.e. wendigo) had come for us. Turns out it was a tiny weasel. They have a lot in common. The biggest lesson on night one of the shakedown was to stop listening to podcasts until after our hike. I'd like to say I've stood by this rule. But I haven't.
On the Ridge
Despite the obstacles, we made good time on our hike. This weekend looped a few of the presidentials in the white mountains in New Hampshire, overlapping with part of the AT. I felt better about our mileage goals for the Long Trail after maintaining pace in the White Mountain 4000 footers. We didn't feel too bad physically after three days hiking out there either. Our muscles weren't as fatigued as we expected, although understandably in need of some stretching. I guess all the exercise the last few months must have paid off. Even the 30mph winds on the main hiking day weren't all that bad in the trees. The winds reminded me that I hadn't packed my down jacket and I should probably bring that to Vermont as well.
Camping With a View
We camped at a tent platform site next to Mt. Pierce. Here a decent amount of platforms were built so tents could be set up above 3800ft. There was a central cooking and hang out area, and community bear box. The campsite was great and we arrived sooner than we expected we would. It was cool to interact with other hikers and backpackers and learn that talking to people at shelters won't be as weird as we thought it might be. We decided we need to bring a card game on the Long Trail with us for entertainment when we have extra time at camp.
I Guess We'll Go Home Now
Show Time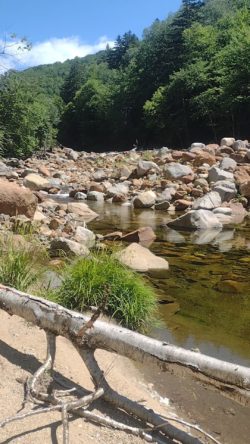 Day three we had lunch on a beach area of a river. I'm looking forward to doing that whenever we find a nice spot on one of the numerous Vermont rivers. We realized we also needed some sort of towel. Normally nobody's like "hey better bring that beach towel backpacking". But after some nice middle aged hikers found us mostly nude drying in the sun on a boulder like a couple of lizards after a swim in the river, we decided a better means of drying off was necessary. In our defense, it was a seldom used trail and we hadn't seen another human in hours and didn't expect to any time soon. Sorry about the nips fellas.
"My Leg!!"
Now the concerning part about our hike for preparedness was how my knee felt the next two days. I know I should wear my knee brace while going down the mountain but for some reason I chose not to that day. And yes, I had it with me. It isn't so much that it hurt as it felt like it was full of expando-foam. Or see "smush pain" -Nick Miller season 5 episode 6. Since then, I've been busy convincing myself that I'll be fine on the Long Trail as long as I wear my knee brace when it isn't flat. I am absolutely a bit worried that my knee won't do well on this long of a hike. However at the same time, there isn't much more in there that I can damage anyway. I keep repeating "can't tear what isn't there" to myself in regards to my meniscus and ACL that cause the smush pains.
Renewed Spirits
We returned home after our few days wishing we had 15 more. We're more excited than anything else for the Long Trail because we now have a sense of confidence that we'll definitely be able to handle it. And on the off chance that we can't, we'll always be less than a three hour drive from home. That's definitely comforting in case of emergency.
All in all, we had a pretty great shake-whatever weekend and are counting the days to spend three weeks out there!
Affiliate Disclosure
This website contains affiliate links, which means The Trek may receive a percentage of any product or service you purchase using the links in the articles or advertisements. The buyer pays the same price as they would otherwise, and your purchase helps to support The Trek's ongoing goal to serve you quality backpacking advice and information. Thanks for your support!
To learn more, please visit the About This Site page.