She Believed She Could So She Did: Finishing the Colorado Trail
Most probably, I could have finished the Colorado Trail on my own, as I had done nearly all the rest of the trail.  But would it have been as meaningful, rewarding and enjoyable as it turned out to be? Most definitely not!
And so now it was time for the pedal to meet the metal: completing my  final five days and four nights on the Colorado Trail. The time was here. But as I anxiously prepared for this in my motel room in Silverton, I had worries running through my mind: how would my knee feel and perform, after so recently being twisted at my last campsite? Would those storms others were talking about and the Garmin InReach was predicting actually arrive?  Would the trail be kind to its hikers these last few days with fewer super steep sections?
"Strength is how you shut down the voice in your head that says, "I can't." —Emma Xu
Day 5:  My new on-line friend, Leah, who had taken me out to lunch with her friends the previous day, had most generously offered to drive me and my two friends, Grit and Stony, several miles back to the CT trailhead at the early hour of 6:15. This was so very much appreciated.
Once on the trail, several of my worries were eased, as they usually were. This day's weather was lovely with moderate temps and not a cloud in the sky. Yay! My knee was also very happy after its day and half of icing, elevation, compression, HGTV viewing  and continued Advil. Double yay! After walking a bit this morning as a threesome, I assumed my own pace and the two of them stuck together, as they had since starting. But it wasn't very long before I met someone who would unknowingly change the whole tone of these last five days for the three of us.
Meet Laura, resident of nearby Crested Butte, super active and nice as can be.
She had started the CT in July, 2022, but had most unfortunately been sent home several times by several extremely frightening thunderstorms. These aren't something you can ignore, when you are literally in the middle of them at high altitudes. And, as I type this from the safety of the interior of my home in Ohio, I hear nearby thunder, which doesn't bring with it any of the apprehension as when hearing it in a wide open space and/or above timberline at 10,000-13,000 feet.
Well, Laura was now back and ready to tackle her final 75 miles. We immediately enjoyed one another's company as we hiked together on this first day.
As Laura was ready to continue at her own faster pace, I made sure that she knew where the three of us planned to set up our tents that night, hoping she could join us. When eventually arriving there, I was very happy to see her tent already set up. Soon to follow were Grit and Stony. Success!
At least we had this one night at a lovely site as a unified group of women determined to get to the end.
"Good company in a journey makes the way seem shorter." —Isaac Walton
Day 4: Back on the trail, the four of us played leapfrog a bit in our hiking order, but eventually morphed into what suited us best, with Laura (later aptly dubbed Bolt) darting ahead, then me, followed by the original pair of good buddies. The trail proved to be kinder to us today, as we began saying goodbye to the dramatic high country and moving into more mellow "mini-mountains."
Many of the wildflowers and vegetation remained, with fall colors creeping in
Interesting enough, every backpacker that I talked to that day felt a great sense of relief at not being as exposed at the higher elevations. It felt comforting to be sheltered by the pine trees on gentler dirt trails, carpeted by pine needles.
We continued to see more indications that we were approaching our final destination, civilization: more mountain bikers again and some occasional cell phone coverage.  At this day's end, just 45 miles and 3 nights were left of this odyssey.  Having a bit of "fresh blood" with us had brought energy to the original three.
Because of higher mileage and some challenges that day, our band of four had turned into two and two.  Stony and Grit had chosen campsite option 1, and Laura and I were at option 2, just a mile down the trail.  We two were eventually joined by three other hikers we had met along the way, Bear, Fresh and Frogman.   It's so wonderful how enjoyable and relatable  we hikers find one another, despite years of difference in age.

"The most dangerous thing you can do in life is to play it safe." —Casey Nelstat
Day 3 would be just 12 miles, unlike the usual average of 15, due to the lack of water sources all day and limited sorta-flat campsites. With 3 liters of water on me and lunch already rehydrated in my backpack, I felt prepared for the day. We five were up at  at 5:00 to be hiking by 6:30 am, first light.  It's a bit disconcerting to take down your tent and pack up your bag in the dark, lit only by your headlamp, whose power you're trying to conserve, but you do get used to it.
As we were still packing up, was reassuring to have Grit and Laura greet us from the trail, quite ready for another day heading generally down, down, down.
For some time, we were walking on very steep hillsides, sloping sharply up to one side and hard down to the other. Don't slip! But we were used to this.
There were also many more lovely interludes of walking on nice trails through the forest.  "Now THIS is hiking!"
Rain had been called for according to the semi-hourly forecast on my Garmin inReach, but what does it  know? A few sprinkles visited us a few times, but the key is to not mention them, don't put on your raincoat till it's raining in earnest and just continue on your way. However, if you do finally cave in and go to the trouble of putting on rain gear, this actually is known to stop the rain. True. Scientific fact. 😊
Once at the next campsite, our hiking pair arrived a bit later than us, so we collected their water from the slow stream while they set up their tents. One for all, all for one.
30 miles to go, with just one more night of camping! Laura, however, was justifiably concerned about a large open expanse that awaited us, with thunderstorms predicted for the afternoon. I hoped for the best. What else could I do?

"The purpose of life, after all, is to live it, to taste experience to the utmost, to reach out eagerly and without fear for a newer, richer experience." —Eleanor Roosevelt 
Day 2 would be around 16 miles. We had rain during the night and I had slept poorly, wishing so much those blasted thunderstorms hadn't been called for. We all got up at 4:30 in order to be out by 6 am, to get a headstart on the weather. However, this meant we'd actually be hiking by headlamp at least half an hour. I had asserted many a time in the past that I would NEVER hike in the dark, too spooky! And here I was doing it, staying right on Laura's heels, to benefit from two headlamps. And you know what? We found that it was actually fun doing it together!
Hiking by headlamps was easier than I expected, since the trail was well tramped down here, easy to follow,  and there was nothing tricky like big boulders or slippery pebbles. A new barrier had been broken. It was great to watch the mountaintops to the east start to glow with daybreak.
Before too long, with her concern for a repeat performance of being in the heart of a thunderstorm, Laura sailed off at her bolt-like pace, determined to get through the large open expanse and over (what we believed to be) our final high pass. Fly like the wind! And that she did, pulling into camp by 2:30. You've earned the peace of mind and rest, friend. As for me, I was no longer as worried as I had been, so I hiked at my own  pace. It always gets me to my destination.
When stopping at a lovely little lake to refill my water bottles, eat lunch and dry out my tent, I had a very rewarding encounter with another hiker.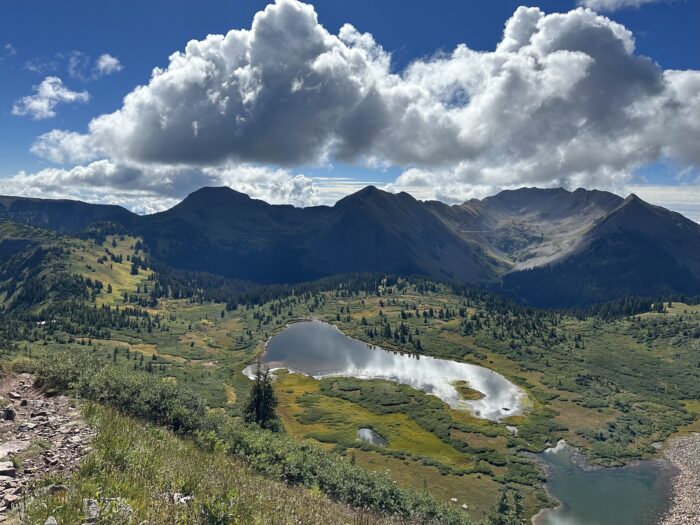 After exchanging hellos, he realized he recognized me from this blog and had hoped he might run into me on the trail. How fun for both of us. Thank you,  Ponderosa, for  following  my blog when you can, even on the trail. Happy future trails to you!
Mr. Trail took us over two big summits, boulders,
a long gradual trail over that last pass
….and then let the general descent begin to our ultimate destination, Durango!!!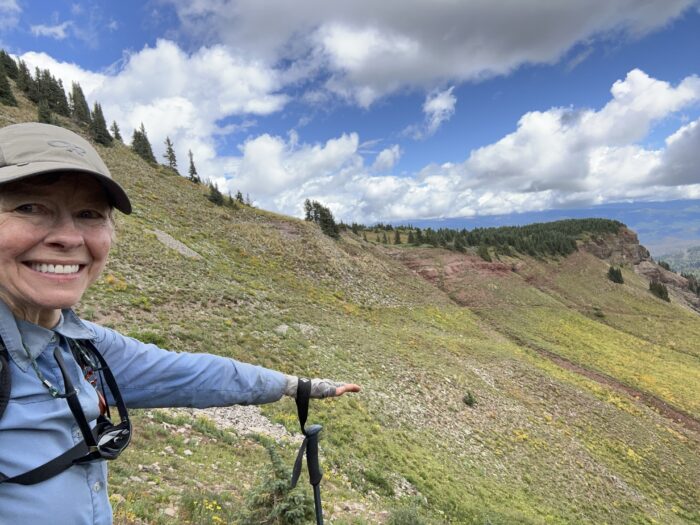 After carefully making my way down the narrow, sloped trail that crossed a boulder/scree field,
it was refreshing to be walking by a stream through a green, woodsy canyon. It was so much lusher here at lower altitudes and in an entirely  different climatic zone.
Things were now reversed, with more water opportunities but fewer camping spots, with many fallen logs crowding the area. I arrived at our final campsite two hours after Laura
and the other two,  an hour or two after me. Our typical order, perfect for each of us. Again, they set up their tents,
we collected their water so they'd have time for a relaxed dinner with us, well, just with Laura.  I hadn't been able to wait, due to hiker hunger, so I had eaten before 5:00.  Love my food!
Happily, the forecast for rain on the Garmin was 0% chance of rain till the next afternoon.  Unfortunately, the memo didn't get to the clouds. We all ran for our tents and dealt with our last night of wet camping.
Lucky for us, it didn't continue terribly long, but  just enough to perversely get our tents wet and make everything messier to pack up the next morning. Nature's final farewell.

"The way I see it, if you want the rainbow, you gotta put up with the rain." —Dolly Parton
Day 1: 14.5 miles to the finish line of this amazing journey! What a joyous, reflective day it was. We were all up very early again, but Stony and Grit were heading out half an hour earlier, determined to get in first so that no one would have to wait for them. And boy, did they fly, judging by the time they arrived at the final trailhead! Laura and I were out after them, again by headlamp and once again watching the eastern horizon eventually lighten.
While Grit and Stony were hoofing it way in front of us, we were both more relaxed in our pace and stuck together the whole day. She was such a patient partner, listening to me babble on about this amazing adventure, foods and the hot epson salt bath I looked forward to, future trails and how happy I was. There were only a few water sources along the way, but we were stocked up fine. Our packs were lighter with very little remaining extra food, but then there were the heavier wet tents. I'd call it draw.
After one medium uphill that the  trail presented, just as a reminder of who was the ultimate boss of this affair, we realized we were now sailing into our final few flat miles. Such joy!  Suddenly, we abandoned our relaxed pace and these horses were heading  home to the barn.
One delightful surprise just before the end was meeting and chatting with a college professor of botany and her students. It turned out that she and Laura had started on the very same day and at the same approximate time in July 2022, back in Waterton Canyon near Denver. This seemed to validate Laura's complete journey on the CT, very affirming for her. I'm so sorry I lost my mind and forgot to take a photo of them together.
And then…there was my husband's brother, John, and his wife, Betty, walking towards me on the trail!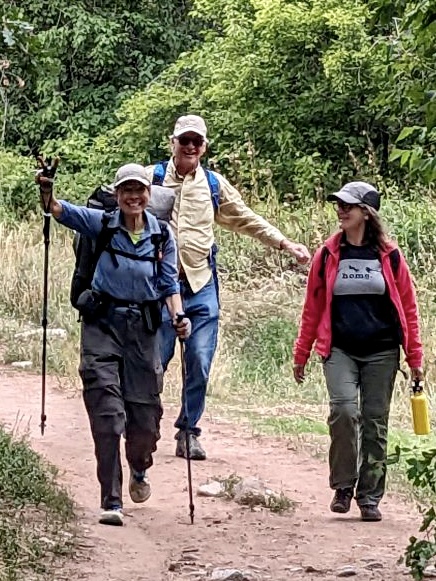 I could now relax!  John and Betty had driven over seven hours from Fort Collins to help us celebrate, and to provide transportation to town in later to the airport.  What a relief to finish and let someone else worry about the logistics.
Things then seemed to happen in rapid succession: many photos at the final trail sign,
celebrating an anniversary
going to downtown Durango for our Colorado Trail Completer patches,
Durango t-shirts, clean travel clothes from a thrift shop, baked potatoes from Wendy's drive-thru (one of my cravings) and delivery of stinky hikers to their hostel. Boy, did those hot showers feel wonderful!
And the weather?  Within a hour of arriving in town, the skies opened up and torrential downpours ensued. We later learned that this translated into four inches of snow and ice at the higher elevations. Hikers were waiting out the storm from the safety of the nearest trail town. We had just made it down in the nick of time. WOW!   I don't usually use the word "blessed," but we truly were.
Somehow, Stony had skillfully arranged a celebratory pizza party while on the trail, and celebrate we did, with a fine gang  gathered together there in Durango.
And that's that. We came. We saw. We conquered. Well, we finished. You don't conquer mountains.
It's still hard to express what an amazing experience this all was. In summing it up, as I did on the Colorado Trail 2023 FB page, I'd say that sharing the final five days with Anji, Jodie and Laura was the best part of my hike.
The second best was meeting much of the rest of the trail community. I've never personally felt such solidarity and support on a long trail such as this one.
The third best was, of course, the trail itself, with all of its beauty, challenges and variety.
I have to say the fourth best thing was the other communities: the townsfolk, the shuttlers and the kind folks who picked up this lady in the pink raincoat with her thumb out.
My goals were to enjoy every day and even on the toughest days, I found things I enjoyed.
My second goal was to go home uninjured, unlike I did three times on a trail out east that shall remain nameless. I went home feeling vigorous and without pain.
I told my hiking buddies that I didn't intend to start talking at home quite yet about my  return this coming  January to the Florida Trail for my second out of three  long section hikes. Much too early to start yammering on to my husband about this, with all my hiking equipment still strewn all over the house. Oh well, I followed my own suggestion for about an hour. He knows it's coming, and he's still very supportive. Remarkable!
And thank you, dear readers, for sticking with me through all of this. I'll be posting some recipes of the trail snacks and meals I cooked and dehydrated on my FB page, Heart-Healthy Hiking. I certainly invite you to visit that and consider upping the nutritional value of your trail food. With all that we demand of our bodies on these challenging forays into nature, don't they deserve premium fuel?
Again, thank you. See you once again before you know it!
All my best to you,
Ruthless
Affiliate Disclosure
This website contains affiliate links, which means The Trek may receive a percentage of any product or service you purchase using the links in the articles or advertisements. The buyer pays the same price as they would otherwise, and your purchase helps to support The Trek's ongoing goal to serve you quality backpacking advice and information. Thanks for your support!
To learn more, please visit the About This Site page.
Comments
32
Woohoo! You did it! Two Ruths completing in one year might just be a record.

And I know of one more. The trail certainly wasn't ruthless this year, although I'd say the three of us certainly were, to do what we did. It was a challenge, but we believed we could so we did. Job well done, Ruth!

Congratulations on finishing the Colorado Trail. Enjoyed your excellent journal once again. David Odell AT71 PCT72 CDT77

Davud, thank you for following my blog. And that's quite an impressive resume you've got there, especially considering it was before Far Out, cell phones and all our modern conveniences. I'm guessing you really know how to use a compass! Job very well done, Triple Crowner. That's not in my plans, but I sure admire those who have pulled it off.

Hiking certainly is different now a days. Your can find journals from all my hikes at: trailjournals.com/daveodell

Thanks for sharing that. I'm going to check them out.

Congrats on finishing the Colorado Trail. Love the pictures .

I'm so glad you enjoyed them. I get great pleasure taking them, simply on my iPhone 14 promax.

Congratulations Ruth!!!
So amazing that you did it all and had no injuries and enjoyed every day!!
Can't wait to see you in person and give you hug❤️❤️❤️

Mary, thank you for always making me feel great! Every person deserves a cheerleader like you rooting for them.

Congratulations Ruth! Well done!

Thanks, Rick! It was one foot in front of each other at times, just to get through the tough parts, but the rewards far outweighed the others.

WTG Ruthless!!!!!!!!!!!
You did it!!
ESSELSTYN PLANT STRONG💪 💪 💪 WOOOO HOOOO!!!
You are my hero!
Congratulations 🎊 👏 💐 🥳

Yeah, baby, it's the food! I wish so much that others would believe in the power of food for optimal health and feeling amazing and jump in with both feet, to get the maximum benefits. I feel as if I'm 50 years old, not 70, and wish that for others. I'm so grateful to have a community with folks like you on the 100% Esselstyn Nutrition Forum on Facebook. Hurray for Dr Esselstyn for all his research and his way of eating for preventing and reversing heart disease. I literally stake my life on it. As some say, "I know I'm going to die, but I don't want it to be my fault."

What a fabulous finale post, Ruth!! Congratulations to you!! You are so inspiring to so many of us!!

Thank you, Cheryl, for always supporting me. I hope that inspiration you say I foster turns into action for the readers.

I just love the big beautiful smile you have in every picture😀😀😀

You ROCK!!! Congratulations!

Thank you, Denette! I never expected to hear that I rock at age 70. Thank heavens it's not just in a rocking chair! 🙂

Congratulations, Ruth! I've truly enjoyed following your beautifully written (and illustrated) blog posts as you made your way on the CT. It's a hike I've had my eye on doing someday, and reading your account gave me the idea that with careful planning and preparation plus a large dose of endurance and determination I might be able to do it too. You are an inspiration!

Hi Lenore! Yes, you've got the right idea: careful
planning and preparation, which includes a lot of hiking specific training and gradually building up the load in your backpack. And it doesn't have to be a thru-hike, in which you do it all in one go, unless that's what you have your heart set on, as I did. . I ended up succeeding on the Appalachian Trail (and will on the Florida and Buckeye Trails) by doing long sections. I encourage you to watch my live interview with Chef AJ on her March 30, 2023, youTube episode. Also sign up on the Colorado Trail Thru-hike 2024 Facebook page (when available). Very very helpful for advice. Keep me posted! [email protected].

Ruth, you're amazing! Congratulations on earning the CT Completer. I enjoyed following your 486 mile adventure.

Thank you, David , for your support. I'm grateful.

Congrats mom!! Excellent blog and accomplishment.

Thank you on both counts, son. I'm so happy to own this adventure the rest of my life.

Ruth, I felt like or I wish I was walking right behind you. Thank-you very much for your very descriptive narrative with the magnificent scenery. Don and I are very glad you are back to Wyoming with no injuries. We can't wait to read about your next adventure. Take Care my friend!

Thank you, Mary Jo. I'm relieved, grateful, and tired!

Congratulations! So inspiring! Starting my section hike of the CT next summer because of you and the other awesome women showing us how it's done. Thank you for sharing!

Hurray for you, Anna! I'm a big fan of section hiking, which I usually do. I decided to tackle this whole thing in one go, if possible, because it was under 500 miles and I didn't want to have to acclimate to the altitude twice. My best advice for you is to pace yourself. Keep those miles low at first. It pays off later. I look forward to hearing from you on the CT FB groups.

Congratulations, Ruth! It was so much fun and such a highlight to meet you on the trail. Looking forward to reading about and being inspired by all of your future adventures (the longer the posts the better)! Happy trails!

Ponderosa, I'm so happy you read this post! Meeting you was a highlight for me, as well. Those final days, encompassing around 75 miles, now all seem like one big blur together for me. We were so very, very fortunate to finish just hours before S*** (also known as weather) hit the fan. I now feel recovered after a week of lots of peaceful sleep, getting up in the light, not the dark. I'm now chomping at the bit to get back to my occasional section hiking of the Ohio Buckeye Trail soon and the Florida Trail in January. If this love of exploring many trails is a sickness, I don't want to be cured.