Sierra Designs Women's Hiking Apparel Review
If you're going to exist in the same set of clothes every day for six months at a time, it's important to wear something you actually like. We tested the budget-friendly Sierra Designs Alpine Start Sun Hoodie, Fredonyer stretch shorts, and Basecamp Tank to see how they stack up for thru-hiking.
Circumstances of Review
I hiked on and off in these clothes from June through mid-September in Colorado's San Juan mountains, Wyoming's Wind River range, and Washington's Olympic National Park. Temperatures ranged from low 40s to mid-80s and the weather was mostly sunny.
MSRP: $50
Weight: 5.8 oz
Material: 88% Poly, 10% Spandex, UPF 40+
Size Range: XS – XL
Fit
This hoodie is made of a stretchy, polyester-spandex blend for a snug, next-to-skin fit. Off-shoulder seams won't rub against your skin beneath a backpack strap. The hoodie was a bit too narrow through the chest for me.
Features
UPF 40+ fabric: Universal Protection Factor, or UPF, is a measure of how much harmful UV the garment blocks. UPF 40 is considered excellent, blocking 97.5% of UV.
Crossover-style hood: Provides full sun protection for the head, neck, and throat.
Moisture-wicking fabric: The polyester-spandex blend wicks sweat and keeps things breathable even on sunny days.
Anti-microbial fabric: A treatment in the fabric inhibits odor-causing bacteria.
Thumbholes: Thumbholes in each cuff allow you to pull the sleeves down over the backs of your hands for maximum protection.
Off-shoulder seams: Shoulder seams are offset so they won't chafe your skin beneath your pack straps.
READ NEXT – How to Pick the Perfect Sun Hoodie for Your Next Hike
Alpine Start Sun Hoodie Pros
UPF 40 sun protection: UPF 40 is considered excellent and filters 97.5% of harmful UV. Although UPF 50 would be even better, many so-called sun hoodies don't have this level of UV protection.
Affordable: Many similar tops cost two or even three times more than this one. Fifty bucks is a great price for a technical sun hoodie.
Alpine Start Sun Hoodie Cons
Thick material feels too hot: Although initially cool to the touch, the fabric feels thick and not very breathable when worn. The snug next-to-skin fit doesn't allow air to circulate, which only exacerbates the feeling of being too hot.
No ponytail port: I would love a slit in the back of the hood so I could feed my ponytail through and not have my hair trapped inside like a fur-lined hood.
Smells bad: Despite the antimicrobial treatment on this hoodie, the Alpine Start hoodie starts holding odors almost immediately, even when I don't feel I'm sweating that much.
Overall
This sun hoodie is a good choice for shorter backpacking trips in shoulder season conditions when you still want full sun protection. It's a little too heavy/warm/stinky for a full thru-hike, in my opinion.
Shop the Sierra Designs Alpine Start Sun Hoodie
MSRP: $50
Weight: 12.2 oz
Material: 98% Nylon; 2% spandex, UPF 50+
Size Range: 2 – 12
Fit
The inseam length of these shorts is 4.5 inches: they come to roughly mid-thigh. The crotch seam is standard (i.e., not gusseted), and the fit is somewhat loose. They're a little longer than I normally wear but super cute, and the material feels nice against the skin. I did find the shorts somewhat loose in the waist and tight across the hips—so these are definitely more suited to a slender body type with narrow hips.
Features
PFC-free durable water repellent (DWR): DWR is a chemical treatment that makes fabrics bead and repel water. Many DWR formulas contain harmful "forever chemicals," but this formula does not.
Streamlined adjustable waistband: Basically a built-in belt so you can easily adjust for a perfect fit.
Inseam gusset: Ventilated inseam gusset for maximum freedom of movement.
Pockets: Two deep front packets, one zippered back pocket, and one zippered side pocket
Abrasion resistant fabric: Durable fabric holds up to rock scrambling and bushwhacking.
UPF 50+ fabric: As good as it gets for UV protection, shielding you from 98% or more of harmful UV.
Fredonyer Stretch Shorts Pros
Great abrasion resistance: The shorts felt super durable, and I never worried about butt-scooching in difficult terrain while wearing them. At the same time, the material feels thin, soft, and flexible, not stiff or unwieldy.
Deep pockets: Finally, women's shorts with pockets that are actually functional! Deep enough to hold my iPhone, and the smaller zipper pocket is good for keys or other small valuables.
UPF50+: As good as it gets for sun protection. Not totally sure I see the point of having a super-sun-protective garment that only covers 25% of your leg, but every little bit of protection counts.
Fredonyer Stretch Shorts Cons
No crotch gusset: This alone is a deal breaker. No pair of shorts without a crotch gusset can ever truly be comfortable, and the Fredonyers are no exception. The seam rides up in terrible ways that shall not be described further in this review. Suffice it to say that sitting, squatting, and taking big steps up (all things that frequently happen when hiking) are nonstarters in these shorts.
Also, if there was a crotch gusset, the shorts would probably have a little more room across the hips and would fit better for curvier individuals.
Overall Value
If only they had a crotch gusset, I would adore these shorts. I love the pockets and the way the material feels. But without the gusset, I can't justify wearing them on the trail or off.
Shop the Sierra Designs Fredonyer Stretch Shorts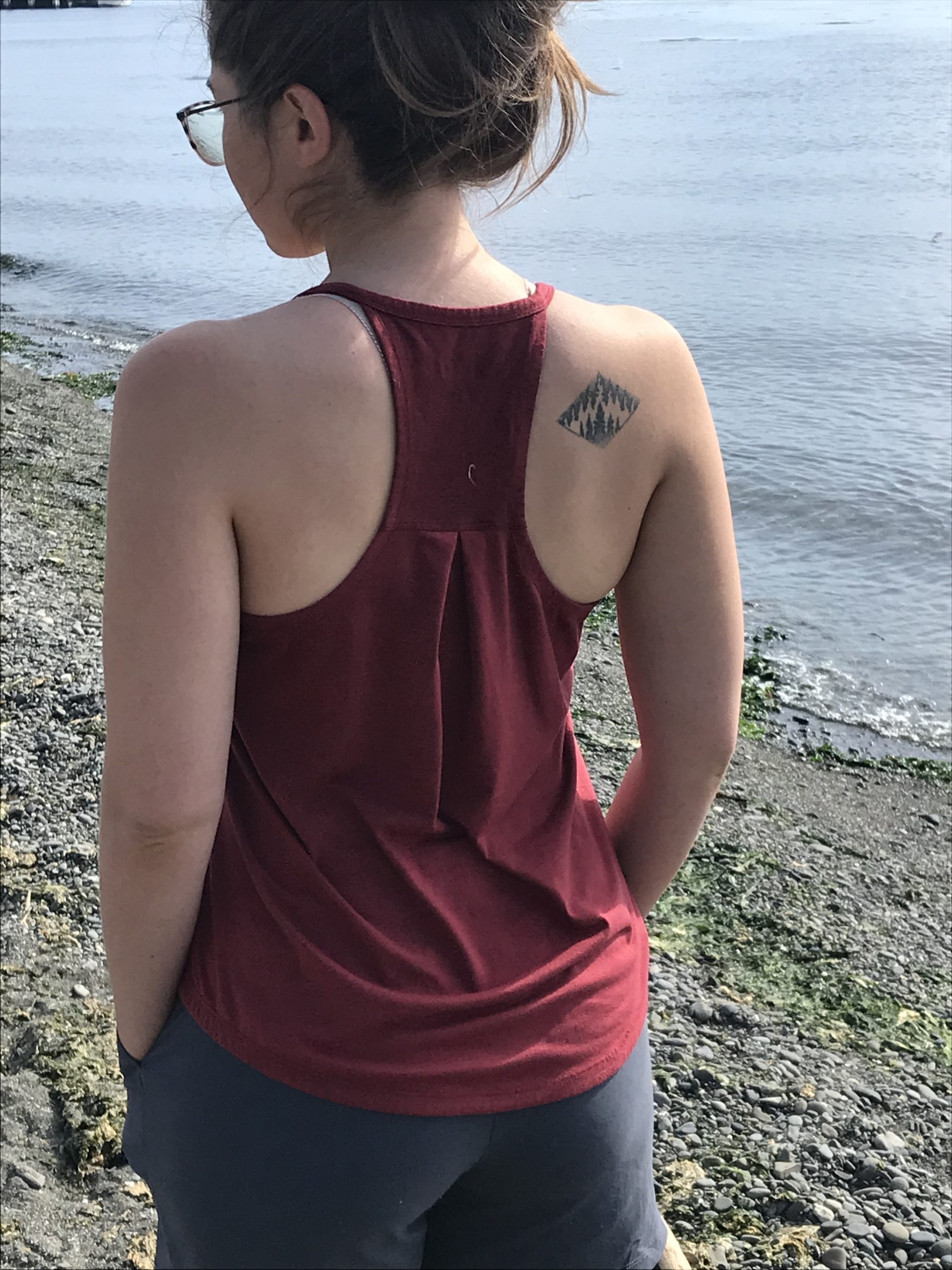 MSRP: $35
Weight: 7 oz
Materials: 77% polyester 18% Tencel 5% spandex
Size Range: XS – XL
Fit
This racerback tank has spaghetti straps and a scoop neck. The fit is loose but flattering, and the material feels amazingly soft and comfortable. The tank features a droptail hem (lower in the back than the front) so that it will stay in place under a hip belt.
Features
Moisture-wicking finish: Wicks sweat to keep you cool and comfortable.
Anti-microbial fabric: Inhibits odors so you can wear the shirt again and again without washing.
Droptail hem: The tank is longer in the back than the front, so it stays put and won't ride up under a hipbelt.
Flatlock seams: Flat (not raised) seams won't rub and irritate your skin.
Sierra Designs Basecamp Tank Pros
Flattering cut: The Basecamp Tank is super cute. Not that it's a fashion show out there, but it's always nice to have garments that are functional on the trail as well as in town.
Feels amazing: The Tencel fabric is incredibly soft against the skin. Furthermore, I always love a shirt with a droptail hem and anti-chafe flatlock seams for backpacking.
Sierra Designs Basecamp Tank Cons
Spaghetti straps: Most of us want more protection from chafing against our backpack straps. I also prefer longer sleeves for protection from sun, insects, and vegetation.
Weight: Seven ounces is pretty heavy for a tank, especially when you consider that the Alpine Start Sun Hoodie, with its long sleeves and full hood, weighs just 5.8 in a medium.
Overall Value
This is a great shirt for casual wear around town or on light day hikes with a small pack. It wouldn't work well for strenuous and/or multi-night efforts, at least for me. If you're able to backpack in spaghetti straps regularly and it doesn't irritate your shoulders, the Basecamp tank might be perfect for you, in which case, go nuts.
Shop the Sierra Designs Basecamp Tank
The Sierra Designs Alpine Start Sun Hoodie, Fredonyer Stretch Shorts, and Basecamp Tank were donated for purpose of review.
Affiliate Disclosure
This website contains affiliate links, which means The Trek may receive a percentage of any product or service you purchase using the links in the articles or advertisements. The buyer pays the same price as they would otherwise, and your purchase helps to support The Trek's ongoing goal to serve you quality backpacking advice and information. Thanks for your support!
To learn more, please visit the About This Site page.