Packrafting Gear: Six Moon Designs Flex Pack PR Review
Packrafting, the sport combining backpacking and paddling in a lightweight inflatable raft, has been expanding in popularity in recent years. While you can technically use your ordinary backpacking pack, those who packraft often or are interested in longer packrafting expeditions would benefit from a backpack made specifically for packrafting. Enter the Six Moon Designs Flex PR pack. A multi-use pack designed specifically for packrafting, the Flex PR can carry a heavy load for packing or portaging, then pack down neatly to secure to your craft.
| | |
| --- | --- |
| Pack Materials | |
| Main Body | 420D Nylon Robic or X-Pac VX21 |
| Back Panel | 3D Spacer Mesh |
| Pockets | 4-way Stretch |
| Dry Bag | 210D TPU-coated Nylon |
| | |
| Weight | |
| Robic Body | 33.9 oz – 962 g |
| VX21 Body | 35.5 oz – 1007 g |
| Shoulder Harness | 5.7 oz – 162 g |
| Hip Belt | 11 oz – 312 g |
| Dry Bag | 8 oz – 220 g |
| | |
| Robic Pack | 58.6 oz – 1660 g |
| VX21 Pack | 60.2 oz – 1706 g |
| | |
| Cost | |
| Robic Pack | $280.00 |
| VX21 Pack | $350.00 |
Please note that the above weights are all pulled directly from the Six Moon Designs website. I sure do love that they've listed out the weights of the individual components, but I can't help but notice that the individual parts don't quite add up right compared to the final weight in grams. They appear to have rounded up for the final totals.
Given the various sizes available, I wouldn't expect the pack to weigh the exact number of grams as the website, but to be fairly close, and that all seems to check out here. According to my less precise luggage scale, the X-Pac came out slightly heavier than advertised, the Robic slightly lighter, both around 10 grams difference.

Intended Use
The Flex PR is, in essence, a dry bag with a suspension carrying system. The dry bag makes up the main pack volume, holding most of your gear. The exterior body offers a special pocket to stow your broken-down paddle, plus a zip-up pocket for snacks, maps, or other small gear items. You've also got hipbelt pockets and shoulder strap pockets to use as you prefer, plus a sternum strap and load lifters for carrying comfort. You can utilize the exterior straps to attach a sleeping pad to the bottom or top of the pack or attach a myriad of items to the outside of the pack body. There are two removable water bottle pockets, one on each side.
On a raft, a backpack can be problematic. A loose shoulder strap could catch your foot, a major hazard if you are capsized in rough waters and get trapped underwater. Some boaters will turn their backpack inside out, or get a dry sack large enough to accommodate their entire backpack. The Flex PR solves this issue – the pack body can easily fit inside the 50-liter dry sack provided, and the dry sack has four external lashing points to secure the bag to your boat. Your pack is safe and secure on your raft, and you are safe as well.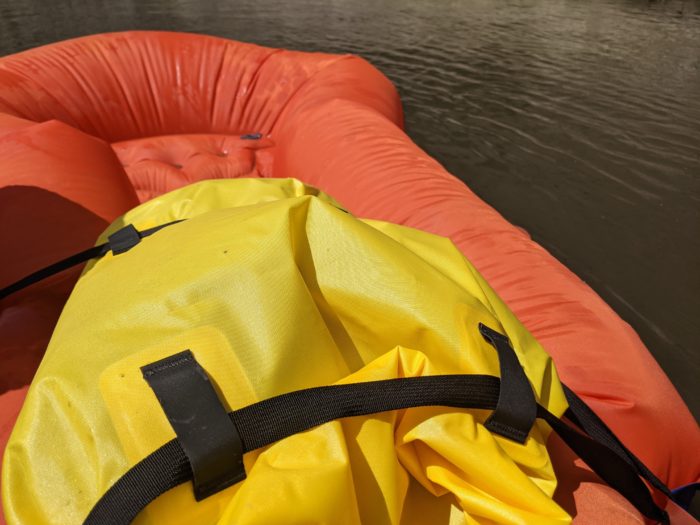 Circumstance of Review
I was lucky enough to get the opportunity to test out both the Robic and the X-Pac version of the Flex PR at the same time. Since I usually travel with my husband Paul anyway, this gave us the opportunity to try out both versions of the pack by swapping for various packrafting trips we took this spring. We made certain to spend more than 50 percent of our time on these trips actually hiking with the packs on to test their comfort with a load. We even found ourselves bushwhacking through some dense vegetation, not unexpected in riparian areas.
Features
Adjustable torso length: Between 16 and 22 inches.
Multiple shoulder yoke styles: Now available with an S-strap.
Multiple hip belt styles: Available in small, medium, and large.
50-liter dry bag
Eight straps
Minimal contact back panel: Same Comfort Fit™ suspension system used on SMD's lightweight packs.
Interior zippered stash pocket
Rear vertical zippered stretch stash pocket
8″ wide front pocket: Large enough to fit paddle blades.
2 removable side pockets: Water bottle pockets clip into side straps.
Elastic lashing cord
Multi-point compression: Keep load stable and compact.
Details
The Flex PR is versatile. While it comes with a 50-liter dry bag, it can accommodate much larger dry bags or a portage barrel. I used a 60-liter dry bag and found the pack could easily hold a bigger one still. Given the length of the suspension straps on the pack, it can expand quite a bit to accommodate a very bulky load. And while it's made for packrafting, that's not all you could use it for. Six Moon Designs also recommends the Flex PR for hunting trips or for those on trail maintenance excursions.
Both the Robic and the X-Pac versions are quite durable. While slightly heavier, the X-Pac offers somewhat better abrasion resistance than the Robic. This can come in handy when bushwhacking through dense riparian vegetation. While the Robic is adequate, the X-Pac is a little hardier. I also like the stiffness of X-Pac, not to mention the color (red), but these are more aesthetic preferences.
Six Moon Designs Flex Pack PR Pros
Mix and Match Harness and Hip Belt
There are many options for sizing with the Flex PR. There are 2 styles of shoulder harnesses in two sizes each, and a hip belt in three sizes. This is especially nice for those of us who are mismatched – needing a different size for our top half than our bottom half.
2 Hip Belt Adjustment Points
The hip belt is adjustable on both the top and bottom, rather than just across the middle like most hip belts. This really allows you to cinch the hipbelt to properly fit your body. I found I was able to cinch the top right over the top of my hip bones so that it stayed more secure than hip belts usually do, with much less sliding down and thus less need for readjustment. I'm not the biggest fan of hip belts, so I must say this might be one of the most comfortable I've worn.
Removable Water Bottle Pockets
The removable water bottle pockets are a nice touch. When carrying a smaller load, I found removing the pockets was better to secure everything tightly. With a larger load, it adds that much more space for the pack to expand and accommodate more gear.
Light Dry Bag with Purging Valve and Lashing Points
The included dry bag weighs only eight ounces, yet includes four lashing points and a purging valve. Draining the air from the sack is a breeze, and securing the sack to my raft was simple and easy utilizing the lashing points. You don't have to use the sack, but it's nice.
Six Moon Designs Flex Pack PR Cons
Shoulder Strap Pocket/Sternum Strap Configuration
Generally, I like the shoulder strap pockets. They are wide enough to accommodate my phone (with a pretty bulky case), a Garmin inReach Mini, or even a small pair of binoculars. They cinch closed nicely so nothing falls out. But, they are so high up on the straps to be a little awkward. The sternum straps are located just below the pocket, and yet, they are almost too low for those of us with a bust to consider, a frequent problem I encounter with "unisex" packs. This is my biggest nitpick for the pack. I'd like to see lower shoulder pockets, higher sternum straps.
So Many Straps
Part of what makes the pack so versatile is all the straps, and yet at times it feels like a mess of straps. At times they hang down enough to brush my legs while I walk. It's not a performance problem so much as an annoyance. While I haven't done it yet, I will be taking a pair of scissors at some point and cutting back. I'll still have plenty of space, but save an ounce or so and have less of a tangled mess to deal with.
Where to Put the Phone
In a way, this is a second complaint about the shoulder strap pockets. On the water, my phone will be secured in a dry bag. But while I'm hiking, I want it accessible. I can fit it into the shoulder strap pockets, but it is awkwardly high and uncomfortable. Although I can just fit it into my hip belt pockets, it's such a struggle it's not worth it. Either a just-slightly-bigger hip belt pocket or a lower shoulder strap pocket would be nice.
Overall Value
The Six Moon Designs Flex Pack PR is an extremely comfortable pack that can carry a load with ease. While it is a little on the heavy side for a lightweight pack, it can handle the increased load that packrafting requires like a breeze. Both my husband and I agreed that the packs were super comfy, and we both really liked the hipbelt, which is saying something because we have pretty different body types. Now, I'm partial to the X-Pac, but it comes with a price tag. It's more durable, it's prettier, it's stiffer, but if you are on a tight budget, I'm not sure it's worth the extra $70. The Robic version is plenty durable and certainly easier on the wallet, plus it's a little bit lighter. However, if you can afford it, the X-Pac is nice.
Shop the Six Moon Designs Flex Pack PR
A Few Comparable Packs
HMG Porter – $395
A very streamlined pack made of waterproof Dyneema® Composite Fabric. 70L internal volume with few external lashing points.
LA Epic – $285
Similar in style and price to the Flex PR, slightly fewer features.
Disclosure: The Six Moon Designs Flex Pack PR was donated for the purpose of this review.
Affiliate Disclosure
This website contains affiliate links, which means The Trek may receive a percentage of any product or service you purchase using the links in the articles or advertisements. The buyer pays the same price as they would otherwise, and your purchase helps to support The Trek's ongoing goal to serve you quality backpacking advice and information. Thanks for your support!
To learn more, please visit the About This Site page.