Six Moon Designs Gatewood Cape and Serenity NetTent Review
What can I say? I'm a sucker for redundancy. And unfashionable rain gear. So when I heard about the Six Moon Designs Gatewood Cape, a shaped tarp that can double as an emergency poncho* (or, depending on how you look at it, a poncho that can double as an emergency shelter), I knew I had to try it.
Would the Gatewood be the ultimate piece of weight-saving, two-in-one backpacking gear? Or would it try to do too much at once and be mediocre at both things? I was eager to find out.
Because I'm not a fan of bugs walking across my face while I sleep, I tested the Cape in conjunction with the Serenity Net Tent, a one-person mesh insert compatible with multiple Six Moon Designs tarps.
*Technically, this system is a cape, not a poncho, because it doesn't have long side slits. This gives the wearer better rain protection.
MSRP: $305
Weight: 22 oz
Gatewood Cape: 11 oz
Serenity NetTent: 11 oz
Number of stakes: 6-8 (not included)
Dimensions:
Gatewood Cape: 45″ peak height | 105″ max length | 66″ max width
Serenity NetTent: 45″ peak height | 84″ length | 26″ width
Circumstances of Review
I tested the Gatewood and the Serenity NetTent in Colorado's San Juan Mountains and on Wyoming's Wind River High Route. I primarily used the Cape in shelter mode, treating poncho mode as an emergency backup to my existing rain gear. The Cape was my primary shelter on the Wind River High Route. I used the shelter both with and without the NetTent insert. It weathered conditions ranging from blistering sun to driving wind, rain, and hail.
READ NEXT – The Ultimate Ultralight Backpacking Gear List
Who is this system best for?
The Gatewood Cape is ideal for ultralight efforts where reducing weight is a crucial concern. For example, on the Wind River High Route, I was looking to cut weight wherever possible to make room for seven days of food, an ice axe, an Ursack, and bear spray, so the 11-ounce Gatewood was a perfect solution.
The tarp tent could be the primary shelter for a long thru-hike, especially when used with the Serenity NetTent. However, I will warn you that the tarp is small and cramped inside—even more so when used with the mesh insert.
I have also enjoyed bringing the Gatewood along on long day hikes, as it satisfies two of the requirements of the Ten Essentials without me having to think too hard about it.
Finally, this system would be a perfect, ultralight solution on desert hikes where the threat of rain is minimal.
Considerations for Pitching
The Gatewood Cape is easy enough to pitch following Six Moon Designs' basic instructions. Start by staking out the left and right front corners and the middle back (with plenty of slack on all stakes). Then insert the trekking pole in the peak harness at a height of 45-47 inches (the numerical settings on my Leki pole are 115 on the bottom and 120 on the top in my pitch, whatever that translates to in inches). Then set the remaining three stakes, starting with the adjustable vestibule guyline, which will anchor the trekking pole and clip to the vestibule via a sliding knot on the line.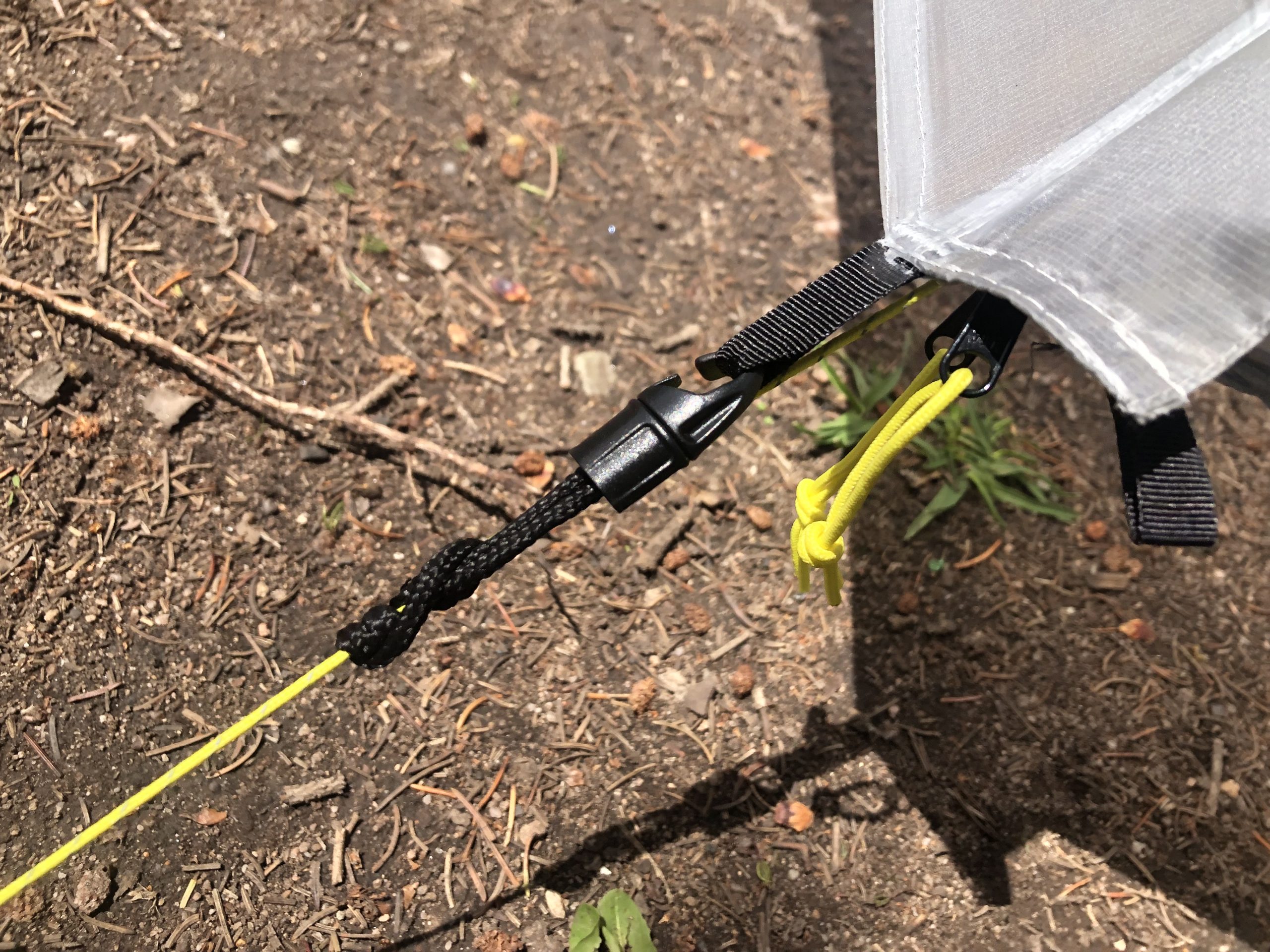 You'll likely need to run around and adjust the position and tension of all six stakes once you have the shelter up and standing. The corner guy-outs feature three different loops, so you can tighten it several times without moving the stake, provided it's been set at the correct angle.
The tent sets up with a minimum of six stakes, but there are two lash points at the head and foot end that can be guyed out for extra wind resistance and interior room. The shelter is quite cramped under normal circumstances, so I always bring two additional stakes and extra guyline to stake out at least the tent's head end.
Many Gatewood users replace standard guyouts with more easily adjustable Linelocs. You can make several other modifications to the Gatewood to alter the way it pitches and potentially get more usable space under the tarp. The best resource I've found for Gatewood pitch modifications is Peter at Gyago.com.
Gatewood Cape Bundle Features
Packs Into Own Integrated Pocket
This could be a pro or a con, depending on whether you prefer to ditch the stuff sack to save weight. The Gatewood pocket is integrated, so that's not an option in this case. On the other hand, it leaves you with a giant, zippered pocket to store things in during poncho mode and tarp mode alike.
A word of warning: if you leave the pocket unzipped overnight while in tarp mode, condensation collecting on the tent can dribble down and puddle at the bottom of the pocket.
Sets Up with Just One Pole
Many trekking pole shelters require two poles to pitch. I like having one stick in the vestibule with me at night for self-defense purposes, so the fact that the Gatewood needs just one pole is a significant win. If you prefer to hike without poles or just with one, you can also minimize the extra weight in your pack during the day. Finally, the pyramid shape formed with this single-pole setup is probably the best design for shedding wind and snow coming from any direction.
Hood and Arm Slits Transform It Into a Poncho
I think of the Gatewood Cape as a shelter first and a poncho second. At the apex of the shelter, where the trekking pole rests in its harness, there is an adjustable hood you can slip your head through. Along the two front side seams are slits that function as arm holes. The zipper that forms the entrance to the tent also makes it easier to get the poncho on and off or unzip it for ventilation when hiking.
Serenity NetTent Clips Into Tarp
The mesh insert clips into the Gatewood Cape and hangs from it, requiring no additional stakes to set up. Alternatively, you can set up the NetTent on its own (sans Cape) if the weather is fair.
Dual Zipper
The front zipper can be unzipped from either the top or bottom so that you can customize your ventilation plan to the max, especially when wearing the Cape. (Very strong Mr. Underhill vibes when unzipped from the bottom.)
Adjustable Vestibule Height
The vestibule height can be adjusted quickly for more ventilation or more storm protection by way of a sliding knot on the guyline.
Gatewood Cape Bundle Pros
Ultralight Done Right
The tarp weighs a scant 11 ounces, while the Serenity insert adds just 11 more to the total weight. I like that I can separate the two, so when I want to go ultralight, I can leave the mesh at home and just take the Gatewood.
Despite the weight savings of this shelter, it's not expensive at all since Six Moons favors good old silnylon over pricier DCF. I like that the system's low weight results more from the smart, minimalist design than the use of ultra-thin, space-age materials. Not only does it keep the shelter affordable, but I have more faith in the long-term durability of the Gatewood Bundle's sturdy design.
Multifunctional
I primarily used the Gatewood in shelter mode and always carried a dedicated rain jacket alongside it. Even so, I'm a bit of a safety freak, so I liked the extra security of having another waterproof layer for protection and warmth in extreme conditions.
Easy Pitch
I've seen a few complaints online that the Gatewood is difficult to pitch perfectly. That wasn't my experience at all. I'll be honest. Generally, I'm a bit of a dunce when erecting trekking pole shelters. They always sag in strange ways and never look as perfect as I want.
But with the Gatewood, I can set it up within five minutes every time, and the pitch is lovely and taught, just like I've always dreamed. I practiced setting it up at home several times before taking it out in the backcountry, and it took me a few tries to get the balance right. Once I got a feel for the setup, it quickly became second nature.
Excellent ventilation in shelter mode.
The hood at the apex of the shelter can be pulled back entirely on clear nights so that the peak is open to the stars. This is a powerful weapon in my ongoing war against tent condensation. While the Gatewood gathers moisture overnight, like any single-wall shelter, the open hood gives the Gatewood an edge over the competition, allowing some moist air to escape. While I woke up to a damp interior a few times, it was never full-on raining inside the tent. This even though on my trip to the Winds, I camped next to a lake almost every night, and my hiking partners did report very wet interiors several times.
It's worth noting that the easily adjustable vestibule height also helps a lot on the condensation front.
Stormworthy
I slept in the Gatewood Cape for a week in Wyoming's aptly named Wind River Range. The tarp withstood sustained winds of (I'm estimating here and trying to be conservative) at least 35mph on multiple occasions and performed admirably even in the most blustery conditions.
Though I kept the hood at the apex open for ventilation on clear nights, I could cinch it tight during rainstorms. I worried that the cinch hood design right at the top of the tent would be a source of leakage in heavy rains, but it seemed to provide a good enough seal. I preferred to keep the drawcord inside the tent so I could adjust it easily from my sleeping bag, but the cord itself did channel some moisture—whether from precipitation or condensation, I don't know—and drip a bit when I did this. Keeping the whole hood mechanism convex and outside the tent avoids the leakage issue altogether.
Seam Sealing Service
When ordering their tent, buyers have the option to have it factory seam-sealed by Six Moon Designs. I've always preferred to seal my own tents, as the process is cheap and straightforward, but this time my tent came pre-seam-sealed by the company. I have to admit they did a far better job than I ever would. Whatever formula they use is nearly invisible, and the application is immaculate. I'm sure I'll have to touch it up at some point, but for now, I love the peace of mind of knowing my tent is sealed correctly.
Gatewood Cape Bundle Cons
Huge footprint, tiny functional living space.
You need ample space to set up the Gatewood properly. You would think that with such a large footprint (35 square feet), the tent would be palatial on the inside. But it's a pyramid shelter, so the actual functional living space inside is surprisingly tiny. I'm 5'4 and use a standard 72-inch sleeping pad. I pretty much fit end-to-end inside the shelter, but there's little wiggle room. The tarp itself is inches from my face and feet on either end. Waking up with a damp footbox is a common enough occurrence.
The shelter requires just six stakes to pitch, but with two more stakes and a bit of extra guy line, you can guy out the sides of the tarp and get a little extra space.
Still gets condensation.
Condensation is a single-wall tent problem, not a Gatewood problem specifically, but still. Despite the excellent peak ventilation, this shelter is sadly not immune to the drippy-drippies that plague all single-wall shelters. Careful pitching and campsite selection can mitigate the worst of this issue.
Have to choose between poncho or tarp mode.
One of the biggest reasons I decided to bring a separate rain jacket whenever I packed the Gatewood is that you can't wear it as rain protection once you've set up camp for the night.
Notes on Poncho Mode
I didn't test it much in poncho/cape mode, so I'll keep my remarks brief.
Pros
Zipper: Not too many ponchos have a full front zipper, which allows maximum ventilation
Side snaps: Interior side snaps can be used to adjust the fit of the poncho when wearing it.
Zipper pocket: The Gatewood Cape packs into its own zipper pocket. While wearing it, you can store stuff in it.
Big enough to cover your pack: One of the most significant upsides to ponchos is that they can also protect your pack—no need for a dedicated rain cover.
Cons
Trekking pole harness is annoying: The harness system that allows you to pitch the Cape as a tarp can be fully or partially unclipped when you want to slip the setup over your head for poncho mode, but it's a bit of an annoyance either way compared to dedicated rainwear.
Minimal armholes: The Cape features slits you can thread your arms through, but the fit is a little awkward, especially if you want your arms protected by the Cape's waterproof materials.
Sloppy fit: I mean, it's a poncho. Is there such a thing as an elegant poncho? There's a lot of baggy, floppy extra material to contend with when trying to wear the Cape, even though it has side snaps to adjust the length of the sides. I know some users control the excess material with the use of a belt or a length of shock cord. Even so, I find all the extra material uncomfortable when wearing the Cape.
Overall Value
While I don't see myself using the Gatewood/Serenity combo extensively on long thru-hikes (too cramped), it will be my go-to for shorter trips when I want to travel as light as possible. The weight, the price point, and the clever design are all hard to argue with. With the Serenity NetTent insert as an accessory, this shelter setup works across a wide range of conditions. Ultimately, the Gatewood Cape is just too multifunctional not to love.
Shop the Six Moon Designs Gatewood Cape Bundle
Similar Products
The Six Moon Designs Gatewood Cape Bundle was donated for purpose of review.
Affiliate Disclosure
This website contains affiliate links, which means The Trek may receive a percentage of any product or service you purchase using the links in the articles or advertisements. The buyer pays the same price as they would otherwise, and your purchase helps to support The Trek's ongoing goal to serve you quality backpacking advice and information. Thanks for your support!
To learn more, please visit the About This Site page.