Six Triple Crown Spots to Visit If You Can't Thru-hike This Year
The Appalachian, Pacific Crest, and Continental Divide trails cover some of the best hiking in the USA. Thru-hiking all three is a magical experience that lets you explore different national parks and ecosystems and walk across entire states. But once again, the thru-hiking season is questionable.
If you want to abide by local health guidelines, or if you'd rather wait for a "normal" year to hike, consider a section hike instead. You can minimize your impact on small towns since you don't have to resupply, while still getting to hike on your favorite trail. Section hikes are also perfect for anyone who isn't ready to put their life on hold for six months, or hikers who want to see a destination at the perfect time of year. 
The places below are my absolute favorite spots on the entire Triple Crown. To some extent, favorite spots will depend on the weather and your mood when you go through. For example, I didn't list Franconia Ridge on the AT. I've heard amazing things about Franconia Ridge, and the photos I've seen look jaw-dropping. However, when I thru-hiked that section, visibility was about twenty feet, and I got mild hypothermia. So please don't be offended if your favorite section didn't make the cut.
Hopefully, this article will either help you choose a section, or will spark some daydreams about when it's finally time to thru-hike. You should be able to visit all of these spots without needing to resupply in town. There are also suggestions on how to shuttle or out and back, so you can avoid hitchhiking.
Appalachian Trail
Logistically, unless you have a different long trail in your backyard, the AT is the easiest Triple Crown trail to visit. Close to major population centers, but far enough to be remote, the AT is frequently crisscrossed by roads. There is also a network of friendly shuttle drivers and hostels, which serve thru-hikers and section hikers alike. If you decide to visit the AT this summer, please make sure you respect all shelter closures, camping bans, and other measures put in place to limit COVID-19.
You can't go wrong with any section of the AT. Almost every single mile is beautiful, tranquil, and worth hiking. These two spots were my absolute favorite parts of my thru-hike. I hope you love them just as much as I did.

McAfee Knob
There's a reason this rocky outcrop is the most photographed spot on the entire AT. If you want your own iconic photograph here, it's an easy four-mile trek from the parking lot at Catawba Mountain. Try to go in the off-season to avoid the crowds. I hiked past here in March and found that the snow discouraged other hikers, but made the view even better. It's easy to visit McAfee Knob in a day, but there is a shelter just north of the famous viewpoint if you'd like to spend the night. You can also combine McAfee with Dragon's Tooth, a fun scrambly section of trail that runs south of the parking lot. Unless you want to add these spots to a longer section, both hikes are best done as out and backs. 

The Presidentials
So much of the AT winds through the green tunnel. The Presidentials features 12 miles above treeline, which results in some of the best views of the entire trail. At least, if you're lucky with the weather. Mount Washington experiences some of the worst weather in the world, including ferocious storms and high winds. However, the convenience of section hiking means that it should be easier to choose a good day for the traverse since you don't have to stick to a strict thru-hiking schedule. 
Pacific Crest Trail
The Pacific Crest Trail is more challenging logistically than the AT to section hike. There are few, if any, shuttle drivers, which forces hikers to rely on hitchhiking or very long walks into town. This year, the Pacific Crest Trail Association recommends shorter trips on the PCT and staying closer to home.
As with the AT, there really isn't a single bad section on the PCT. Most articles recommend hiking the Sierra. While I also think the Sierra is a highlight, I deliberately chose to focus on sections that you don't need to win a permit lottery to tackle. If you'd like to explore the Sierra this summer, consider a short thru-hike like the John Muir Trail.

Crater Lake
Crater Lake is legendary, and for good reason. This beautiful caldera is filled with clear blue water and draws crowds every year. The actual PCT winds through the woods away from the crater, but a popular alternate runs along the rim. You can drive to the rim and day hike, or backpack a loop along the alternate, returning along the actual PCT to your car. 

North Cascades
The North Cascades are often overlooked in favor of other PCT spots. However, Rainy Pass to the Canadian border was a highlight of the entire trail. I hiked through at the end of September, with fall foliage and golden larches. The high passes were stunning, and chilly nights were a small price to pay for plenty of solitude. 
This section works best as an out and back, but hiking the same route twice is no hardship when the scenery is this pretty. Many thru-hikers trek the 65 miles from Rainy Pass to the border, then turn around and backtrack to Harts Pass. However, if you continue back all the way to Rainy, you can avoid difficult hitches. You'll also get to admire the best views on the PCT for a second time.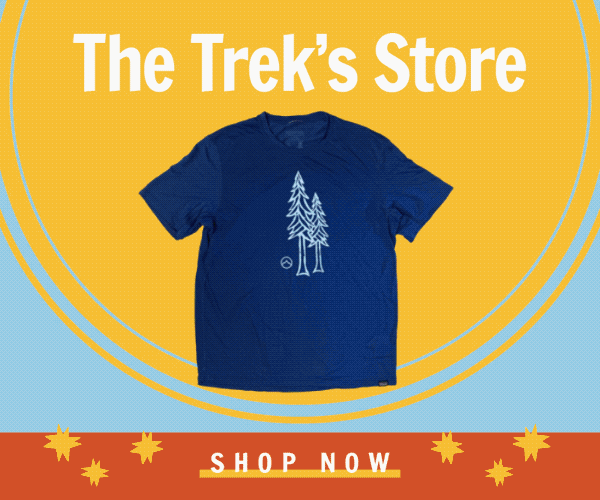 Continental Divide Trail
The CDT is by far the most difficult of the three trails to section hike. The Continental Divide Trail Coalition recommends short trips close to home. In many places on the CDT, hitchhiking is the only way to get around, unless you drive to a trailhead and either do an out and back or a loop hike. If you decide to hike point to point, consider going with another hiker with a car, so you can run a shuttle between your start- and endpoints. 

The Gila River
This spot is a bit of a cheat- technically it's not on the CDT. However, the Gila River in New Mexico is a common alternate and a highlight of the entire trail. Most thru-hikers take this route, and it's easy to see why. Steep canyon walls flank a hot spring studded river, and every twist in the canyon reveals a new surprise. The Gila River can be tough going- the trail crosses the river over 200 times. But it's worth the effort. There's no other spot like the Gila on the entire Triple Crown. I often felt more like I was at the bottom of the Grand Canyon than on the CDT.
Logistically, the Gila is challenging even on a thru-hike. Hikers take up to eight days to travel between Doc Campbell's Trading Post and Pie Town, and hitching between these two spots would be incredibly difficult. Instead, consider hiking in from the visitor center on the Gila River low route. The low route crosses a high water route in several places. Choose whichever crossing makes the most sense for the distance you want to cover, and then take the high route back to your car. You'll still get to see the best of the Gila but won't have to worry about shuttles. 

The Wind River Range
The Wind River Range is the CDT's best-kept secret. Stunning granite spires, amazing alternates, and gorgeous subalpine meadows make this a highlight of the Triple Crown. If you join the CDT near Big Sandy Trailhead and hike north towards Green River lakes (or the reverse), you can explore the heart of the Winds. You can follow the CDT proper to meander past stunning lakes and meadows, or follow the Cirque of the Towers or Knapsack Col alternates for more adventure. Try to aim for late summer, so the snow has melted off the high passes and river levels have dropped.
In a regular year, hitching is easy in Wyoming. This year, however, you may want to organize a two-car shuttle with a friend to be safe. Or, for an extra challenge, consider dropping a bike, hiking back to it on the CDT, and then biking back to your car. The Great Divide Mountain Bike Route runs alongside the Winds, which would make for an exciting bike shuttle route. 
Even if you can't thru-hike this year, hopefully, this article will give you some great ideas for jaw-dropping sections to hike. Remember to follow local guidelines and advice for a safe hike.
Featured image: Graphic design by Libby Thompson (@libby.des).
Affiliate Disclosure
This website contains affiliate links, which means The Trek may receive a percentage of any product or service you purchase using the links in the articles or advertisements. The buyer pays the same price as they would otherwise, and your purchase helps to support The Trek's ongoing goal to serve you quality backpacking advice and information. Thanks for your support!
To learn more, please visit the About This Site page.