Our 2015 Spring Backpacker's Gear Guide
It's wet, it's warm (but not too warm), it's cold (but not too cold).  It's spring.  Tis the season for temperate hiking conditions (a definite plus for us heavy-sweaters), budding flowers, longer-days, and pleasantly brisk nights.  Let's just say it: spring is easily one of the best four backpacking seasons of the year.
But for every plus, spring brings with it two question marks.  In a 48 hour-span you can see temperatures in the high 70's and mid twenties, sunshine and sleet.  For this reason, the backpacker must be equipped with a pack ready for all of these conditions.
The following list includes many of our favorite pieces of gear appropriate for this highly variable season.  Submissions are courtesy of Appalachian Trials Writers, all of whom have thru-hiked the Appalachian Trail.  Any gear recommendations not attributed to another writer are courtesy of me (Zach).  Enjoy!
The 2015 Spring Backpacker's Gear Guide
Patagonia Men's Nano Air Hoody
Hands down, this is my favorite addition to my pack list in 2015 (I'm wearing it as I write this).  The Patagonia Nano Air is crazy-versatile; it breathes well during high activity, insulates at camp, it's stretchy, soft, and synthetic- perfect for the damp environments expected in spring.  This piece can either function as a heavier mid-layer or pair it with a wind-proof jacket and use it as your insulating layer.  Although not waterproof, the shell is treated with DWR, keeping it drier longer in a light rain- and when it does get wet, it dries exceptionally fast.  Simply put, it's hard not to love the Nano.
Arc'Teryx Women's Atom LT Hoody
"The Arc'Teryx Atom LT Hoody is super lightweight, and the Polartec hard-faced fleece side panels allow for great breathability with maximum warmth. The synthetic insulation and the durable water resistant finish make it a great insulation layer for around camp." – Carlie Gentry, 2013 AT thru-hiker
Mountain Hardwear Plasmic Rain Jacket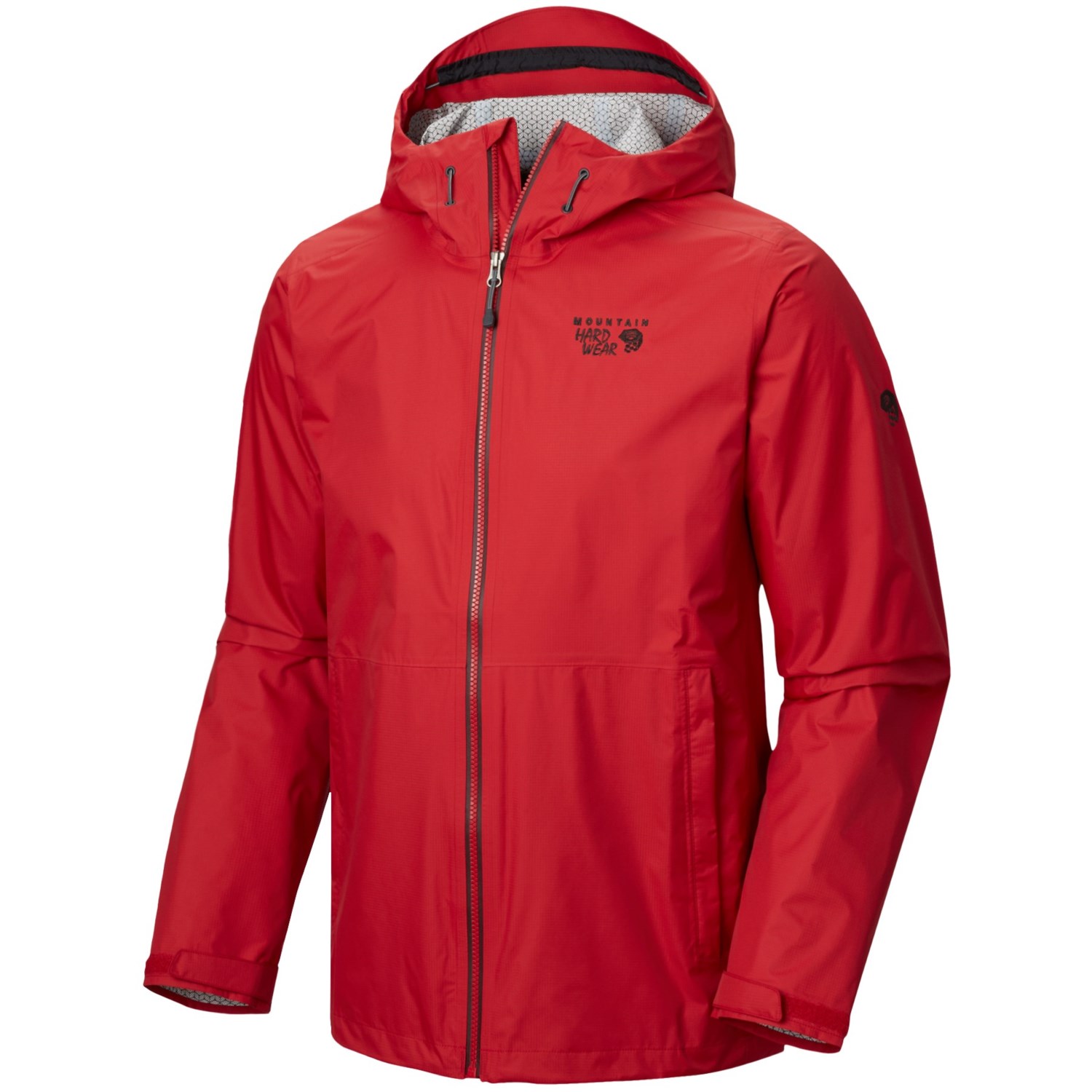 "I hate a stiff, bulky rain jacket and this jacket frees up my movement while keeping me dry still. If I am forced into rain gear by a cold and wet combo, the Mountain Hardwear Plasmic Rain Jacket makes it a little more bearable. Also, its lightweight and the Super Light version is even lighter!" – Carlie Gentry
Icebreaker's Merino Women's Oasis Long Sleeve Half Zip
"The Icebreaker Oasis Long Sleeve Half Zip is the perfect piece of clothing for anyone planning to sweat this Spring. This comfortable shirt keeps you warm and cozy as a base layer on a cold mountain hike (~35), and easily transitions into a cute pullover to wear on any crisp, foggy morning (~55). While the fabric definitely shows when you've been sweating (proof you're working hard!), it certainly doesn't smell like you've been, even after multiple days of wear. Made of breathable 200gm merino jersey fabric, this top is lightweight. It's also form fitting – so be careful choosing a size." – Bennett Travers, 2014 AT thru-hiker
Tasc Performance Bamboo+Merino Men's Base Layer Level B 1/4-Zip
Tasc Perfrmance's Bamboo-Merino Base Layer Quarter Zip was my first experience testing a bamboo fabric, and immediately I was sold.  Merino is already sufficiently comfortable on skin, but the bamboo (technically a semi-synthetic derivative called viscose) provides an extra-level of softness, resembling a heavier cotton.  Add to this an impressive warmth-to-weight ratio and quality moisture wicking, and this new blend has become one of my go-to base layers for colder environments.
Sierra Designs Silicone Trail Pants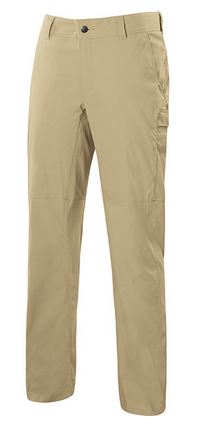 With the Sierra Designs Silicone Trail Pants, backpackers need no longer fear grabbing a seat on the damp ground during a snack break or taking a knee in the mud to snag water from the spring.  The seat and knees are treated with silicone which boasts four times the water repelling power of DWR.  I've tested these during multiple snowshoeing sessions in addition to rainy hikes and have come away completely dry by day's end each time. Also worth noting, the pants' stretch woven material is ideal for the challenging climbs found on the AT.
Saucony Women's Xodus Trail Runners
"I know from our survey that the trail-runners-of-choice are Brooks, but I wore ONE PAIR of the Saucony Women's Xodus Trail Runners from Damascus, VA to Mt. Katahdin, ME. I could not believe that they lasted me 1700 miles, but they did. They were great 3-season hiking shoes and the best gear decision I made." – Mariposa, 2014 AT thru-hiker
REI Women's Joule 23 Sleeping Bag
"The REI Women's Joule 23 sleeping bag is awesome because it is super lightweight for the price and uses water resistant down. I used it for my entire thru hike and it kept me warm in Maine in October! This sides of the bag are waterproof which was also amazing to have because the sides of the tent would get wet during storms, but I was always dry!" – Ashli Baldwin, 2014 AT thru-hiker
Big Agnes Copper Spur 1
"The Big Agnes Copper Spur 1 lightweight but super spacious for a one person tent. The rainfly staked out so that it wasn't touching the tent body which kept me super dry. The ventilation was great so I stayed nice and cool in the summer. It was my little home away from home." – Ashli Baldwin
Big Agnes Fly Creek UL2 Tent
"I saw the Big Agnes Fly Creek UL2 everywhere on the trail (including in my own pack), and for good reasons: it's super light, free standing, holds up well in the wind, and has significant space for all of your gear in the event of a downpour. I could also have this tent up and ready to sleep in within two minutes after I had the process down. Definitely one of my favorite purchases for the AT." – Jordan Bowman, 2014 AT thru-hiker
Tarptent Double Rainbow 2 Person Tent
"My partner and I loved the Tarptent Double Rainbow because it was surprisingly spacious (long enough to fit a 6'3″ person and with enough vestibule space for both of our backpacks) while only weighing a measly 2 pounds, 9 ounces. Set-up was just one pole and six stakes – no messing with guylines, ground cloths, or rainflys. We were worried about its waterproofness, but it kept us dry even in torrential downpours. Most importantly, Tarptent employees drew a dinosaur on the box our tent shipped in." – Maggie Wallace
Etowah Gear 8'x10′ SilNylon Tarp
"For hammockers, I could not recommend a better rain fly than Etawah Gear's 8×10 SilNylon Tarp. I used this tarp as a hammock rain fly, to cover the open side of the shelter any time it was windy/rainy, and with my trekking poles when there weren't any trees for my hammock. It is lightweight (13 oz.) lasted my entire thru-hike (I still use it). Best of all, Etowah Gear products are all made in the USA." – Mariposa
Sea to Summit eVent Compression Dry Sack
"The Sea to Summit eVent Compression Dry Sack has saved my sleeping bag from becoming completely soaked so many times. I highly recommend it during the spring when things turn rainy. It also works great as a bear bag; it keeps food dry during unexpected nightly showers." – Madison Dragna, 2013 AT thru-hiker
Peak Design Capture Camera Clip Series
"The Peak Design series is perfect for those who are looking for an small, simple, exterior clip system for their cameras. On the trail photo ops abound and sometimes taking your camera in and out of a bag over and over becomes annoying and tedious. The Capture Clips can easily attach to backpack straps for when you want quick and easy access of your camera. While mostly designed for DSLRs Peak Design has also developed a clip system for POV cameras like GoPros as well." – Kenny Howell, 2013 AT thru-hiker
"What at first glance looks like an overpriced tube of fabric is actually the most versatile piece of clothing I brought with me. I have used mine as a headband, hat, scarf, balaclava, and even as an emergency shirt.Made out of a magical, fast-drying polyester blend, Buffs stretch without ever losing their elasticity, don't retain odor the way some wicking clothing does, and are actually pretty stylish." – Maggie Wallace
"I love this piece of gear because it so versatile and its for anyone! Especially in the spring, it can switch from hot to cold weather in a blink. The buff can double as a neck warmer or a head band, wrist band, sweat band whatever!" – Madison Dragna
What's your favorite piece of gear in the spring?  Let us know in the comments below.
Disclosure: Some of the aforementioned products were donated for the purpose of review.  This includes the Sierra Designs Silicone Trail Pants, Tasc Performance Base Layer, Icebreaker's Merino Oasis, and Patagonia Nano Air.
Affiliate Disclosure
This website contains affiliate links, which means The Trek may receive a percentage of any product or service you purchase using the links in the articles or advertisements. The buyer pays the same price as they would otherwise, and your purchase helps to support The Trek's ongoing goal to serve you quality backpacking advice and information. Thanks for your support!
To learn more, please visit the About This Site page.