The Stunning and Harsh Wilderness of Central Arizona
Exhausted from the previous night, I woke up a bit late. Steel had already left. For a change, the sky was overcast and cool with just a hint of some moisture. We hiked together in the morning, resuming the traverse of the rugged Mazatzal Wilderness. Now that the big climb was done, I enjoyed the mountainous terrain and relished the sweeping views.
We met up with Steel about a dozen miles into the day and opted to stop for an early lunch. A few bees took an interest in my tuna. I eventually had to dispatch them because they kept trying to land in my sandwich. We began a long traverse across the flanks of a large mountain, getting to know Steel. I sped uphill as we neared Bear Spring, lured by the promise of cold, clear spring water. We had carried water all the way from the East Verde, something like 34 miles north.
I practically stuck my face in the spring, such a welcome rarity on this trail. It was mid-afternoon and the clouds hadn't lifted, making this probably the coolest day since north of the Grand Canyon. Knowing that there was another long water carry ahead, we pressed out for a few more miles before dark set in. We ended up with a wonderful campsite in a narrow saddle. The sun appeared below the clouds as it dropped to the horizon, and we had front-row seats to the resulting spectacular red sunset.
The clouds broke overnight, and I enjoyed crisp air and bright skies to start the morning. The first few miles were in and out of burned sections, with sharp transitions between the un-burned sections and new growth where the trees had burned. The trail descends gradually for a while before depositing hikers into a series of dry washes and separating ridges. Per Bear and I hit the halfway mark together, and shortly after came across a cache of canned ravioli! We each grabbed a few for a treat, then continued on in search of some small seeps to stop for lunch.
The water from the seep didn't look the cleanest, but I filled up anyway anticipating another long carry. We saw some day hikers and then hunters as we got to the dirt road, and scored some ice cold water and sodas! I chugged the soda and used my bandanna to hold the water bottle to my neck, improvising some backcountry air conditioning. At the highway, we paused for a while to call Leafy who was planning to send us a care package down the trail.
Immediately on the other side of the highway, the next mountain range rose prominently out of the desert. But before the climb began in earnest, I let out an actual squeal of delight. I had found a beautiful flowing creek where I had expected to find nothing. I drank as much water as I could stomach, took a sponge bath, and washed my socks and shirt. This is a luxury that you can never pass up on the AZT.
That was the end of all luxury.
After an hour of recharging at the creek, we endeavored to keep hiking until dark. The trail fought back. At first, we faced steep washed-out gullies with tricky rock scrambles up the sides. Those gave way to a consistent tread, but we paid in blood. Cat's Claw and other nasty, thorny branches grew in sheets over the trail. Every half-mile or so, I put my arms over my face and plowed through up to five linear feet of the prickly gauntlet.
I learned quickly that trying to step carefully through them was futile and simply prolonged the pain. Instead, I emerged with several streams of blood trickling down my thighs, calves, and forearms. And yet, for some reason, I was not as distressed as a few days before while crossing the East Verde. By now, I had learned that the AZT doesn't give a shit about you. You just have to take what it gives out. Still, I was relieved when Per Bear spotted a cozy campsite for the night. The canned ravioli made an excellent appetizer as I waited for the rest of my dinner to rehydrate.
Four Peaks in the Distance
Mercifully, we had almost cleared the vicious vegetation the night before and there was little bloodshed the next morning. Instead, the trail became impressively steep as it climbed to a high saddle on the ridge above. From there, it was a nearly 14 mile stretch on gravelly, sandy roads. I found an excellent cat-hole location on a small outcrop beside the road, giving me almost 360 views while I did my business that morning. Probably the highlight of that first stretch.
The road walk wasn't all that terrible. There was a stretch with some amazing rock formations, and generally expansive views. I flew along the road, alternating between Run the Jewels and Black Sabbath in my headphones and pounding Peanut M&Ms for a few hours. Finally, we rejoined the trail just north of the reportedly stinky Pigeon Spring. It was supposed to be the last natural water source until we reached town the next morning.
Then I did a stupid thing.
I had read a comment on the trail app that suggested there was a large cache another 2 miles in. Pigeon Spring turned out to be a bit green and smelly, so I put all my chips on the cache. With half a liter of water left, I started wondering how someone had gotten 30+ gallons of water about 3 trail miles from a road in a Wilderness area. Too stubborn to turn around, I pressed on with a sinking feeling in my gut.
There is no water here. Of course there wasn't. I should have known better, but I gambled and put myself in a bad spot. I sat down in some shade to prepare lunch and wait for Kirby and Per Bear. Kirby, too, had banked on the cache, but Per stuck to his guns and filled every bottle at the spring. Between the three of us, we had just under 5 liters of water to cover about 17 more miles, plus a night in camp. Not exactly great.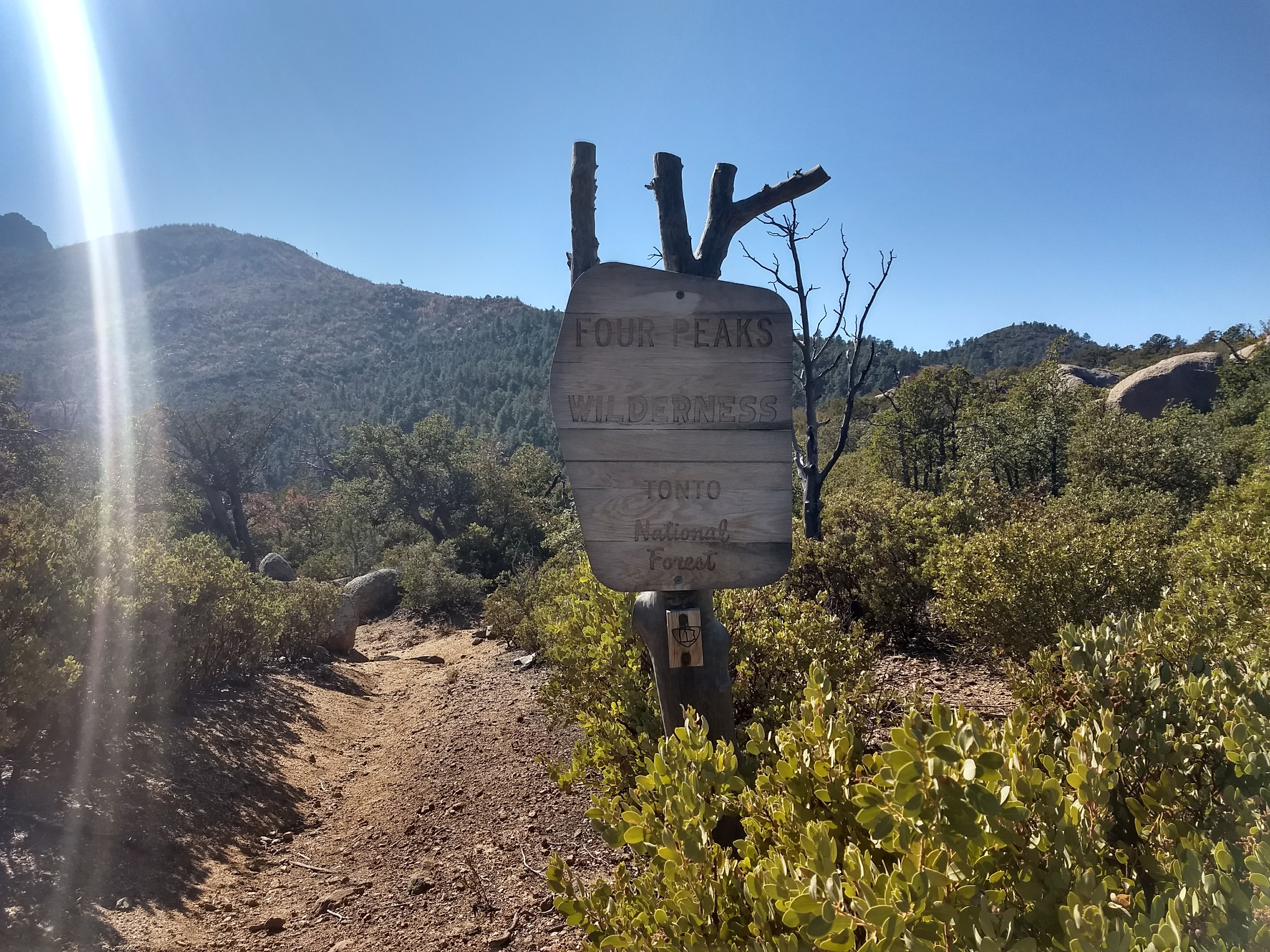 All I could do was walk myself out of the situation. As my friend Leafy always said on the PCT, "The only way out is forward." The trail around the Four Peaks was incredibly narrow at times, winding through gullies on the steep slopes. Off to the east, Roosevelt Lake taunted me. I was certain it must be the largest body of water in the state of Arizona. Eventually, the trail started to descend and picked up some shade from dense White Oak trees. Then all of a sudden, those oaks were growing across the trail, their thick, stiff branches woven perfectly at face level.
For the second day in a row, I used my arms to shield my face and just plowed through. Already on edge because of my strict water rationing, I roared at the injustices of the trail and called it lots of names that I didn't really mean. Once through the thicket, I set my mind to getting through the remaining miles. There was still a distant hope that a trailhead 10 miles out of town might have a small cache.
Feeling a bit shaky from the hot descent through a few small canyons, I arrived at the trailhead to find two empty jugs. Kirby and Per Bear were a few minutes back, and I sat in the shade of an embankment contemplating mixing some drink mix with my urine. I decided against that when I saw how dark my urine was… At least now the sun was low in the sky.
For the first time, we saw the mighty Saguaro Cactus on the way down to the lake. It was an exciting new development, and for a while the novelty distracted my from my sticky mouth and dry throat. With only single digit miles remaining to town, I planned how to ration the remaining four gulps of water I had left. 1) Eat the rest of my potato chips and candy for dinner. 2) Chug the last of my water right before bed. 3) Dash to town in the morning and hope I make it.
The light finally faded, but I now had the Lake in my sight at the bottom of a ridge. I was ready to give in, but Kirby insisted we get to the road that night and camp at the trailhead. The last mile and a half to the road dropped over 1000ft, which we had to navigate with our headlamps on.
We left the Mazatzals much the way we entered, trying to stay upright on a slippery trail, exhausted from a long day and desperate for camp. It had been a demanding, yet incredibly rewarding section, but we were all ready to spend a long day in town.
You say Zero, I say Nero
Ok, so the trailhead turned out to be just a paved pull-out alongside a popular scenic highway. I slept surprisingly well despite the bed of asphalt and my dehydration, and woke to an absolutely stunning sunrise. Kirby and I were out of water, and the road here was far too curvy to hitch safely, so we started walking down the road to the Marina. At the Visitor's Center, we eagerly began to replenish our fluids. They had one of those fancy water fountains that shows how many disposable bottles you've saved by filling up. Boy howdy did we save a bunch of plastic that morning!
After choking down some of the shittiest coffee I've ever had, we stuck out our thumbs for the town of Globe. We waited a hot 45 minutes before an old rancher picked us up. It was possibly the most educational hitch I've ever had; he told us about the 7 generations of his family to live on the ranch (he was the 5th) and the changes they'd been through. He taught us about the lifespan of Saguaro cacti, the damning of the Salt River, and regional history. We had to cut the conversation short in the WalMart parking lot, but I'm sure it could have lasted a few more hours.
It's hard not to buy too much food at Wally World. Somehow, I ended up with a loaf of bread, bagels, AND a pack of breadsticks for a two day stretch to Superior. After completing our Hiker Trash duties by breaking down our resupply in the parking lot, we hitched a ride into the center of town. I promptly stuffed my face with a huge burrito and a couple tacos at Los Robertos, which tasted like magic.
There was zero interest in going back to the trail that night. Still, Kirby chuckled about us taking another zero day. I reminded her that we had walked like 2 miles along the road from our camp to the Visitor's Center. So it was technically a nero. We cooled off at a cafe while charging electronics and discussing options for where to stay the night.
Globe, AZ: Party City
We decided on "Maybe we'll meet someone at the bar" as our lodging strategy for the night. Globe's main drag is littered with bars, so we planned a bit of a crawl. To start, we picked up some beers at the grocery store and wandered around town looking for a quiet place to consume them. In a nod to my typical hometown hangouts, I directed us under a bridge. Just rackin' up Hiker Trash points that day!
After another massive meal, it was time to sample Globe's finest drinking establishments. At the recommendation of our server, we tried Jammerz first. The folks in there were obviously not used to hikers coming through, which resulted in us meeting lots of people very quickly. One of those people was Sonny, an out-of-work miner who quickly inquired if we had a place to stay for the night. Jackpot.
Sonny was an amazing host. Though he had known about the AZT, he had never met people hiking the whole trail. We introduced him to the concept of a "Trail Angel," and he certainly lived up to it. He lent us clothes while everything we had went in the washing machine and we rotated through the shower. We listened to Pink Floyd's "Wish You Were Here" while Sonny told us the story of his life. Late at night, I fell asleep on a soft, carpeted floor under a blasting AC unit, an unbelievable luxury at that stage in my life.
A reluctant (and slow) departure
Bolstering his candidacy for Awesomest Trail Angel Ever, Sonny treated us to a massive breakfast the next morning at the Cook House. You know a place is serious when their "Hungry Traveler" breakfast is (barely) enough to satisfy a thru-hiker appetite! At the junction to head back to Roosevelt Lake, we waved goodbye to Sonny and set to hitching.
It was the hardest hitch I had on my whole hike. It took three hours of standing on the scorching pavement, huge pickups towing fishing boats buzzing past us at high speeds, before we finally got picked up. A guy we'd met at the bar the night before had seen us on his way to breakfast, and felt bad that we were still there on his way back. So he turned around and drove us all the way to Lake Roosevelt. One final brush with Globe's hospitality helped me mostly get over the long hitch.
Back at the trail again, it was HOT. I tried to eat a bunch of food out of my pack at the Visitor's Center, but eventually it was time to suck it up and get hiking. Steel had skipped town and gotten ahead of us, so catching back up to him provided some needed motivation.
Into the Superstitions
Climbing back into the mountains from Roosevelt Lake is strenuous. No water, predominantly exposed dirt roads, and almost unbelievably steep grades. I did get to see a cute little Kudamundi which brightened the day significantly. On the way up, a group of backpackers told us there was leftover water in their cache at the ridgeline. I gratefully accepted the aid and cameled up, not wanting to repeat the debacle coming out of Four Peaks.
Dusk fell as we reached the Wilderness boundary. I slowed down a little to enjoy the distant glowing walls of mesas that dotted the landscape. The difficult climb, as always, had been so worth it. Continuing into the woods higher up the ridge, we scored a delightful campsite with a common area and several flat spaces for camping. I counted stars through holes in the canopy until I fell asleep.
As we were packing up the next morning, Clean Sweep and Mr Overhill walked past! We hadn't seen them since the South Rim. They motored off and about half an hour later we set out after them. The Superstitions proved mercifully shady, at least at the higher elevations. I had flashbacks to the PCT going through a section that had burned very recently, but this had the controlled and precise look of a prescribed burn.
Going through Revis Ranch, we got to enjoy a rare creekside lunch in the shade of a huge Alligator Juniper. Revis is a popular destination, and we saw many day hikers and hunters along the trail on the way out to the trailhead in the afternoon. We caught back up to Steel there! He had lingered to chat with some hunters who had just hauled a deer out and were headed to town to celebrate. We selflessly helped them empty the beer out of their cooler to make room for the meat. 
Leaving the parking lot, the trail mostly followed a long valley all the way out to the highway into Superior. The actual trail spent several miles zig-zagging up and down one side of the arroyo. We knew that if we followed the dry creek bed, it would eventually link back to the trail after following a much straighter course. The surface was mostly hard packed and travel was easy. As dark fell, we left the wash in favor of the trail to find a place to camp.
As I lay in my sleeping bag a little way off from the trail, a loud crashing sound jolted me to attention. Apparently we had chosen to camp along a cattle super-highway. I shined my headlamp around and saw at least six large bovines making their way through camp. Luckily none of us got trampled!
Once again, Mr Overhill and Clean Sweep sped past us before dawn as we were just starting to get packed. We planned to meet them for a meal in Superior. Knowing that the trail crossed back and forth across the arroyo we were in, I chose to take the creek bed once again. Occasionally I had to work my way around a short drop-off or a bottle neck of dense willows. I cut back to the trail when it cut due south towards the highway.
The overcast you see in the above photo disappeared soon after it was taken. The last few miles to the highway crossed the desert floor, and even by mid-morning the temperature felt pretty extreme. I could see Clean Sweep and Overhill ahead of me as we neared the highway. I took a little cross-country shortcut with cold beverages and possibly even climate control on my mind. The three of us got a ride from some dude in a sweet old pickup. On our way into town we passed Kirby and Per Bear. The driver stopped and let them hop in too, and soon we landed at the dollar store.
We had to sit around in the shade for a while waiting for a restaurant to open. The five of us ate lunch together and shared stories from the miles since the Grand Canyon. They had a room in town, but we made our way to the gas station to get ready to hitch back to trail.
Sitting on the curb in the shade, enjoying cold Gatorades and several Hostess products each, the gas pumps started… pumping. On their own. Obviously concerned by this occurrence, I went inside to inform the attendant. They responded: "Oh yeah, they do that when it gets hot enough." It's the fucking middle of November, and the sun is so hot it's pressurizing underground gasoline storage tanks enough to start leaking out of the above-ground nozzles. What are we about to do, again?
Oh, that's right. We're going to start hiking again.
I almost hoped we wouldn't get a ride out. But sure enough, another pickup truck pulled over after just a few minutes and we piled into the back. Roy dropped us off at Picket's Post trailhead, where we chatted for about half an hour before getting started. He told us about his 10 years as Mayor of Superior, and about a proposed mining technique that would destroy Apache Leap, a significant historical site for the Native people in the area.
Picket's Post loomed over us as we wound around three sides of its base. There was really no shade to speak of, so we pressed onward towards higher elevation. Ascending into the evening, I realized that camping spots would be difficult to find in the rugged mountain terrain. The hiking itself felt much easier than back in the Mazatzals, but there was nary a flat piece of ground to be found. On a dirt road a little way above the trail, we managed to carve out a few rocky, body-sized plots to lay our ground sheets on.
The rocks weren't the only factor making this one of the least comfortable nights of camping. No, the blood-curdling screams we heard for several minutes definitely had something to do with that. And, after those ended, the hour-long session of automatic rifle fire. It was pretty clear that both sounds originated from far away, but that didn't exactly help me sleep better.
I was anxious to get going the next morning. Ahead was the Gila River, which we had heard was a brutally hot section. For about 14 miles, the trail runs east-west along a south-facing ridge above the river. The river itself is difficult to access and definitely subject to heavy agricultural and mining pollution from upstream. Rad. Luckily, the first 10 miles before the river were some of my favorite. Absolutely spectacular scenery as the sun crept over the landscape.
The miles seemed to fly by, with little elevation change. I sat in the shade of a trailhead sign and regrouped with Kirby and Per Bear before we headed East. We were hitting the Gila right as the heat of the day settled in. I replayed the Aqueduct section of the PCT in my mind. I did OK with that desert challenge, so the Gila should be fine, right?
The Gila River is no fucking joke
Just a mile or so past the trailhead, we followed a wash that allowed us to get underneath a fence and access the river. It was pretty green, but it was liquid. We filled up and had lunch. The promise of trailside pizza delivery from Kearny at the end of the river stretch was eventually enough to get my feet moving just before the sun reached its peak. Even with all of my bottles full of lukewarm water, I knew it was going to be a thirsty affair.
I can't say much about what I experienced out there. There was absolutely no escape from the sun for a full four hours. My water grew so hot I didn't even look forward to drinking my two sips per 20 minute ration. Saguaro and Barrel Cacti seemed to be the only plant life, and I spent lots of time wondering if I could really tap into their water reserves. Head down, I plowed on through the blazing heat wondering when I would run out of water.
Finally, the trail turned a corner and began descending towards Kearny. A huge mine and adjacent tailing pond dominated the bleak landscape of the valley below. There was a short road walk before reaching the spigot/pizza delivery point. An angry-sounding dog barked at us as we passed a house, but Kirby and I got a much friendlier reception at the spigot. A worker at the facility saw our flushed faces as we collapsed in the shade and offered us a massive pouch of Gatorade powder.
Kirby and I tore into that thing while we waited for Per Bear, who we figured was maybe 15 minutes behind, to arrive. Our bellies began to rumble after he failed to appear on schedule. Finally, almost an hour after we had arrived, Per came limping up the road. He was so hoarse, after running out of water, that he could barely speak enough to explain the limp. The dog that barked at Kirby and I had bit him on the ankle, after a short chase and standoff.
"Your mileage may vary," as the saying goes, but I definitely think Gila River Day on the AZT is harder than Aqueduct Day on the PCT.
The Trail Provides
While Per Bear rinsed out his wound under the spigot and attempted to drink his body weight in Gatorade, Kirby and I got down to phoning in the pizza order. One large pizza each, plus a large order of breadsticks. After enduring the Gila, we totally deserved it. We looked up rabies symptoms for Per Bear, who honestly seemed pretty nonchalant about the whole thing. During the long wait for the pizzas to arrive, a massive military transport plane buzzed us at low altitude. We had speculated if there was a nearby base, given the machine gun fire the night before. This seemed to confirm our suspicions.
Finally, the delivery car showed up and I absolutely ripped into my pie. Kirby pointed out a not written on the inside of her box. It said something like "I'm at the pizza joint, and I overheard this order coming in. I'm guessing it has to be you three. I got a room in town tonight, call me if you want in. -Steel"
We definitely hadn't planned to stop in Kearny. But after that day, the thought of drinking beer in a hotel room sounded just about like the only thing I wanted to do. After a bit of re-strategizing, we called Steel and arranged a ride into town. I stopped at the store for beer and ice cream before walking over to the motel. We had an awesome night hanging out with Steel, watching Futurama and enjoying excessive amounts of AC just because we could.
Crossing the central mountain ranges of Arizona was an incredible challenge. I felt truly knocked down several times along the way. But just as negative thoughts would start creeping in, the Trail came through every time.
Affiliate Disclosure
This website contains affiliate links, which means The Trek may receive a percentage of any product or service you purchase using the links in the articles or advertisements. The buyer pays the same price as they would otherwise, and your purchase helps to support The Trek's ongoing goal to serve you quality backpacking advice and information. Thanks for your support!
To learn more, please visit the About This Site page.