Tabletop Track: A Rarely Traveled 40 Kilometers of Australian Wilderness
The following is a Guest Post by Lora Gene Young. To send your own story or submit a post, email [email protected].
Litchfield National Park in the Northern Territory of Australia boasts some of the most beautiful and accessible waterfalls the country has to offer. Little known to most tourists, it also offers a wilderness track to connect those crowded vistas.
Tabletop Track At-a-Glance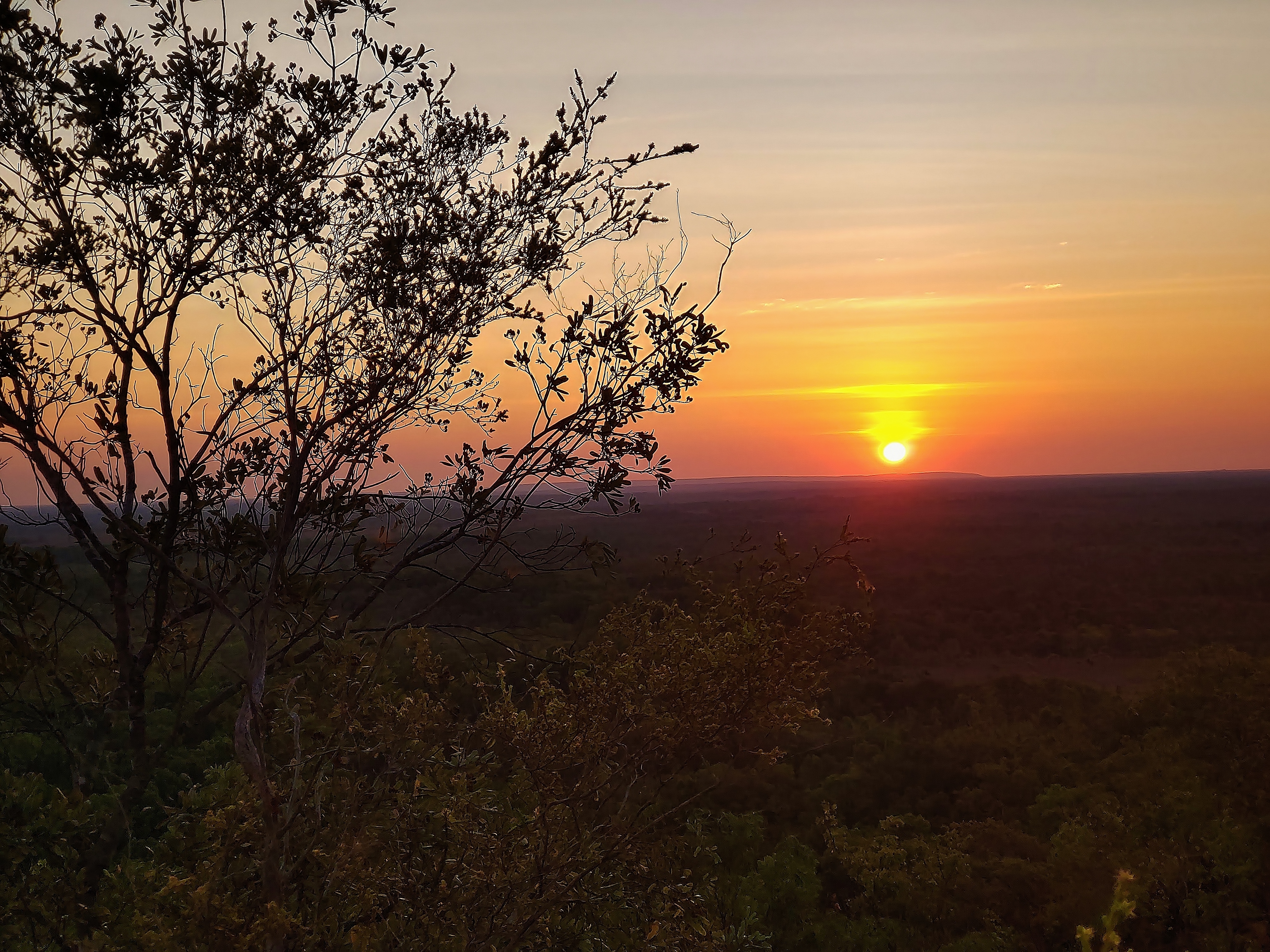 Distance: 40 km loop – approximately 25 miles
Location: Northern Territory, Australia
Trail type: Loop with connecting tracks
Scenery: The scenery on the loop can vary greatly. Mostly flat grasslands/savannah, but can change to dramatic rocky outcroppings. These rocky sections offer a bit of boulder hopping and way-finding.
Terrain: Easy, flat grassland with several moderate sections of exposed rock and steep hill climbs.
Navigation: Map is provided in PDF at the National Park website.
The map shows the parking lots where link tracks are accessible. There are signs directing you off the regular walking tracks (orange arrows) and onto the Link Track and Tabletop Track (blue arrows). In most sections the arrows are easy to find. Some sections have been supplemented with pink flashing in the trees because the grass and tree growth cover the signposts. In a few rocky sections the blue arrows are quite hard to find, and a bit of zigzag walking or finding a higher vantage point can help locate the next arrow.
Getting There
The park is approximately 120km southeast from Darwin via Batchelor on the Stuart Highway. Once in the park, follow signs to any of the parking lots marked on the map. You can leave your car at these parking lots, but make sure you let a park ranger or volunteer know of your plans.
Direction
This trail can be hiked in any direction, or in sections. There are three campgrounds on the Tabletop Track and four more campgrounds available off the Link Tracks.
Why Hike This Trail
This is a great way to experience the beauty and remote wilderness of Litchfield National Park without the crowds. There are hidden waterfalls, grassland savannah, rocky escarpments; all the features of Top End Australia and very few people. There is no feeling like standing on the top of a rocky piling, looking out across a vast wilderness of treetops and watching the sun slowly set on the far horizon. No power lines marring the view, no loud music interrupting the sound of the birds; just clear, clean air.
Climate and Weather
Best time for the hike is dry season (May to August). To hike between September and April permits must be granted. During the dry season, expect warm to hot days (70-100F) and cooler nights (50-60F). It will be sunny almost all day. The afternoons are usually windy with calm mornings and evenings. Absolutely perfect weather.
Gear Suggestions
The good thing about hiking in the dry season: no rain gear needed. Lightweight hiking shoes or boots are perfect. I would suggest low hiking gaiters (sock savers) just to keep out the grass, seeds and dust. Sunscreen is a must and bug repellent is also a good thing to have. Shorts, tank, hat, camp sandals. There is the ability to have a very light pack.
Camping
The mileage (kilometers) between camps is all noted on the map. The track can be done in two days, with only one night at a remote camp. Ask before you go about water at the remote camps. In a very dry year (like 2019) there is not much water at the camps by August. The camps provide a fire pit, but that is all. Campgrounds within the park can be used for a fee. These provide toilets and some have showers.
Highlights
The solitude of the hike is the best highlight. Stunning sunsets every night, private waterfalls for swimming, and perfect weather. This track is a must do if you are already visiting Litchfield National Park.
Water Sources
The map denotes that there are no water sources between Grennant Creek and Florence Falls. This is a longer section of the track, but easily done with a couple of liters of water. The other sections of the track cross water a few times, but by the end of the dry season (August/September) these water sources are getting less and less. It is a good idea to fill your bottles are every stream and carry at least three liters of water.
I thoroughly enjoyed my time on the Tabletop Track. It is not a long track or a hard hike, but it is a good way to get away from the tourist crowd and experience a beautiful part of Australia.
About the Author
I grew up camping, hiking and canoeing for family vacations, but have only recently started doing long-distance hikes. Last summer I did a three-week section hike on the AT. This year I did five days of hiking in Litchfield National Park. I am participating in the MST 42nd Birthday Hike and look forward to more hiking this summer. I am planning a short trek in Kyrgyzstan this fall.
Affiliate Disclosure
This website contains affiliate links, which means The Trek may receive a percentage of any product or service you purchase using the links in the articles or advertisements. The buyer pays the same price as they would otherwise, and your purchase helps to support The Trek's ongoing goal to serve you quality backpacking advice and information. Thanks for your support!
To learn more, please visit the About This Site page.