Te Araroa: Part 11 – A wheely good time
Whilst the hiking part of the Te Araroa south island had concluded, we still had 90ish kms to go in order to connect our journey from top to bottom of the South Island. This would be done in a different form: by push bike.
Updating the plan
Arriving in Tekapo 5 days early meant we needed to make a few calls to see if we could do things like move our bike rentals, campsite bookings etc. Luckily after half an hour on the phone whilst we chowed down a pie and a flat white at the Greedy Cow cafe we were all set to start cycling the very next day!
As Jenny soon realised, this would mean we wouldn't have had a rest day for 18 days once the cycling was finished. "Don't worry, it's different muscles to hiking" I said, hoping there was some truth to this statement.
That night we had a lovely Brazilian style dinner in an observatory overlooking the lake and cloudy mountain ranges, complete with a Victorian era telescope built in this area to take advantage of the dark skies. It was here I had my first beer in New Zealand as a form of celebration of our hiking achievement: a hazy pale ale from a local microbrewery.
Hot and sweaty
Excited to finally be in fresh sheets, we returned to our double room at an incredibly cute and accommodating backpackers for an early night. Unfortunately, the room, part of an old wooden hut, was absolutely roasting so we both had one of our worst night's sleep in New Zealand. Weirdly we seem to get our best nights sleep in our tent on our airbed and quilt. Our setup is dialled in and we probably haven't got the distraction of phones, and the stimulus of carbs and sugar before bed that keeps us up in towns.
In the morning we got ready for our new mode of travel. For the next section we were looking forward to heavier foods, in the sense of heavy in weight and water content. Gone were the days of dehydrated and freeze dried everything. We wanted fresh fruit and veg every day, a luxury that a bike might be able to afford us as the weight wouldn't all be on our backs and we would be in a town at least every other day so could resupply regularly.
The bikes we had ordered came with pannier bags but didn't know if all our gear would fit. Luckily there was more than enough space in these waterproof side bags to hold our bulky food and bike accessories (spare inner tubes, tyre levers and pumps) and all our hiking gear. What I hadn't anticipated though was the top-heavy weight of the bikes. I almost stacked it as we sauntered up to our first coffee break of the day and I nonchalantly swung my leg over the back of my bike, only for the bike to come down with it.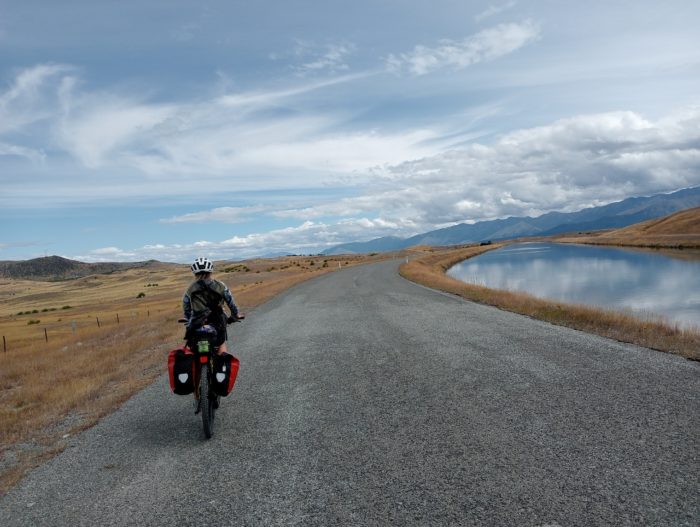 For the next five days we would be cycling the Alps to Ocean cycle, New Zealand's longest bike path taking us from Tekapo to Oamaru. The first two days would be cycling a route that the TA trail shares across a canal system linking us to Lake Ohau, where we had finished walking north before Christmas. The canals are part of a large hydroelectric power network. Impressively, in New Zealand about one third of the country's energy comes from water power.
Easy going 
This section of the TA is often cycled or skipped by hikers as it is fairly boring and as the canal is private property it isn't possible to camp for a 50km stretch, the distance of our cycle for the first day. Whilst it felt like cheating going faster than our 5km per hour hiking pace, we definitely were not complaining.
The miles came easy as we chatted side by side enjoying this more efficient form of transport. Becoming apparent as the day went on though was just how spent our legs were. Our quads felt like they lacked any juice to push us up the tiny hills we encountered along Lake Pukaki, and the cycling put a lot more strain on weakened knees, especially on any slight incline.
The town of Twyzel 
After lunch by the lakeside we had a mostly downhill cycle into the township of Twyzel. Twyzel has an interesting history. It originally was a temporary town, built to house workers of the hydroelectric plants as these were being erected. At one point this town had the largest primary and secondary schools in the country as the town ballooned in size. The plan was to move the houses out of the area when all was done, but when it was time to tear the place down residents complained. As a result this town, with its Skandi street layout, pedestrian town centre and sprawling plots remained, though it does still have the 'temporary' feel to it, with some homes that looked more suited to a caravan/trailer park.
Once we had enjoyed dinner in the town we cycled to a freedom camping zone, which wasn't the one mile out of town I'd told Jenny over dinner, but was in fact 6kms away! Annoyingly we would have to cycle all the way back into town again for breakfast the next morning.
Ohao lovely
We had a great night's sleep at this remote campsite from which we loaded the bikes up and set off for Lake Ohau Lodge. Now I'd heard great things about this place from other hikers and had booked us in for a three-course set dinner to celebrate our completion of the South Island of New Zealand. When we got there we were upsold from our camping pitch to a room in the lodge, as it was only about $30 NZD more but came with the promise of an all you can eat breakfast. Knowing our current appetite this seemed like a good deal.
After a dip in the lake, followed by time in the hot tub we enjoyed the fantastic dinner (a main of duck over roast potatoes, asparagus, carrots and green beans) before retiring to bed. It felt sort of anticlimactic to finish this way. No monument, no one else sharing the same success, just us two appreciating our accomplishment, but knowing we had our toughest day cycle ahead of us.
It's the climb
From Lake Ohau the Alps to Ocean left the route of the TA and headed to the coast, but first we had the hardest climb of the ride to do. It was a 10km climb up a snakey trail, which wasn't too bad thanks to its gentle gradient. Annoyingly though I wasn't quite with it when we packed up so had left our SOS device at the lodge. This meant I ended up doing the hill twice. It's easier to leave things behind when you're not tidying your whole sleeping location into a bag, which makes it near impossible to misplace bigger items.
It rained for a lot of the day but the track was fun being a narrow, gravel mountain bike track. As we hit the afternoon we ran into a bit of Kiwi traffic in the form of a flock of sheep on the track. Reaching the town of Omarama we cycled in to get dinner at the local pub; the Boots and Jandals. Here the meat feast pizza lived up to its name, with steak, chorizo, ham, beef burger, sausage and about a kilo of cheese generously layered on top. The toppings were so weighty that eating slices was a challenge as the dough buckled under the weight. We felt about 5kg heavier as we cycled back to our tents.
Lakeside views
The next few days followed lakes and dams as we meandered up, down and around shorelines to various lunch, snack and eventual tent spots. The weather was stunning as were the lakeside views from the tent.
This part definitely felt more like a honeymoon. The track was amazing and more down than up allowing us to freewheel decent portions. In addition, we were treated to wineries, coffee shops and pubs along the way that were all too happy for us to tap our debit cards in exchange for local goods.
The finish line
The final day saw us take a disused railway track into the town of Oamaru, including an unlit tunnel. The ride was relaxed, we had cold pies from the cafe for lunch and arrived into our final destination beaming.
Unlike Lake Ohau this did feel like a finish. There was even a life size picture frame for us to capture the moment. As with all trails that end at the sea, the trail isn't over until you've dunked yourself in the ocean. We washed off the day's sweat with a salty sea swim, to the bemused looks of the rest of the tourists in their wet weather gear who were here to see penguins.
With that we had completed 1,300kms of the Te Araroa trail of the south island of New Zealand, and 350km biking the Alps to Ocean. The journeys had taken us just over two months, they had challenged us, but most importantly they made us a better team. We leave the trails with more unforgettable memories of nights spent under canvas, in remote huts and meeting vagabonds all on their own individual journeys. Wrapping up this adventure we are more invigorated, a bit more feral and a lot more Zen. Jenny and I both agree that this is the best honeymoon we've ever had.
Affiliate Disclosure
This website contains affiliate links, which means The Trek may receive a percentage of any product or service you purchase using the links in the articles or advertisements. The buyer pays the same price as they would otherwise, and your purchase helps to support The Trek's ongoing goal to serve you quality backpacking advice and information. Thanks for your support!
To learn more, please visit the About This Site page.