The 10 Hikers You Meet on the Appalachian Trail
1.  The Squirrelly Old Man
If you're a cyclist or runner, you've probably seen this guy already. He's the one who pedals past you uphill, ignoring the popping of his own joints. You try desperately to sprint past him at the end of the 5K only to be shut down by a reserve of power he's been rationing since the Depression. Somehow, his wiry old frame is just killing the free weights at the gym.
Well, he's out there on the trail too.
Just when you think the last hiker has reached camp that night, you get a whiff of Bengay on the breeze. Soon you see him limping out of the forest, this octogenarian terminator. And you know that before you've even considered crawling out of your smelly bag in the morning he will have already shaved with cold water in his WWII helmet, taken a spoon of cod liver oil, and hit the trail. You might pass him during the day but don't let your guard down. You'll see him again.
He is the turtle to your hare, the tireless march of time that hunts you down. He is unstoppable, so you'll just have to accept your fate and make friends with him – because he's totally going to outlive you.
2.  The Squirrelly Old Woman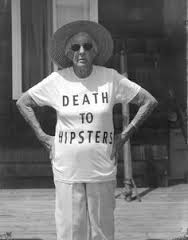 The squirrelly old woman is just as unstoppable as the Squirrelly old man, but will pass you while chain smoking Virginia Slims and wearing Rambo sunglasses.
3.  The Romantic
We've all been this person before. But then there's the hiker who can't turn it off. There they are, prancing through a meadow in bare feet, blowing flower blossoms into the air, and writing long log book entries about the noble Porcupine. You reach Greyson Highlands only to find them riding a pony. They weep for rainbows. They try to befriend the bears in Shenandoah and recite 'Nothing Gold Can Stay' at every sunset.
No matter what you initial misgivings are, though, this person will inevitably make your hike better through their eccentricities, their exuberance, and the invention of cheerful songs like 'singing in the hail'.
4.  The "Hiker

Is he homeless? I mean, he has jeans on. And he said his tent got stolen… But he has a sleeping bag. And a jug of bleach to treat his water.
He looks familiar enough, but you can't quite be sure if you saw his face on a half-way photo at the ATC headquarters or on the evening news. He might be a real hiker. But maybe for fun we'll just hike another seven miles tonight to the next shelter.
5.  The Survivalist
This guy has been preparing for his thru-hike at the same Tibetan Monastery that trained Batman. He has a machete, rabbit snare, fishing pole, and a hunk of flint. He sleeps in the shelters and occasionally builds his own tent by lashing together branches and covering them with leaves. He has been overheard asking 'what would Bear Grylls do?'
You know you'll be glad this guy exists when the zombies come, but at the moment you're just trying to drink some instant coffee before a five-mile hike into town. You don't need him doing upside-down crunches from the shelter rafters.
6.  The Stoner
You can see the Rasta colors from a mile away.  And even from the other side of a mountain you can pick up the distinct odors of Patchouli and Marijuana that always bring to mind your art teacher's office.
Usually, the stoner is pretty funny. They liven up the shelter scene with antics and jokes that make the hiking experience feel more like a wild vacation than a grueling march. But then they spill mac and cheese all over the shelter floor and you fall asleep wondering, 'if a bear eats him, will it get stoned?' and 'What the hell is a stoned bear going to be like?'
7.  The Mayfly
You blinked and missed it, but a blur of gym shorts and energy bars just shot by you. You can try to catch up but you'll only be jogging behind them, trying to sound casual while gasping for air. You've met an elite May-starter.
They just finished their medical degree and only have three months, so they're hiking the Appalachian Trail. About 25 miles per day so far, but it's been pretty easy. They'll probably have to slow down to 20 miles a day in the Whites.
Yes, these people are out there. It's better to just let them fly by and dismiss them as mythical beasts, like narwhals or people who don't like chocolate.
8.  The Snorer
What is that horrible animal? Oh, it's just the guy with sleep apnea. You will learn to dread the foreboding puff of his inhaler as he wheezes into the shelter at sundown. You're unclear on how he is able to hike big miles when his vocal chords are trying to chainsaw their way out of his throat each night. Still, you learn to tolerate the unholy noise with earplugs and your head stuffed deeply into your sleeping bag – at least he keeps the bears away.
9.  The Ultra-lighter
There they are, trotting along with a bag the size of a day-hiker's, stopping at the shelter after a thirty mile day. You won't see them again but you'll read their name for weeks to come, quickly scrawled next to a date that grows further and further away. You've seen purses bigger than the backpack from which they produce a shelter made of helium, an emergency blanket, and a single granola bar.
While they make you glad for your creature comforts, you can't help but feel embarrassed as they perform their daily ablutions – brushing their teeth with half a toothbrush and shaving off all body hair – about your own gear, with its straps and whistles and camp mugs clanging.  Still, it's hard to picture being in their shoes – especially since they cut off the front half.
10.  The Heavy-Weight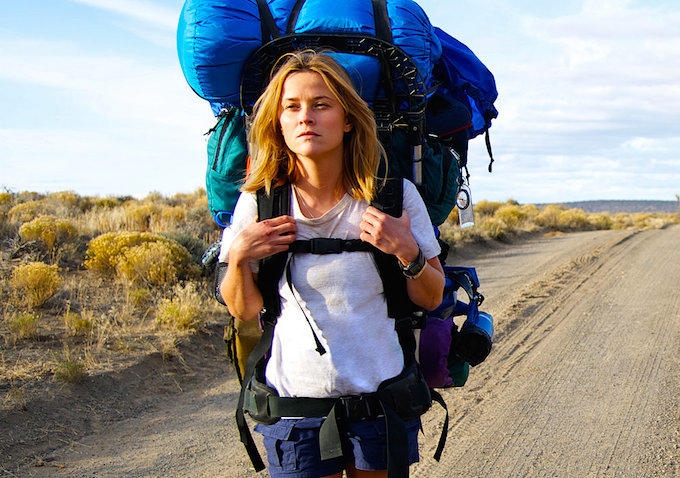 On the other hand, there are the heavy-weight champions. While the ultra-lighter is rolling around like a baked potato in their emergency blanket, the heavy weighter is comfortable in their zero degree army surplus bag with a blow-up swim raft for their sleeping pad.
Bug spray, hammocks, camera tripods, and books pour out of their external-frame backpack like jugglers from a clown car. You are half expecting to see them pushing a wheelbarrow eventually. But, to their credit, they often share their wealth of food, and might even let you sit in one of their camp chairs.
Did I forget any trail characters?  Let me know in the comments!
Affiliate Disclosure
This website contains affiliate links, which means The Trek may receive a percentage of any product or service you purchase using the links in the articles or advertisements. The buyer pays the same price as they would otherwise, and your purchase helps to support The Trek's ongoing goal to serve you quality backpacking advice and information. Thanks for your support!
To learn more, please visit the About This Site page.