The Beginner's Guide To Desert Hiking
Hooray! Your first desert vacation is booked and on the calendar. As you begin prepping your boots and letting dreams of red rocks fill your head, it's important to start thinking about how your desert trip will differ from those of mountain trails.
Desert landscapes are filled with some of the most unique and dramatic hiking in the world, however this terrain can be dangerous and potentially life threatening for an unprepared hiker. Countless people die of heat stroke and dehydration every year – but most of these incidents can be avoided with some basic desert knowledge and proper preparation.
To help you feel prepared to safely conquer your first desert trip, we've narrowed down our top tips for staying safe while hiking in these unique conditions. It goes without saying that many of these factors can vary by region, season, and trail, but the below tips can be used as a great "rule of thumb" of standard desert safety during your next southwest get-a-away: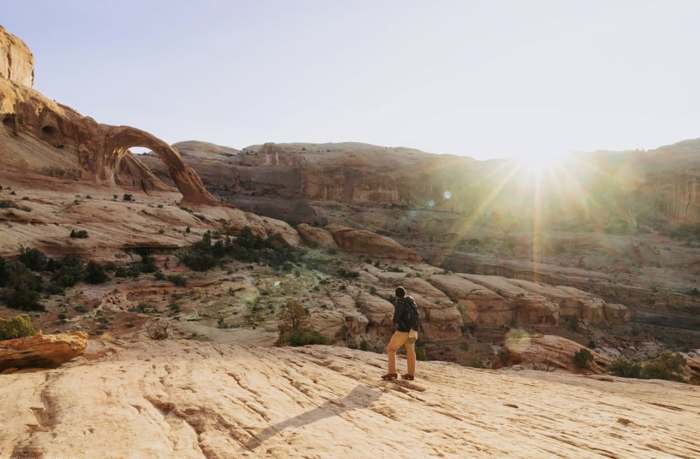 Hydration & Salty Snacks Are Key
With minimal shade, soaring temperatures, and a lack of natural water, the desert is an environment that's harsh like no other. Packing more water than you think you'll need is crucial to staying properly hydrated and avoiding the dangers of heat stroke. The National Park Service recommends consuming a gallon of water daily in their Southwest parks, but this number will be even larger for those cramming in big mile days or hiking in the height of summer heat.
In addition, bringing along replenishing drinks (like Gatorade and Propel) will help you replace everything your body is sweating out while you hike.
Finally, it's important to eat salty snacks throughout the day to aid in replacing your sweat – that's right, potato chips and cookies are actually your friend while desert hiking. Pair them with protein and whole grains for long-lasting energy, and you'll be good to go with sustained stamina throughout your hike.


Hike During "Off-Times"
Although summer is the ideal time to hike high alpine peaks and mountain trails, these months in the desert are known to be dangerous. With temperatures regularly reaching triple digits throughout the day, many hikers will opt to hike in the autumn, winter, or spring months to avoid the hottest parts of the year. Regardless of which month you hike, the general rule of thumb in the desert is to hike early in the morning, or late in the afternoon. Hiking during the heat of the day may be tempting when trying to squeeze a maximum amount of miles in, but experienced desert hikers choose to avoid the highest temperatures and take advantage of any shade they can during these "off peak" hours.
When attempting an all day hike or longer backpacking route, many hikers will take a long rest period in a somewhat shady spot during the hottest parts of the day to avoid exerting energy in the afternoon sun. After taking a nap and allowing time to properly hydrate and refuel, these hikers will often choose to continue getting miles in until after the sun sets to allow for a maximum amount of distance traveled each day.
Another bonus to this strategy is that trails are often less crowded during the early morning and late afternoon hours and – if you time it correctly – you could get a front row view at the famous desert sunrises and sunsets.
While paying attention to daytime highs is crucial to staying safe, it's also important to note that deserts get cold at night (sometimes dropping more than 40 degrees when the sun goes down). Although this cold air will likely feel refreshing if you've been hiking in the sun all day, it's still wise to grab a light jacket or some sort of insulating layer if you plan on camping or hiking into the night.
Clothing & Sun Protection
It may sound like a no-brainer, but wearing proper clothing and sun protection in the desert is paramount to ensuring you stay safe on your route. As far as sun protection goes, sunglasses, sunscreen, floppy sun hats, and loose fitting synthetic clothes will help keep you as cool as possible, while also ensuring your body stays safe from the scorching desert sun. Use a higher SPF sunscreen, and reapply every 1-2 hours to avoid sunburn and sun poisoning. It may sound counter intuitive, but putting on a light colored long sleeve shirt will help protect your skin and keep you cool by ensuring the sun stays off your body. Always strive to avoid cotton in the desert, and opt for loose fitting synthetic materials when possible.
It's also important to avoid wearing dark colored hats and shirts as these hues will attract the sun and consequently make your body hotter throughout the day. Light colored tank tops, long sleeved shirts, and sun hats are essentials that should always be in your pack on a desert hike.


Watch For Unique Desert Wildlife
While bears and mountain lions are a concern for mountain hikers, those traveling through the desert often need a sharp eye to spot any potential dangers on the trail. Scorpions, tarantulas, poisonous lizards, and rattlesnakes are masters at blending into desert landscapes, and can all be potentially deadly. When possible, avoid sticking your hands in cool, wet places (like when rock climbing or scrambling), and always check your sleeping bag and boots before getting in.
Cactuses are easier to spot, but can cause just as much damage – cactus pricks can lead to intense pain and infection if removed incorrectly, so it's important to always carry basic desert first-aid such as strong tweezers and disinfectant. Always watch where you sit, set up camp, and put your pack down.


Plan Ahead For Water Sources
Water sources are rare in many desert landscapes, which can make refilling your bottles a challenge. It's always recommended to carry more water than you think you'll need as even a few hours without hydration in the desert sun can turn deadly.
Bringing a reliable map or navigation app (like Guthooks) is vital to properly planning your water refills. Paper maps can help you spot streams, creeks, and rivers, but real-time comments from app users can help you determine if these sources are flowing, or dried up for the season. Plan ahead before you leave town, and bring extra water bottles or bladders to account for carrying additional quantities of water.
Some desert trails will have cache systems that are refilled by trail angels, and although these are great safety nets during long, dry stretches of trail, it's important to never fully put your eggs in this basket as there is no way of knowing if there will be fresh water left by the time you arrive.
Regardless of how you choose to plan ahead for water in the desert, always expect to be carrying an abundance of water in case your "Plan A" is dried up. Plan accordingly for carrying a heavier load with the added water weight, and opt for more compact gear to leave room for bottles in your pack.


Know The Symptoms of Heat Stroke & Heat Exhaustion
Both heat stroke and heat exhaustion are potentially dangerous side effects of hiking in extreme temperatures. Although both can develop into serious medical conditions, these heat related illnesses can be avoided by minimizing time spent in the sun, and staying properly hydrated.
Heat exhaustion happens when your body starts overheating due to an extended amount of time in hot conditions, particularly when combined with high humidity or strenuous activity. If you or a hiking partner are suspected to have symptoms of heat exhaustion, move to an air-conditioned or shady place as quickly as possible. Remove any tight clothing, and urge the patient to drink fluids (avoid alcohol, and caffeinated tea, coffee, or soda). Cold showers and cold compresses also dramatically help symptoms. Most people will be able to recover without medical attention, but call 911 if vomiting continues for an extended period of time. If left untreated, heat exhaustion can lead to a heat stroke, so it's important to take action as soon as symptoms begin.

Heat Exhaustion Symptoms:
Cool, moist skin with goosebumps when in the heat
Heavy sweating
Faintness
Dizziness
Fatigue
Weak, rapid pulse
Low blood pressure upon standing
Vomiting
Muscle cramps


While most victims of heat exhaustion recover quickly, heat stroke is much more serious. Heat stroke is when your body temperature rises to a point where it can no longer cool itself down, and can be life threatening by causing damage to the brain and other organs. If you suspect you or a hiking partner has symptoms of heat stroke, call 911 immediately. While waiting for medical attention, move to a cooler place and use a cold compress if available. It's important to be aware of the cognitive state of a heat stroke victim, and act accordingly – if the patient appears "loopy" or "out of it", reconsider giving them water as they can choke on fluids if the illness has affected their brain.

Heat Stroke Symptoms:
A core body temperature of 104° F or higher
Altered mental state or behavior
Lack of sweating
Nausea and vomiting
Flushed skin
Rapid breathing
Racing heart rate
Headache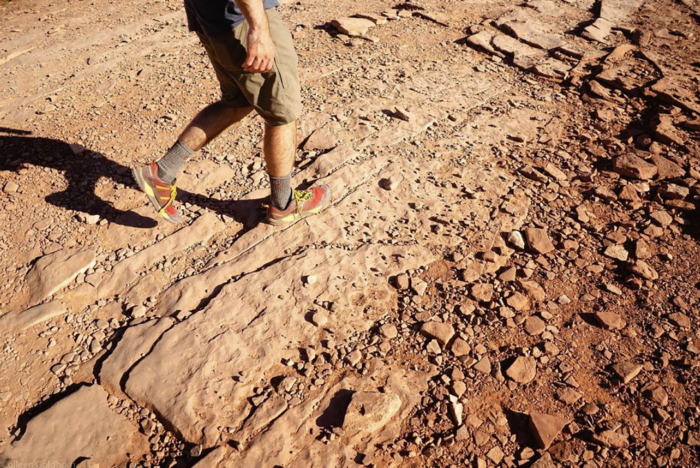 Although it comes with additional challenges than mountain trails, hiking in the desert can make you feel like you're in another world. With a proper amount of preparation and a good amount of research, you will be able to enjoy the sights and sounds of the desert while ensuring you are able to get back safely to tell the tale. Be smart, plan ahead, and enjoy your trip to this uniquely beautiful and awe-inspiring landscape.
Affiliate Disclosure
This website contains affiliate links, which means The Trek may receive a percentage of any product or service you purchase using the links in the articles or advertisements. The buyer pays the same price as they would otherwise, and your purchase helps to support The Trek's ongoing goal to serve you quality backpacking advice and information. Thanks for your support!
To learn more, please visit the About This Site page.