The Final SOBOs: My First Week Being One of the Last to Start Walking
This doesn't feel like the beginning of a thru hike.
It's my third month on trail and the fourth long distance walk I've started this year already. This new beginning, summiting Katahdin and walking toward Georgia, has felt more like a closure to my western adventures more than a beginning to the Appalachian Trail.
I summited Mt. Katahdin with Rad days ago, officially starting both of our Southbound AT thru hike attempts. Walking up to the sign I was flooded with emotion, so much excitement for what's to come. So much gratitude for what's come before – struggle and suffering, joy and heartbreak, failures and successes. We both immediately began to cry. The fullness of my experience right then was overwhelming.
We shared quiet in the howling wind and slowed our pace as the monument of dreams grew nearer. We placed our hands on the weather wood and each kissed the grains and paint. We made way for others to take in their moment, then they moved for us, too and we climbed onto the sign together. Standing tall, supported by success and dreams of thousands of wanderers and travelers before us, we shouted into the wind. We are two of the last SOBOs. We yell loudly.
A year ago I had written off the AT entirely
I told myself I'd never walk this trail. I'm so grateful I met someone who changed my mind. Who spoke of the AT with a magic tongue. Who told a story of gratitude and love and victory, a lifesaving journey southbound.
Today I couldn't be more excited about being here. Especially with Rad. Last week we weren't even sure if this trek would still be happening, at least not this way. We might be starting a month and a half later than intended but we're hitting the ground running into autumn.
"Soon fall will paint the forest with reds and oranges and yellows and this place will burn with autumn bliss."
From Katahdin, we entered the 100 mile wilderness, the longest stretch of wilderness on the AT. We went from blue sky summits and sunrise magic to walking in the clouds through the Chairback Mountains, an absolute sufferfest of a day. It's been a stellar first week with only one serious day of rain and many fantastic moments climbing to peaks, winding through mossy faery lands, laying to rest in mushroom kingdoms, marveling at the throne rooms of firs and pines and goldening deciduous trees.
Fall Is Coming
The wilderness of Maine has been full of green and trees and light… the colors are changing now. Soon fall will paint the forest with reds and oranges and yellows and this place will burn with autumn bliss.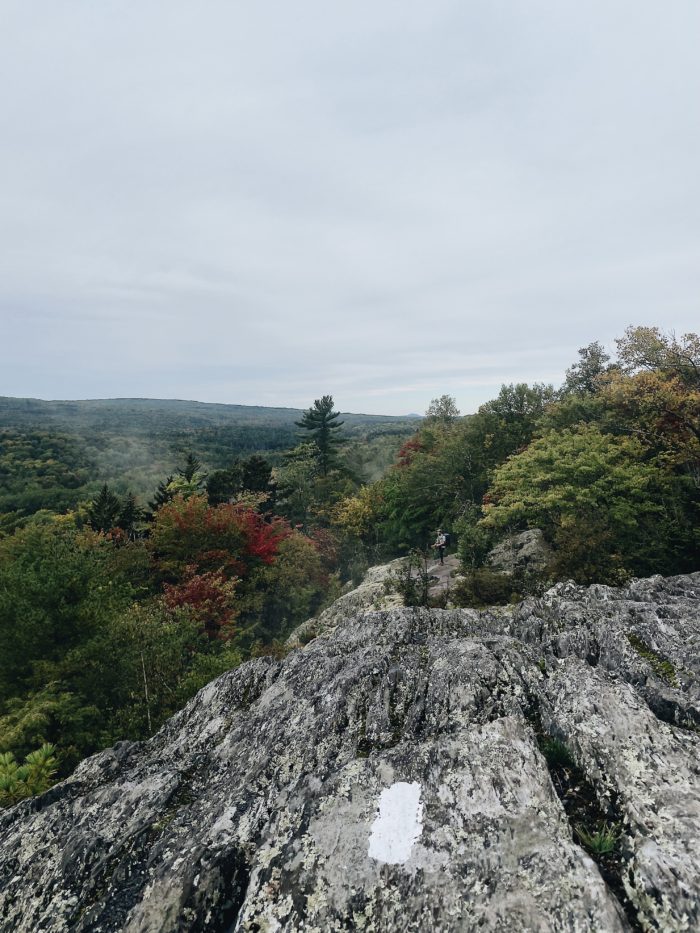 The AT has been a joyous experience
Rad and I skip and slip and romp our way though the forest each day, giggling and hooting in the mountains. The walking is hard, really hard, but we are having a ton of fun playing, walking, and talking together.
Many conversations turn personal, too. We both bring vulnerability to the table emphatically, deconstructing thoughts and opinions together, digging deeper with questions. It's been wonderful to experience this with each other. We are both changing, growing all year, and now, we're preparing to change again in the coming autumn and the ever approaching winter. Like the green leaves, we break down bits of self and create space for other colorful parts of ourselves be bright and bold.
Alongside us, the forest does the same. Growth and life from summer transitions into a new season. Chlorophyll breaks down in the leaves and the green tunnel starts to become a vibrant wonderland of golds and oranges, of bright rusts and blood red maple leaves. She is shouting and singing a joyous tune, these forests and this ancient range. In these old Appalachian mountains, and in these hiker's lives, the path is changing again.
Affiliate Disclosure
This website contains affiliate links, which means The Trek may receive a percentage of any product or service you purchase using the links in the articles or advertisements. The buyer pays the same price as they would otherwise, and your purchase helps to support The Trek's ongoing goal to serve you quality backpacking advice and information. Thanks for your support!
To learn more, please visit the About This Site page.