The Florida Trail, Part 1: Sand Flies and Sand Dunes
Hello from the Florida Trail! It feels surreal to already have been on the trail for over two weeks. It's been a bumpy ride at the start, but I feel like I'm slowly getting the hang of trail life. That said, I managed to be throwing up on the side of the road from heat exhaustion by day 2, lost my water filter on day 3, and was sobbing in the dark in the woods by day 7. But even with all that, there has been a lot of luck, kindness, and beauty that has kept me trekking onward. Being stubborn helps, too.
Day 1: Fort Pickens
I flew into Pensacola, stopped by Publix and Walmart to get some final supplies, and grabbed an Uber that took me to Fort Pickens. Getting a ride over there was lucky, as the fort is located at the very far end of the Pensacola Beach peninsula. My Uber driver accepted it, he told me, because he was a kid when he'd last visited and thought it'd be fun to take a look around after he dropped me off.
As we drove in, he pointed out that there was hardly any paint on the road to mark the lanes.
"Feds take over, charge a fee, then don't do anything to maintain it," he said.
He left me at the visitor center and wished me luck. I dragged my 35-pound pack inside to get a stamp for my trail passport. Fort Pickens was an active U.S. military fort from 1834 (Union-held) until 1947. It's now part of Gulf Islands National Seashore, a preserve administered by the National Park Service. The employee in the visitor center wore the familiar gray shirt and green shorts uniform that I'd come to love from visiting the Everglades so often. He was enthusiastic when I asked about the stamp, and could tell I was just starting the trail.
"You don't have that smell that the northbound hikers have at the end."
"Not yet," I replied.
I'd become familiar with my own hiker stink very soon. So far, six days without a shower seems to be my limit before I start getting cranky.
The trail log was in the gift shop a short walk away. The cashier pulled it out and set it on the counter. I wrote a brief message and signed it with my trail name, "Sawgrass". This was starting to feel real.
As I closed the trail log, a man turned to his young daughter after seeing my pack. "Do you want to be like her when you grow up, with the backpack?"
"Yeah!" she answered.
It was absurdly cute, and would be the first of many sweet and unexpected interactions with strangers about this weird adventure I'm on. I'm not any kind of Pollyanna when it comes to people, but I can't deny how frequent and genuinely heartwarming these moments have been.
I spent about an hour exploring the large and spooky fort buildings, and then made my way to the northern terminus. An older couple riding bikes eagerly took photos of me with the terminus marker (after I explained what the Florida Trail is), and even suggested poses.
"Get one of her looking into the sun," the wife instructed her husband, who was taking the photos. Icarus-like, I turned and looked upward.
When they left, I stayed a few more minutes with the marker. This was really it. I was taking my first step of an 1,100-mile journey.
Day 2: Pensacola Beach
I only had to walk a mile on the first day to get to Fort Pickens Campground, so my first real hiking day was the following day. I woke up just before sunrise so I could catch a glimpse of the sun coming up over the glittery white beach adjacent to the campground. I had camped up here on the Gulf a few years ago, so I knew how strikingly beautiful the sunrise and sunset is here. A pastel pink and yellow haze gave way to a furious red-orange as the sun lifted itself over the ocean. When I had gotten my fill, I returned to make breakfast and pack up camp.
After the campground, there were a few pleasant miles of sand dunes and smaller remnants of the fort. I spotted an armadillo that managed to not notice me for a solid minute before it scampered away. My pack was heavy, but I felt good.
And then, I hit the beach.
As I was getting ready, I realized I had forgotten to bring sunscreen. It's fine, I thought, I can last a day without it. I could grab some in town later.
The first 27 miles of the trail are spent mostly on sand while the sun glares down on you, sources of shade are nonexistent, and the only fresh water around is what you're able to carry. Having never hiked on sand before, much less with a huge pack, I quickly discovered how much I hated this beautiful and picture-perfect terrain. I maneuvered to find the flattest and most solid path, but was stuck perpetually walking at an angle on wet sand. My ankles began protesting within the first few miles.
After the first seven beach miles, you reach Pensacola Beach, a cute and touristy beach town. What follows is another seven miles, this time a road walk through town. I discovered that I also hated walking through town. Pavement and sidewalk were even more harsh on my ankles, and I tried to stick to any adjacent dirt or grass that would be easier on my feet.
When I reached town, I stopped at some picnic shelters and beach showers. After the grueling beach walk, I took stock of my appearance. My face was hot and flush with red, and tan lines were already forming around my sunglasses. The skin on my arms and legs stung. I walked over to the shower to fill my water bottle and put cool water on my face. Exhausted, I sat for nearly an hour to cool down and try to make myself eat a protein bar and some nuts.
I looked at the map on my phone. I still had 9 miles to go to the campsite, and I doubted I could make it. Camping in any other spot on the beach was illegal. Unsure of what to do, I continued walking into town to get food and something ice-cold to drink.
At the restaurant, Peg Leg Pete's, I lost my resolve and booked a cheap hotel room a mile ahead. I ordered fish dip but struggled to finish it, focusing instead on a frozen strawberry drink that was more like a milkshake.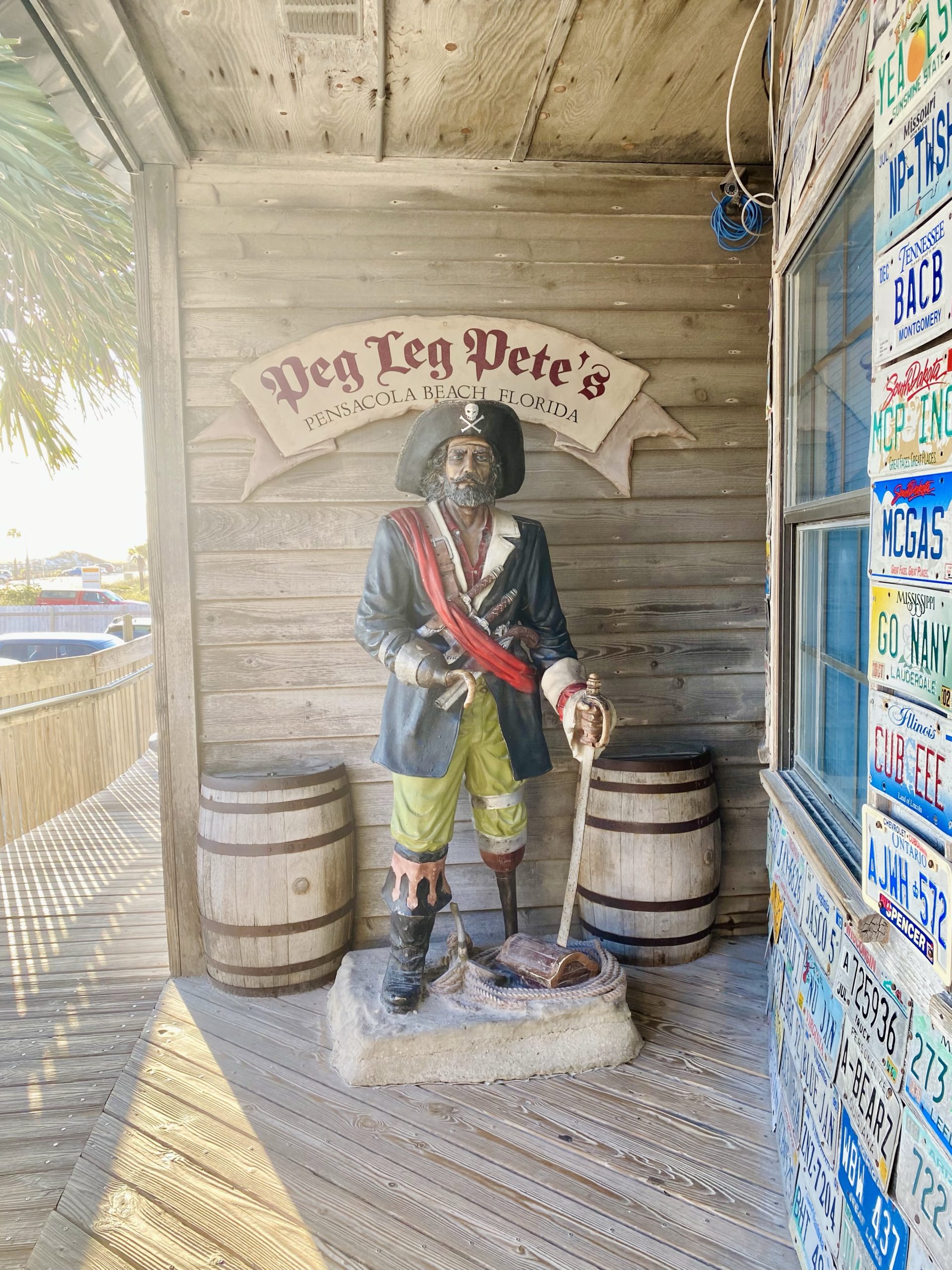 I had another two miles to get to the hotel, and they were somehow more miserable than the first eight miles I had already walked. I felt dizzy and dehydrated, despite having had plenty of ice water at the restaurant. Nausea set in, and I veered off the sidewalk to throw up a few times.
Eventually, I made it to the hotel. The lady at the front desk helpfully offered a luggage cart for my pack. I tossed it down, happy to be rid of it.
I was disappointed to be ducking back into civilization so quickly, but a 10-mile day was nothing to scoff at either. I googled symptoms of heat exhaustion and found I had most of them. Treatment plan: dunking my face in ice water, cold and warm showers, air conditioning, and a Domino's pizza.
Days 3-4: Navarre Beach
The treatment plan worked, along with a very good hotel breakfast that included a Golden Malted waffle machine. Iykyk. I set off for the trail again.
Day 3 was 9 miles, half road walk and half sand dunes. The dunes were way more interesting than the beach, and looked like an alien landscape. Just before sunset, I was surprised by a wooden swing at the top of a hill. Tired as I was and with nightfall approaching, I couldn't resist climbing up and trying it out. The view from up top was gorgeous, and almost made up for how miserable the beach had been.
I stayed until it got dark, then hiked another 2.5 miles to camp. The oceanfront campsite was windy, but I was too tired to hunt for a less windy spot and pitched my tent. I shivered until my body heat warmed up my sleeping bag and then passed out.
On Day 4, I finally finished the beach section after a 16-mile day. And boy, was I ready to leave it. After a nice 1.5 miles through the dunes that morning, I was back on regular ol' beach. It was cloudy, which made the slog easier, but there was a new element to torture me: biting sand flies.
I once came home from a summer Everglades hike with hundreds of mosquito bites all over my body, so please keep that in mind when I say I would kill every biting fly on earth and replace it with a mosquito.
The flies would gather around my legs five or more at a time and land on my socks. The bites felt like being stabbed with needles. The socks seemed to only help them, allowing them extra grip to bite harder. I tried spraying my ankles with bug spray and watched with despair as it did absolutely jack shit to deter them.
After about 10 miles, I reached Navarre Beach, a town with NIMBY vibes and a mix of cheesy beach and Trump and/or DeSantis decor. The fly situation improved, but to my dismay they still found me now and then.
After six more miles, I reached the bridge that connects Navarre Beach to mainland Navarre. With Hurricane Nicole approaching nearby, I opted to play it safe and get a cheap room for the night. I was hobbling at that point, so I called an Uber. I'd come back to the bridge and continue on to Navarre the next day.
There are, thankfully, no more beach sections on the rest of the trail. I could not wait to get to the forest. More on that in the next post.
Affiliate Disclosure
This website contains affiliate links, which means The Trek may receive a percentage of any product or service you purchase using the links in the articles or advertisements. The buyer pays the same price as they would otherwise, and your purchase helps to support The Trek's ongoing goal to serve you quality backpacking advice and information. Thanks for your support!
To learn more, please visit the About This Site page.