The Lazy Hiker
My number of days on trail are slowly fading. I've set an end date which requires far less miles than what I have been averaging. This has allowed me to slow down and take my time through these last few sections. This update includes camera issues, Fontana Dam, a few bald mountains, and a stop at the Lazy Hiker Brewery.
Day 130 (15.6 miles)
Another completely socked in morning. The visibility was only a few feet. I waited until about 8:30 am to start hiking. It was a ton of downhill to Fontana Dam. There was a fire tower on the way down. I stopped and climbed the rusty and rotten stairs. It was not safe by any means, but I hadn't had a view in days. There were some beautiful cloud covered mountains in all directions. I took a few pictures and noticed that my lens was foggy. I assumed just the outside of the lens had accumulated moisture, but I didn't bring my microfiber cloth up to the top. I took as good of pictures as possible and then descended, not thinking too much about it.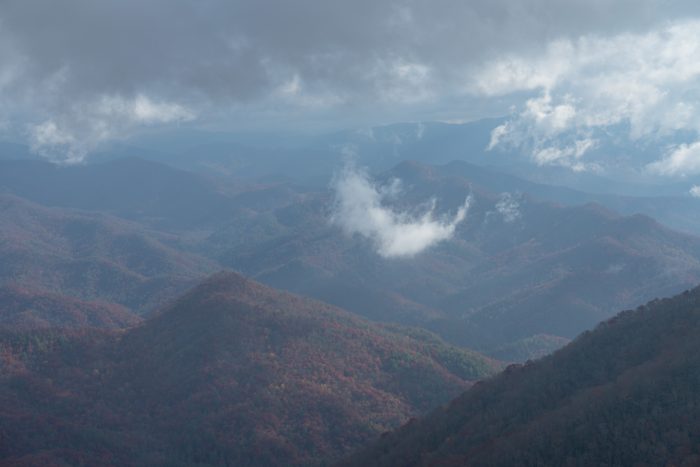 After the tower, I made my way down the rest of the way to Fontana Dam. The hiking was easy and fast. The dam is a major landmark on the AT. It marks the end of the Smokies for SOBO's. I went to take a picture of the dam and the surrounding area. I again noticed some moisture, only this time I realized it was inside my lens. The camera and lens are weather sealed and I had been keeping them inside a waterproof bag. I'm not sure why this happened but it ruined a days worth of photos and my morale.
I took a shower at the visitor center for the dam and then made my way to the nearby marina. There was a small store to resupply and a deck to hangout by the water. Just before making it to the marina, a nice husband and wife gave me $20 for a hot meal! This definitely boosted my mood. Two other hikers, Ducky and Gravy, soon arrived. After some talking, we decided to head to a restaurant for dinner. We were all starving and couldn't resist a local woman's offer to drive us there. My meal consisted of a Dragon Burger which was incredibly spicy. After dinner, we got back on trail and made a few mile climb up the next mountain. There was a nice place to stealth camp by a small stream. The large meal made the climb difficult and the camp spot was a welcomed relief.
Stealth Camp: T1, S3, P3, W5, B2
Total Score: 54
Day 131 (18.3 miles)
It was a restless night of sleep. Some nights my mind seems to race and my body doesn't get the rest that it needs. Needless to say, this day kicked my ass. There were numerous steep climbs and descents. Combine those with sleep deprivation and well… you get an ass kicking. I took a lunch break at a shelter about halfway through the day. There was a long climb coming up and I wanted to have some nutrients coursing through my veins.
At the top of the climb was Cheoah Bald. It wasn't actually very bald. Lots of trees covered the top of the mountain. Though, there were a few good lookout points that made it worth the effort.
The trail markings in NC have been pretty bad. There are frequently long sections and turns without blazes. The top of the bald was no different. The trail turned left and steeply down the mountain. There was no blaze indicating a turn and no blaze to be seen further down the trail. Luckily, my trail senses were tingling and I figured it out pretty quick. Maybe I was bit by a radioactive blaze.
I soon arrived at Sassafras Gap Shelter. There were a few other thru-hikers also staying there that night. It was a large double decker shelter with plenty of space for sleeping and eating. I was surprised at how filthy the inside of the shelter was. I always sweep the shelters before I put my sleeping setup inside. This one took me quite a while to get the thick layer of brown dust off the floor.
Sassafras Gap Shelter: T1, S3, P2, W1, B2
Total Score: 12
Day 132 (18.6 miles)
It was a pretty sunrise from the shelter. Some trees obscured the view, but the colors were still vibrant. None of us were in a rush to leave. We all planned to stop at the NOC for a resupply. The NOC is a large outdoor center and another famous part of the trail. It didn't open until the later morning and was only 7 or so miles from our shelter. Eventually, we packed up and made our way towards the valley. The moisture in my camera cleared and I was able to take a clear picture this day.
I hiked into the NOC with Dirty. We set a fast pace and cruised the mileage in about 2 hours. We got to the general store around 10:30 am and got a few essentials… as well as some non-essentials. We then sat down at the nearby river and waited for the restaurant to open. The Trail of Tears actually starts just a few miles away from this area and runs right past the NOC and parallels the river at which we sat.
A quick delicious lunch at the restaurant and then we were back on trail. Another 11.5 miles to go, most of which was uphill. It seems that I keep putting myself in situations where I have to climb a mountain after eating a large meal. I'm not complaining, just making an observation of my own stupidity. The bald mountains this afternoon were breathtaking and the weather was perfect. I soaked in the Southern scenery and tried not to think about the thousands of feet of elevation ahead of me.
That night a few of us stayed at Cold Springs shelter. It was a small and very old shelter, but it was right on trail and had water within spitting distance. I was happy to be at camp and have a dry place to sleep.
Cold Springs Shelter: T1, S2, P2, W1, B2
Total Score: 8
Day 133 (15.8 miles)
A mouse was chewing nuts on the beam above my head all night. At one point, the critter dropped a partially eaten acorn onto my head. I then proceeded to get up and switch my pillow to my foot end of my sleeping pad. The mouse didn't stop chewing, but my head was no longer a target. There was another bald in the morning. Dirty and I were hiking together for the first few miles. It was foggy and we both were unsure of how the view at the top would be. I thought that there was a good chance that the sun would do it's job and flush out some of the dense fog. Luckily, I was right. We got some great views from the stone tower on Wayah Bald.
It was another 10 miles to Franklin, our stop for the night. The trail was perfect and the temperature was hot. Sweat dripped from all of my pours as I climbed up to the second bald for the day. A short steep side trail led to Siler Bald. It was absolutely stunning and worth the extra half mile.
I met a nice guy at the trail junction to the bald. He said that his wife was picking him up in an hour or so and would be able to shuttle us into town. I gladly accepted and decided to meet him at the road crossing a few miles away. He and his wife shuttled Dirty, Forrest, and I into town. We got all you can eat Chinese food and then went to downtown Franklin. A few of us split a motel room close to town. This meant we could easily resupply and stop at the Lazy Hiker Brewery. It was a fun afternoon and night. I was glad to be clean and well fed. Franklin is also home to the Outdoor 76 outfitter. It is an outfitter that exists in hikers dream. All of the gear you could need, plus a bar full of local beers.
Thank you for reading this trail update! I hope you enjoyed the read and the pictures. I'm amazed that it has been over 130 days on trail and yet I'm shocked that my journey will be ending soon. I'm glad that I have this blog as a journal to look back on. Until my next post, remember to keep wandering in your own direction!
Affiliate Disclosure
This website contains affiliate links, which means The Trek may receive a percentage of any product or service you purchase using the links in the articles or advertisements. The buyer pays the same price as they would otherwise, and your purchase helps to support The Trek's ongoing goal to serve you quality backpacking advice and information. Thanks for your support!
To learn more, please visit the About This Site page.
Comments
1
Almost done. Thx for the post.